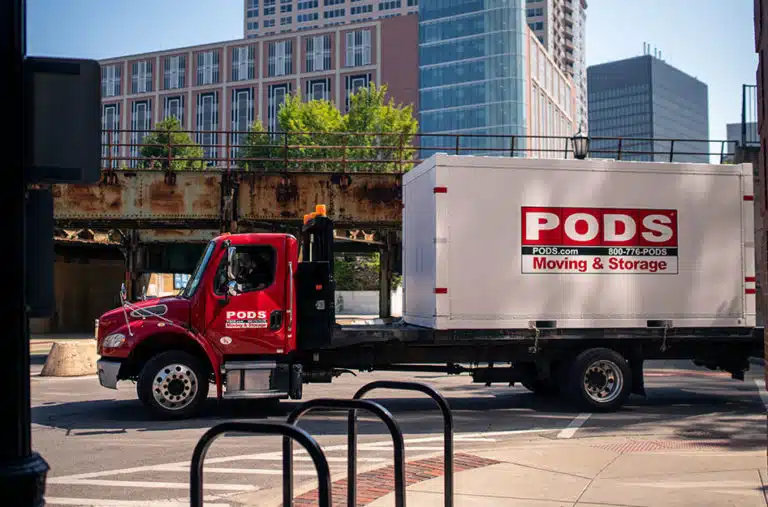 Looking for Local Movers in Chicago? Look Into These Options First
Chicago is a great city to live in, whether you're a life-long resident or a recent transplant. The welcoming midwestern vibe of the Windy City draws in out-of-towners near and far, and those who've been here a while tend to stay.
Whether you're planning a local move from one Chicago neighborhood to another, or if this is the first time you'll be moving to the Second City, you're going to need some Chicago moving companies to help you out.
Now, it can probably go without saying that you certainly have options when it comes to doing a local move in Chicago, IL — each with their own pros and cons. So you'll need to make sure you do your research and pick the one that works best for you. That's where we come in. 
Here's a closer look at three of the most common ways to move around one of the most-loved cities in the U.S.
Moving truck rental
One option you have is to rent a large truck and move all of your items yourself. While this may be the cheapest route, it also means that you'll be responsible for all the work. All. Of. It.
Pros:
• Generally, the least expensive option for a local move.
• Trucks are readily available, and you can usually secure one within a day.
• You can choose to transport items separately in your car to save truck space.
Cons:
• It's a lot of work! You have to load and unload all your items, including heavy furniture.
• You'll need to arrange and secure your items in the truck so they're safe to transport.
• You'll need to figure out how to move your car (towing it, driving it, or shipping it separately).
• If your items break or get damaged, there's no protection from the company.
According to Move Buddha, the estimated cost of moving in Chicago with a moving truck rental is:
These prices are just a guide and shouldn't be used in place of an actual quote. And the quotes you get may not cover all the extra costs associated with these moves — surge pricing, fuel costs, insurance, and anything else that may come up.
Full-service movers
Another route is finding full-service moving companies in Chicago to handle your move from start to finish.
Pros:
• No hard work for you.
• Your items are professionally wrapped, loaded, and unloaded.
• You have protection if an item is damaged in the move.
Cons:
• Typically the most expensive option.
• You're on their schedule, not yours.
• Unless you pay for an unpacking/hauling off service, you'll be stuck with a lot of packing material leftover. Like "Oh my goodness! They wrapped each individual pen in this desk holder" a lot.
According to Move Buddha, the estimated cost of moving in Chicago with full-service movers is: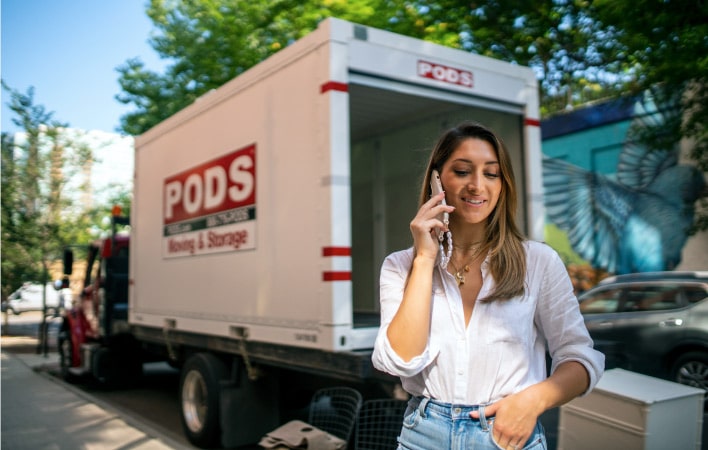 PODS moving containers
Getting a PODS moving container is an excellent way to use local movers in Chicago, IL!
Pros:
• The container is delivered straight to your driveway — and picked up when you're ready.
• You have the flexibility to pack and move on your terms.
• There is a built-in storage option, since a PODS container only has to be loaded and unloaded once — no matter how many temporary stops there are before reaching your final destination.
• You can always hire moving help for loading and unloading the moving container.
• A PODS moving and storage container is more affordable than other moving options.
Visit PODS.com to get a quote for your local move, or call 855-706-4758 for long-distance. 
Why is PODS one of the best Chicago moving companies?
Because PODS knows Chicago best! In fact, Chicago is the only city in the U.S. where PODS City Service covers every ZIP code. What is PODS City Service, you ask? It's a service designed specifically for moving in a big city! Skilled PODS drivers with experience navigating those tight city streets will bring your storage container to you and stay with it while you're loading and unloading, to keep an eye on your things. When you're ready, they'll either take the container away, drive the container to your new Chicago home, or store it at a nearby PODS Storage Center.
PODS has four Chicago locations:
Elgin, IL – Just northwest of downtown Chicago
2794 Spectrum Drive
Elgin, IL 60124 

Libertyville, IL – Serving the northern areas of Chicago
929 East Park Ave
Libertyville, IL 60048

Bensenville, IL – Conveniently located next to O'Hare International Airport
1120 N Ellis St
Bensenville, IL 60106

Bolingbrook, IL – Serving the southern suburbs and neighborhoods of Chicago
900 Windham Parkway
Bolingbrook, IL 60440
FAQs to keep in mind when researching moving companies in Chicago
Q: How much are movers per hour in Chicago?
A: That depends on how much you're moving, how many movers you need, and how far you're going. Average cost is $140-$384 per hour.
Q: How much should I pay for a local mover?
A: Again, this depends on how many movers you need to move your items. If you're looking for local movers in Chicago, you can expect to pay somewhere in the price range of $140-$384 per hour.
Q: What day is cheapest to hire movers?
A: Since the most expensive time to move is usually on the weekend in the summertime, the cheapest is anytime Monday through Thursday during the week and in the off-season (think fall or winter).
Q: What is the cheapest way to move your stuff?
A: It depends on your moving specifics, but renting a moving truck or storage container is generally the cheapest option.
Q: How much does it cost to hire movers in Chicago?
A: Anywhere from around $360-$3,292, depending on how large your household is.
In a nutshell, although you have options, moving in Chicago with a PODS storage container may be the best fit for you if you value flexibility and convenience to move on your own schedule in a cost-efficient way. Fill your container up at your leisure, and when you're ready, PODS will pick it up and drive it to your new home or to a secure PODS Storage Center.
Want more expert moving advice? Check out the PODS Blog.
Get a Quote
Choose the service you need
Comments
Leave a Comment
Your email address will not be published. Required fields are marked *