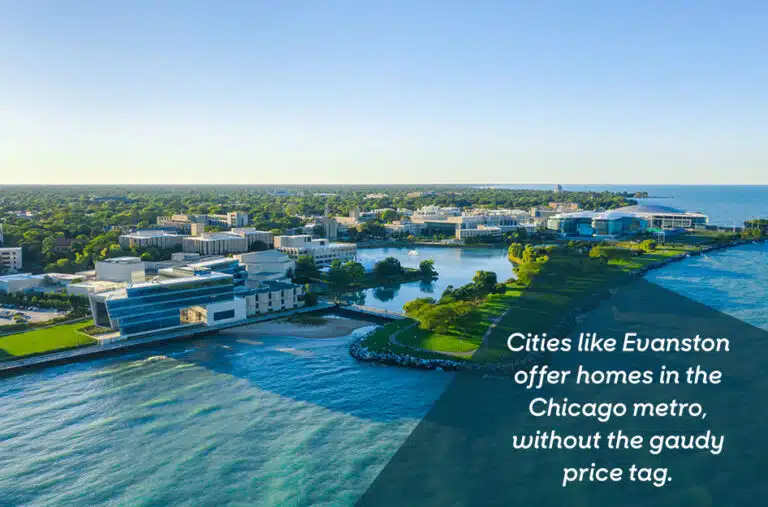 Get to Know these Amazing Cities Near Chicago
While Chicago is known for its big-city, bustling lifestyle, that may not be exactly what you're looking for, or may be out of your budget range. That doesn't mean you can't experience all the city has to offer.
If you want to live in a smaller city that offers its own unique amenities, but still reside within commuting distance of Chicago, you're not alone. Lots of people love the idea of being close to Chicago so they can experience the culture, sports, restaurants, and access to all kinds of fun activities, but not live in the city itself.
Luckily there are all kinds of beautiful cities near Chicago where you can experience a more affordable lifestyle with easy access to the city when you want it. Whether you're looking for more space for your growing family, or need to find a house or apartment that's within your budget, we've compiled a list of the top cities near Chicago for you to consider.
Oak Park, IL
If you're looking to settle down and raise a family, you can't go wrong in the tree-lined neighborhoods of Oak Park. Not only are the schools top-notch, but there are also lots of places to get outside and explore the area, and you'll always find people enjoying the local parks (like Scoville Park). This area has lots of historic buildings and shops, and although there is a good mix of people living there, you'll find almost everyone exudes that midwestern friendliness.
Named after the large oaks that once dominated the area, you can still expect to find tree-lined streets that are very walkable.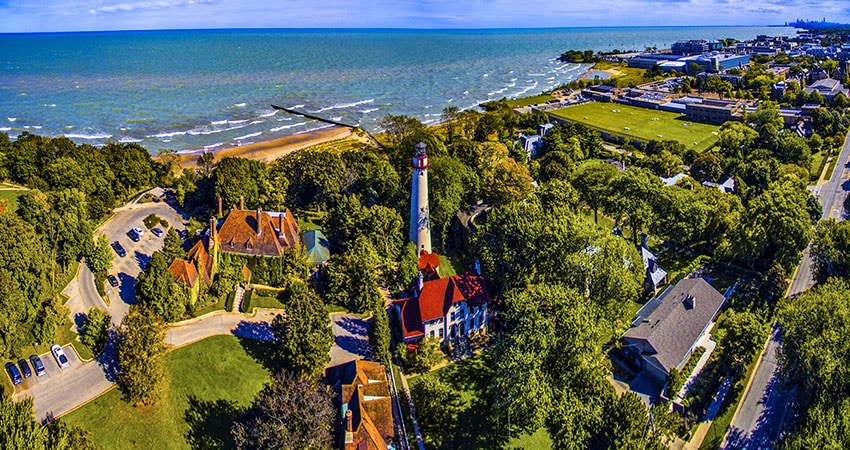 Evanston, IL
Have you always wanted to have a place by the beach? Well, you can easily visit the beach whenever you want when you live in Evanston, IL. This city near Chicago boasts of 22 miles of beaches, and you can even visit a historic lighthouse at Grosse Pointe. Besides the beaches, you'll have access to parks and the Valley Line Trail, which is a great place to walk, jog, bike, or just enjoy the outdoors.
Fun fact: Did you know that the majority of the homes in Evanston are located within half a mile of a beautiful local park?
What cities are 30 minutes from Chicago? Cities that are within 30 minutes of downtown Chicago include La Grange, Glenview, Evanston, and Arlington Heights.
Elmhurst, IL
Located in DuPage and Cook Counties, Elmhurst is a great city to live in that's close enough to Chicago but far enough away to give you a small-town experience. Because of the lower cost of living, more young professionals and retirees are coming to Elmhurst to enjoy a less hectic lifestyle. There are plenty of parks and trails if you're looking for outdoor activities, including the popular Wilder Park Conservatory. With its own shopping district, you can explore popular name-brand stores, as well as quaint mom-and-pop shops.
Did you know: Elmhurst has its own symphony, art museum, college, and park district?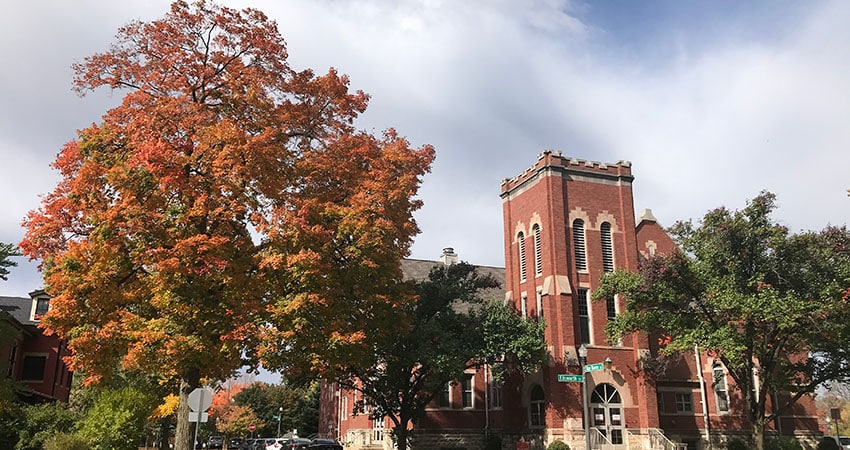 Naperville, IL
This family-friendly city is a great place to call home if you're looking for a suburban way of life. Younger professionals like the area because of the lower cost of living and the short commute to the big city. However families also are attracted to this city in DuPage and Will Counties because of the great schools and the economic opportunities. While this city near Chicago is very walkable, Naperville has its own public transportation network that will get you where you need to be.
Pro tip: Naperville residents enjoy spending time outdoors all year round, but one of the most popular places is Centennial Beach.
Schaumburg, IL
If you're looking for a small town feel to the city you choose to live in, you can't go wrong with Schaumburg, IL. Whether you want to start putting down roots, or your family has recently grown, it's good to know there are all kinds of parks to explore, including 55 playgrounds. Anyone who wants to spend time outdoors will love that Schaumburg has the Spring Valley Nature that boasts of trails that can be enjoyed year round.
Fun fact: You'll never worry about having a fun place to shop again, as the famous Woodfield Mall is just around the corner. Residents also love spending time checking out the local coffee shops and plentiful dining options for lunch and dinner.
Elgin, IL
Just a little further out west of Chicago is the wonderful city of Elgin, IL. Whether you want to experience a more suburban lifestyle, or you just need a great place that has access to commuter stations, this could be the place you want to call home. While it has a nice suburban feel, Elgin also boasts of easy access to nature, no matter where you choose to live. The Fox River Bike Trail is one of the most popular, with 40 miles of trail that follows the Fox River taking you through nature preserves and scenic landscapes.
With parks, pools, and golf courses nearby, there's all kinds of ways to stay active and enjoy time spent with friends and family outdoors. There are lots of dining options, yearly festivals, and even their own symphony orchestra. If it's fun community events you crave, you'll find them in Elgin.
What are the closest cities to Chicago?Some of the closest cities to Chicago include Oak Park, Berwyn, Naperville, and Bolingbrook.
Arlington Heights, IL
If you've been looking for one of the best places to live near Chicago, you should definitely check out Arlington Heights. This fun area is also known as "Action Heights" and is a beautiful area with lots of things to do and see. But not to worry, you won't find a hectic city lifestyle here. One of the most popular attractions is Lake Arlington, which is directly in the center of this village. Expect to see lots of families picnicking, playgrounds for kids, and some fantastic trails that offer scenic views of the lake.
Additionally, residents like to hit the trails (either hiking or biking) on the Busse Forest Elk Pasture, where you can visit with the elk that live on this preserve. If you're a fan of live music, you'll also love the House of Music and Entertainment!
Fun fact: This was the home of the former Arlington International Racecourse that was founded in 1927.
Bolingbrook, IL
Whether you're a young family, or a young professional looking for an easy commute, Bolingbrook could be the city near Chicago that's right for you. This lovely area has a nice suburban feel, with plenty of space for exploring the outdoors, or visiting the local shops on the weekend. The year-round Pelican Harbor Aquatic Park is one of the top destinations for those with kids, but you'll also find plenty of adults and retirees enjoying the lazy river!
If you like to stay active, you'll have plenty of opportunities in Bolingbrook and should take advantage of Waterfall Glen Forest Preserve, Whalon Lake, or the Hidden Oaks Conservation Area.
What cities are 2 hours from Chicago?Within a 2 hour drive from Chicago you can visit Milwaukee, WI, Rockford, IL, and South Bend, IN.
Hammond, IN
If you're looking for an Indiana city near Chicago, you can't go wrong with Hammond. Although it is the next state over in Indiana, Hammond is a very easy commute to Chicago, which is why a lot of people, including young professionals, choose to live there. The cost of living is lower in this Indiana city, which means you can get more bang for your buck. Hammond is also a great place to get outside and enjoy beautiful strolls around the neighborhoods, or in any of the more than 12 parks and playgrounds.
Just a quick trip north of this city and you're on the shores of Lake Michigan, where you can enjoy beaches, boating, fishing, and even dune buggy rides!
Orland Park, IL
Orland Park is considered one of the best places to live near Chicago due to its wonderful school system, beautiful open spaces, and a thriving real estate market. Whether you're looking to buy a house or rent an apartment, there's a little something for everyone in this popular village community. This area is well maintained, and the community takes pride in the streets being safe for everyone. This is a major reason young families and retirees have moved there in recent years.
This community is not only an easy commute into Chicago, but it also boasts of some very accessible outdoor attractions. You can choose to explore the parks and trails in Orland Park, or check out the Cook County Forest Preserve. Access to this large natural area is perfect for hiking, biking, and jogging at both the north and south parts of the village.
These are our top 10 cities near Chicago that you might want to call home. While it's fun to live near all the excitement that a large city such as Chicago can offer, sometimes you just want more space for your money or enjoy a more suburban feel in your neighborhood. This is completely fine, and as you can see from our list, there are plenty of amazing places near enough to Chicago that offer a lot on their own.
The roads and public transportation lines around the Chicago land area make it easy to move a little further away without giving up the big city's amenities. So go ahead and explore these cities a little more, and see which one feels right for you.
If you're ready to make a move to your Chicago-adjacent city, PODS can help you get packed up and arrive at your new home in just a few simple steps. One of the easiest ways to make your move as smooth as possible is to have a portable moving container delivered right to your driveway, where you can pack and load on your own schedule. When you can organize and pack for your move on time, you won't feel as stressed or rushed.
PODS will pick it up when you're ready and deliver it to your new home. Need storage? No problem! PODS includes one month's storage with every move.
Get a Quote
Choose the service you need
Comments
Leave a Comment
Your email address will not be published. Required fields are marked *