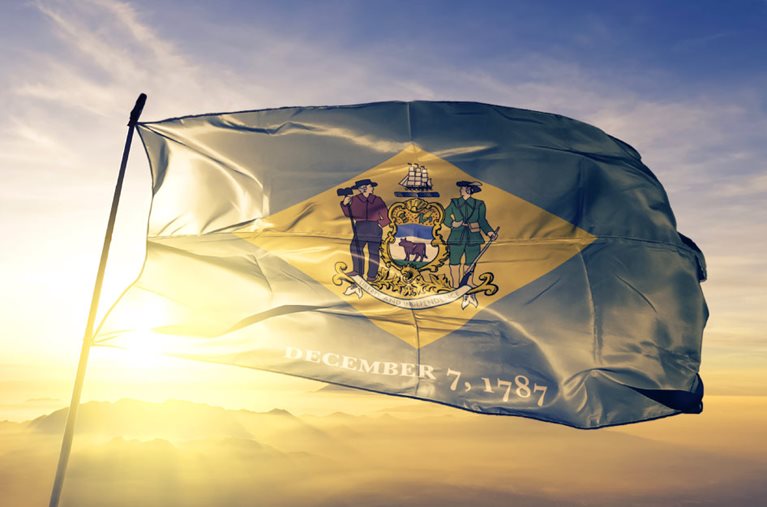 Safe, Affordable, and Charming: The Best Small Towns in Delaware
If you're looking for a new place to call home, why not consider the Mid-Atlantic state of Delaware? Better yet, how about a small town in Delaware? They're full of natural beauty, whether you want to live on the oceanfront or near the forest. And you'll still have easy access to a big city whenever you want, as Philadelphia, Baltimore, and Washington D.C. are all within a two-hour drive. Basically, the best small towns in Delaware have something to offer everyone.
People,
especially retirees
, have been flocking to Delaware recently, and based on its many amenities, it's easy to see why. In 2021 alone, over 7,000 people moved to the state,
according to Census data
, and almost 4,800 of them were adults aged 55 to 74. Folks from all walks of life can find a home in Delaware — especially in one of its many safe small towns.
Moving to a Small Town in Delaware vs. a Big City
While the Delaware metros of Wilmington, Dover, and Newark offer all kinds of great job opportunities as well as a fast-paced lifestyle, there are plenty of reasons you may want to choose a small town to live in instead. Larger cities are more crowded, have higher housing costs, and typically come with higher crime statistics.

Those aren't the only reasons you might choose to live in a small town, though. Here are a few others:
Lower cost of living
More affordable houses
More space for your dollar
Access to local small businesses
A tight-knit community
Lower crime rates
Small Towns in Delaware - FAQ
Q: What is the prettiest town in Delaware?
A: Lewes and Rehoboth Beach are some of the prettiest towns in Delaware.

Q: What is a nice area to live in Delaware?
A: With oceanfront views, nature to explore, and a famous farmers' market easily accessible, Bethany Beach is one of the nicest areas to live in Delaware.

Q: Is Delaware a good place to raise a family?
A: Yes! Delaware has plenty of small towns that are perfect for settling down and raising a family. There are plenty of great parks to stroll around and quiet areas to get away from the big-city commotion whenever it's needed.

Q: What is the safest part of Delaware to live?
A: Lewes and Milton are some of the safest parts of Delaware to live in.
Best Small Towns in Delaware
Although the U.S. Census designates a small town as having no more than 5,000 people, we've decided to expand that to include towns with a population of up to 15,000. Here are 12 of our favorites, in no particular order.
Lewes, Delaware
1. Lewes, DE
Average rent (one-bedroom):
$1,725
Average home value:
$558,900
One of the prettiest towns (that also happens to be one of the best beach towns in Delaware) is Lewes. This safe community is home to lots of families and retirees and offers all kinds of ways to enjoy coastal living. Located right on Delaware Bay and Cape Henlopen, this welcoming community has a lot to offer all kinds of folks. If you want to enjoy the outdoors, there are plenty of opportunities, both on land and on the water! Consider taking a canal cruise, or even take the ferry to Cape May, NJ.
Residents also love how walkable and bike-friendly their community is. You'll enjoy taking rides or hikes along
Junction & Breakwater Trail
or the
Gordons Pond Trail
like a local in no time, and you can definitely look forward to the popular
Historic Lewes Farmers Market
!
2. Clayton, DE
Average rent (one-bedroom): N/A
Average home value:
$364,900
If you want to settle in one of the cute towns in Delaware, look no further than Clayton. This tiny town has a lot going for it, including historic sites to explore and a strong artsy vibe. Whether it's the Smyrna Opera House or the Schwartz Center for the Arts, there are plenty of shows to see.

You'll also have easy access to all the natural beauty that Delaware is known for with easy access to the Blackiston Wildlife Area and Blackbird State Forest. The nearby town of Smyrna also offers a variety of different shops and restaurants to explore, including Taste of New York Smyrna and Blue Earl Brewing Company.
3. Odessa, DE
Average rent (one-bedroom): N/A
Average home value:
$326,500
Great for:
Families, public schools, outdoor activities
If you're looking for a great small town to raise a family, consider Odessa. The schools are highly rated in this area, and families will love the town's safe, welcoming atmosphere. It also comes with a distinct colonial feel, as the town is home to over 80 buildings on the National Register of Historic Places. You'll especially notice it during December, when many of the homes are decked out for the holidays. We recommend taking a guided tour to experience it all.

When you want to get out and enjoy the natural scenery, consider taking friends or family to Odessa Memorial Park or for a fun day exploring the Appoquinimink River. When you're done, stop by Cantwell's Tavern!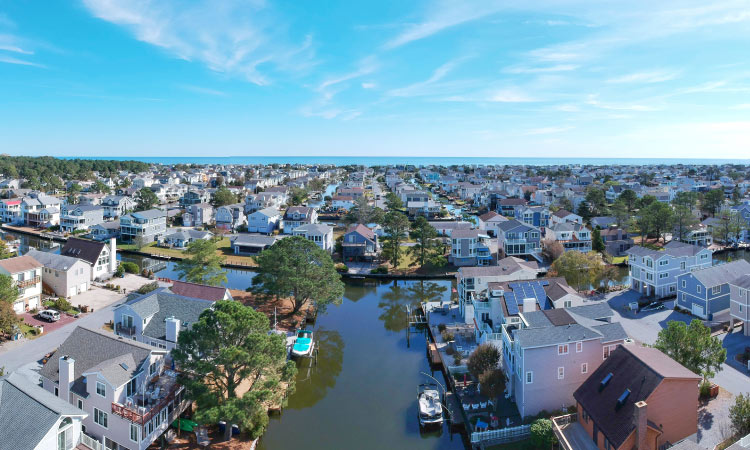 Bethany Beach, Delaware
4. Bethany Beach, DE
Average rent (one-bedroom): N/A
Average home value:
$780,400
Ranked as the #1 best place in Delaware to retire, according to Niche, is the small town of Bethany Beach. The serene atmosphere of Bethany Beach is perfect if you're looking for something different than the fast-paced lifestyle of a city. In fact, it's also ranked #1 on Niche's list of "Best Places to Retire in Delaware." Here, you'll enjoy unbelievable views of the ocean along with lots of boating and fishing opportunities. Residents love taking strolls through Bethany Beach Central Park; stopping at the Bethany Beach Farmers' Market for fresh, local items; and exploring the nearby Assawoman Wildlife Area.

You'll love the quaint, local stores in this beach community, as well as some of the best seafood around! Locals especially love to frequent Off the Hook.
5. Milton, DE
Average rent (all home sizes): N/A
Average home value:
$444,700
If your dream is to live in a safe, small Delaware town, then consider finding a space in Milton. Located near Broadkill River, there's something for history buffs and nature lovers alike. In fact, the Milton Historical Society of Delaware takes care of a lot of the town's history and makes learning about the town easy. There are plenty of historical homes and buildings to visit, as well.

Milton is just a short drive from the Edward H. McCabe Nature Preserve for all kinds of hiking and biking fun, as well as Diamond Pond. Here you can boat, fish, kayak, or just enjoy a relaxing day on the shore.

Dogfish Head — a local brewery — is also located in this town and provides lots of jobs, as well as a great place to relax and enjoy a brew and a bite.
6. Bethel, DE
Average rent (one-bedroom): N/A
Average home value:
$321,200
One affordable small town that you should consider is Bethel, which is located in Sussex County along Broad Creek. Originally, this town was a major ship-building community, and the historic buildings in this quaint town were built by some of the ships' carpenters.

Bethel is just a short trip away from the Nanticoke Wildlife Area and the Nanticoke River, which offer all kinds of opportunities to get some exercise and explore the natural beauty of Delaware.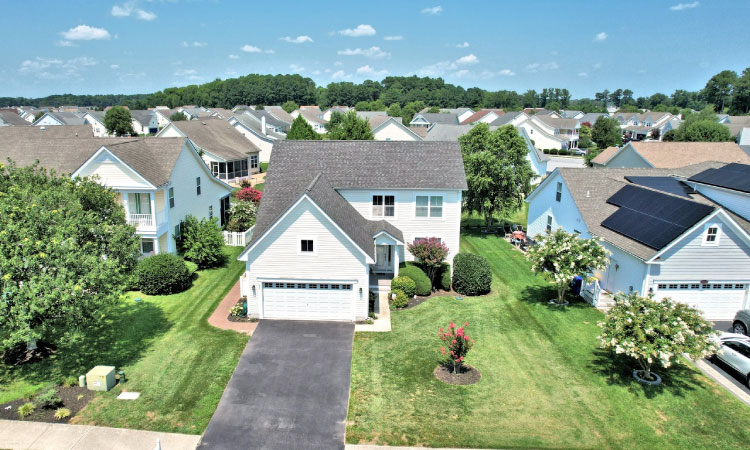 (Source: Jack Lingo REALTOR via Facebook)
Selbyville, Delaware
7. Selbyville, DE
Average rent (all sizes):
$2,800
Average home value:
$531,500
This cute Delaware town is situated right on the Delaware/Maryland border and is less than 30 minutes from both the Ocean City Beaches and Fenwick Island. You can also easily get to Fenwick Island State Park — perfect for picnics, swimming, and hiking.

Make sure you check out the delicious cuisine at local establishments like La Sierra Mexican Restaurant and Grocery or Doyle's Diner.
8. Millsboro, DE
Average rent (one-bedroom):
$800
Average home value:
$364,000
Located along the shores of Millsboro Pond is the picturesque town of Millsboro. The proximity to the water means you'll have plenty of chances to go fishing; enjoy a day on the boat or kayak; or even jump in and go for a swim. And if you prefer saltwater, Millsboro is only a 45-minute drive to the ocean.

If you'd rather stay dry altogether, though, there are ample opportunities to get outside. You can try golfing at the Plantation Lakes Golf & Country Club or head out for a stroll at Millsboro Cupola Park. Locals love exploring the restaurants around town, including Kaan's Bakery and Vinny's Pizza.
9. Townsend, DE
Average rent (one-bedroom): N/A
Average home value:
$446,600
Great for:
Families, jobs, housing, public schools
Townsend is great if you're looking to plant some roots, as it's ranked #2 on Niche's list for "Best Places to Buy a House in Delaware." The area comes with great schools, and it's also close to Wiggins Mill Park and Wiggins Mill Pond, which are where residents love to spend time outdoors.

Whether it's kayaking, having a BBQ on the waterfront, or exploring the trails of the park, there are plenty of ways to keep yourself and your family active in this community. If you want a home in an area with a tight-knit small town vibe, this is the spot for you!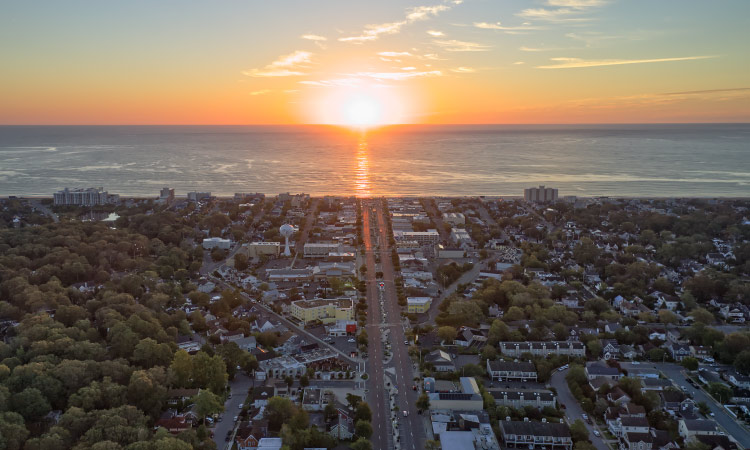 Rehoboth Beach, Delaware
10. Rehoboth Beach, DE
Average rent (all home sizes):
$2,350
Average home value:
$706,800
This safe town in Delaware is a great idea for both retirees and families alike. Rehoboth Beach could be the right place for you to enjoy seaside living at its finest. The town is a big draw for artistic and creative types, so you'll never be at a loss for live music, art shows, and theater performances.

This fun town is also close to Gordons Pond Trail, meaning plenty of opportunities for hiking and biking whenever you feel like it. Locals love to grab a cup at Rise Up Coffee and enjoy a stroll along the beach. If you've always wanted to live within walking distance to the ocean, this could be the town for you!
11. Bridgeville, DE
Average rent (one-bedroom): N/A
Average home value:
$314,900
Bridgeville is close to the Delaware/Maryland border, and it's nestled in among lots of scenic natural beauty. This is a great town if you like to spend time outdoors, whether at the Heritage Shores Golf Course or at the nearby Nanticoke River. One of the most popular yearly festivals is the Apple-Scrapple Festival, which features all kinds of local arts, crafts, and food to enjoy. Stroll down its quaint downtown district to explore the town's attractions, as well as plenty of boutiques and local restaurants like Jeff's Taproom & Grille and Jirehs Bakery and Restaurant!
12. Wyoming, DE
Average rent (one-bedroom):
$925
Average home value:
$283,600
Great for:
Cost of living, schools, families, housing
Wyoming is one of the most affordable small towns in Delaware and is ranked #3 on Niche's list for "Best Places to Live in Kent County." This area has a small-town feel, but it's just 10 minutes from the larger capital city of Dover, meaning easy access to big-city amenities whenever you want.

Wyoming is home to Fifer Orchards — one of the largest peach operations in the state. There's more to see than the peaches, though. Whether it's apple picking, an ice cream date, or online ordering lunch to go, this local business has you covered. If you still haven't had your peach fill after your visit, though, the Wyoming Peach Festival happens every August and features live music, local food, and (you guessed it) plenty of peaches.
Let PODS Help With Your Delaware Move!
If you're considering a move to one of the best towns in Delaware, let PODS make it easy for you. Have a portable moving and storage container delivered right to your driveway, where you can pack and load at your own pace. When you're ready, PODS will pick it up and take it to your new Delaware home. Packing and loading services are always just a recommendation away, and one month's storage is included in every move, so you can unload on your own schedule without feeling rushed.

Editor's note: For ease of reading, monthly rental prices were rounded to the nearest $25 and home values were rounded to the nearest $100.
Get a Quote
Choose the service you need
Comments
Leave a Comment
Your email address will not be published. Required fields are marked *