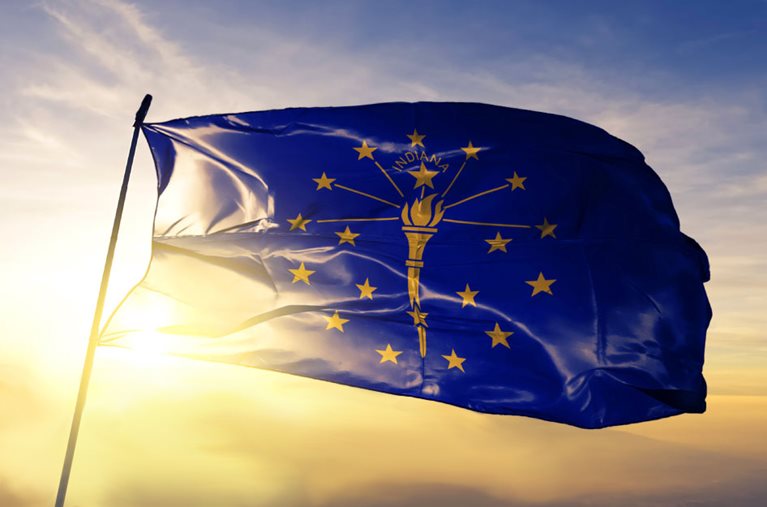 12 Small Towns in Indiana That You Need to Check Out
Sweeping prairies, beautiful beach fronts, and plenty of sports — you'll be able to find it all in the Hoosier state
If you've considered moving to Indiana recently, you wouldn't be the only one. In fact, the state ranked sixth in the country for inbound migration in 2022, up six spots from 12th in 2021. People are choosing to move to Indiana not only because of its bustling cities with strong job markets, affordable housing, and plenty of fun recreational activities to enjoy, but it also has a variety of small towns that are perfect for everyone. Whether you're looking for a safe town to raise a family or want a quieter one to retire in, Indiana's small towns are hard to beat.
Big Cities vs. Small Towns in Indiana
While moving to the larger cities of Indianapolis, Evansville, and Fort Wayne comes with a host of benefits, there's definitely something to be said for small-town living. Here are a few of the best things you'll gain:
A deeper sense of community
Less traffic and congestion
Lots of space to enjoy the outdoors
Lower cost of living
Affordable housing
A slower pace of life
Small Towns in Indiana - FAQ
Q: What is the smallest town in Indiana?
A: Indiana has a lot of small towns, but some of the smallest include Stinesville and Riley.
Q: What is the nicest town in Indiana?
A: Nashville, IN, is considered one of the nicest towns in the state.
Q: How many small towns are there in Indiana?
A: Classifying small towns is a fickle thing. With ever-changing standards and new rules being put in place, it can be hard to find an exact number. However, Indiana had 491 small towns (with less than 10,000 residents) in 2010. Since then, at least 36 cities have made the switch from "urban" to "rural" by U.S. Census standards.
Q: Are there any abandoned towns in Indiana?
A: A lot of towns were developed in the 19th century but dwindled throughout the 20th century. In total, there are over 60 ghost towns in Indiana.
Q: What is the most walkable town in Indiana?
A: Of the towns on this list, Whiting and Madison are the two most walkable towns with scores of 87 and 80, respectively.
12 of the Best Small Towns in Indiana
You know the benefits of small-town living, but what are the best small towns in Indiana? We've chosen our favorites to help you decide. Note: The U.S. Census designates a small town with populations up to 5,000, but we've included towns on our list with populations up to 15,000.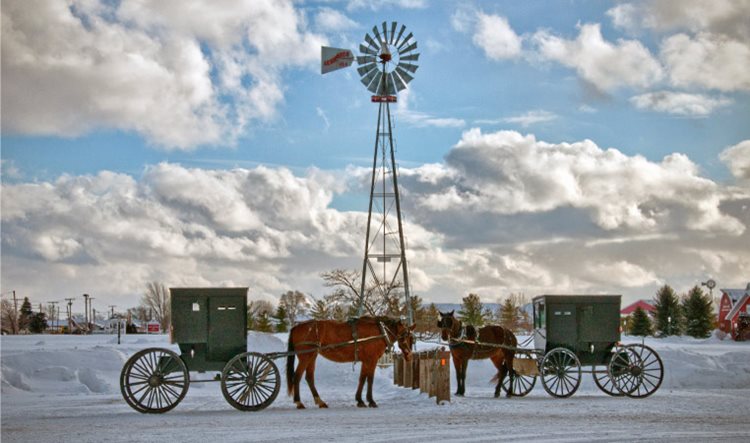 1. Shipshewana, IN
Average rent (one-bedroom): N/A
Average home value: $369,600
As one of the largest Amish towns in Indiana, Shipshewana is a great place to live if you're looking to slow down. It's home to the Midwest's largest flea market, the Shipshewana Flea Market, that operates from May through September. You'll be able to explore the work of local artists, bakers, and skilled craftsmen and carpenters. There are also plenty of vendors selling clothes, furniture, and other knick-knacks.
You'll get used to seeing the Amish horses and buggies on the road once you're a local, and you'll love the beautiful scenery that surrounds this quaint town!
2. Angola, IN
If you're looking for one of the most charming small towns in Indiana to put down roots, Angola should be at the top of your list. The town's business district has plenty of small businesses. Once you've had a full day of shopping, you can head over to Timbers Steakhouse and Seafood for a bite. And if you like exploring, the town's historic buildings are beautiful to look at. There's even a famous Civil War monument at the center of the town!

Angola is close to several lakes, and enjoying the outdoors is a way of life for residents. Whether you want to swim, boat, or learn how to fish, Angola offers plenty of opportunities to get out into nature.
3. Dune Acres, IN
Are you dreaming of retiring by the shore? Then you'll want to check out living in Dune Acres. This town is located in the northwest part of Indiana and is right on Lake Michigan. While on clear days you may be able to glimpse the Chicago skyline, this town is as far away from the hustle and bustle of the city as you could want.

You can stroll down the beach and dip your toes in the lake or head out on a boat for fishing or water skiing fun. The Indiana Dunes National Park is also in the area, which means you'll be able to explore this serene natural setting on foot or in a dune buggy!

The Dune Acres Clubhouse, situated on one of the tallest dunes, is even listed on the National Register of Historic Places. Stop into one of the local eateries after a day out exploring, like Dunes Pavilion, or grab something sweet at Dari-Dip.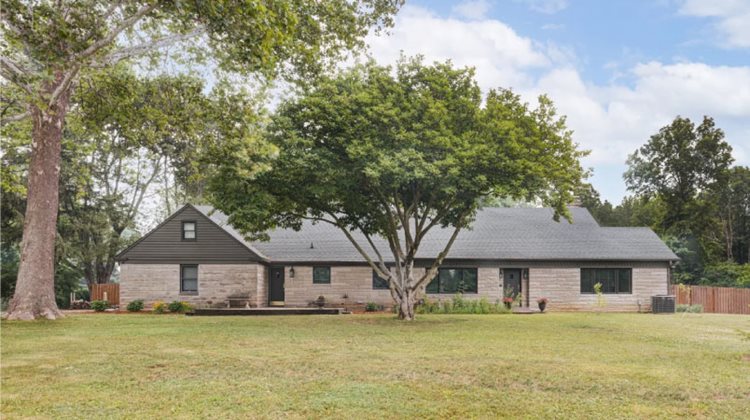 4. Meridian Hills, IN
Meridian Hills is a great place for families, but it's best for retirees. In fact, it's been ranked first by Niche for "Best Places to Retire in Indiana." This is one of the towns near Indianapolis, meaning you'll have small-town safety with access to big-city amenities. It's especially great if you're commuting into the city, as you'll only have to drive about 30 minutes.

Full of well-kept streets, gorgeous homes, and friendly folks, Meridian Hills also boasts many small businesses to shop from. Locals also love stopping into Meridian Restaurant and Bar for bites and brews!
5. Stinesville, IN
A beautiful small town in Indiana with an old-time American vibe is Stinesville. This town is close to Bloomington, IN, which is home to the University of Indiana (you're still far from the hustle and bustle of student life, though). You'll be treated to affordable housing and a slower pace of life here.

Residents love walking through the main business district to admire the historic architecture. In fact, the entire town has been on the National Register of Historic Places since 1995. Residents also love the music, food, and arts and crafts that accompany the Stone Quarry Festival each September, and we're sure you will too!
6. Riley, IN
Another one of the smallest (and most charming) Indiana towns is Riley — located near Terre Haute. In fact, the towns are so close together that housing and rental pricing for Riley falls under Terre Haute (and our numbers reflect that). It's a great place to buy or rent, especially if you're looking for affordable housing, great schools, and the chance to get outdoors.

The Riley Conservation Club is one of the most popular places to practice shooting sports, but you can also go fishing. Rather golf, instead? Head over to Idle Creek Golf Course!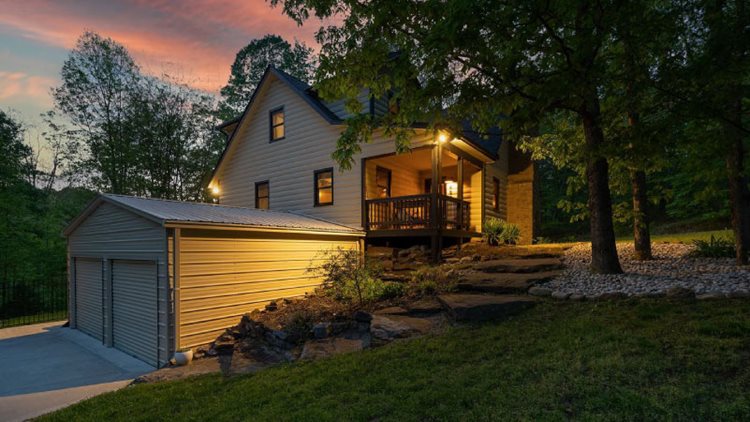 7. Nashville, IN
Nashville is one of the artsier small towns in Indiana, and it comes with a welcoming community. It started out as the Brown County Art Colony, and that creative energy is still present throughout the town's local shops and streets. Like its Tennessee counterpart, Nashville is home to a thriving music scene, and residents enjoy shows and festivals at the Brown County Music Center year-round.

The town is also close to the Brown County State Park, along with popular hiking destination Browning Mountain.

If you're feeling brave enough, you make the trek into Elizabethtown — one of Indiana's ghost towns. Only 40 minutes away, you can't help but feel like someone is watching you inside this eerie cemetery.
8. Lake Holiday, IN
Lake Holiday is located in Montgomery County, and it's a great place to live, whether you're looking to retire or settle down with your family. With the city's center being Lake Holiday, there are plenty of chances to get out on the water.

Whether you find property on the waterfront or the surrounding side streets, chances are you'll be at the lake most days — lots of the residents are!

With easy access to nearby highways, traveling up to larger towns like Crawfordsville or New Market is a breeze — especially for your commute. And when you're looking for more beautiful scenery, make sure to check out Sugar Creek and the Davis Ferry Bridge.
9. North Webster, IN
Sitting right on the shores of Webster Lake is the small town of North Webster. This city holds the fourth place spot on Niche's list for "Best Places to Retire in Indiana," and with the beautiful natural scenery, it's easy to see why.

You'll be able to enjoy the beautiful beaches and marinas that surround the lake, or check out the greenery at the Welah Metekkah Nature Trail. Nearby Pokagon State Park also offers plenty of lakefront views and opportunities to get out on the water. Whether it's boating, fishing, canoeing, or even tubing, you'll be able to try it all in this small town.

North Webster has plenty of welcoming residents, and it's important to remember that it gets pretty busy in the summer months as tourists come out to enjoy the lakes. That doesn't mean you'll have to worry about the congestion that would come with living in a bigger city, though.
10. Yorktown, IN
Average rent (one-bedroom): N/A
Average home value: $211,800
Located near Muncie, IN, is Yorktown. This tight-knit community is great for all walks of life — whether you're raising a family, looking to retire, or you have a new job in the nearby city. Locals love hanging out in the town's many parks, which host farmer's markets, concerts, and festivals throughout the year. Kayaking and canoeing are popular on the White River, and residents can often be found walking the neighborhoods, golfing, or supporting local businesses like El Rancho Poblano and Osborn's Country Kitchen.
11. Madison, IN
This southern Indiana town is located right on the Ohio River and would be a great place to ease into a quiet, small-town lifestyle. If you enjoy getting out on the water, you'll have plenty of chances — whether it's boating, kayaking, or canoeing. You can also explore some of the natural beauty in this area at Clifty Falls State Park, where residents love to go hiking or biking with family and friends.

Once you've enjoyed a day on the water, you can stop by and taste some wines at Lanthier Winery or grab a slice at Brittany's Brick Oven Pizza.
12. Whiting, IN
Located near the Illinois border on the shores of Lake Michigan is the small town of Whiting. This would be a wonderful place to retire, but it's also a great place to raise a family. In fact, it's one of Niche's top 10 places to live in Lake County.

It's also only 30 minutes from Chicago, so you'll be able to enjoy city amenities without all the hustle and bustle. If you're looking for a bite, be sure to stop at Grindhouse Cafe for coffee and a sandwich or Griller's Restaurant for burgers!

Residents also love to get out on the lake and enjoy picnics at Whiting Lakefront Park. Lake George is also close by and offers plenty of opportunities to hike trails, golf, or just enjoy the scenic water.
Let PODS Help With Your Move to a Small Indiana Town
When you're ready to move to any one of these fantastic Indiana towns, let PODS help you get there. With drop-off and pick-up services directly to your doorstep, accessing a portable storage container has never been easier. You'll be able to pack up on your own time and have your container delivered to your new address in Indiana when — and only when you're ready. Need a little more time? No worries! One month of storage is included with every move.
Editor's note: For ease of reading, monthly rental prices were rounded to the nearest $25 and home values were rounded to the nearest $100.
Get a Quote
Choose the service you need
Comments
Leave a Comment
Your email address will not be published. Required fields are marked *