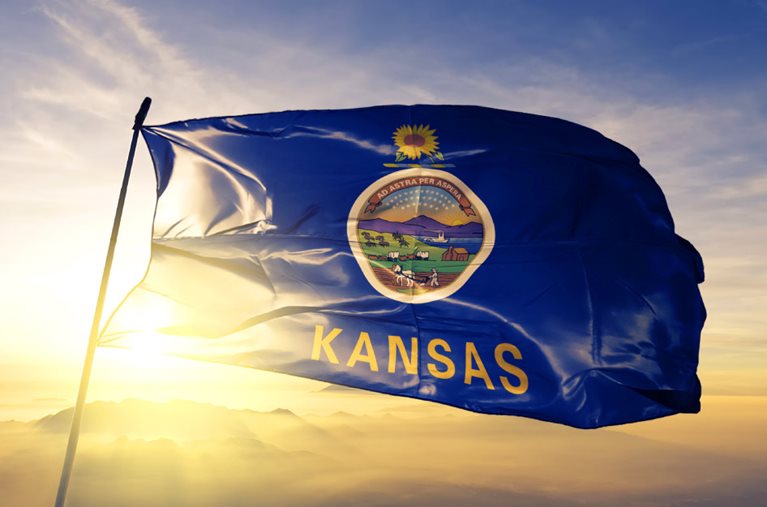 Life in the Great Midwest: 12 Best Small Towns in Kansas
The Sunflower State is a perfect example of the American midwest: Open plains and prairie lands everywhere you look. Whether it's the bigger cities or the best small towns in Kansas, you can find nature trails, a prominent cowboy culture, and a very eventful past. The state was incorporated in 1861 and plays a huge part in the country's agriculture economy.

Ready to move to small town Kansas? Start with a quote from PODS.

Kansas' low cost of living is a driving factor to its population growth. Since Kansas is one of the country's largest producers of domestic manufacturing and consumer products, residents find that many everyday items cost less to buy overall as well.

The cost of living in Kansas is 12% lower than the national average, and housing is 30% lower than the national average. While some of the bigger cities in Kansas offer much more affordable housing compared to other big cities in the U.S., you can truly luck out and find housing options in the smaller towns for some even better bargains. Hello, acres and acres of land.

In 2021, Kansas saw about 2,700 new residents coming into the state, and a pattern has been forming. Since 2020, two million people have left America's largest cities and relocated to smaller towns. One of the main reasons for this is the increasingly expensive real estate market in the bigger cities, along with the influx of remote job opportunities that don't require employees to live directly in the city.
Big Cities vs. Small Towns in Kansas
Big Kansas cities such as Overland Park, Wichita, and the Kansas side of Kansas City may seem desirable to relocate to at first, since you pretty much have everything at your fingertips. This includes easier access to entertainment opportunities, job opportunities, diversity, and public transportation is usually a lot more reliable. Oftentimes the disadvantages can outweigh the pros however, which includes a higher cost of living, noise, and crowded spaces.
Just like the larger cities, small towns in Kansas have just as many opportunities for entertainment that includes hiking, shopping, and interesting museums.
Overlooked historical significance exists in many of Kansas's small towns, including unique architecture from the past.
While you can find affordable living all over the state, small Kansas towns are nigh unbeatable when it comes to finding the cheapest housing options and cost of living overall.
Best Small Towns in Kansas - FAQ
Q: What is the nicest city in Kansas?
A:
Wichita has been named one of Niche's "
Best Cities to Buy a House in America
," and it's only about 2 hours away from small towns like Chanute.
Q: What towns are in southern Kansas?
A:
Chanute and Fort Scott are both some of the best small towns you can find in the southern Kansas area.
Q: What is the prettiest place in Kansas?
A:
Because of its beautiful outdoor scenery, the small town of Norton is considered as one of the prettiest places in Kansas. Norton is a favorite among residents and visitors alike. With beautiful outdoor scenery and greeting hunting opportunities, it's considered a beautiful place to live.
Best Small Towns in Kansas
No matter what part of the Sunflower State you decide to relocate to, there's a small town in every corner to explore that you might just fall in love with! From friendly farm towns to towns with overlooked historical significance, check out these best small towns in Kansas with no more than 15,000 residents!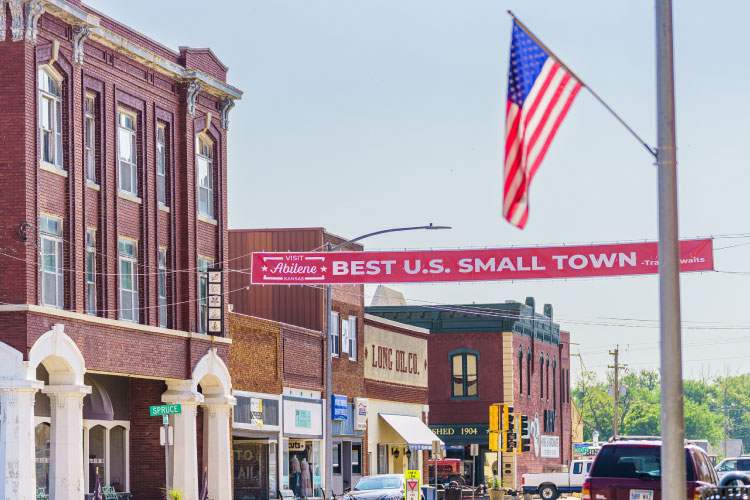 Abilene, Kansas
(Source: Visit Abilene Kansas via Facebook)
1. Abilene, KS
Average rent (one-bedroom):
$525
Average home value:
$136,600
Great for:
Historic sites, retirees
The three-time reigning "Best Small Town to visit in the U.S." the stunning and historic town of Abilene is one of the best towns in Kansas to settle down. The crime rate in Abilene is also lower than about 62% of other communities in the entire state, making it one of the safest towns in Kansas.
The Boyhood Home and the Eisenhower Presidential Library (The former president was raised in Abilene) are some of the town's most popular attractions. The Boyhood Home allows you to explore the home Eisenhower grew up in, and the library provides easy access to information — great for history buffs and those interested in the life of one of the 20th century's goliaths.
Another perk to Abilene is the breathtaking Seelye Mansion. The house was originally built for $55,000 in 1904. Adjusted for inflation, the building is worth nearly than $1.9 million. At the time it was built, its furnishings were worth more than the house itself. Imagine how much its worth now! The C.W. Parker Carousel Museum and Gift Shop is another impressive attraction in Dickinson County's Heritage Center. This attraction was built in 1901, has 24 horses, and is still operational.
2. Norton, KS
Average rent (one-bedroom): N/A
Average home value:
$98,000
Great for:
Beautiful scenery, art galleries & museums, history, outdoor activities, families, retirees
The small town of Norton is the perfect combination of small town vibes and beautiful scenery to take in. Residents can enjoy strolling through the historic district and checking out the local eateries and shops, as well as visit some art galleries and museums. Some of these include the Norton County Historical Society and Museum and the "They Also Ran" Gallery, which depicts some of the defeated presidential candidates from years' past.
Other fun things to do in the area include taking a photo with the historic Stagecoach Station 15 — a replica from the 1800s. Also, make sure to stop by the Norton Public Library to admire its outdoor statue collection.
You can also spend some quality time outdoors at the Keith Sebelius Reservoir and Prairie Dog State Park, which are both right outside of town. Pack a picnic and enjoy some quality time with friends and family at the lake!
3. Chanute, KS
Average rent (one-bedroom): N/A
Average home value:
$85,500
The vibrant community of Chanute and friendly residents make it a great small town to live. It hosts various events each year, like the Sugar Mound Arts and Crafts Festival, where you can check out a variety of fun booths. Main Street is also full of old-world charm and boasts of beautiful residential areas outside the city center as well as inside.

There are several well ranked public and private schools in Chanute, making it an ideal town to raise a family. If you're looking for higher education, there is also Neosho County Community College.
For a taste of the big city, Lawrence, Kansas City, and Wichita are all around two hours away.
The easiest way to commute to other places or is via US-169 or K-39. The Martin Johnson Airport is also in the area.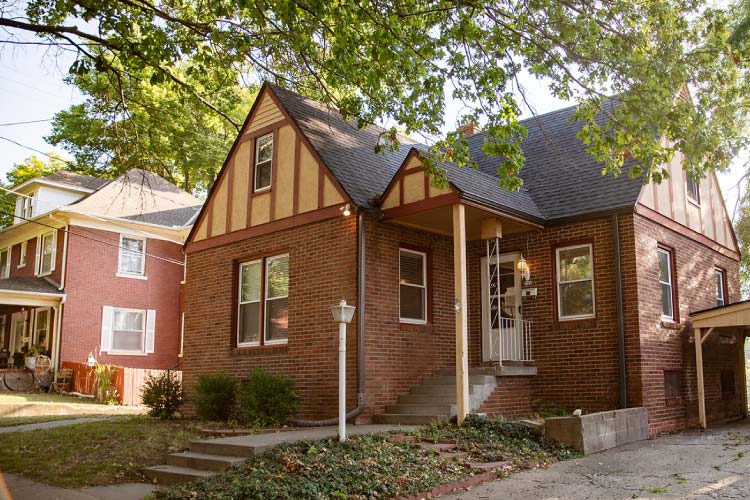 Atchison, Kansas
(Source: Jessica Norris via Facebook)
4. Atchison, KS
Average rent (one-bedroom):
$600
Average home value:
$139,100
Great for:
Annual events, history, shops, beautiful architecture, college students, young professionals
A fun fact about Atchison is that it's the birthplace of Amelia Earhart, American aviation pioneer and writer. The town is known for annual events celebrating her achievements, like the annual Amelia Earhart Festival. It's also home to 20 historic sites that are on the National Register.
Besides its fascinating history, Atchison is known for its quaint shops and beautiful historic architecture. The view from the river gives a sense of the town's past, which used to be a bustling trade center.
The town is also home to Benedictine College.
5. Wamego, KS
Average rent (one-bedroom): N/A
Average home value:
$259,100
Wamego is a progressive and vibrant community located in Northeast Kansas, about 35 minutes west of Topeka and 15 minutes east of Manhattan. Its proximity to larger cities and friendly residents are some factors as to why this is one of the nicest towns in Kansas.
The town's economy is heavily dependent on both light and heavy manufacturing, which is supported by its agricultural economy, financial services, educational system, and retail establishments. Recreational and cultural attractions are abundant in the area, such as Wamego City Park and the Wamego Historical Society and Museum.
6. Fort Scott, KS
Average rent (one-bedroom):
$650
Average home value:
$109,500
Great for:
Historic sites, museums, parks, retirees
Fort Scott is a great place to live for history enthusiasts, and it's only two hours away from Kansas City so you'll have plenty of chances for great weekend getaways.
The best way to get a feel for Fort Scott before you move here is by taking a Fort Scott Trolley Tour. You'll get to learn about the variety of museums, historic buildings, and parks around town.
If you'd like to learn more about the town or walk around an art museum, be sure to check out the Gordon Parks Museum or the Museum of Creativity. If you'd rather spend a day on the water, Lake Fort Scott is a great place to anchor the boat and do some fishing.
One of the most popular places in the area is the Fort Scott National Historic Site. It was a part of the Civil War and has various historic buildings that house period exhibits.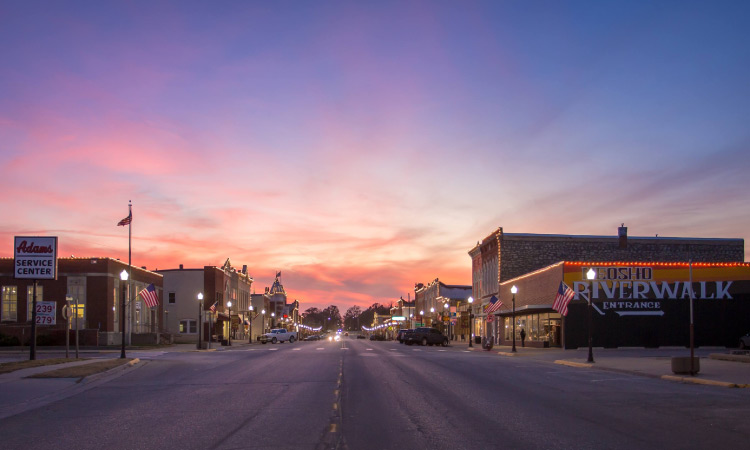 Council Grove, Kansas
(Source: Destination: Council Grove via Facebook)
7. Council Grove, KS
Average rent (one-bedroom): N/A
Average home value:
$169,500
One of the eight wonders of Kansas history is Council Grove. Located on the Santa Fe Trail, it's the site of a treaty signed by Euro-Americans and the Native American tribes of the area.
The Santa Fe Trail — spanning just over 1,200 miles from Mexico to Missouri — was regarded as the first international trade route in the U.S. In 1825, a treaty was signed that provided Mexicans and Americans with free passage through the Santa Fe Trail.
The Neosho Riverwalk Trail is a great place for nature lovers. It features a paved and ADA-compliant trail that connects various areas, like the Guardian of The Grove and the Kaw Mission.
8. Victoria, KS
Average rent (one-bedroom): N/A
Average home value:
$192,600
The atmosphere in Victoria is generally a very relaxed small farm town vibe, great to settle down in, with a bit of history to explore as well.
The town was named after Queen Victoria after being settled by only 38 Scottish immigrants. One of the town's most prominent landmarks is the Basilica of Saint Fidelis, which is also referred to as the Cathedral of the Plains. It was constructed from 1908 to 1911 and is made from native limestone.
9. Colby, KS
Average rent (one-bedroom): N/A
Average home value:
$167,400
Located in western Kansas, the small town of Colby is most widely known for its strong history and art culture. Although it might seem like it's in the middle of nowhere, you wouldn't be able to tell with all the fun going on!
The Prairie Museum of Art and History is a great place to learn about the history of the area's agriculture, featuring a variety of art pieces and artifacts.
One of the most popular attractions that you can find behind the museum is the massive Cooper Barn, which measures 66 feet wide by 114 feet long and 48 feet high. It's regarded as the largest barn in Kansas.
Throughout the year, the town of Colby hosts many exciting events. Some of these include the Great Oasis Cook Off, along with the Pickin' On The Plains Music Festival.

St. Marys, Kansas
(Source: St. Mary's Real Estate, Inc. via Facebook)
10. St. Marys, KS
Average rent (one-bedroom): N/A
Average home value:
$241,300
St. Marys is a beautiful small town in Kansas that's situated just thirty minutes away from Topeka. If you're a fan of architecture, you'll want to check out the Immaculate Conception Catholic Church or St. Mary's College.
One of the oldest structures in the county is the Indian Pay Station Museum, which was constructed in 1857. It's a museum on the National Register for Historic Places, and it's where the government and the Potawatomi people worked together.
The Oregon Trail Nature Park is also not far, which is a great place to explore some nature and have a picnic or go on a nature walk.
11. Elk Falls, KS
Average rent (one-bedroom): N/A
Median home price:
$73,200
The small town of Elk Falls features a beautiful waterfall and a historic truss bridge, but there's a catch that makes this special place so different from other towns in Kansas. It's one of the biggest ghost towns in Kansas, and even claims to be the "World's Largest Living Ghost Town." Another nickname for Elk Falls is the "Outhouse Capitol of Kansas."
Elk Falls derives its name from the natural falls in the area, which is a natural waterfall that spans about 75 feet high. It was once a water-powered grist mill that was constructed in 1892.
The town's annual Fall Open House is organized by the Friends of Elk Fall Association, which is a fun way for the community to get together and celebrate the holiday season. Various local organizations and businesses in the area sponsor the event. If you're a fan of small town living, but want to keep spookiness in your life, Elk Falls might be a great place for you to call home.
12. Lindsborg, KS
Average rent (one-bedroom): N/A
Average home value:
$218,200
Why not venture into something new and pretend like you're living in a small town in Sweden? The town of Lindsborg, Kansas, is known for its strong Swedish heritage and roots — it's even been dubbed "Little Sweden U.S.A." and is the self-proclaimed sister of Munkfors, Sweden.
Even though it's a small city, Lindsborg has plenty of attractions to keep you entertained. From Coronado Heights to the Höglund Dugout, residents can also enjoy being surrounded by beautiful public art that includes paintings and iron sculptures.
Those who prefer peaceful retreats can explore the Välkommen Trail, and also have access to some authentic Swedish cuisines at places like Crown and Rye and Happy Swede Restaurant.
Call PODS to Help You Move to One of these Amazing Towns in Kansas
After you have found your dream home in the peaceful yet vibrant Sunflower State of Kansas, let PODS help you get there. They can provide a portable storage container that you can use to move and load it on your own time, whether it be long distance or local assistance. They will also pick up the container and deliver it to your new residence. One month of storage is included in the deal so you can easily unburden yourself during the move.
Get a Quote
Choose the service you need
Comments
Leave a Comment
Your email address will not be published. Required fields are marked *