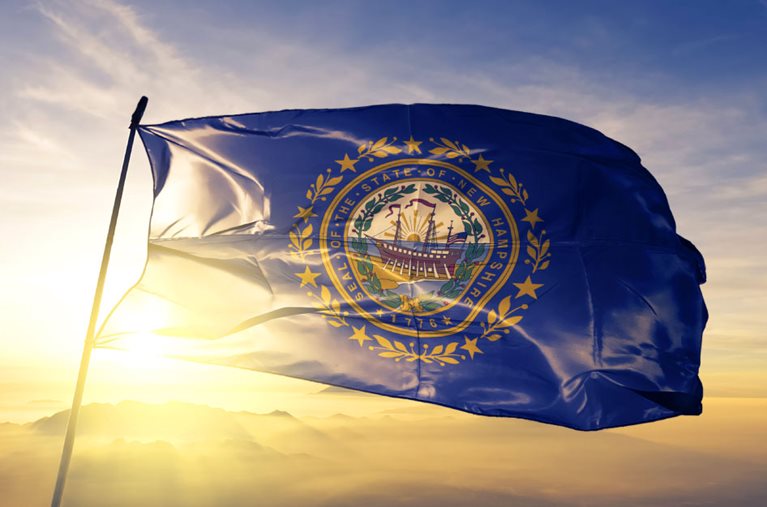 Looking for Your Small Slice of New England Heaven? Here are 12 of the Best Towns in New Hampshire in 2023
New Hampshire, located near the Canadian border and commonly referred to as "The Granite State," is home to over 1 million residents. It's known for its beautiful scenery that includes vast forests and soaring mountains, as well as vibrant urban areas. And as one of the 13 original colonies, the state is full of classic old-world charm, as well as numerous historic towns and cities. Also, the state doesn't have a sales tax or income tax, which is very appealing to both tourists and new residents!

When describing their home, New Hampshire residents will most likely bring up the gorgeous and abundant geographic regions across the state. The Lakes Region, the Seacoast, and the Great North Woods, for example, offer year-round activities such as hiking, boating, and snowmobiling. But the best part of living in New Hampshire? There are plenty of places to enjoy all that the state has to offer. Check out 12 of the best towns in New Hampshire, known for their small sizes yet large personalities.
Big Cities vs. Small Towns in New Hampshire
With many unique living perks such as no sales or income tax and beautiful sites to visit outdoors all year, it's no surprise that the state of New Hampshire has seen more people move there than leave. In fact, between July 2021 and July 2022, over 10,000 more people moved into the state than left.

Two of New Hampshire's biggest cities include Concord (the capital city) and Manchester, which both have a lot to offer. Advantages of living in these cities include more direct access to job opportunities, better education opportunities, and large arts and culture scenes. However, many of New Hampshire's larger cities don't have great public transportation, crime rates can be higher, and traffic can certainly be an issue, among other issues.

Fortunately, the entire New England area has some of the cutest small towns, and New Hampshire is certainly no exception. Home to over 200 towns, there are plenty of pros to choosing to reside in a small New Hampshire town. Some examples include:
Quaint streets filled with lots of shops and things to do
Friendly communities
Coastal and mountain views
More affordable cost of living and housing in certain areas
Best Towns in New Hampshire - FAQ
Q: What is the most walkable town in New Hampshire?
A: The small town of Exeter is known for its walkability and pedestrian-friendly streets.

Q: What is the best county to live in New Hampshire?
A: Located along New Hampshire's stretch of Atlantic coastline, Rockingham County is considered to be one of New Hampshire's best counties.

Q: What is the most quaint town in New Hampshire?
A: With a population of just around 4,300, New London is considered one of the most quaint towns in New Hampshire.

Q: Where is the best town to live in New Hampshire?
A: According to Niche, Hanover ranks as the #1 best town to live in New Hampshire as of 2023.
Best Small Towns in New Hampshire
New Hampshire is so packed with great places to live, many residents from all walks of life are proud to call the state home. From beach towns to mountain and ski towns, check out some of the best small towns in New Hampshire to live with populations of no more than 15,000.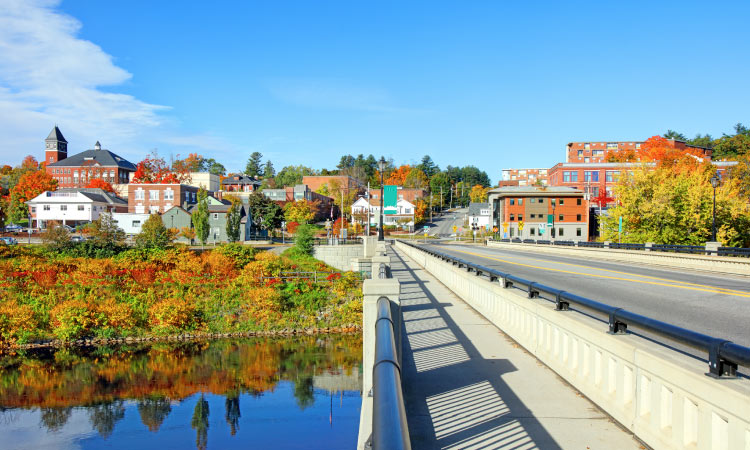 Plymouth, NH
1. Plymouth, NH
Average rent (one-bedroom):
$3,075
Average home price:
$330,500
Great for:
College students, families, beautiful views, shopping, restaurants, outdoor activities, young professionals

Located in the White Mountains region of New Hampshire, the small town of Plymouth is home to Plymouth State University. This small public university is surrounded by beautiful countryside and has a charming downtown. It also has a white-steepled church and a covered bridge.
In addition to its university, Plymouth also has a variety of local shops and restaurants that are known for their vibrant and welcoming atmosphere. Some of these include The Main Street Station, Chase St. Market, and Café Monte Alto. Not to mention, the area is very convenient to many outdoor activities, such as the Tenney Mountain, Newfound Lake, and the Polar Caves.
2. Hanover, NH
Average rent (one-bedroom): N/A

Average home price:
$926,800
Located in the Upper Valley, close to the Vermont border, the town of Hanover is home to Dartmouth College. Although relatively small, with around 12,000 residents, it has plenty of activities for everyone. The Dartmouth campus is located in and around the downtown area, and it's a safe and beautiful place to explore. One particularly fun building to explore is the Baker-Berry Library, which features a Harry Potter-esque tower room. During the summer, the area is filled with live bands and farmers' markets.
In town, you can find a variety of local restaurants and bars, such as Lou's Restaurant & Bakery. And if you're in the mood for a movie, the Nugget Theaters offer a great place to watch movies.
In addition, one of the most amazing art museums in town is the Hood Museum. It's located in downtown Hanover and features works by some of the most prominent artists, such as Pablo Picasso and Georgia O'Keeffe. The museum also has free entry!
3. Sugar Hill, NH
Average rent (one-bedroom): N/A

Average home price:
$584,900
As one of the best mountain towns in New Hampshire, Sugar Hill is located in the heart of the "Alps" (the White Mountains), surrounded by farms, historical homes, and fields. It is also the perfect location for the annual Sugar Hill Lupine Festival. During this time, the gardens and fields of the town are filled with vibrant purples, pinks, and whites, as the lupines bloom.
The festival is attended by thousands of people each year, and it features various activities, such as live performances, tours, and an open-air market. After you get your fill of flowers, be sure to stop by Polly's Pancake Parlor for some fluffy pancakes. This historic establishment serves up famous buttermilk pancakes smothered in real maple syrup.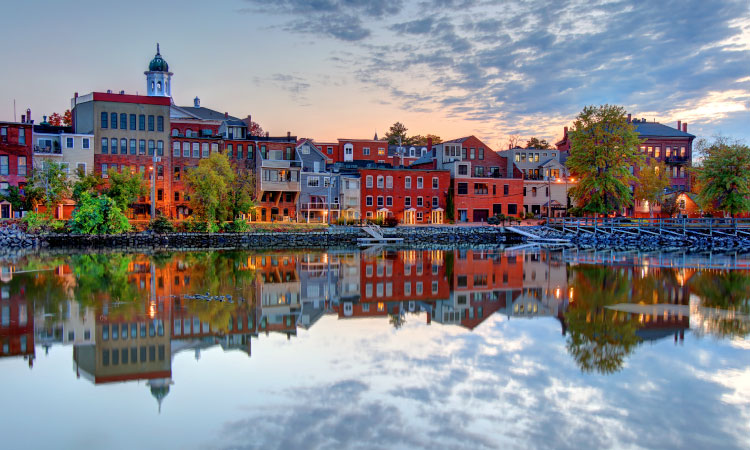 Exeter, NH
4. Exeter, NH
Median rent (one-bedroom):
$1,850
Average home price:
$538,200
Great for:
History, museums, shopping, live performances, walkability, young professionals, families, retirees
Exeter, one of the best coastal towns in New Hampshire, is located right by the Atlantic Ocean. Although the population is a little more than 15,000 (by only about 1,000 or so people), its charming history and pedestrian-friendly environment are two of the reasons why it is one of the most prominent towns in the state. During the 1600s, it was one of the earliest colonies in New England, and notable individuals such as George Washington and Abraham Lincoln were spotted in its streets.
One of the town's most popular attractions is the American Independence Museum, which is situated on Water Street, and it displays the town's early history. There are also a variety of other great shops on this street, such as The Chocolatier, Water Street Bookstore, and Whirlygigs Toy Shop. You can also catch a live performance in the bandstand of the Exeter Brass Band, or check out the Exeter Farmers' Market.
5. Gorham, NH
Average rent (one-bedroom): N/A

Average home price:
$229,700
The town of Gorham is located in the White Mountains region of New Hampshire, on the north end of the Presidential Range. It has a quaint downtown area and is full of great small-town charm. And with its packed year-round calendar of events, there's always something to do, such as going to the Moose Brook State Park or the Medallion Opera House. From moose tours to "Muster in the Mountains" — a Colonial encampment of re-enactors from the French and Indian War, Revolutionary War, and Mountain Man periods from 1750-1840 — there's never a dull moment in Gorham.
6. Peterborough, NH
Average rent (one-bedroom): N/A

Average home price:
$418,500
Situated along the Contoocook River, the quaint town of Peterborough is a great place for avid outdoor enthusiasts. It also offers a variety of stores that are known for their repurposed goods. Some of these include Twin Elm Farm, Bowerbird & Friends, Murray's Home Again, and Grove & Main Antiques.
The town of Peterborough is also known for its culture and artsy appeal. One of the most prominent organizations that is located in this area is MacDowell, which was established in 1906. For over a hundred years, the organization has been supporting artists.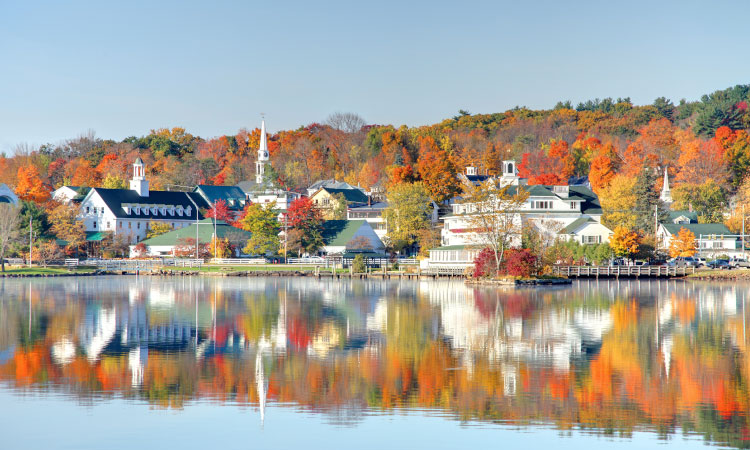 Lake Winnipesaukee in Meredith, NH
7. Meredith, NH
Average rent (one-bedroom): N/A

Median home sale price:
$469,000
Because Meredith is situated on Lake Winnipesaukee, this small town has a variety of outdoor activities that residents enjoy, including water sports, swimming, and fishing. And since it's located in the heart of the Lakes Region, many residents from other areas of the state come here to enjoy some of the fun that goes on. As one of the best beach towns in New Hampshire, you'll find many beautiful homes on local private beaches. Meredith is also home to a very upscale shopping market and lots of fabulous seafood restaurants.
8. North Conway, NH
Average rent (one-bedroom): N/A

Average home price:
$438,400
One of the best ski towns in New Hampshire to move to — and even simply visit — is North Conway. It's set in the White Mountains, with a variety of local shops and restaurants. The town also has a beautiful ski museum and park, along with a local railroad that provides guests with train rides through the area.
North Conway also serves as a great basecamp for those who want to explore the White Mountains. Some of the most popular nearby areas include Mount Washington, Attitash Mountain, Diana's Baths, and Cranmore Mountain.
9. Amherst, NH
Average rent (one-bedroom): N/A

Average home price:
$595,400
The historic village of Amherst has been voted the third best suburb to live in New Hampshire, according to Niche. This area is full of outdoor recreation opportunities and has a lot of history.
The Village Green of Amherst is a vital part of the community, and it is also home to all kinds of events, such as the Fourth of July celebration that takes place each year. The town is home to some great school districts, as well. In fact, the local middle and high schools have even been recognized as the best in the state.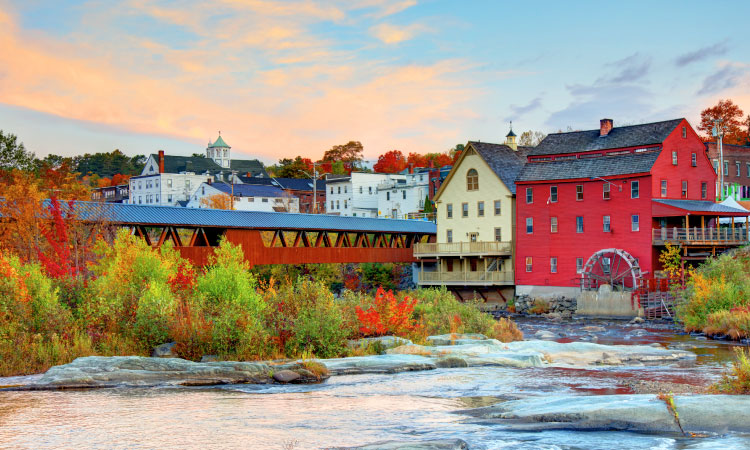 Littleton, NH
10. Littleton, NH
Average rent (one-bedroom): N/A

Average home price:
$320,600
The historic town of Littleton is situated in the White Mountains, near the Connecticut and Ammonoosuc Rivers. It has been named one of the most charming small towns in America and one of the "last great classic Main Streets in New England."
The Littleton Opera House is a great place to learn about the area's history. And if you're a fan of books, your close proximity to the Little Village Toy & Book Shop will certainly work out in your favor.
11. Wolfeboro, NH
Average rent (one-bedroom): N/A

Average home price:
$575,700
The small town of Wolfeboro, located on Lake Winnipesaukee, has earned its spot on this list due to its robust economy and family security. It also boasts a thriving local tourist industry and is often referred to as the "Jewel of Lake Winnipesaukee."
Located in the heart of New Hampshire's Lakes Region, Wolfeboro is known for its beautiful weather and great food. It boasts a number of local restaurants that are ideal for outdoor dining, such as O Bistro at The Inn On Main, Wolfetrap Grill and Rawbar, and the Downtown Grille Cafe.
12. New London, NH
Average rent (one-bedroom): N/A

Average home price:
$605,000
Great for:
Beautiful views, fun outdoor activities, walking trails, students, families, young professionals
New London is a small town that has plenty of beautiful mountain views and rolling hills. Home to about 4,300 people, its residents enjoy a wide range of outdoor activities, such as hiking, fishing, camping, and skiing.
It's also easy to stay busy within the community, as the town takes great pride in its Main Street and community garden. The Public Works and Fire Departments even work together to create a community ice rink in the winter for everyone to enjoy — complete with ice skate rentals.
Let PODS Help With Your Small-Town New Hampshire Move
After settling on a beautiful small town in New Hampshire, you can count on PODS to help you get to your new home, whether you're moving locally or long distance. PODS will provide a portable storage container for you to pack and load at your own pace. Then, your container will be picked up and taken to your new place of residence. One month of storage is also included in every move, so you can easily get organized and unload without a rush.
Editor's note:
For ease of reading, monthly rental prices were rounded to the nearest $25 and home values were rounded to the nearest $100.
Get a Quote
Choose the service you need
Comments
Leave a Comment
Your email address will not be published. Required fields are marked *