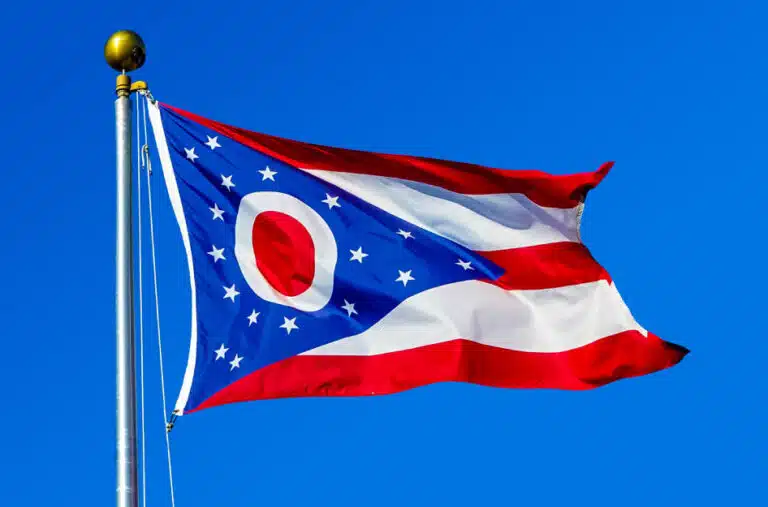 Find Your Slice of Heaven in One of the Best Small Towns in Ohio
Ohio is one of the most beautiful and picturesque states in the country. You get to experience all four seasons in dramatic fashion, and there are plenty of opportunities to get out and explore its natural wonders. Whether you're looking for a new job in the larger cities of Columbus, Cincinnati, or Cleveland, or you're simply looking for a safe town to retire to, the Buckeye State is ready and welcoming for folks from all walks of life.
And it's a good thing. People from all over the country are choosing to relocate these days, and Ohio has seen its fair share of new residents, who are mostly arriving from nearby neighbors Kentucky and Pennsylvania. But while you can't deny that Ohio certainly has a lot going for it — from the affordable real estate market to the variety of scenic places that include access to lakes, rivers, and forests — you may be wondering if a move to one of Ohio's small towns might be what's best for you. Sure, the bustling cities provide a lot of economic and cultural amenities, but there's something to be said for the community feel in a smaller town.
Let's take a look.
Big Ohio Cities vs. Small Towns in Ohio
Bigger cities in Ohio offer residents a chance to enjoy cultural amenities like concerts, symphonies, and sports teams, as well as an amazing dining and restaurant scene. However, oftentimes, the trade off comes at the price of higher housing costs and potentially less-safe neighborhoods. While there are lots of good reasons to stay in the city, if you're a retiree, growing family, or young professional just starting out, perhaps you'd be better served by one of the best small towns in Ohio?
Ohio small towns have:
A great sense of community
Many local businesses offering all kinds of goods and services
Easier access to outdoor activities
Less population
Lower costs of living
Local festivals that are a fun way to increase community engagement
Lots of ways for folks to feel more involved and get to know their neighbors
Small Towns in Ohio - FAQ
Q: What is the best small town in Ohio to live in?
A: While Ohio has a lot of amazing small towns, we think that Geneva-on-the-Lake is one of the best to live in because it's so close to Lake Erie and boasts wonderful beaches.
Q: What is the prettiest town in Ohio?
A: Granville, OH, is considered one of the most picturesque small towns to live in, with its charming rows of brightly painted brick buildings and attractive storefronts downtown. Fun fact: The people of Granville are so proud of their home that their motto is "One of Ohio's Best Hometowns."
Q: What is the nicest place to live in Ohio?
A: While it's hard to narrow it down because Ohio has all kinds of nice towns near rivers and lakes, we think that Marietta is a top contender for nicest town.
Q: What is the friendliest town in Ohio?
A: Columbiana, OH, was rated as the nicest town in the U.S. by Reader's Digest in 2019, and, needless to say, they've been keeping the friendly vibes going since!
Best Small Towns in Ohio
Before we get into our list of 12 of the best small towns in Ohio to live, we just wanted to clarify that although the U.S. Census denotes a small town as having less than 5,000 people, we've included towns that may have up to 50,000 people. Those towns with 25,000 people or more will be noted. Now let's discuss those top 12 Ohio towns (in no particular order, of course).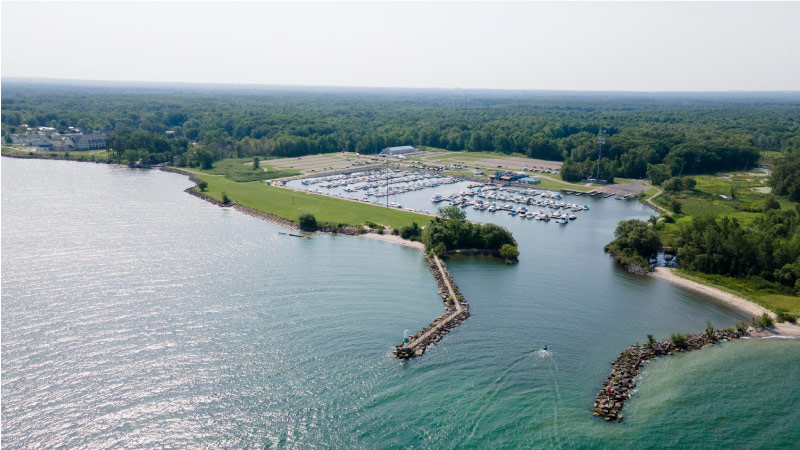 1. Geneva-on-the-Lake, OH
Average rent: N/A
Average home value: $150,240
If you've been looking for a small Ohio lake town, then Geneva-on-the-Lake should be on the top of your list. Whether you're a retiree who is looking to explore boating and fishing options, or you're a growing family that is looking for affordable housing with easy access to the beach, this could be the spot for you. While you may already be familiar with this town as a vacation destination, why not consider it for your prime residence — especially if you've always dreamt of living near one of the Great Lakes?
In addition to all the outdoor lake activities, you'll be pleased to know that Geneva is also on the Ohio Vines & Wines Wine Trail, and there are all kinds of beautiful vineyards right in the vicinity. Residents also love the state park, which is perfect for swimming on the beaches, bird watching, or taking walks. This town feels like a step back in time, and many of the restaurants are still serving up the food that made them popular in the past, including Eddie's Grill. Get ready for some amazing lakeside sunsets, as well!
2. Granville, OH
This small Ohio town is located just 35 miles outside of Columbus, but it definitely operates in its own unique way! You'll feel like you just walked into one of the cutest towns in Ohio when you step into Granville, from the busy downtown area to the tree-lined streets and friendly residents. While this town is on the small side (a little more than 5,700 residents), it is also home to Denison University, so you can be sure there are plenty of interesting cultural events that take place throughout the year, from live music to beer tasting festivals.
You'll love the historic architecture prevalent in the downtown area as well as on campus, and the variety of mom and pop shops and restaurants just waiting to make you feel at home. Make sure you check out the T.J. Evans Trail when you're ready to enjoy the outdoors hiking or biking!
3. Marietta, OH
A charming small river town is Marietta, which is located right on the Ohio River. This historic town was actually one of the first permanent settlements in the Northwest Territory. Its proximity to the river is a part of its heritage, and boats and boating activities are still a large draw for folks who are looking to get into the sport, or who just like being close to the river. There's even an event each year, the Ohio River Sternwheel Festival, that sees all kinds of older river boats arrive for days of fun along the river.
If you're looking for more ways to get outdoors, Marietta has you covered. You'll have the Muskingum River Water Trail to boat or kayak in, as well as the Wayne National Forest, where you can take regular walks, runs, or biking expeditions. The friendly citizens are very welcoming, of course, and after a day of exploring, make sure you stop for a bite at the Boathouse BBQ or The Galley!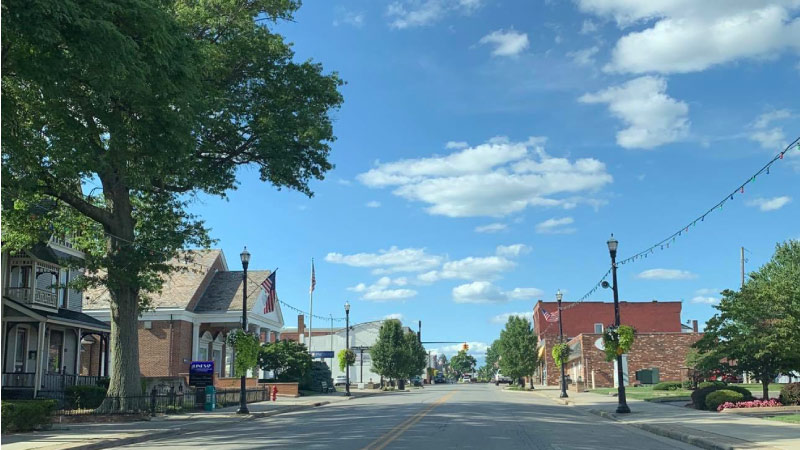 4. Columbiana, OH
Average rent (one-bedroom): $575
Average home value: $198,700
Columbiana, OH, is one of the nicest Ohio towns you'll find. In fact, it was voted such by Reader's Digest in 2019! This idyllic town sits in the eastern part of the state and is home to proud residents who love to pay things forward and help out anyone who is a part of their town. One of the most popular places to go for all-things culture is The Vagabond Theater (formerly known as the Main Street Theater), which regularly has performances that feature special needs actors.
The school system is also a great attraction for young families, as is the affordable housing market. There is a nice, walkable downtown that features local businesses such as Das Dutch Haus and Josie's Restaurant, where locals fill up and spend time with one another.
5. Sugarcreek, OH
Another one of the cutest small Ohio towns you'll find is Sugarcreek, which is also known as "the little Switzerland of Ohio." The Swiss and German heritage of this town shows up in full force and pays homage to the town's first settlers, along with the local Amish population. If you're a cheese-lover, you're in luck, because this small town has not one but multiple cheese factories — as well as the yearly Ohio Swiss Festival, which features a lot of cheese (among other things).
Sugarcreek is also a great area to enjoy the outdoors. There's plenty to do in the rolling hills, like walking, biking, hiking, and even wine tasting at the nearby Breitenbach Wine Cellars.
6. Logan, OH
Average rent: N/A
Average home value: $189,700
If you're a young professional or even a growing family, you may want to consider Logan, OH, a town just around 50 minutes from Columbus. Here you'll enjoy one of the nicest small towns in Ohio — especially if you're an outdoor enthusiast. Logan is home to the Hocking Hills State Park, which is not only a great place to explore on hikes and bike rides, but it is also known for some of the best camping (and glamping!) sites in the state. Hocking Hills is home to stunning caves (like Old Man's Cave), gorges, and native trees and plants, as well as picturesque waterfalls. No matter what season you choose to go, you're guaranteed some beautiful photos!
Logan is also known for its laid-back attitude, and residents like to enjoy the slower pace of life in their small town. You'll find there's local, family-owned businesses to frequent, as well as some amazing food options like M&M Family Diner and The Olde Dutch.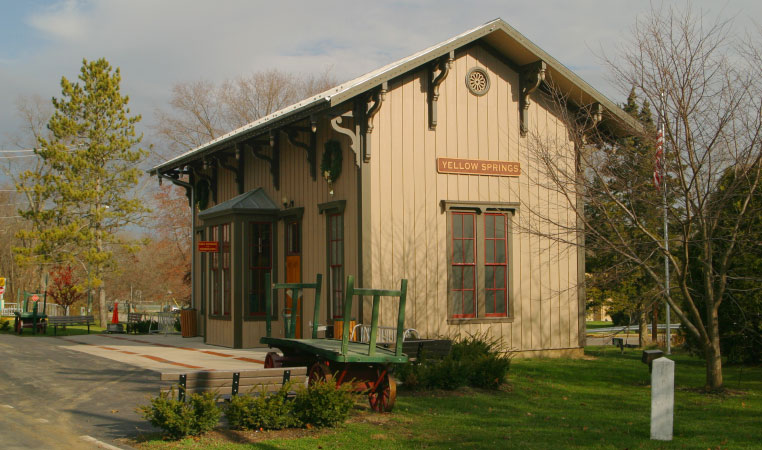 7. Yellow Springs, OH
Average rent: N/A
Average home value: $314,400
A fun, casual town that offers those "come as you are vibes" is Yellow Springs. This is a great place for those who like to explore local stores and boutiques, but it also has a lot to offer those who love to get outside. It sits along the Little Miami Scenic Trail, where biking and walking are very popular activities for residents. You'll also have the option to check out the trails at John Bryan State Park or Clifton Gorge Nature Preserve.
Whether you're up for a day of antiquing or grabbing a bite at local places like the Sunrise Cafe or the Yellow Springs Brewery, you're sure to have a great time.
8. Waynesville, OH
Average rent: N/A
Average home value: $385,100
This small Ohio town has the distinction of being known as the "antique capital of the Midwest," so you can imagine how quaint and picturesque it must be! If checking out all of the antique stores isn't your thing, though, not to worry; you could also grab a bite at Stone House Tavern or The Hammel House Inn and Restaurant. Or perhaps checking out the trails at Caesar Creek State Park is more up your alley. You'll also have easy access to the thrilling rides at nearby Kings Island and the chance to enjoy Waynesville's annual Ohio Sauerkraut Festival!
9. Loveland, OH
If you're looking for a small Ohio town that offers a pretty downtown, beautiful historic buildings, and cozy mom and pop shops, then you can't beat Loveland. This small town is located about 20 miles outside Cincinnati and is well known for its Loveland Castle, which draws tourists from all over. Additionally, this place really has a lot to offer with affordable housing and great access to the Loveland Bike Trail, which links up with the Little Miami Scenic trail for bike rides, walks, and an all-around great time with family or friends.
Busy day shopping or exploring the trails or the river? Then it's time to head over to The Wicked Pickle or Paxton's Grill for a delicious bite to eat.
10. Mt. Vernon, OH
Average rent (one-bedroom): $775
Average home value: $201,000
There are lots of opportunities to get outdoors in Mt. Vernon, and here you'll definitely be a part of a community that cares. Many people especially like the small-town feel of Mt. Vernon, which is why it's so popular with retirees. This close-knit community is a great fit for those who enjoy getting outside and staying active, and residents love to go on the Kokosing River for canoeing or kayaking, as well as explore the river trails for walking and biking.
Additionally, Mt. Vernon offers plenty of bookstores, parks, and quaint cafes, like the Southside Diner and The Alcove, for residents to enjoy.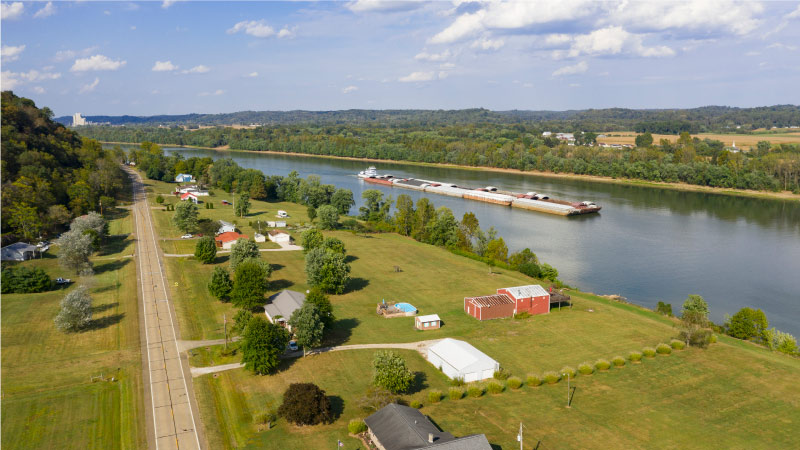 11. Gallipolis, OH
Average rent: N/A
Average home value: $131,000
If you've always dreamed of having easy access to a river for boating, kayaking, or fishing, then Gallipolis could be for you. This quaint town is nestled along the Ohio River in southeastern Ohio and is across from West Virginia. The residents love their historic town and have the museums and genealogical societies to prove it.
You can also enjoy cultural attractions in Gallipolis, such as opera and the symphony at the Ariel Opera House. Or you could always explore the great outdoors — the Texas Road Wildlife Area and the Elizabeth L. Evans Waterfowl and Bird Sanctuary are must-sees!
12. Milan, OH
Average rent: N/A
Average home value: $220,100
This safe little Ohio town — the birthplace of inventor Thomas Edison, as a matter of fact — is the perfect place for an easygoing pace of life. Whether you enjoy history and want to take your time exploring the hands-on historical items at The Milan Museum and The Birthplace Museum of Thomas A. Edison or would rather enjoy the trails at the Galpin Wildlife Area, you can get plenty of both here. Additionally, there are small-town festivals to look forward to in Milan, including the Milan Melon Festival that takes place each year.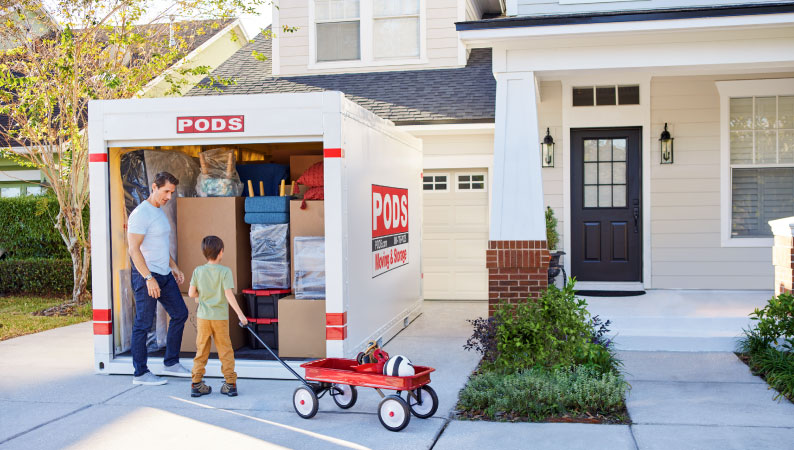 PODS Can Help You Move to the Best Small Towns in Ohio
You're definitely going to find your own slice of small-town heaven in Ohio, and why not let PODS help you get there? We'll have a portable storage container delivered right to your driveway, where you can pack and load at your own pace. Then, when you're ready, PODS will pick it up and take it to your new home, no matter which small Ohio town you choose. The best part? One month's storage is included in every move, so you can unload on your own schedule without feeling rushed.
---
Editor's note: Monthly rental prices were rounded to the nearest $25 and home values were rounded to the nearest $100 for ease of reading.
Get a Quote
Choose the service you need
Comments
Leave a Comment
Your email address will not be published. Required fields are marked *