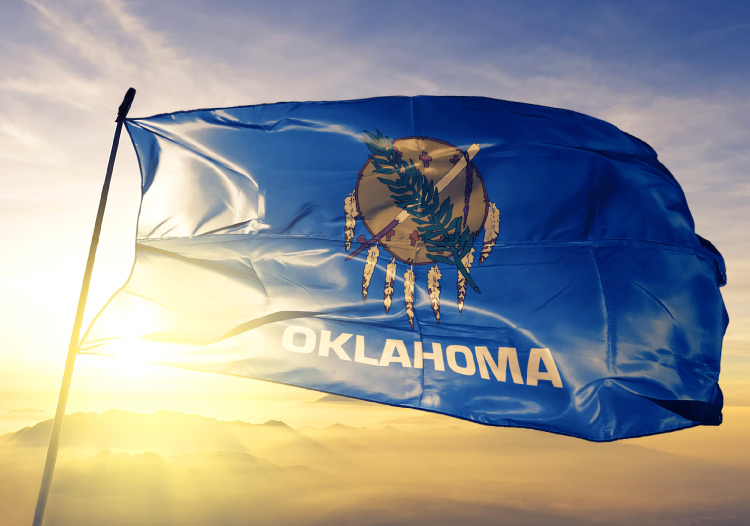 Which of These 12 Best Small Towns in Oklahoma is Right for You?
Does settling in a small town in Oklahoma sound like a dream come true? If so, you're not alone.
The Sooner State has a lot going for it
, including beautiful scenery, historic sites, and plenty of monuments to explore. In fact, some of the best small towns in Oklahoma offer all that and more!
That's not the only reason people have been moving to the state, though. With its affordable housing, lower than average crime rates, and quality schools, it sounds like a haven for some. In fact, in 2019 alone,
over 7,400 people relocated to Oklahoma from California
. And while a lot of those folks are moving to larger cities, there's a significant amount of people choosing the slower pace of life in small Oklahoma towns.
Why Choose a Small Oklahoma Town Over a Big City?
The big cities of Oklahoma City, Tulsa, and Norman are all great places to find a job and buy a house, but there are some trade-offs. Larger cities are nice because you have easy access to plenty of cultural amenities (like theaters, symphonies, and fine dining), sports teams, and lots of job opportunities. Oklahoma's cities are thriving, but you'll also need to consider that they are more densely populated and more expensive, and the crime rate tends to be higher because there are just more people.
Moving to a safe small town in Oklahoma instead appeals to a lot of people due to:
A lower cost of living
Lots of space
Fewer people
Friendly neighbors
Tight-knit communities
Affordable housing
Small Towns in Oklahoma - FAQ
Q: What is the prettiest town in Oklahoma?
A: Although there are many pretty towns, Davis, OK, has been named one of the prettiest and coolest small towns in the state. It's home to Turner Falls Park, and it sits near the Arbuckle Mountains, making it a great place to get away every day.

Q: What small towns are in Oklahoma?
A: There are a lot of small towns in Oklahoma. A few of our favorites are Eufaula, Fort Gibson, and Marlow.

Q: What small town is near the Wichita Mountains?
A: Medicine Park, OK, is near the Wichita Mountains.

Q: What is the safest town in Oklahoma to live in?
A: Alva, OK, is considered one of the safest Oklahoma small towns.
12 Best Small Towns in Oklahoma
The U.S. Census designates a small town as one with a population under 5,000. We've decided to expand that to include towns with a population of up to 15,000. Now, on to the best small towns in Oklahoma!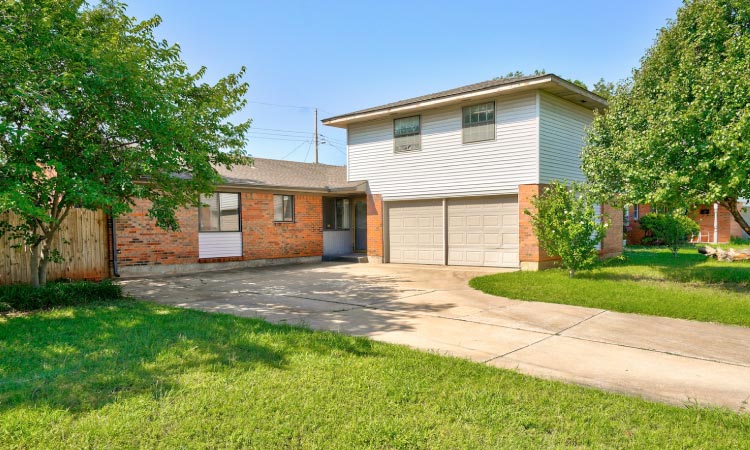 1. Warr Acres, OK
Average rent (one bedroom): $875
Average home value: $174,600
Great for: Cost of living, families, housing
If you're looking for one of the best places in Oklahoma to raise a family, you can't go wrong with moving to the Oklahoma City suburb of Warr Acres. This beautiful community is welcoming and diverse, and you'll never be short on things to do.
While you can easily get to Oklahoma City from this town, you'll find that Warr Acres offers enough amenities to satisfy. It's a quiet area, but that doesn't mean you'll be bored. Lake Hefner is minutes away, as is Lakeshore Estates Park, where you can either stay on land and walk the trails or get out in a boat on the lake!
Locals love stopping by Incredible Pizza Company (with or without the kids) for food, go karts, and plenty of fun games.
2. Medicine Park, OK
Average home value: $249,600
This small Oklahoma town is located near the stunning Wichita Mountains, and it's home to amazing natural scenery. With both Lake Lawtonka, Medicine Park, and the Wichita Mountains Wildlife Refuge all located nearby, this is a great spot to move if you've always wanted to be closer to the outdoors.

Originally a resort town, it hasn't lost much of its appeal in the years since it opened, and it still attracts a lot of tourists today. But no need to worry; it won't get too congested! There's still plenty of space to enjoy biking, hiking, and observing nature, as well as checking out the small shopping district and historic buildings.
3. Gutrie, OK
Average rent (one bedroom): $675
Average home value: $213,300
Great for: Cost of living, jobs, retirees
Located just 35 minutes from Oklahoma City, when you arrive in Guthrie, it feels like you're stepping into another time. This is thanks to the wonderfully preserved Victorian buildings and the welcoming tree-lined streets of a town that was once the capital of Oklahoma. There are over 1,400 acres that make up the town's historic district, but you can also visit one of its many lovely shops and boutiques downtown. Living here, you're sure to become a regular at Stables Cafe or Gages Steakhouse.

And when you want to get outdoors, Guthrie has two lakes — Liberty Lake and Guthrie Lake — that are ideal for picnics, swimming, boating, or exploring!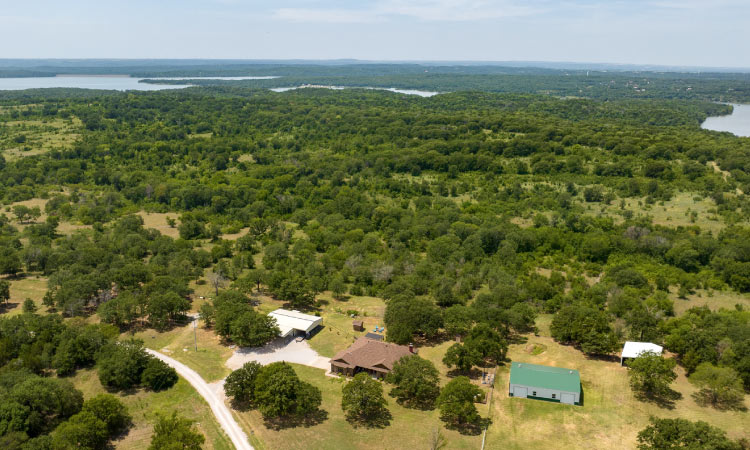 4. Sulphur, OK
Average home value: $141,300
One of the prettiest small towns in Oklahoma has to be Sulphur, with its abundance of natural beauty, thanks to the Chickasaw National Recreation Area. Residents love that they can easily get out and explore their town. Whether it's venturing along the walking trails, swimming in the lake, or camping, there's plenty of opportunity to engage with the great outdoors.

You can also do some shopping on Main Street or check out the Artesian Hotel, Casino, and Spa if you're feeling lucky. Just be sure to stop for a bite at the popular Poor Girls Cafe!
5. Eufala, OK
Average home value: $188,700
Located on the shores of the state's largest lake, Lake Eufaula, and not too far from the Arkansas border is one of the best small towns in Oklahoma: Eufaula. The town bears the name of the Eufaula tribe that once inhabited the area. Much of the frontier town vibe has remained, and the business district is on the National Register of Historic Places. You can explore the many boutiques and antique shops here, get out and walk around the track near the lake, or enjoy a bite at local favorites like CodyBob's or Dawn's Place Cafe.

Fishing, swimming, and boating are all popular activities in the summer, as is the Arrowhead State Park Golf Course.
6. Healdton, OK
Average home value: $97,800
Great for: Jobs, cost of living, housing, safety
Healdton is one of the many small towns on the border of Texas and Oklahoma, which means you'll have easy access to plenty of attractions and activities in both states! When you live in Healdton, you can expect to know your neighbor, and residents love that this is a tight-knit community that looks out for each other.

Healdton High School sports are popular in the area — especially Friday night football games. As a local, you'll also enjoy access to Anthis Park, which is perfect for a family BBQ, and Healdton Municipal Lake when you need to cool off from those hot southern Oklahoma summers.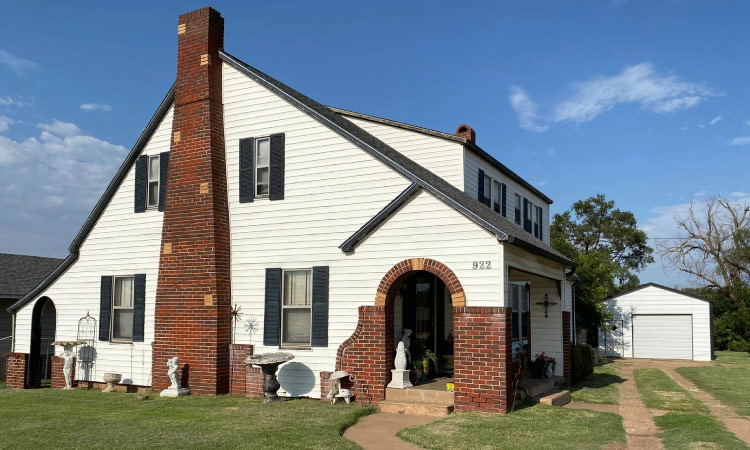 7. Alva, OK
Average home value: $97,900
Want to settle down in a safe Oklahoma town that offers plenty of fun activities for the whole family? Then Alva might be the right small town for you. Residents love exploring the Salt Fork Arkansas River, which provides plenty of spots to go walking, fishing, or to simply enjoy the scenery.

Hatfield Park is also a beautiful green space, and the downtown area has all the shopping you need, including locally run grocery stores. This town is also home to Northwestern Oklahoma State University, which provides lots of jobs and fun events for the town throughout the year.
8. Fort Gibson, OK
Average home value: $208,100
Fort Gibson has been ranked #1 on Niche's list for "Best Places to Buy a House in Oklahoma." This small town is also considered a great place to raise a family, with excellent schools and activities available for children.

Fort Gibson sits right along the Arkansas and Neosho Rivers, and it's not far from Sequoyah State Park, which offers all kinds of fun activities on the water and land. Whether you want to explore the wildlife areas, have fun at the recreational areas, or just go out for a boat or canoe trip, you can easily do it when you live in Fort Gibson.
9. Marlow, OK
Average home value: $110,100
Taking fourth place on Niche's list for "Best Places to Retire in Oklahoma," Marlow is located in the southwestern part of the state.
Even if you aren't ready to retire, you can find a slower pace of life in Marlow with easy access to big cities like Oklahoma City (one hour) and Dallas (three hours). There are plenty of small businesses to explore and outdoor activities to keep you busy, though. Residents love to spend time out on the water at nearby Lake Humphreys or checking out the Chisholm Trail Casino.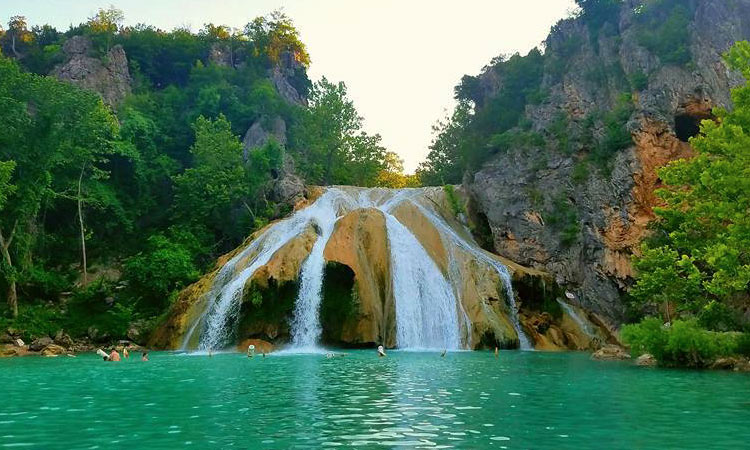 10. Davis, OK
Average home value: $155,900
Davis is the place where you'll find the largest waterfall in Oklahoma, which resides in Turner Falls Park. Here, you can explore the beautiful natural surroundings, enjoy a picnic, explore caves, or take a brisk hike. Residents also get their share of stunning vistas when they spend the day in the Arbuckle Mountains. When you're a local, you're sure to love heading over to Lake of the Arbuckles and grabbing a bite at any of the town's local eateries!
11. Pauls Valley, OK
Average rent (one bedroom): $550
Average home value: $125,000
Great for: Water activities, rodeos, festivals, families, retirees

Whether you're a retiree or a family looking for affordable housing, you can't go wrong with Pauls Valley. You can enjoy getting out on the water on Pauls Valley Lakes, which have their own campgrounds and plenty of beautiful scenery to enjoy. If you always wanted to take up a water hobby, this is your chance! You'll have plenty of opportunities to go tubing, boating, water skiing, or kayaking on the lake.
Additionally, as a local, you're going to love looking forward to rodeos with the Pauls Valley Round-Up Club or having fun at the festivals at the Garvin County Fairgrounds.
12. Perkins, OK
Average home value: $193,400
If small-town living complete with a tight-knit community is something that sounds enticing, Perkins could be your next home. This town takes pride in being neighborly and welcoming to all residents, and it seems like there's always a rodeo, parade, or other festival taking place in this quiet area. Folks in this town like to enjoy the beauty of Billy J. Dickson Park or have a night out at the Cimarron Casino.

And if you're feeling brave, Perkins is also just 25 minutes away from one of the infamous Oklahoma ghost towns, Ingalls.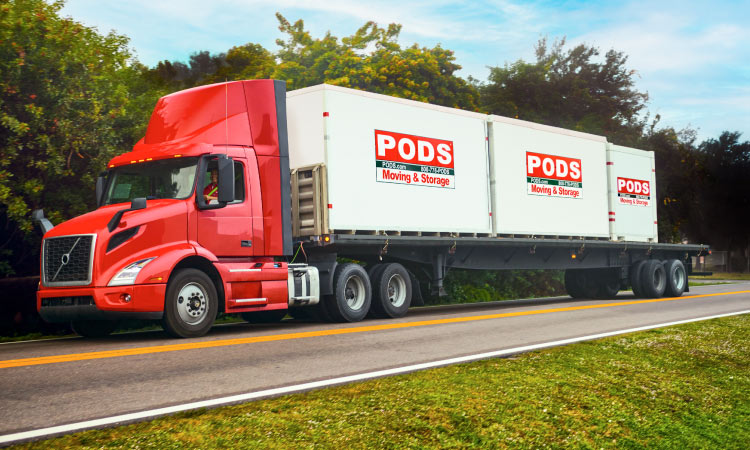 Move to a Small Towns in Oklahoma with PODS
Once you've found your slice of small-town heaven in Oklahoma, let PODS help you get there. Have a portable moving and storage container delivered right to your driveway, where you can pack and load at your own pace. When you're ready, PODS will pick it up and take it to your new home. The best part? One month's storage is included in every move, so you can unload on your own schedule without feeling rushed.
Editor's note: For ease of reading, monthly rental prices were rounded to the nearest $25 and home values were rounded to the nearest $100.
Get a Quote
Choose the service you need
Comments
Leave a Comment
Your email address will not be published. Required fields are marked *