Take advantage of our limited time offer. Enter promo code HOLIDAY25 to save up to 25%.
See offer details
.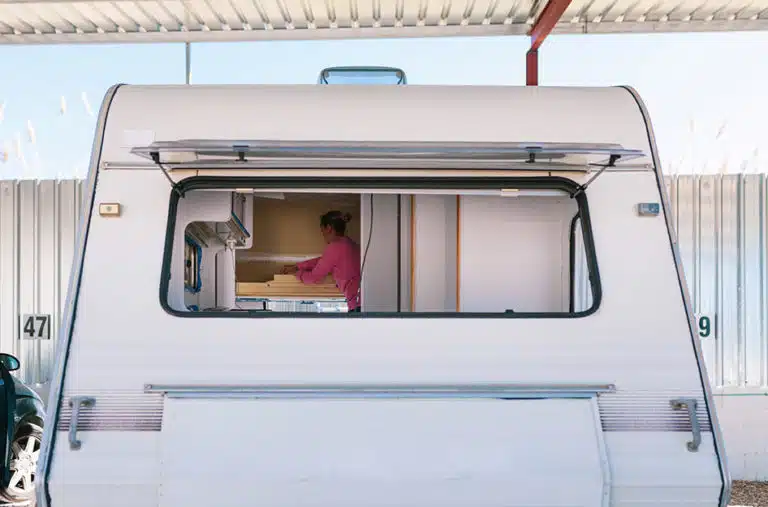 Affordable Camper Renovation Ideas and Storage Tips
Did you know the first RV (AKA recreational vehicle) was introduced in Madison Square Garden in 1910? Since then, RVs have become uber popular across the nation — especially after the interstate highway system was built in the '50s. Whether strictly used for road trips or used as full-time housing for a nomadic and minimalistic lifestyle, RVs have everything a person needs — a place to sleep, eat, and use the bathroom. There's no stopping people from living and traveling in the car-turned-homes.
Camper vans, in particular, are a type of RV and, although you may hear them called a few different names — campers or camper trailers, for example — they typically refer to a trailer that's towed behind a vehicle (as opposed to a motorhome, which can be driven on its own). Camper trailers can be fun to use on a campground. And they're also not as big of a commitment or expense as motorhomes or RVs that don't hitch to vehicles.
But do you have a camper that may have seen better days? Maybe one that had its heyday in the 50s and needs a little facelift? Or perhaps you're loving life in your "home away from home," but it would be so much better if you could somehow create a little more storage space.
You've come to the right place. Check out these camper storage hacks and renovation ideas. The best part? They likely won't blow your budget! Let's get rollin'!
Camper Storage Ideas
According to Expedition Motor Homes, camper trailers come in a wide range of sizes and styles. Most travel trailers typically range anywhere from 12 feet to 35 feet long. "A simple, 12-foot travel trailer allows enough comfortable space for one or two people (most likely a couple). Meanwhile, a 35-foot trailer allows enough space for up to 10 people. It might be a bit of a tight squeeze, but those 10 people will have enough room to sleep comfortably," they say.
Camper trailers are less expensive than motorhomes and other types of RVs because — you guessed it — they're typically smaller and include less amenities.
Don't let the smaller size fool you, though. Every size has room for storage. Here are some easy camper storage ideas to check out.
Use versatile furniture: For example, your seating area should be used to eat and watch TV. Instead of buying a couch and seating, this area will double as one.
Live minimally: When you pack up your stuff and move it into the RV, take stock of what you have and get down to the bare minimum of what you need. You'll want to follow these packing tips and these moving tips for optimal organization. Throw out stuff you don't use and only make room for necessities. This isn't the place to store all of your toys and video games!
Utilize RV shelves: Put as many bins as possible in your shelves to store clothes, cooking utensils, and other necessities.
Repurpose Containers: Store food, plastic bags, and other miscellaneous items in your old coffee creamer bottles and other containers. Clean and reuse, always!
Make use of ceilings and walls: Hang up whatever you can — like shoe bins and spice racks — on your walls and ceiling.
Camper Renovation Ideas
Does your camper have old, musty furniture and outdated cabinetry all around? Have no fear! DIY camper renovations are pretty popular these days and can definitely be done on a budget. If you sleep and live in a camper for an extended period of time, adding personal touches and style can make a huge difference in making the space feel more like home.
Renovate your camper on a budget with these affordable camper renovation ideas.
Replace carpet with wood: Rip out the old carpet from the floor of your RV and add stick-on wood tiles. According to RV blogger Megan Jones, you can likely find super-cheap, stick-down, faux-wood vinyl planks for less than a $1 per panel at your local home-improvement store. 
Makeover the walls: Want to make a huge impact? Brighten up your space! You can paint the walls or put up an affordable peel-and-stick wallpaper. Simply measure your walls and clean them before beginning your project. And for those hard-to-reach places? Here are step-by-step instructions to help you work around them.
Add shades: Easy-to-open shades give you the opportunity to effortlessly peek outside while you're in nature. If you plan on sleeping in the camper, you may want to add black-out-shades or something else to prevent sunlight from seeping in. Want a sleek, modern look that helps to keep the place looking tidy? Opt for the cordless shades. You'll be surprised at how many budget-friendly options are out there!
Paint kitchen cabinets: You didn't think we would stop with the walls, did you? Because a camper is really just one big room, painting your kitchen cabinets can make that area look separate from everywhere else. Add a pop of color in an otherwise minimalist space and watch your RV transform into your own little bed and breakfast! 
Revamp the workspace: This seating area is where you eat and work, so it's important to make it as comfortable as possible. You can remove the upholstery on your benches and replace it with something more modern. (Bonus: You'll feel much better about having new cushions in there!)
Replace knobs: Add knobs that are modern and match your new cabinetry! If your knobs are already in good shape, simply remove them and spray paint them. It's crazy how something so small and affordable can make such a big difference! 
Pick out lighting fixtures: Just like the knobs, you can replace the fixtures or spray paint them to match your trailer's new and improved aesthetic. Don't want to buy brand new? Check your local social media marketplace for fixtures that you can repurpose.
Pro Tip: Keep your tools, extra pieces, paint, and everything else you need inside a PODS storage container in your driveway. That way, you'll keep your workspace clear, but still have everything close at hand. With this seamless setup, you won't have to worry about leaving your renovation tools outside, and you won't have to carry your tools from your house to your trailer every time you want to renovate. For more storage and remodeling tips, check out the PODS Blog. 
Camper Renovation FAQs
Q: Is renovating an RV worth it?
A: If you plan on spending a lot of time in your RV, then it is absolutely worth it! Think of your RV like a home. Wouldn't you want it to feel cozy, bright, and warm? You'll also want it to reflect your personality and style. And renovating your RV can absolutely be done on a budget — especially if you're a DIY type, anyway.
Q: How do you remodel a camper on a budget?
A: Check out online resources like Pinterest for ideas from people who've renovated their RVs on a budget. For example, don't want to buy expensive, new fixtures and knobs? Simply spray paint the existing ones for a brand new look. Want to add a pop of color in the trailer? Consider painting those kitchen cabinets! There are many affordable ways to revamp your old RV! And stores like Lowe's, Home Depot, Amazon, and Walmart have plenty of budget-friendly items to help you do it.
Q: How do you remodel the inside of an old camper?
A: First, start with the big stuff: your walls, floor, and cabinetry. These will make the biggest impact. Adding or minimizing color can brighten up tight quarters and make your camper feel bigger. Then start focusing on your upholstery, shades, and other small items that can elevate your space.
Q: How do you modernize a camper?
A: For a more modern look, choose timeless colors that will stay in style for years to come. Paint your brown wood walls and cabinetry white so your interiors don't feel so dark and old. You can always add pops of color with different accessories throughout the camper. If you have the budget to update your appliances, buy yourself a new stovetop, fridge, and furniture. If you're on a budget, you can still easily and affordably update your faucets, light fixtures, knobs, window valances, bedding, rugs, and much more.
---
Bonnie Azoulay Elmann is an NYC-based freelance writer and frequent contributor to the PODS Blog. Her work has appeared in Glamour, Health, and Parents, among others. She is an extremely driven digital storyteller who may or may not have a slight obsession with fanny packs.
Get a Quote
Choose the service you need
Comments
Leave a Comment
Your email address will not be published. Required fields are marked *