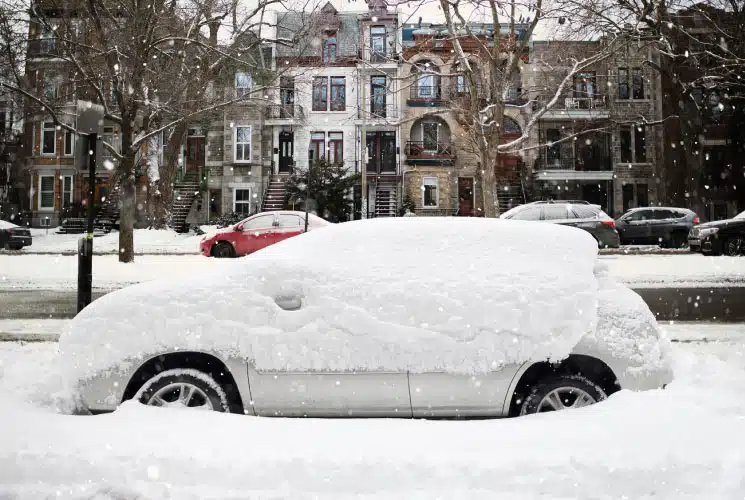 Winter Storage For Summer Stuff: 7 Items You'll Want To Protect
by
PODS
Posted on October 26, 2021
Face it, Canada, it's that time. Say it: WINTER. It's almost snapping cold out there, so we're warmly offering to help you part with the sun and show you how to protect valuable seasonal items so you continue to enjoy them and create memories for summers to come.
The truth is, most of us don't have enough – or even suitable – winter storage for the variety of summer items we've come to accumulate. Not in the garage. Not in the shed. Not in the house. Leaving fair-weather favourites outside or even in a damp and chilly garage over the winter is a shame and needlessly exposes them to the unforgiving elements. Proper storage over the frosty months not only extends your items' life expectancy, it can also save you money over time by reducing wear and tear. Summer, good. Winter, bad.
Let's focus on the most common items you'll want to protect from mean Ol' Man Winter:
1. CAR
Regardless of the vehicle you own, your trusty ride deserves a little cold-weather TLC. Stylish, high-performance or specialty vehicle? No need to expose it to snow, slush, ice, and road salt, all of which will rust and damage your vehicle's undercarriage. At sub-zero temperatures, frozen coolant can crack engines and break bank accounts with the resulting repairs. In contrast, climate-controlled storage is practically a spa for your vehicle, while also sparing it from climate-related fender benders. Keep in mind that if you're driving your car year-round, you'll be upping the mileage while decreasing its resale value. Store it somewhere protected from nasty weather – you'll both benefit from some well-deserved beauty sleep.
2. MOTORCYCLE
Your motorcycle holds a special place in your heart. Tuck your rebel baby safely away in cozy-dry surroundings with near-constant temperatures if you want to rev it on the open road without hiccups come spring. Like cars, motorcycles are threatened by rust and corrosion to their cylinders and body when exposed to extreme temperature variations, potentially adding to repair costs. It may be cheaper to own a bike than a car, but they demand frequent service and maintenance — every 8,000 to 32,000 kilometres — easily driving up the annual cost of ownership by $1,250. Giving your bike a heated crib in which to nap away the winter should help soothe your wallet while extending your baby's shelf life. Ride on.
3. WATERCRAFT
You won't be paddling your canoe or kayak, or carving out wicked jet ski turns until next season, so it's best to store watercraft away from snow, falling trees, strong winds, and UV rays – surprisingly, the sun can be more damaging than the cold. Conversely, many kayaks and canoes are made with plastic that becomes brittle if left outside all winter. Your jet ski is another story altogether. Let's be frank: notoriously expensive to maintain, they require regular tinkering to keep them humming, with repairs to their complex engines often rivalling the cost of the jet ski itself, which may have little to no resale value. A low-end recreational jet ski starts at $7,000, but if you've ever had to splash out good money to replace an engine – high-end replacements can cost $3,000 to $5,000 – you'll find the lengths you go to winterize it are worth it.
4. CAMPING GEAR
After your faithful camping equipment makes its last trip of the season, it's time to return the favour by rewarding it with shelter over the winter months. Heavier gear – think stoves, tables, camp chairs, and poles – is rugged enough to stand up to the outdoors, but be mindful of smaller threats, like bugs and mice. They love to nest in tents, sleeping bags, tarps, and clothing where they have a field day of ravaging, puncturing, and even infecting soft materials – ruining them. Avoid keeping your soft gear rolled up for too long as this will damage any insulation and create an opportunity for mold and mildew growth. Every adventurer needs a solid winter storage plan for their camping equipment, especially one that's free from invaders.
5. BARBECUE
Unless you enjoy grilling steaks in snowstorms, it's a great idea to pack away your barbecue. Higher-end units range upwards of $5,000, so sourcing dry, protective storage space is definitely the way to help fend off rust and corrosion. Take care of your investment and you could enjoy grilling for as many as 15 Canada Days – or frozen New Year's Eves, if chilly's your thing. Practically speaking, you can free up space in the garage by storing your barbecue with other seasonal items.
6. LAWN MOWER
Chances are you're the reluctant owner of a regular lawn mower, or the proud owner of a lawn tractor who leaves this valuable yard equipment in the garage, or even outside. Tsk, tsk, if you're not actively protecting them. Like barbecues, mowers range in price and performance, depending on whether you spring for a humble push model, the more grandiose self-propelled, or riding tractor varieties. Life expectancy of your lawn buddies averages eight to 10 years with proper maintenance, so look after your mates and they'll continue to cut clean swaths up and down your estate for a few more years. It goes without saying that lawn mowers and tractors make ideal storage companions for lonely barbecues.
7. PATIO FURNITURE
Ignored in fall, avoided in winter, patio furniture is the silent-yet-solid décor touch that beautifies outdoor living spaces while providing a place to sip margaritas on warm summer evenings. Leaving it outside over the winter is like throwing money out the window. Here's what you should expect if your patio furniture continues to spend its winters outdoors, depending on the material.
Metal: Cold weather cracks paint and allows water to seep in, leading to rust. 
Wicker: Water can freeze and expand wicker, causing it to snap. 
Plastic: Becomes brittle and breaks in freezing temperatures. 
Aluminum: Lightweight, it's at risk of being tossed around by strong winds and damaged.
Glass: Table tops are subject to cracking due to ice and falling branches.
Fabrics: Susceptible to mould and mildew after exposure to snow if not dried thoroughly.
When it comes to protecting your summer gear, you have options. You can choose to take your things to a traditional storage facility, or you can have a PODS portable container delivered right to your driveway, and either keep it on your property or in a secure storage centre. Either way, PODS makes it easy to ensure your seasonal items last for many years to come.
Discover even more useful storage tips and home organization ideas by browsing the PODS Blog.
---
François Baillargeon is a Toronto-born copywriter. An avid canoer, hiker, and food lover, he caught the travel bug early in life and has lived in Korea and France. He delights in new adventures and bad puns.
Get a Quote
Choose the service you need
Comments
Leave a Comment
Your email address will not be published. Required fields are marked *