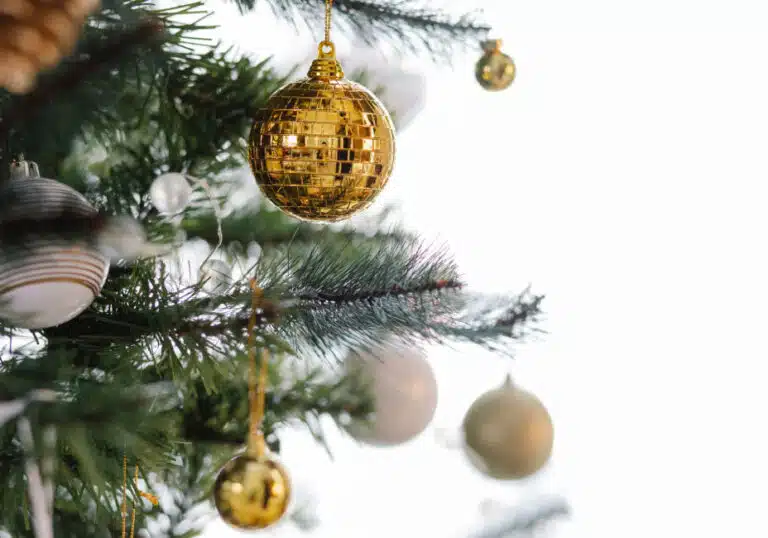 Tired of Battling a Cardboard Box? Consider These Christmas Tree Storage Ideas Instead
Christmas is the most wonderful time of the year, right? Everything is sparkly, cheery, and wholesome — especially when it comes to Christmas décor and Christmas gifts. One of the main attractions that Christmas enthusiasts look forward to? Their Christmas tree. But, let's be honest, setting up and taking down a Christmas tree can be quite the hassle — that is, unless you have an easy Christmas tree storage solution in place.
Did you know that two-thirds of American households have an artificial Christmas tree? And most plan to keep it for around 10 years? That's a lot of people reusing their trees for years to come — and a lot of people in need of a pain-free way to store them.
Using the proper Christmas decoration storage can ensure your tree and décor (and sanity) stay intact for next year. And since most people choose a tree based on its size, shape, and realism, you'll want to consider different storage options that fit your criteria specifically.
Why Christmas Tree Storage is Essential
Have you ever left your Christmas tree and Christmas décor hanging around the house months after the holiday season is over? We totally get it. Putting up décor can be fun for the whole family, but taking everything down can be downright dreadful. But with proper Christmas decoration storage, the task of packing up (and unpacking next year) will be a little less daunting. It gives you a place to store your tree, ornaments, wreaths, and more without wondering where you'll fit everything — and what broke along the way.
This is especially relevant if you're living in a small space; every square foot counts. You wouldn't want a seasonal item to take over a corner in your home that's precious real estate for year-round furniture or décor. Likewise, mindlessly stuffing your décor in a closet can ruin it and may force you to spend more money the following year on new decorations. Ultimately, it boils down to this: Christmas tree storage is essential because it can save you money in the long run and declutter your living space.
So how should I store my Christmas tree?
Christmas trees can be stored in bins, boxes, bags, or any other hefty receptacle, really. Want a spacious zip-up bag with sturdy zippers and handles? A plastic Christmas tree storage box with wheels for easy transport? Go for it! There's only one rule: Ensure that your tree isn't stored in a cardboard box, since they can be flimsy, disintegrate, and be susceptible to pests and mold when exposed to moisture and humidity. How do you store a Christmas tree without a box? Any of the above-mentioned ways — and we can't emphasize this enough — steer clear of the cardboard. Here are a few of our favorite solutions: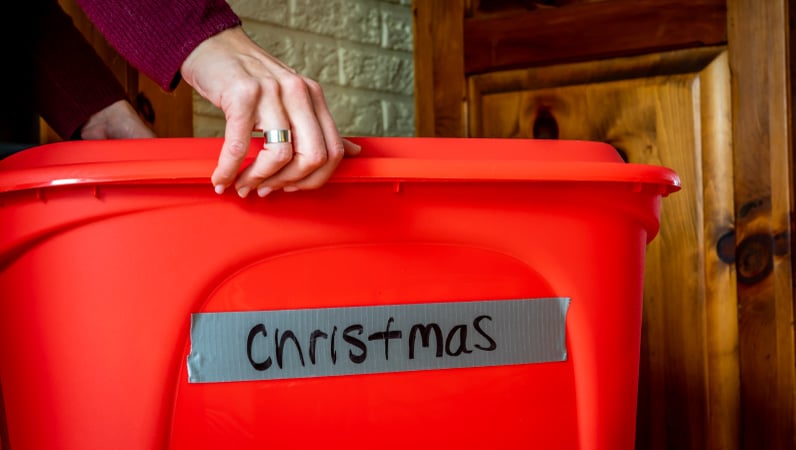 Christmas Tree Storage Bins
Bins are a great way to store kids' toys, hand-me-downs, school projects, and anything else you'd leave in your garage or basement. But bins are also perfect for Christmas trees and other decor, especially if you can disassemble your tree. You don't have to look for a bin that's specifically meant to store Christmas items; you just need something big enough to fit everything. Christmas tree storage bins should come with secure lids (listen for the "pop"!) that keep your stuff away from odor, deterioration, and pests. Once you put it away, it'll be easily accessible when that wonderful time of year comes around again.
Insider Tip: Learn more about how to organize your garage for Christmas essentials and beyond on the PODS blog. And if you're still looking for last-minute gifts… We've got you covered.
Christmas Tree Storage Bags
These tote bags that store Christmas trees and décor typically come with top and side handles and may even include wheels, if you're fancy like that. Christmas tree storage bags on wheels differ from a bin because you can easily roll your storage as opposed to carrying it (or dragging it!). They're durable, sizable, and come in festive colors.
Aside from a tote bag, you can also look into upright Christmas tree storage bags that store any type of artificial topiary. They're specially shaped and sized for Christmas trees and include a rolling stand. This option doesn't require any disassembling. Just throw the bag over the tree, zip it up, and roll it to your garage or basement for safe keeping. These canvas covers can also be used for any furniture like couches or loveseats.
Portable Storage Units
If your Christmas decorations make up a small (or maybe not-so-small) city of lights, toy trains, village scenes, and holiday-themed "everything," a PODS portable storage container delivered straight to your driveway may be your best bet. Load it up on your own time, and PODS will come and pick it when you're ready. Leave your closets, cupboards, and garage shelves available for more everyday storage while your Christmas essentials are kept in a secure PODS Storage Center until you need them again.
What's the best way to store an artificial Christmas tree without removing the decorations?
First things first: We definitely recommend removing all of your ornaments and other decorations and properly storing them, as well. If you attempt to store a tree that's decked out, there's a much larger chance that something will break or get damaged while in transit from your living room to your attic (or wherever the tree is being stored).
However, if you feel like you're up for the task, store your decorated artificial Christmas tree by covering it with one of those upright Christmas tree storage bags mentioned above. That way, all your decorations can (ideally) stay intact, and you won't have to disassemble your tree.
Insider Tip: How do you wrap an artificial Christmas tree for storage? First, remove any ornaments and lights, and start folding each tree section from the top. Then, simply wrap the tree with plastic wrap. Keep wrapping until everything is covered, store it in a garage or basement until next year, and then pat yourself on the back for consolidating your large tree so efficiently!
The truth is, a Christmas tree can take up a lot of space. But it doesn't have to! Instead, you can safely store your tree without any fuss by using one of the storage methods we've listed. We know that it can be tempting to leave your Christmas tree up all year and hope Santa magically takes it down with his reindeer (or maybe stops by again midyear), but you don't want to be the only house on the block that hasn't stored the Christmas decor by the time Easter rolls around, do you?
Real Christmas trees only last up to five weeks. That's one of the main reasons people buy artificial trees. But why buy a "reusable" tree without a proper storage plan? Give your tree some year-round loving — not just during the most wonderful time of the year — with the right Christmas tree storage.

(Source for image featured at top: Laura James via Pexels)
---
Bonnie Azoulay Elmann is an NYC-based freelance writer and frequent contributor to the PODS blog. Her work has appeared in Glamour, Health, and Parents, among others. She is an extremely driven digital storyteller who may or may not have a slight obsession with fanny packs. 
Get a Quote
Choose the service you need
Comments
Leave a Comment
Your email address will not be published. Required fields are marked *