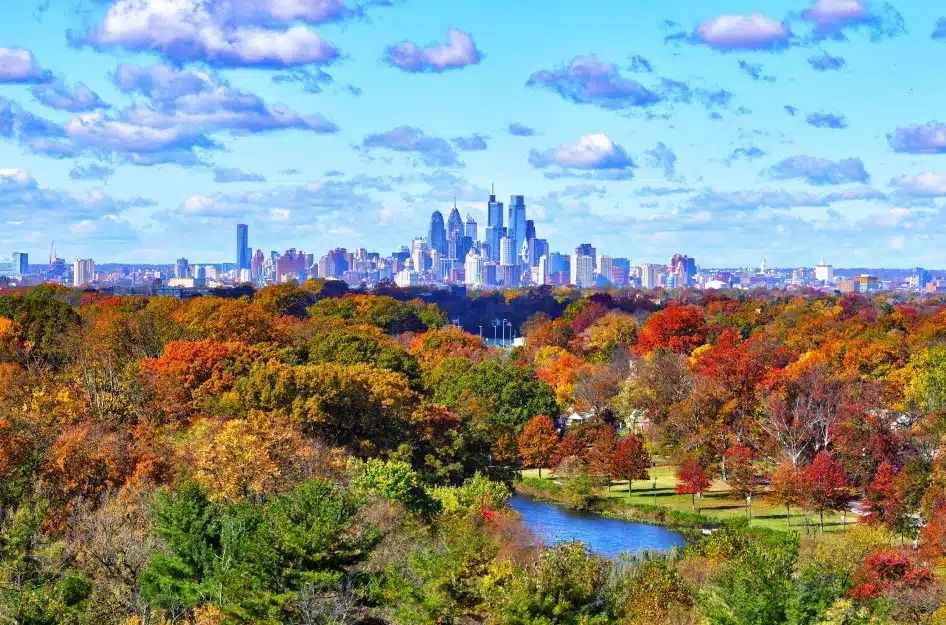 The Best Cities Near Philadelphia, PA, to Move to in 2023
America's birthplace, Philadelphia, is a great place to call home. With big-city amenities, it's a great choice for families with kids and college students alike, as well as professionals and retirees.
But are you more interested in living near Philly versus living in Philly? Perhaps you prefer a different cost of living or want to get away from the hustle and bustle — yet still want to be close enough to join in on the fun. Then, lucky for you, there are plenty of great options around the City of Brotherly Love.
Let's take a look.
Cities Near Philadelphia Q&A
Q: What are some cities 50 miles from Philadelphia?
Pennsburg, PA
Skillman, NJ
Quakertown, PA
Lahaska, PA
Hopewell, NJ
Dublin, PA
Furlong, PA
New Hope, PA
Q: What cities are an hour away from Philadelphia?
Doylestown, PA
Gilbertsville, PA
Quakertown, PA
Lahaska, PA
Pennsburg, PA
Elkton, MD
Furlong, PA
Kennett Square, PA
Browns Mills, NJ
Pomona, NJ
Q: What are the best cities to live in near Philadelphia, PA?
A: Regardless of your budget or interests, there's sure to be a neighboring city with your name on it. Here are a few of our favorite cities near Philadelphia, PA to check out.
1. Gladwyne, PA
The town of Gladwyne is located on the shore of the Schuylkill River and was originally established during the 1600s as the home of Quakers who migrated to the U.S. Over the years, people moved out of Philadelphia and began living in this quaint area that surrounds it.
Gladwyne has a colonial feel, due to the large residential property sizes and the farmlands that surround it. One thing to note: With those large properties comes equally large price tags.
2. Darby, PA
Located in Delaware County, Pennsylvania's Darby Borough is a small town. It has experienced a decline in population over the past couple of years; however, it has started to see some growth recently as more people are moving into the area. The population of the town has reached upwards of 11,000, making this area ideal for families looking to raise their children in a small-town setting with easy access to Philly.
3. Devon, PA
According to the median household income, which is over $144,000 yearly, residents of Devon make a pretty good living. In fact, most of the population makes more than $200,000. In addition, nearly 50% of its residents have earned a high school diploma or equivalent.
There are plenty of things to do in Devon, such as eat at Black Cat Cafe or take a break from work to get a massage. It also has a variety of attractions, such as the annual Devon Horse Show and Country Fair.
4. Gloucester City, NJ
Located south of Camden, New Jersey's Gloucester City is a blue-collar suburb that offers a variety of enjoyable activities and places to visit. Some of these include Paulsdale, which is a great place for relaxation, and Proprietors Park, which preserves its unique atmosphere. The annual Irish festival also provides people with plenty of entertainment and traditional food. Fun fact: There used to be a bar on every corner back in the day! Truly, you can feel the Irish influence here.
5. Collingswood, NJ
Collingswood is home to more than 14,000 residents. But the warm and welcoming atmosphere of this community is what sets it apart from other areas.
The town's shopping districts, including Downtown Haddon Avenue, are known for their variety of restaurants, services, and retail shops. This makes Collingswood a unique place to live as well as a popular destination for visitors.
The town also has plenty of open spaces and parks. One is Knight Park, which is located in the center of the town and is surrounded by two county parks. There are also various playground areas, sports fields, and recreation trails — not to mention the variety of events and programs designed to keep residents and visitors entertained year-round.
6. Woodbury, NJ
With a population of more than 10,000, Woodbury allows residents to enjoy the secluded feel of the area while only being about 20 minutes from Philly. The public schools in the township are nothing to sneeze at, and the majority of residents own their own homes.
7. Newtown Square, PA
Since the 1600s, the Square Tavern has been a prominent part of the community of Newtown Square. Today, there are several historic mills and stone farmhouses along Crum Creek, which tell the story of the region's past industries. If you're a history buff, Newtown Square is the place to be!
8. Villanova, PA
Many Philadelphia homebuyers are drawn to this area due to its university, which is known for its athletic program. Villanova is spread out across a large region, which almost touches the Schuylkill River.
The eastern part of the town is bordered by the Schuylkill Expressway, which makes it easy to travel to Philadelphia. If you're not into driving, public transportation is also available in Villanova.
If you're looking for a great location for shopping, then you can easily reach out to nearby towns, such as Wayne or Bryn Mawr.
9. Drexel Hill, PA
Located in Philadelphia's suburbs, Drexel Hill is a medium-sized community that is known for its walkability, family friendliness, and good public transportation. Although its roots can be traced back several centuries, a significant part of the area's housing stock dates back to the 20th century. Some of the artifacts from the region's past can be found in this neighborhood, which used to be called New Sweden at one point in time.
10. Pennsauken, NJ
Having access to nearby parks, daycare centers, and schools is important for families with kids, right? Well, in Pennsauken, there are several parks and recreation facilities that are ideal for both adults and kids. And many local schools have an "A" rating from Niche.com. In addition, there are plenty of great restaurants, bars, and cafes in Pennsauken.
11. Ardmore, PA
Ardmore is located about 12 miles away from Philadelphia and is near Haverford, Bryn Mawr, and Wynnewood. A suburb in the western part of Philadelphia, it's known for its bustling business district. In fact, for a long time, the area has been referred to as "The Main Line's Main Street."
Besides its comfortable neighborhoods, the area's job opportunities are also a major draw for people who are looking to relocate.
The area also has plenty of activities that residents can enjoy. One of the most prominent landmarks in the town is the Music Hall, which is where people can watch performances by popular international artists. Some of the bands that have played there include The Red Hot Chili Peppers and The Dave Matthews Band.
12. Blue Bell, PA
Blue Bell is a great choice for Pennsylvanians looking for a tranquil environment and luxury comforts.
Situated north of West Philadelphia, this suburb features a mix of residential and office space. The town's historical center is the Blue Bell Inn, which was constructed in the 1700s. Before the passenger pigeon population died out, the area was named after a large flock of birds that visited the region.
Despite the birds' disappearance, the area still has plenty of beautiful scenery to enjoy. One of the area's most popular attractions is the flyADVANCED Wings Flight School, which allows locals to take in panoramic views.
Some of the major companies that operate in the area include IBM, Unisys, and Aetna.
13. Bellmawr, NJ
Due to the high demand for homes in areas with excellent public schools, the prices of those places tend to be higher. If you already have a family, plan on having children in the future, or are considering relocating to a neighborhood where there are good schools and more reasonable home prices, Bellmawr has got you covered!
Choose PODS and plan your move today
There are so many great cities to reside in just outside of Philadelphia, where you can live comfortably while still being close to all the big-city action. Once you've chosen your city close to the city, have a PODS portable moving container delivered to your driveway, where you can pack and load at your own pace. When you're ready, PODS will pick it up and deliver it to your new home. And if you need storage, it's built into every move! Easy as that!
---
Editor's note: Monthly rental prices were rounded to the nearest $25 and home values were rounded to the nearest $100 for ease of reading.
Get a Quote
Choose the service you need
Comments
Leave a Comment
Your email address will not be published. Required fields are marked *