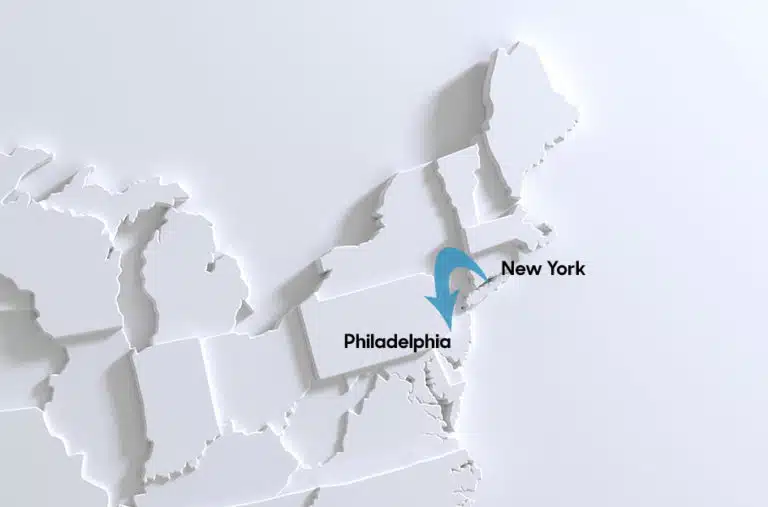 Moving to Philadelphia From NYC: Is it the Right Move for You?
We can't argue that New York City is one of the most amazing cities on the planet. After all, it is known as "The City That Never Sleeps." However, we also can't argue with the fact that it has some drawbacks. Many New Yorkers feel crunched by the high cost of living, in particular, which includes the price of homes, rent, and everyday purchases. They're also looking for more space, which can be hard to come by in The Big Apple.
So are New Yorkers moving to Philadelphia instead? Why, yes! Yes, they are! In fact, according to census data, "more than 4,600 New Yorkers moved from New York County (Manhattan), Kings County (Brooklyn), or Queens County (Queens) to the five-county Philadelphia area in 2019 and 2020." And there are a lot of reasons why moving from NYC to Philly might be a great choice for you, too.
Let's take a look!
What's the cost of living in Philadelphia vs. NYC?
One of the major reasons New Yorkers are moving to Philadelphia is the lower cost of living. It's expensive to live in NYC — 37 percent more expensive than Philly, in fact! Because it's New York, everything from entertainment, transportation, utilities, and food costs more than in Philadelphia (no surprise there, huh?). That means if you make the move, your money will go a lot further than it would in NYC.
The average rent, for example, is $4,454 in NYC, while the average rent in Philly is $1,901. And as far as the housing market is concerned, the typical home value in New York City is $783,799, while the typical home value in Philadelphia is $244,484. That's quite a difference! You can definitely get more space for your buck if you move to Philadelphia from NYC, as well.
What's the Philadelphia job market like?
If you're considering a move from NYC to Philadelphia, chances are you're wondering what the job market is like in The City of Brotherly Love. New York City, because of its size, boasts a variety of industries, and companies specifically choose the city to headquarter in because of its global reach. The size of NYC alone means there's bound to be more companies there that are looking to hire, but Philadelphia's job market is nothing to scoff at.
As of 2021, there were over 29,000 businesses in Philadelphia, including 14 Fortune 500 company headquarters. Industries such as healthcare, social assistance, retail trade, accommodation, and food services are thriving in the Philadelphia job market. Did you know that Philly is also one of the leading markets for startups? Talented people, whether starting their own businesses or looking to get hired, are attracted to the city because of its economic appeal. With top-tier universities in the area and people from other cities looking to relocate to Philly, this talent pool will continue to expand.
What's the best way to beat traffic in Philadelphia?
If you're moving from NYC to Philadelphia, you need to know how to get around. Philly is a major East Coast city, which means there's bound to be a lot of traffic. Not to worry, though, because it is less densely populated than NYC and there aren't quite as many cars congesting the roadways. It's hard to beat New York's MTA system, which offers access to almost all points of the city without the need for a car. But rest assured you can commute around Philadelphia in a variety of ways, including:
Public transportation
Philadelphia has buses, a subway, and a trolley that are all operated by Southeastern Pennsylvania Transportation Authority (SEPTA). Depending on what type of commute you have, it may seem confusing at first, but you'll get the hang of it. Public transportation can get you to most places in the city, and residents rely on it daily to get them to and from work and their favorite restaurants, concerts, and music venues, as well as other places throughout the city.
Bikes or walking
The downtown area of Philly is very walkable and bikeable, just like in NYC. There is also a bike-share program, Indego, available for traversing within the city.
Cars
And, of course, you can always drive. There are also taxis, Ubers, and Lyft drivers available throughout Philadelphia and the surrounding areas.
Flights
If you need to travel out of Philly for longer distances, you'll fly out of the Philadelphia International Airport.
Top neighborhoods to move to in Philadelphia
Deciding where to live in Philadelphia is extremely important, and your decision will be based on where you work and what amenities are important to you. Here are our top three places to consider when moving to Philadelphia.
Washington Square West
• Median Sale Price: $479,500
• Typical Rent: $2,218
This neighborhood is close to everything you need to really enjoy all Philly has to offer. It's a charming area that offers residents a vibrant nightlife, shopping, Antique Row, and an amazing selection of restaurants. If this sounds like something you'd like to be a part of, then this should be your top choice if you're relocating from NYC.
Old City
• Median Sale Price: $375,000
• Typical Rent: $2,578
If you need to be close to the cultural center of Philly, Old City is your place. Spend your time exploring the National Liberty Museum, the Museum of the American Revolution, or even the Ben Franklin Museum. You'll definitely love Franklin Square Park and the wide selection of restaurants and shops in the area, as well.
Rittenhouse Square
• Median Sale Price: $490,000
• Typical Rent: $2,454
This neighborhood exudes charm and welcomes people from all over the country. There are art galleries, restaurants, and cafes all within walking distance, and anything you don't have is an easy SEPTA ride away. You'll enjoy beautiful river bank views, and Rittenhouse Square Park is a lovely green space that hosts farmers markets and events in the warmer months.
What about Philadelphia's amenities?
New Yorkers are used to having all kinds of wonderful city amenities in their own backyard, including a diverse restaurant scene, vibrant nightlife, cultural activities, public transportation, sports teams, and plenty of ways to enjoy the great outdoors. Not to worry, though. Philly has you covered when it comes to all those amenities, too! There are plenty of chef-driven restaurants (including Michelin Star restaurants), museums, more than 100 parks, orchestras, art installations, music festivals, universities, public transportation options, and four major sports teams.
How much does it cost to move from NYC to Philadelphia?
The cost of moving to Philadelphia from NYC can range from about $877 to $8,075, depending on how much you move and what type of moving service you use. Typical moving options include renting a truck, hiring full-service movers, getting a portable moving container, or doing a combination of any of these.
There are all kinds of moving companies out there that will safely and securely take your belongings from NYC to Philly. Your first step is to determine if you want:
Truck rental or hybrid moving
If you'd rather handle everything yourself (including loading and unloading the truck), look into what it costs to rent a truck. If you'd like some help from movers for the heavy stuff, you can always go the hybrid route and only get them to help with the heavy lifting.
Full-service movers
Do you want movers to handle everything, from packing up to unloading at your final destination? Then you'll want to go with full-service movers. Just be prepared to shell out a lot of moolah for their services, though.
Portable moving containers
This option is the best of both worlds. It allows you to pack up your apartment or home on your schedule in the comfort of your driveway, then have the container driven to your new home. You can choose to load and unload yourself or get professional movers to help. The main point? Ultimate flexibility.
Checklist of the steps to take when moving from NYC to Philly
When you've made the decision to make the big move, here are some steps you should follow to make it a smooth transition.
First, find a home in a neighborhood that works for you.

Start packing as far as four weeks out from your move. Try to box up items up until one week before moving day, and don't forget your first-night kit! If you're moving with a portable storage container, you can load the items at your leisure; otherwise, they'll have to wait until moving day.

Find a full-service moving company, rent a truck, or get a portable storage container.

Update licenses, vehicle registration, and school information.

Make sure you set a date to cancel utilities and have them turned on in your new home.

Update your mailing address, cancel subscriptions (or change the address), transfer prescriptions, and gather important personal documents.

Get cash for travel expenses or pack a cooler for snacks and drinks.

If you have a pet, make sure you have all their items in the car, along with any other belongings that are not going in the truck or container.

Do a final once-over to make sure nothing is left behind.

Get on the road and head to Philadelphia and your new home!
First-night kit when you're moving to Philly
An important item to include while you're packing is a first-night kit, which contains essentials you'll want to have handy when you first get to Philadelphia. This could end up being one box or a few boxes — it all depends on what items you think you'll need. We suggest including:
Toiletries and linens: You'll definitely want to shower and sleep as comfortably as possible your first night in your new Philly home. Your first-night kit should include:

Soap, shampoo, conditioner
Deodorant
Hair brush
Shaving kit
Toothbrush, toothpaste
Toilet paper
Towels
Sheets
Comforters
Pillows
Clothes: Pack a comfortable outfit to wear the next day when you really start unpacking. But also consider adding these items to your first-night kit:

Pajamas
Slippers or house shoes
Tools: When the unpacking begins, make it easy and organized with:

Box cutters
Trash bags
A small tool kit
Cleaning supplies: Even though the place may look clean, it's always a good idea to clean when you first arrive before setting up your furniture.
Basic kitchen supplies: Although take-out and delivery are always easy go-to options for a couple of meals, you'll want to have some basic kitchen supplies on hand like:

Paper plates
Napkins
Disposable cutlery
Grab-and-go snacks to keep you fueled until your pots and pans are unpacked!
Insider Tip: It's easy to move from city to city with PODS City Service. PODS will drive a storage container right up to your NYC apartment (even on those tight New York City streets!) so you can load it up at your convenience. And once you're ready, it will head to your new address in Philadelphia, so you can unload and unpack!
Get a Quote
Choose the service you need
Comments
Leave a Comment
Your email address will not be published. Required fields are marked *