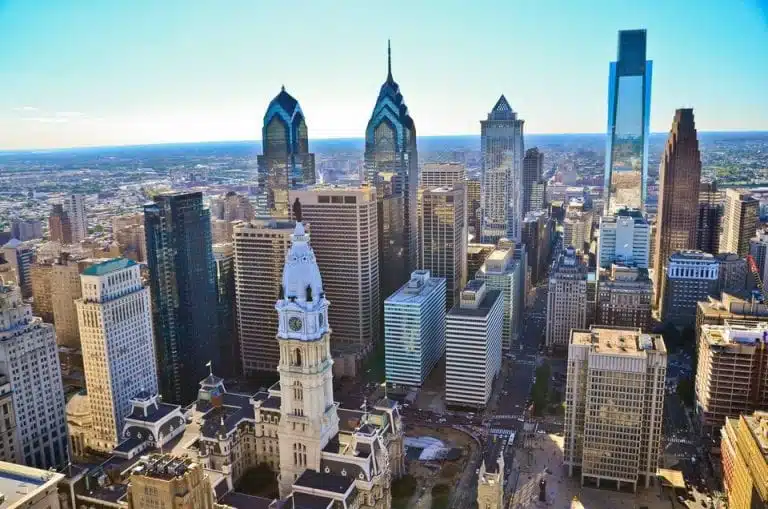 Philadelphia Moving Services: What You Need To Know About Moving Costs and Options
Planning a Philadelphia move? Whether you're leaving town or just relocating to new digs, Philly can be a challenging place to stage a move -- with potentially crazy traffic, parking, and weather conditions. But that's no reason to start stressing. It's nothing you can't handle with a solid game plan and the right moving help.
To get you off to a good start, we've put together this guide covering what you need to know about Philadelphia moving companies and expenses. Here's what we'll be covering...just read on or use these links to skip to the sections that interest you:
Pre-move questions
Before we get into the costs and moving options, here's a list of questions to help you explore your needs, preferences, and priorities for this move:
How much stuff are you moving?

Number of bedrooms and square footage?
Is it stuffed to the rafters or just moderately furnished?
Is there an attic, basement, or garage filled with stuff?

What's your timing?

Need flexibility on dates because of home closing or lease issues?
Is this a last-minute move?
Do you have more time and prefer to take it slow and easy?

What's your budget for moving?

Need to keep this as barebones as possible?
Ok with spending a bit more to make the move easier?

Do you need storage as part of this move?

Are you downsizing in stages?
Making a temporary move first?

Is it important to you to use contactless moving to reduce risks of COVID-19 spread?
How much work are you willing and able to do yourself?

Are friends and family willing to help?
Prefer to avoid heavy lifting?

What kind of parking room and clearance will there be at your move-in and move-out locations?
No need to figure all this out now, but thinking through these questions will help when you start getting quotes and comparing Philadelphia moving companies. Now, let's take a quick look at your main moving options.
What are your Philadelphia moving options?
Moving is no longer an all-or-nothing proposition. You have more choices than just going all DIY or paying a ton for full-service Philadelphia movers. You don't even have to choose just one option, because you can combine services to make your own hybrid move. Here's a rundown of the main options:
Traditional full-service mover
Moving container service
Moving container service specialized for city moves
Rental truck company
A combination of the above
We'll get into the pros and cons of each option later, but first we'll go over some ballpark pricing on some popular Philadelphia moving routes.
How much does a local move cost in Philadelphia?
Of course, you'll need to get detailed estimates before making any decisions, but here are some general price ranges for starters. For a moderately furnished 2- to 3-bedroom household, local moving costs* in Philadelphia will range from $63 for rental trucks to $2,321 on the high end for a traditional full-service mover. For a mid-priced option, a PODS moving container will usually cost between $349-$549 for a local Philly move, including one-month built-in storage, either in your driveway or at a secure Storage Center.
Local Philadelphia moving costs*
How much does it cost to move long-distance to or from Philadelphia?
Long-distance moving costs depend on distance, the amount of stuff you're moving, and the connecting location to Philly. Truck rentals for long-distance moves average $1,200 to $2,850 plus incidentals. On the other end of the spectrum, traditional full-service moves cost from $1,780 to $8,400. Moving long-distance with PODS containers usually averages from $800 to $2,140, which includes one month for storage.
Long-distance moving costs for Philadelphia*
Moving from Philadelphia to New Jersey (or the reverse)
First of all, there are parts of New Jersey that are closer to downtown Philly than some Philadelphia suburbs. If you're moving between Camden or Cherry Hill and Philadelphia, that would still count as a local move because it's well under 50 miles.
But if you're moving from Philly to Central New Jersey -- to places like Somerset, Old Bridge Township, or Middletown -- this will usually be considered a long-distance move, as those routes range from 68 to 85 miles. That means moving costs will be somewhat higher than a local move -- but not by much. The pricing should also be about the same either way, whether you're moving from Philly to Jersey or the reverse.
Even though it's only about an hour away, there's a world of difference between living in Central Jersey and the Philadelphia area. Despite its proximity to New York City and its suburbs, Central Jersey is quieter, slower, and more rustic than Philadelphia.
If you're looking for a spot more bucolic yet still relatively close to the action, Central Jersey might be for you. Its exurban counties may be Manhattan bedroom communities, but plenty of residents also commute down the Turnpike to Philadelphia or Bucks County. Conversely, if the slow Jersey pace grows old, a move into Philly can be a city lover's dream at a cheaper price than NYC.
With its affluence, access to top schools, low crime rates, and proximity to New York, the cost of living of the most desirable towns in Central Jersey is a full 11% higher (per NerdWallet) than in Philadelphia. While Philly taxes are much higher – by nearly 25% (per SmartAsset), much due to the highest wage tax in the nation – Central Jersey remains more expensive primarily due to high home prices and rental costs.
Whichever place suits you best, here's an idea of what it would cost to make the move:
Moving costs* for Philadelphia to Central Jersey (and reverse)
Moving from Philadelphia to NYC or Staten Island (or reverse)
On the surface, Philadelphia and New York City have a lot of similarities: Dense downtowns, sprawling neighborhoods, bustling streets, corporate and economic cores, and access to top-level sports, music, nightlife, and culture.
But aside from employment or family changes, people tend to leave Philly for NYC because they want to live in the center of the world, and they do the reverse because they love city living but New York priced them out. Since 2015, Philly has attracted more NYC residents than the other way around. The pandemic appears to be continuing this moving trend, with 7,500 NYC residents relocating to Philadelphia from February to September of 2020 -- about twice as many who moved the other direction -- according to research by Unicast, a company specializing in mobility data. This difference in demand is why it costs slightly more to move south to Philly from NYC than it does the other direction.
Of all the NYC boroughs, Staten Island offers more of a small town feel, and somewhat more affordable housing choices. If you need to be in the NYC area, but you prefer more breathing room, you'll find more NYC suburbs out on Long Island, too.
Wherever you plan to be, here's an idea of what it will cost to move there:
Moving Costs from Philadelphia to NYC or Staten Island (and reverse)
Now that we've covered the costs, we'll take a quick look at what you can expect with the different types of moving options.
Traditional full-service Philadelphia movers
If you want to be as hands-off as possible during your relocation process, hire full-service Philadelphia movers. They'll take everything from inside your old house, load the truck, do the move, and unload in your new place, even packing and unpacking boxes (for an extra fee). But you'll pay a hefty price tag for the service, give up control of your belongings, have to stick to a rigid schedule, and risk the highest breakage and loss rates of any of the options.
Portable containers for moving and storage
Want to eliminate the stress of driving a giant moving truck, but don't want to lay out all that dough for full-service movers? Need storage because you're downsizing or moving out, but you're not sure where you're moving to? Or maybe you need flexibility to deal with uncertain moving dates or you want to set your own pace for loading and unloading? Then your answer may be a portable container solution like PODS. Available for both local and long-distance moves, PODS delivers your empty container right to your door and you can take all the time you need to load the unit. When you're ready, it gets picked up and taken to your new location or a secure PODS Storage Center until you want it. If you want some help with loading or unloading, you can get professional hourly moving help with local packing and loading services referred by PODS.
PODS City Service
If you're moving to or from the heart of Philly and don't have a driveway or yard to keep a PODS portable container, PODS City Service may be the right option for you. Designed for congested urban streets like we have in Philadelphia, this alternative works like the standard PODS service. The only difference is your container stays on a truck that's equipped with a hydraulic lift that provides ramp-free loading and unloading to make things easier. The driver takes care of the transportation and parking and keeps a close watch on your container for while you load or unload. Then your stuff will be transported to your new place, or a PODS Storage Center until you're ready for it. This service can be combined with PODS' regular service -- perfect if you're relocating from a place in the suburbs where you can keep a container to an urban address where you can't, or the other way around.
READ ON for tips on renting a moving truck in Philadelphia (and getting parking permits), OR CLICK HERE TO GO BACK TO THE TOP.
Rental trucks
As you can see from the moving cost tables above, rental trucks are usually your cheapest alternative for short moves. But if you're relocating long distance, the cost to go total DIY can be comparable to moving containers. Besides the added stress of navigating the truck through busy Philly traffic and narrow streets, this option comes with its own issues, like watching the clock to avoid going over your rental time and getting charged late fees. You'll also need to find some strong friends or family members who are willing to help with both ends of the move.
A special note about driving and parking a truck in Philadelphia: Investigate your route for overpasses to avoid or streets that aren't safe for trucks. Do due diligence in researching the situation at your origin and destination, and plan ahead. As early as possible, find out if you need a parking permit or permission at either location. The best strategy is to check this site about Philadelphia moving permits to reserve parking at least three business days before your move. If it's an apartment building, ask the manager if you need to use a specific entrance or parking area.
Mix and match: Combining moving services
Hey, we get it. Some moves can be complicated. You can always combine options to customize your moving experience. Let a professional mover handle your furniture and heavy stuff, and use a portable container for boxes, clothes, and personal items. You can also use a container for everything and still hire professional movers to help with the packing and/or loading. Or, move essentials on the same day with a rental truck and then store stuff you don't need right now in a portable container that you keep in your driveway or at a local storage center while you renovate your new home or work on downsizing.
Ready to get moving?
Whatever your moving scenario, now that you know your options, there's always a way to make it work. While you're in the planning mode, take a look at our week-by-week Moving Checklist to keep everything on track.
(Credit for the photo featured at top: Visit Philly via Facebook)
---
Michael Hochman is a Philadelphia-based writer currently working as a lifestyle and travel writer for Apartment Guide and rent.com.
Get a Quote
Choose the service you need
Comments
Leave a Comment
Your email address will not be published. Required fields are marked *