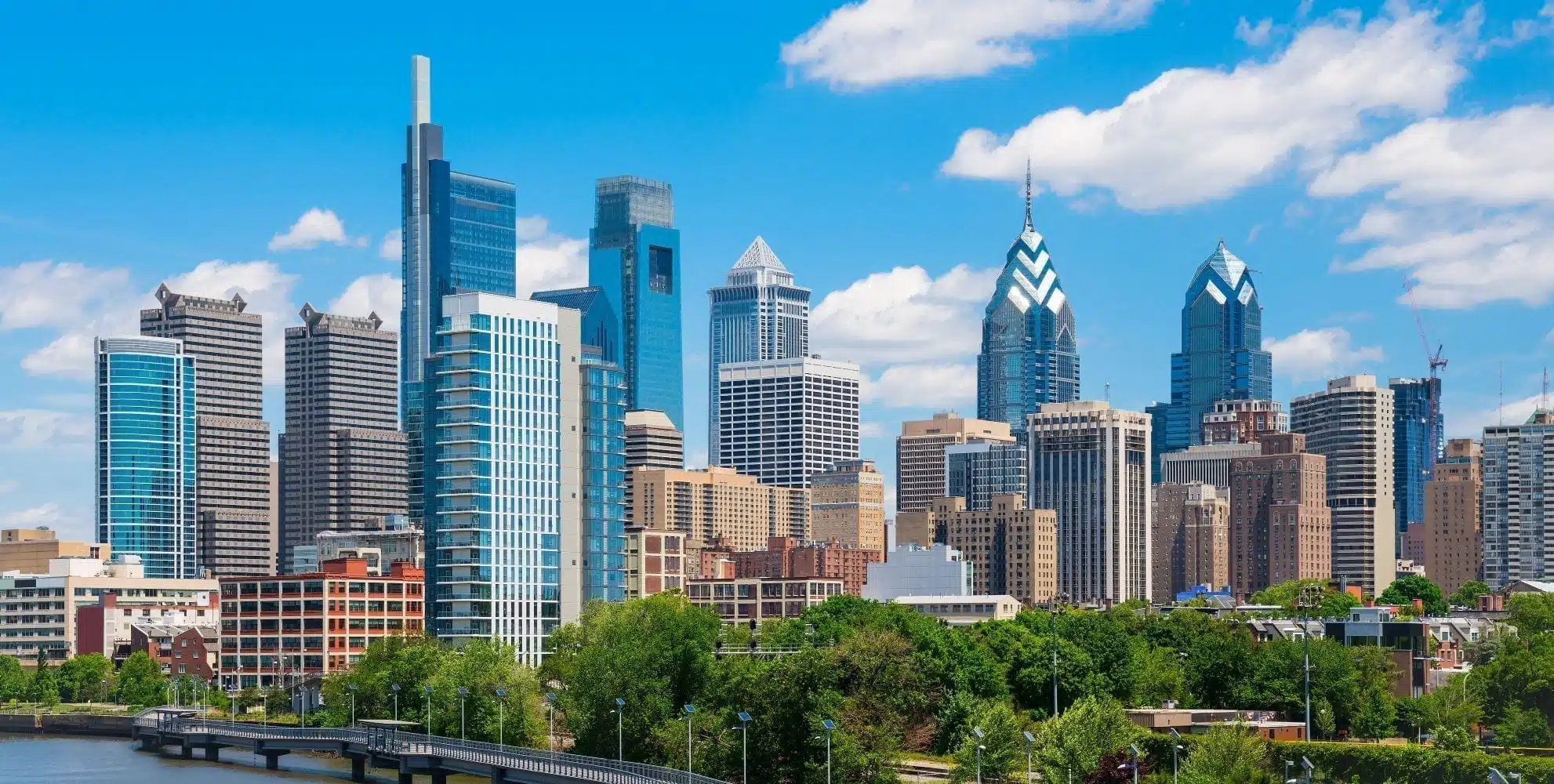 Moving in Philadelphia: Your 2023 Guide to Philadelphia Neighborhoods
Ranked one of the nation's
most trendy yet affordable cities
by Realtor.com, Philadelphia offers big-city employment and educational opportunities mixed with exceptional cultural, sports, and music scenes and a unique place in the nation's history. Stir this all up within a multitude of character-filled Philadelphia neighborhoods, and you'll find a special 21st century "jawn," a term Philadelphians use to describe anything beyond words.
These qualities — along with the fact that your dollar will go a good bit farther if you're relocating here from New York or Washington, D.C. — are likely what keep attracting enough people to make Philly the
sixth largest city in the nation
.
With as many as 150 distinct Philadelphia neighborhoods and around 100 suburbs, there's a lot of ground to cover. Helping you find the parts that appeal to you most while fitting your budget and commuting needs is what this Philly neighborhoods guide is about — whether you're
moving to Philadelphia
from parts near or far, or you're just relocating to new digs within the city.
Speaking of the cost of living, here's a quick snapshot of housing costs in Philadelphia:
Average rent:
$1,925
Average home value:
$220,200
If you're
moving cross-country
from another major metropolitan city, there's a decent chance you'll find Philadelphia's cost of living lower or about on par with what you're used to. The
cost of living in Philadelphia
is six percent higher than the state average and four percent higher than the national average.
Of course, there can be a huge difference in rental rates and home prices, depending on where you choose to live in Philly. Will you be looking in…
Pennsylvania's bustling residential suburbs?
Affordable blue-collar South Philly?
Upscale and convenient Center City?
Secluded and educated West Philadelphia?
Residential and friendly Northeast?
The question of affordability usually relates closely to one of the other major factors in choosing your neighborhood — your commute and whether you prefer not to own a car.
Philadelphia Transit and Commuting
The good news is that Philadelphia ranks as the 7th best city for living without a car and the 8th most walkable city, according to Habitat for Humanity and Smarter Travel, respectively. Strong transit run by SEPTA (Southeastern Pennsylvania Transportation Authority) is a big part of the picture, with extensive bus, subway, and commuter rail systems serving Bucks, Chester, Delaware, Montgomery, and Philadelphia counties. There's also PATCO, otherwise known as "the High Speedline," a rapid transit system that runs between Philadelphia and Camden County, New Jersey.
Map of Philadelphia Neighborhoods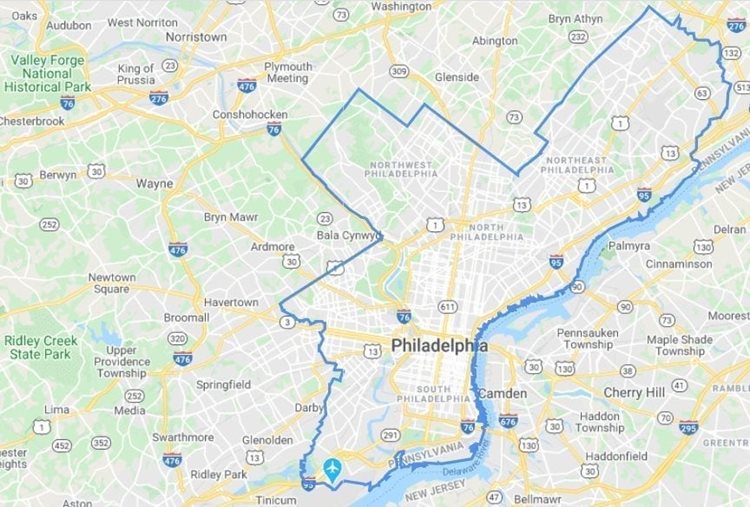 Source: Google Maps
Guide to the Best Philadelphia Neighborhoods
Along with budget and transportation considerations, there are a lot of factors to consider when you're looking for the Philadelphia neighborhood where you'll feel most at home. Do you want to be…
Walking distance to popular Philadelphia restaurants?
Out in the suburbs, with lots of room for a growing family?
In an area known for safe streets?
Amid historic landmarks steeped in character?
Close to a myriad of entertainment options?
Read on to explore parts of Philly with the qualities you're looking for and more, including the neighborhood where the original Philly cheesesteak was born.
Click a link below to jump ahead to a particular neighborhood category:
Upscale Philadelphia Neighborhoods & Suburbs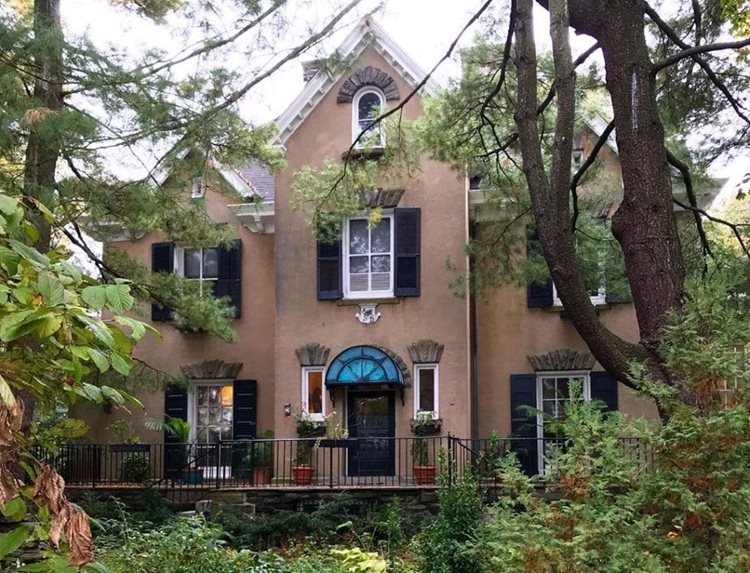 Chestnut Hill
(Source: @housetouring via Instagram)
Chestnut Hill (Northwest Philadelphia)
Average rent (one-bedroom):
$2,000
Average home value:
$758,000
Tucked away in extreme northwest Philadelphia, Chestnut Hill began its life as a popular getaway spot for the Center City elite during the Revolutionary War, thanks to its bucolic beauty and cooler summer temperatures due to its higher elevation.
Today, the high-end neighborhood is quiet along its residential streets filled with Victorian townhomes and historic mansions but bustles with activity along cobblestoned Germantown Avenue. The quaint yet trendy main street is lined with boutiques, brew pubs, bakeries, and restaurants like Mica, CinCin, and Cake — many with outdoor seating to take advantage of beautiful spring and fall Philadelphia weather.
Even though its namesake chestnut trees are nearly extinct, the area is known as Philly's garden district and is home to the Philadelphia Cricket Club, the oldest country club in the nation. For the rest of us, Chestnut Hill is adjacent to sprawling 1,800-acre Wissahickon Valley Park, with more than 50 miles of walking, hiking, and biking trails.
Transportation: Only about 12 miles from Center City, Chestnut Hill is a relatively easy 25- to 30-minute commute by car. The neighborhood is also served by two SEPTA Regional Rail commuter train lines, both about a 45-minute ride into Center City.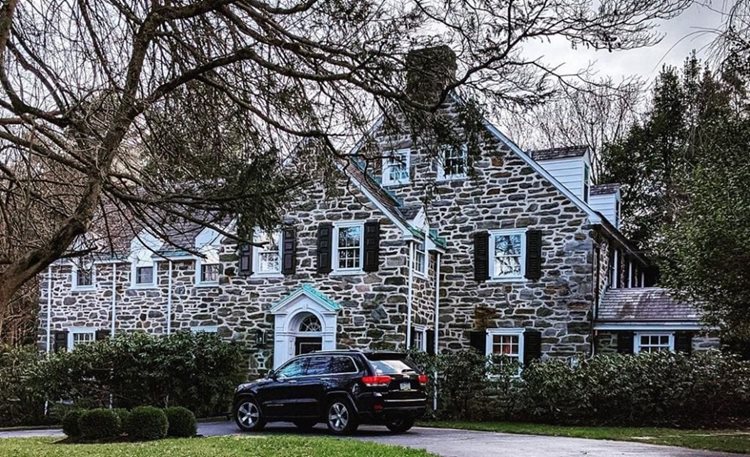 Villanova, Pennsylvania
(Source: @architecturaltourist via Instagram)
Main Line (Northwest Philadelphia Suburbs)
Average rent (one-bedroom): Varies
Average home value: Varies
Great for: Young parents, growing families, and avid golfers
Following the former Pennsylvania Railroad's suburban easement, the Main Line is a series of 20 or so interconnected upscale towns northwest of the city along the borders of Montgomery, Delaware, and Chester Counties. Considered one of the best Philadelphia neighborhoods, some of the wealthiest communities in the nation dot the Main Line, including estate towns Lower Merion, Devon, Gladwyne, and Malvern, as well as a dozen university communities like Haverford, Villanova, and Bryn Mawr.
The old-money suburbs feature a number of world-renowned golf clubs, such as Aronimink, Merion, and the 133-year-old Philadelphia Country Club. The area is also home to the Devon Horse Show, the oldest and largest horse competition in America.
For more down-to-earth fun, you can catch a 'Nova hoops game with the Wildcat faithful at Flip & Bailey's in Rosemont or snag one of the area's best cookies at Hope's Country Fresh Cookies in Bryn Mawr.
Transportation: The Main Line is bisected by U.S. Route 30, with direct access into Philadelphia by car and via train along two SEPTA regional rail lines. A typical commute time into Center City is about 25 minutes, whether driving or hopping a regional rail train.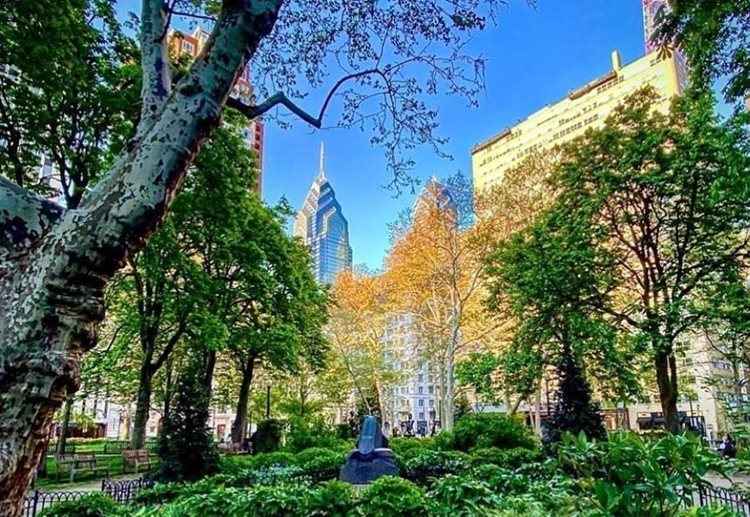 Rittenhouse Square
(Source: @friendsofrittenhouse via Instagram)
Rittenhouse Square (Center City)
Average rent (one-bedroom):
$2,525
Average home value:
$477,700
What is the most expensive area to live in Philadelphia? Many people would tell you it's the prestigious and affluent Rittenhouse Square. Named for one of the original five public squares as laid out by William Penn for his "greene country towne," Rittenhouse today is a land of upscale high-rise condos and apartments towering over the historic park.
Each day, dog walkers, artists, the after-work crowd, and young couples populate the park, lunching on benches and strolling the streets. You'll often find locals:
Heading for restaurants such as Vernick Food & Drink, Parc, and HipCityVeg
Meeting friends at bars like Good Dog Bar, Tria, and Village Whiskey
Dropping in for a latte at Ultimo Coffee or La Colombe
Transportation:
Situated right on the western side of Broad Street, the neighborhood is one of Philly's most walkable neighborhoods, with many residents simply strolling down Walnut Street to work. Rittenhouse is also served by convenient hop-on/hop-off public transit with four SEPTA bus lines, and it's also easily accessible via car.
More Upscale Neighborhoods You'll Love:
Market East, Center City
Lower Gwynedd, Montgomery County
Logan Square, Center City
Newtown Borough, Bucks County
Communities for Young Professionals, Creatives, and Students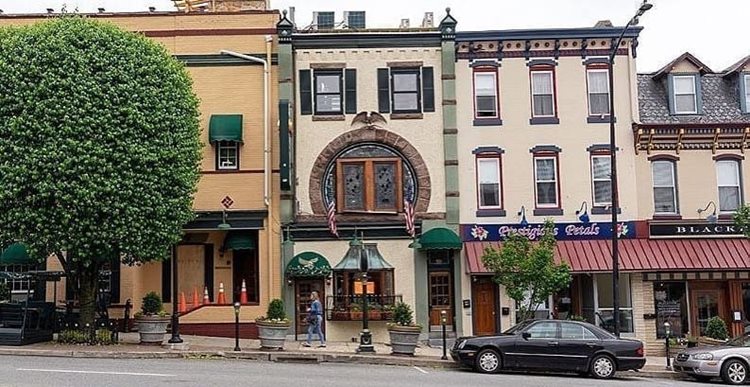 Conshohocken, Pennsylvania
(Source: @visitvalleyforge via Instagram)
Conshohocken (Montgomery County Suburb)
Average rent (one-bedroom):
$2,200
Average home value:
$432,800
Great for:
Young professionals in the tech industry
This Montgomery County enclave is a suburban hotspot for both tech business and young professionals working in the surrounding communities. Over the last decade, "Conshy" has boomed with suburban-chic and cosmopolitan residential housing and mid-priced high-rise rental towers, mostly thanks to its location as a transportation center. A number of these buildings hug the river, along with the Conshohocken Rowing Center and Riverside Dog Park.
The borough's restaurant and bar scene revolves around the Fayette Street corridor with spots like:
Brunch
Transportation: Conshohocken, a major auto commuting hub that sits at the Blue Route and the Schuylkill Expressway junction, offers two SEPTA regional commuter rail stations. The commute into Center City takes about 35 minutes by car, or about 40 minutes on the train from Conshohocken Station.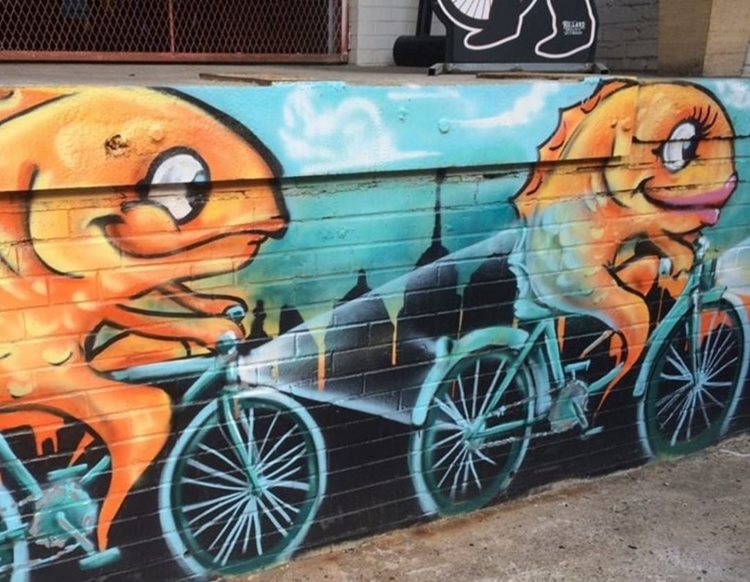 Fishtown
(Source: @fishtownneighbors via Instagram)
Fishtown (North Philadelphia)
Average rent (one-bedroom):
$2,350
Average home value:
$348,100
Great for:
Art lovers and foodies
If you've watched the AMC network program "Dispatches From Elsewhere," you've seen a lot of the quirky and public-art-focused neighborhood of Fishtown. The neighborhood got its name from the proliferation of fishermen who populated the area throughout its early history. In recent years, it's been booming as a trendy arts, culture, foodie, and entertainment community along the Delaware River in North Philadelphia — and rental and home costs have risen along with demand.
A hotbed for Philly music venues, Fishtown is home to the Fillmore, the Foundry, Johnny Brenda's, and Kung Fu Necktie, as well as the Rivers Casino, for those who like to gamble for entertainment. The neighborhood also has two famous pizza spots: Pizza Brain, featuring the world's first museum of pizza culture, and Pizzeria Beddia, named "Best Pizza in America" by Bon Appétit magazine. Other popular restaurants and bars to look for include:
Fette Sau
Joe's Steaks
El Bar
Frankford Hall
Barcade
Transportation: The Market-Frankford el train will get you to City Hall in just 20 minutes, and the drive down I-95 across the Vine Street Expressway can be done in around 15.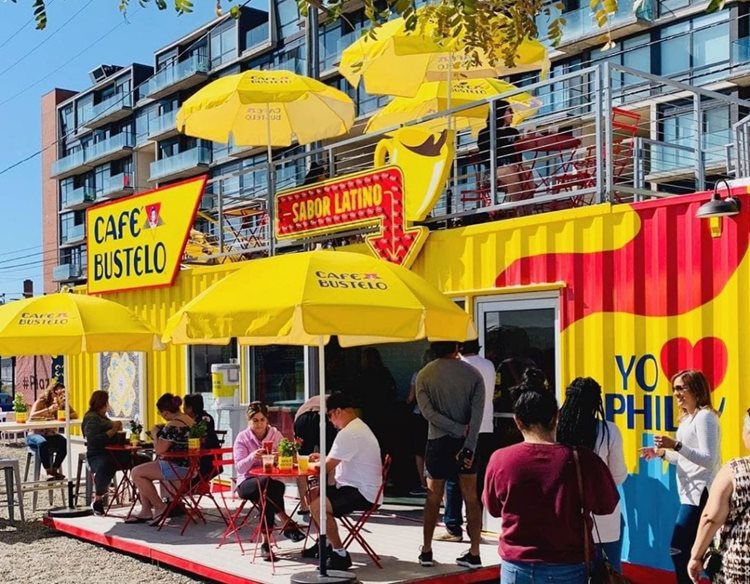 Northern Liberties (NoLibs)
(Source: @piazzapodpark via Instagram)
Northern Liberties (North Philadelphia)
Average rent (one-bedroom):
$2,500
Average home value:
$510,400
Great for:
Hipsters and dog parents
When William Penn laid out his plan for Philadelphia, he set aside the area north of Vine Street as "liberty land," free lots granted to landowners down in the city. Thus, Penn created the first suburb. The region was a home for mills, factories, foundries, and breweries in the 1800s, but today it thrives as one of the most popular redeveloped Philadelphia neighborhoods, with rising home and rental prices.
The focal point of "NoLibs" is the Piazza Pod Park, a 35,000-square-foot dog-friendly outdoor oasis featuring a dozen food and drink vendors and retailers tucked inside recycled shipping containers — all surrounding an inviting play and seating area. Across the street is The Piazza at Schmidt's, a European-style urban plaza retail and apartment campus in the shadow of the old Christian Schmidt Brewing factory.
NoLibs is home to some of Philly's trendiest eateries and pubs, including:
North Bowl
Honey's Sit 'N Eat
Silk City Diner
Bourbon & Branch
Green Eggs Café
Yards Brewing Company
Transportation: The drive into Center City via Vine Street is only about 10 minutes, depending on traffic, or a brisk 45-minute walk on a nice day. SEPTA's Route 15 Girard Avenue trolley runs along the neighborhood's northern border, and the Market-Frankford elevated train has a key stop at Spring Garden Station, about a 20-minute ride from Center City.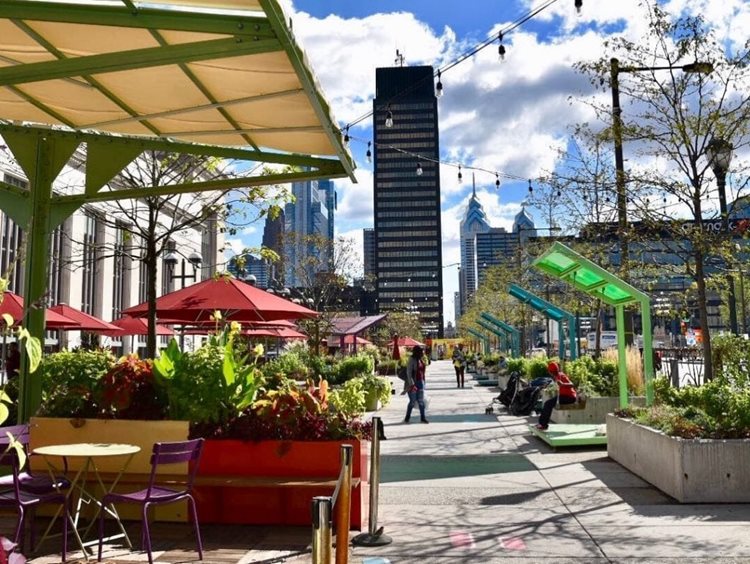 University City
(Source: @universitycity via Instagram)
University City (West Philadelphia)
Average rent (one-bedroom):
$2,750
Average home value:
$484,200
Across the river from Center City in West Philly, University City is the neighborhood that surrounds the interconnected campuses of the University of Pennsylvania, Drexel University, and the University of the Sciences. The district along the Schuylkill is an education and commercial hub that is quickly becoming a second downtown, with skyscrapers like Cira Center, Cira Center South, and the FMC Building all springing up since 2000.
The region continues to grow, chiefly with the under-construction 14-acre Schuylkill Yards, a massive multi-tower and public space redevelopment project, and Station Plaza, a $6.5 billion open space development around Amtrak's historic 30th Street Station.
Home and rental prices range from affordable off-campus student housing to new construction luxury high-rise apartments and condos.
Transportation: University City is connected to Center City by seven vehicle bridges. The Schuylkill Expressway runs the neighborhood's eastern border, and Baltimore Avenue forms a major east/west spine. The drive into the heart of Center City is just 10 minutes from around the Penn campus, or an easy half-hour walk. The neighborhood features 30th Street Station, the 10th busiest rail station in America, which serves Amtrak's Northeast Corridor and Keystone Corridor lines, every SEPTA regional rail line and its Subway-Surface trolley and Market-Frankford el, as well as New Jersey Transit's Atlantic City Line. The el ride to City Hall is just 2 minutes from 30th Street Station and about 20 minutes to Old City.
Other Trendy Neighborhoods to Check Out:
Roxborough/Manayunk, Northwest Philadelphia
Washington Square West (Midtown Village/Gayborhood)
Center City
Brewerytown, North Philadelphia
Kensington, Lower Northeast Philadelphia
Historic Philadelphia Neighborhoods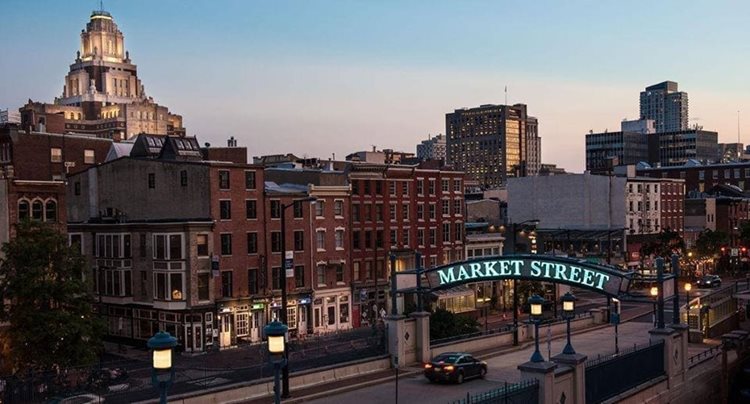 Old City
(Source: @oldcitydistrict via Facebook)
Old City (Center City)
Average rent (one-bedroom):
$2,425
Average home value:
$394,100
Great for:
Single professionals and history buffs
Independence Hall. The Liberty Bell. Betsy Ross House. One can't help but breathe in the history as you walk the streets of Old City, where some of America's greatest figures once lived — from William Penn to Ben Franklin to George Washington. The neighborhood where the Quakers first settled and the Declaration of Independence and The
Constitution were adopted is also a modern, vibrant district, and one of the safest Philadelphia neighborhoods.
For the most unique but pricey living experience, try to snag an available unit along Eltfreth's Alley, the oldest continuously occupied residential street in North America.
Modern-Day Offerings Include:
Penn's Landing, home to concerts, fireworks, and cultural celebrations
Blue Cross RiverRink, for ice skating in the winter and roller skating in the summer
Cherry Street Pier, a repurposed shipping container market and artist retreat
Race Street Pier, an urban park and yoga sanctuary
Eateries such as Franklin Fountain, Amada, and City Tavern, on the spot where the Founding Fathers once drank together
Transportation: The Spring Garden and Second Street train/subway stations sit at the north and south ends of the neighborhood, just 8- and 5-minute rides to City Hall station, respectively. Interstate 95 runs north/south through the heart of Old City, with direct access to the Benjamin Franklin Bridge to Camden, New Jersey, just a 10-minute drive or 17-minute train ride. The RiverLink ferry also crosses the Delaware to Camden from Penn's Landing.
Fairmount
Average rent (one-bedroom):
$2,350
Average home value:
$422,900
What is the best neighborhood to live in Philadelphia? You'd be hard-pressed to find one that checks as many boxes as Fairmount does. The cultural hub of Philly? Check. Greenspace galore? Check. Great for professionals and perfect for families? Check check.
Not only is it home to historical sites, like the Laurel Hill Cemetery and Philadelphia Zoo (the nation's first zoo, opened in 1874), but Fairmount, or "Art Museums," as some of the locals call it, is also home to — you guessed it! — numerous world-class museums. The biggies include:
Philadelphia Museum of Art
Franklin Institute
Rodin Museum
Barnes Foundation
But that's not all. After exploring Fairmount Park — that includes more than 2,000 acres of fun-filled activities — there are plenty of dining options to choose from. Some favorites? Sabrina's Cafe, Pizzeria Vetri, A Mano, Jack's Firehouse, and Umai. And for the beer and coffee lovers? You're covered, too!
Transportation: Nestled to the northwest of Center City, the Fairmount neighborhood is mostly north of Spring Garden Street — placing it in a quiet, family-friendly area. It's highly walkable and bike-friendly, however, to many of the area's attractions. In fact, you can get to Center City by taking a roughly 10-minute bike ride or a 30-minute walk. Prefer to take SEPTA instead? You can easily hop on at 30th Street, the Suburban Station, or at the Fairmount Station on the Broad Street Line and expect to be at Center City in about 20 minutes.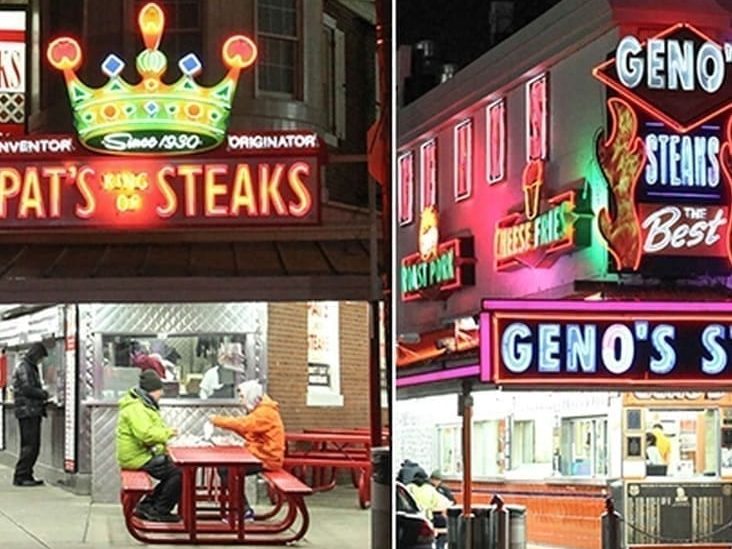 Passyunk Square
(Source: @italianmarketphilly via Instagram)
Passyunk Square (South Philadelphia)
Average rent (one-bedroom):
$2,725
Average home value:
$378,000
You may not have heard of South Philadelphia's Passyunk Square, but you certainly know its two most famous locations. Sitting across the corner from each other at the diagonal intersection at South 9th Street and East Passyunk Avenue are two rival restaurants, Pat's King of Steaks and Geno's Steaks. Pat's, as any good Philadelphian can tell you, is where the steak sandwich was invented in 1933 (the cheese was added to create the cheesesteak a decade later at Pat's old Ridge Avenue location). In 1966, Geno's opened up right across the pointed intersection and an historic cheesesteak rivalry was born. But that's not the only food game in Passyunk.
Along 9th Street lies the southern end of the Italian Market, the renowned curb market made world famous when Sylvester Stallone galloped through in "Rocky." The Market is famous for its blocks of awning-covered sidewalk stalls of grocers and butchers, fishmongers and fromagers, coffee purveyors and chocolatiers. South of Washington Avenue, the market has expanded to include exciting international cafes and restaurants like:
South Philly Barbacoa
Pho 75
Adelita
Ratchada Thai & Laos Cuisine
Housing and rental prices in Passyunk are mostly in line with much of the more affordable South Philly area, with a lower crime rate than even some of the city's more upscale neighborhoods.
Transportation: The Elsworth/Federal and Tasker/Morris subway stations both sit along the Broad Street line in Passyunk Square, leaving Pat's and Geno's just a 15-minute ride-plus-walk trip from the heart of Center City. Broad Street itself forms the neighborhood's western border, and East Passyunk Avenue forms its spine, just under 10 minutes via car to City Hall.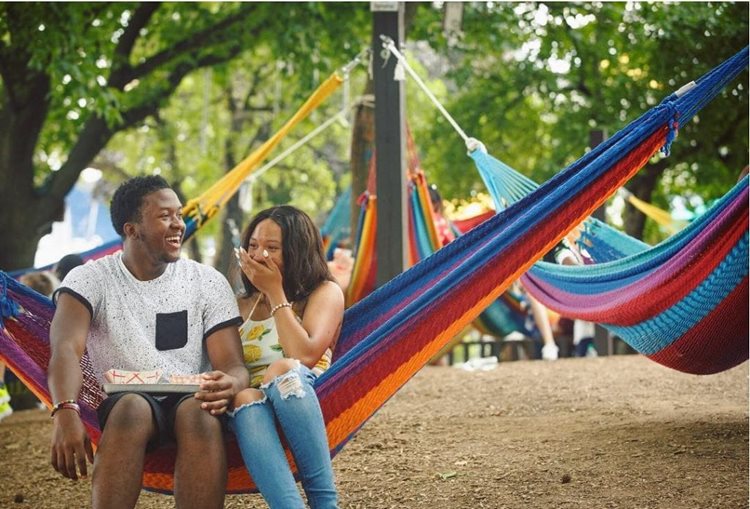 Society Hill
(Source: @delawareriverwaterwaterfront via Instagram)
Society Hill (Center City)
Average rent (one-bedroom):
$2,450
Average home value:
$467,100
Great for:
White-collar workers
Society Hill's haughty name originates from the Free Society of Traders, a league of elite business and cultural leaders steering the future of 17th-century Philadelphia. Today, the Center City neighborhood is a collection of historic Georgian row houses along brick sidewalks and cobblestone streets lit with Franklin lamps. Sitting in the backyard of Old City's Independence Hall and Liberty Bell, Society Hill is one of the most expensive Philadelphia neighborhoods and, because it has some of the lowest crime rates, is considered the safest neighborhood in Center City.
In addition to all those historic buildings and important locales once frequented by our Founding Fathers, Society Hill offers a bevy of modern entertainment and nightlife destinations, including:
Headhouse Square district, with its many bars and taverns
Washington Square Park, a leafy retreat and one of the five original public squares established by William Penn
Independence Seaport Museum, which explores Philly's rich maritime history
Spruce Street Harbor Park, an eclectic summer pop-up park with food and beer trucks, a boardwalk along the Delaware River, and 50 inviting hammocks strewn under LED lights
Zahav, the Israeli and Middle Eastern restaurant named Best Restaurant in America in 2019 by the James Beard Foundation
Transportation: Society Hill, sitting just below Old City, offers nearly every form of transportation. Its convenient location on the eastern side of Center City also makes it one of the city's most walkable, just a 15-minute stroll to Broad Street from Washington Square and a half hour from the waterfront. The neighborhood is convenient to two stops on the Market-Frankford subway line and two on the PATCO Speedline. Society Hill is served by six SEPTA bus routes and four Indego bike-share stations. If you're living in Society Hill and working in the heart of Camden, NJ, it's just a 12-minute drive over the Ben Franklin Bridge into downtown.
Historic Neighborhoods Are Everywhere You Look:
Germantown, North Philadelphia
Chinatown, Center City
Graduate Hospital (Southwest Center City/South of South), South Philadelphia
Phoenixville, Chester County
Philadelphia Neighborhoods & Suburbs — Great for Families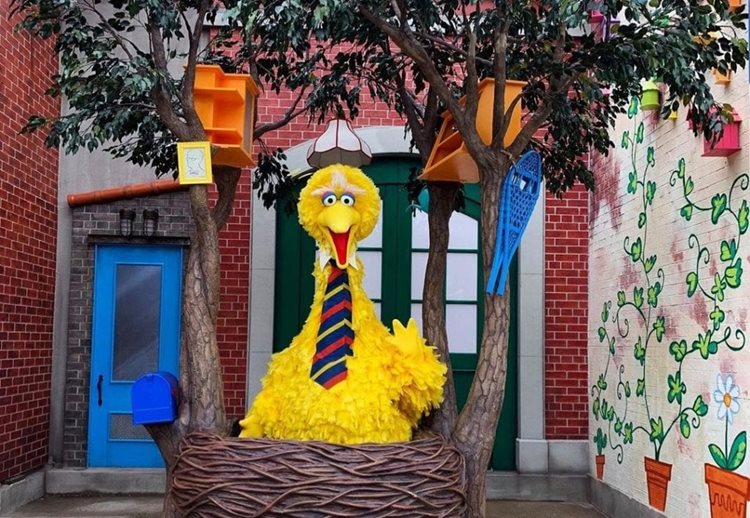 Langhorne, Pennsylvania
(Source: @sesameplace via Instagram)
Langhorne (Bucks County Suburb)
Average rent (one-bedroom):
$1,975
Average home value:
$528,500
Great for:
Young families and retirees
When looking for a great place in the suburbs for a family to live, where better than the home of Sesame Place? The young children's theme park is a unique focal point of this lovely suburb. More importantly, area public schools are solidly rated by Niche.
Langhorne, both the dual boroughs and greater Middletown Township collectively referred to as Langhorne, is an important business and retail center in the charming mid-range family destination of Bucks County. The borough along Neshaminy Creek itself offers a quaint Historic District with 19th-century homes and buildings to explore, as well as a number of shops and restaurants along Pine Street and Maple Avenue. Family-friendly attractions lie throughout the township, including:
BounceU
Golf Adventure
Oxford Valley Mall
1,200-Acre Core Creek Park
Transportation: A commute into Center City from Langhorne down I-95 runs about 45 minutes during rush hour, and a drive to Trenton is about 20 minutes up Route 1. The SEPTA West Trenton line will get you to Center City in about an hour.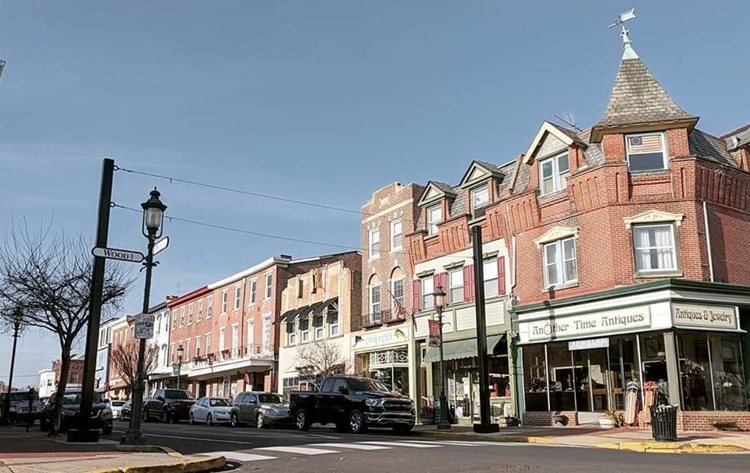 Levittown, Pennsylvania
(Source: @levittownnownews via Instagram)
Levittown (Bucks County Suburb)
Average rent (one-bedroom):
$1,625
Average home value:
$348,700
At the end of World War II, Long Island's Levittown planned suburban community became both the subject of fascination and the blueprint for the typical post-war commuter suburb. Just after its completion, Levitt & Sons turned its attention to Bucks County, PA, to construct its second Levittown, a community filled with uniform, assembly-line, prefab housing and military base-style convenience to schools, groceries, and parks. With it, the Levitts invented the modern suburb, a place for middle-class families outside of the city centers centered on America's new car commute culture.
Greater Levittown actually covers 41 subdivisions and neighborhoods in Lower Bucks, including communities like Bristol, Falls, and Middletown Townships and the borough of Tullytown. The region offers a number of highly rated public schools in the Neshaminy, Bristol Township, and Pennsbury School Districts, the latter home of the nation's best prom. For outdoor family fun, Levittown includes Forsythia Crossing and Mill Creek Valley Parks for hiking and recreation, as well as Van Scriver Lake for fishing and swimming.
Transportation: Sitting at the confluence of I-295, the Pennsylvania Turnpike, and Bristol Pike, Levittown's convenience reflects the planned commuter town it was created to be. While 25 miles north of Center City, the commute comes in at 50 to 60 minutes at rush hour via car or an easy 45-minute train ride away via the SEPTA Regional Rail's Trenton Line.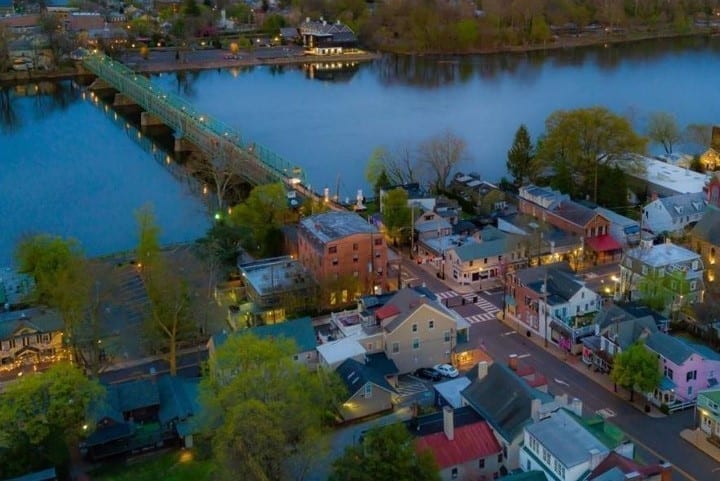 New Hope, Pennsylvania
(Source: @visitbuckspa via Instagram)
New Hope (Bucks County Suburb)
Average rent (one-bedroom):
$2,100
Average home value:
$819,900
Great for:
Affluent, outdoorsy types
Thirty miles north of Philadelphia in bucolic Bucks County, New Hope is a community of many diversions, as well as highly rated schools. For all it offers, home and rental property prices are higher than most of Philly's suburbs, even for attractive Bucks County. Among its diverse attractions, New Hope is known as a:
Ferry village along the Delaware River known for canoeing and kayaking
Hotspot for motorcycle enthusiasts who cruise Main Street en masse on summer weekends
Colony for world-renowned impressionist and experimental visual artists
Popular resort retreat for the LGBT community
Family destination with attractions like the Bucks County Children's Museum, Bucks County Playhouse, and rides on the antique New Hope & Ivyland Railroad
Take in the quirky specialty stores and shops along the main drag and over the bridge, and find out why New Hope is also a mecca for foodies, with dining spots like:
Logan Inn
Salt House
Lola
Sprig & Vine
The Landing
Stella by Jose Garces
Triumph Brewing Company
Transportation: U.S. Route 202 is the major artery into New Hope by car. The bedroom community is about an hour drive either into Philadelphia or to the business parks around King of Prussia and Plymouth Meeting, while Trenton is just about 30 minutes away.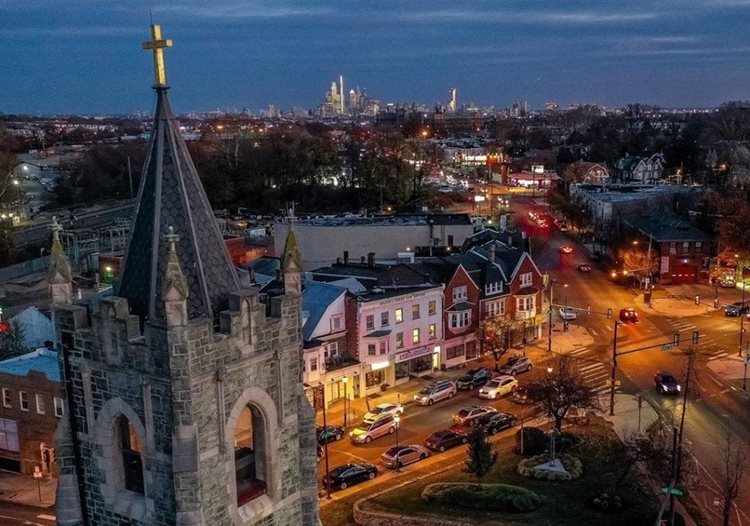 Overbrook
(Source: @skylinevisuals via Instagram)
Overbrook (West Philadelphia)
Average rent (one-bedroom):
$1,375
Average home value:
$195,500
Great for:
Working families who want a suburban feel
If all you know about Overbrook is that it's the home of basketball legend Wilt Chamberlain, that's a good start. It's also home to another famous star — Will Smith, who spent most of his days on the courts at Tustin Playground. The suburban-style West Philadelphia neighborhood is one of the most desirable and reasonably priced upper-middle to middle-class family residential spots in the city. The district came of age in the early 1900s as one of the first outlying areas city folks escaped to once trolley lines were installed, and it boomed through the 1960s.
This allowed for a range of styles of affordable housing to spring up over time, from spacious row houses to low-rise apartment buildings and semi-detached "twins," more commonly known as duplexes in other parts of the country. The family focal point of the neighborhood is the century-old Overbrook High School, which counts Chamberlain and Smith among its alumni, along with many other hoop and hip-hop stars. Overbrook serves as the West Philly gateway to the Main Line across City Avenue, with its commercial corridor along U.S. 30/Lancaster Avenue and a large green space in Morris Park.
Transportation: A drive up City Avenue and down the Schuylkill will get you into Center City in about 20 minutes. The 69th Street Transportation Center, just off the neighborhood's southern tip, offers a 20-minute train ride into City Hall or a half-hour trek to Norristown, as well as multiple train, trolley, and bus routes heading to many other areas.

Q: What is the safest Philadelphia neighborhood?
A: When it comes to the safest Philadelphia neighborhoods, with 44% lower total crime than the national average, Bustleton tops a lot of lists. And it makes sense. Families and retirees both comfortably make up the majority of the residents in this affordable, urban-meets-suburban, and — dare we say — bustling community. What are some other Philly neighborhoods? Here are nine more safe neighborhoods to consider.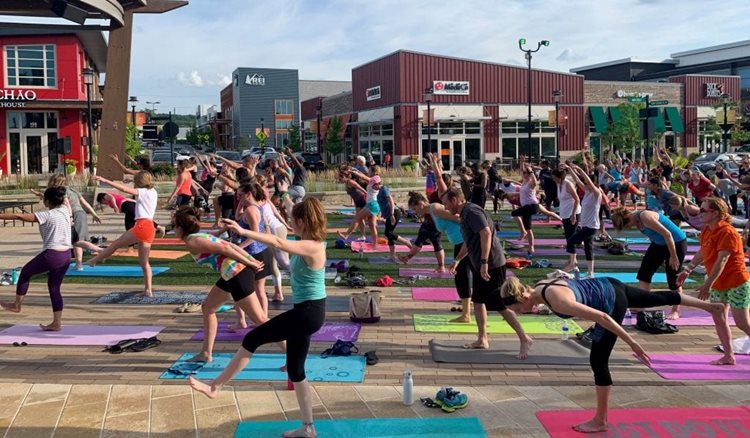 King of Prussia, Pennsylvania
(Source: @KOPTownCenter via Facebook)
Valley Forge & King of Prussia (Montgomery County Suburb)
Average rent (one-bedroom):
$2,100
Average home value:
$454,400
Great for:
Suburban types who value good schools
Twenty-five miles northwest of Philadelphia, Valley Forge is an affordable, pastoral hamlet famous for George Washington's encampment. While the village proper of Valley Forge is relatively small, it's part of the Schuylkill Township and a larger area that's also commonly identified as Valley Forge. This includes communities like King of Prussia, home to the Valley Forge Casino Resort, the King of Prussia Mall (America's largest, by retail space), and Oaks, site of the Greater Philadelphia Convention Center. These landmarks contribute to the area's ranking as one of the largest employment centers in the Philly area.
While Valley Forge National Historic Park attracts tourists, new planned housing and mixed-use developments like the Village at Valley Forge are luring residents to the area. Developers built a main street and King of Prussia Town Center from the ground up, featuring a 24-hour Wegmans grocery, LA Fitness, and REI to go along with the many walking and biking trails. The area is served by the highly rated Tredyffrin/Easttown and Upper Merion Area School Districts, and it's also home to the nationally recognized Valley Forge Military Academy.
Transportation: During rush hour, it can take around 60 minutes to drive from Valley Forge to Center City via Schuylkill Expressway, or 25 minutes into West Chester along U.S. Route 202. While seven SEPTA bus routes serve the Valley Forge and King of Prussia areas, a new extension of the Norristown High Speed Line has been approved and is projected to slash commute times by 30 minutes when completed.
More Great Philadelphia Neighborhoods for Families:
Mount Airy, Northwest Philadelphia
Bustleton, Northeast Philadelphia
West Chester, Chester County
Plymouth Meeting, Montgomery County
Frankford, Northeast Philadelphia
More interested in living near Philadelphia rather than in the city or a nearby suburb, here are
13 amazing cities
that are approximately an hour away from downtown.
Whether you're
moving locally
or
relocating from another state
or across the country, this guide is testament to the fact that Philly offers so much variety and character, you're bound to find a neighborhood that feels like home. And while you're neighborhood and home shopping, it's a good time to start
getting ready for your move
. Here are
12 things you need to know about moving to Philadelphia
, plus our ultimate
Moving Checklist
and simple tips for
packing like a pro
.
Editor's note: For ease of reading, monthly rental prices were rounded to the nearest $25 and home values were rounded to the nearest $100.

Michael Hochman is a Philadelphia-based writer currently working as a lifestyle and travel writer for Apartment Guide and rent.com.
Get a Quote
Choose the service you need
Comments
Leave a Comment
Your email address will not be published. Required fields are marked *