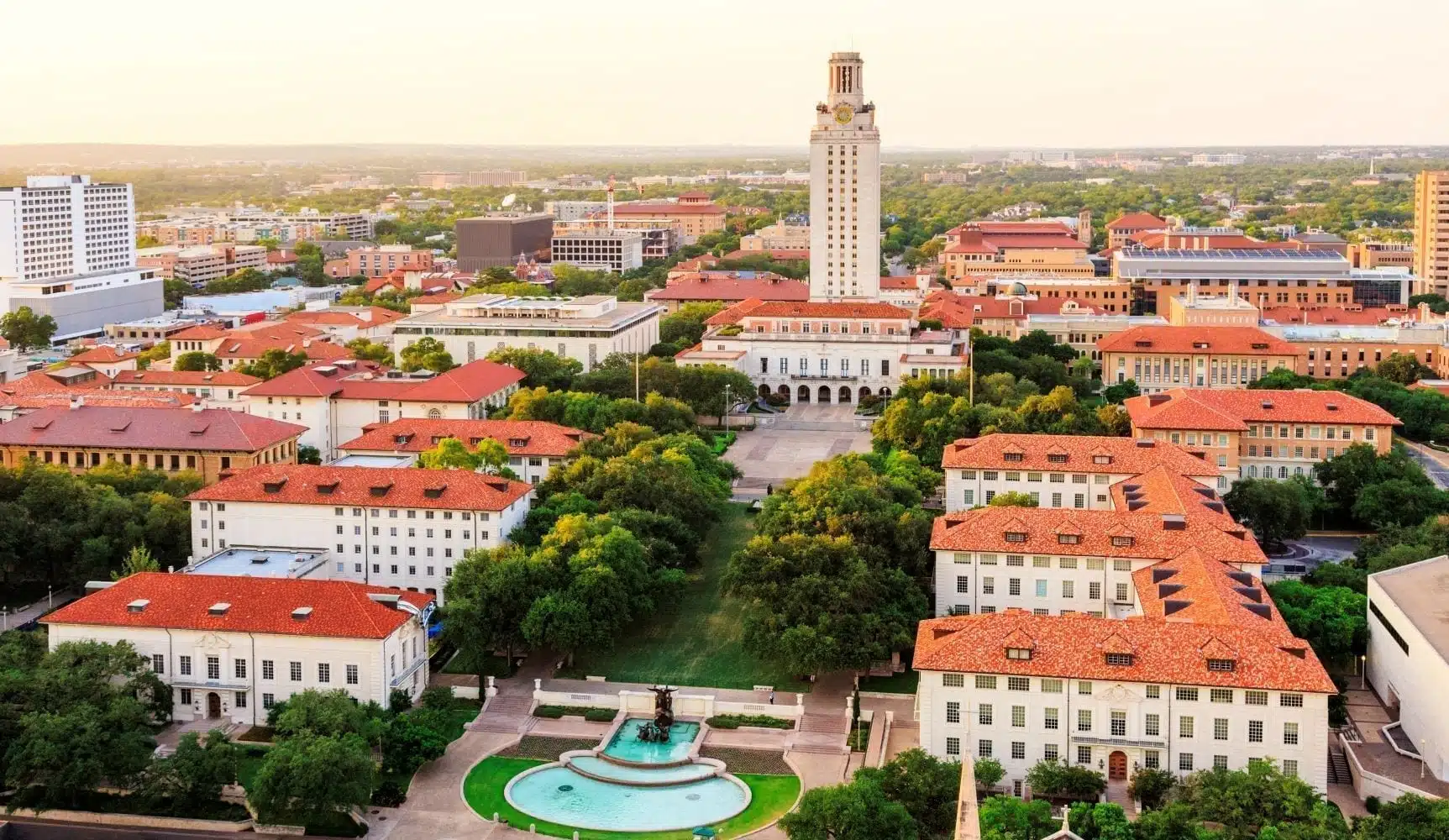 College Move-In Checklist: Planning and Packing for Your Move
Making the transition from high school to college is filled with excitement. Visiting campuses, wrapping up your senior year, spending quality time with friends, getting that first acceptance letter — the journey is filled with milestones that you'll remember forever. But in the midst of the joy, there can also be some anxiety, too — especially when it comes to packing up your belongings and moving away for college. While this is understandable, there are steps you can take to make the process less daunting. And fortunately for you, we've compiled them all into a handy college move-in checklist.
To make the list easy to navigate, we've broken this college move-in checklist into three stages: planning, packing, and moving. With enough preparation on the front end, you'll find the college moving experience to be just as enjoyable as that first campus mixer (ok, maybe it won't be that fun, but you get the gist).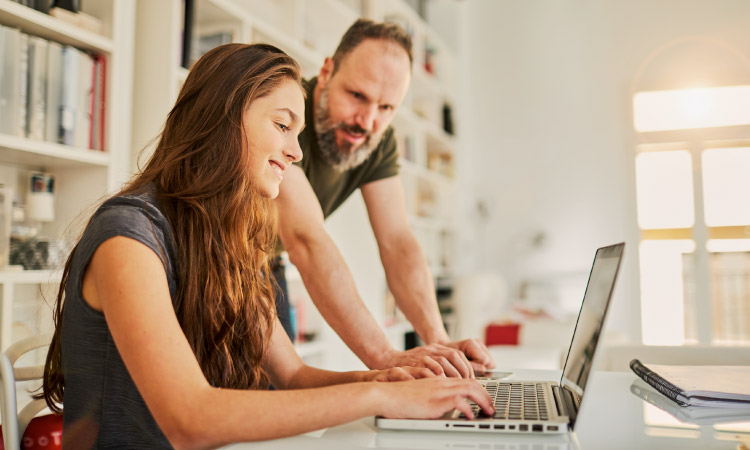 Planning
1. Decide where you'll live.
This one's most likely built into your college's application process, especially if you're a freshman, but the best first step is to choose where you're going to live during the school year and see the floor plan. Knowing how much space you'll be working with will help you plan what can fit inside. Those dorm rooms are a lot smaller than you think…
2. Look up your official move-in date.
Again, this will be communicated to you by your school, but there's a lot of information coming your way, so it's understandable that some dates would slip through the cracks. Find out when you can move in and note the date on your phone's calendar. Also know that most schools have a specific time window for when you can move in, so add that to the calendar, too.
3. Ask what furniture comes with your new place.
Sure, your aunt gifted you a new futon, but that doesn't mean it'll fit inside your dorm room. Most come with an XL twin bed, nightstand, dresser, small closet, desk, and chair. You probably won't have room to fit any other furniture inside except maybe a small chair or side table. Check to see if your room has a mini-fridge, too. Even though you may be eating most of your meals in the dining hall, you'll still want some staples on hand.

If you're moving into an on-campus apartment, chances are it'll have some furnishings, as well. The same can't be said for off-campus housing. If you're finally making that move from mom and dad's house to an apartment, it's probably time to invest in some furniture essentials.
4. Reach out to roommates (if applicable).
Speaking of furniture, it's a smart idea to coordinate with your roommate(s) to see what they're planning on bringing to your new dorm room or apartment. Even if you're moving into a furnished dorm room, you'll probably want a TV, rug, curtains, etc. — and, trust me, you won't have room for any duplicates.
If you're moving into an apartment, you're in control of your bedroom, but see what needs to be added to the common areas, like the den and kitchen. Even though you have more space than a dorm room, you still don't want to double up on items.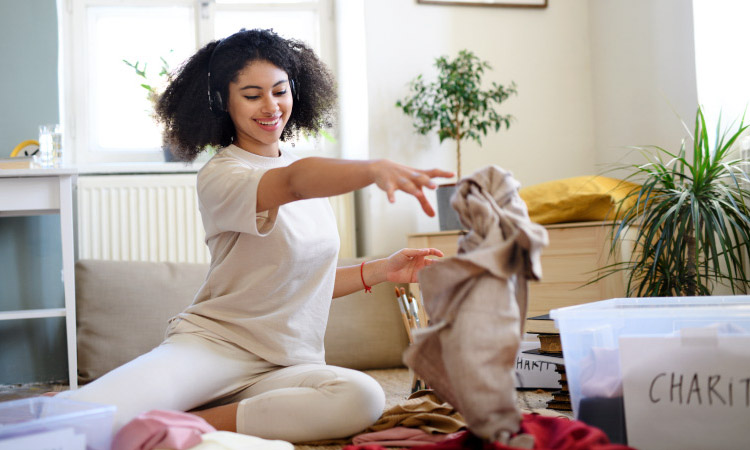 5. Start the purging process.
The best college move-in checklist advice we can give you? Don't overpack. One way to accomplish this is by getting rid of as much stuff as you can before the packing begins. This is a great time to go through your clothes, accessories, and toiletries to see what's necessary and what's gathering dust.
As you go through the items, sort them into three piles: keep, donate, and toss. That way, it'll be easier to sort through your things and determine next steps. If time isn't on your side, check out the PODS Blog's simple guide to decluttering fast.
6. Determine how you'll get your stuff from home to campus.
If you have access to a family van or truck, you may be considering using it for college move-in day. But often these vehicles can hold your stuff and not much else (i.e., you and your moving helpers). If you don't have access to a vehicle or don't feel comfortable driving a huge rental truck, a portable container service like PODS might be the solution for you.
A container will be dropped off at your place and you can pack it up and load your stuff yourself. When you're ready, your container will be picked up and professionally transported to your new digs, even if it's in another state or across the country. If you're packed and ready before your actual move-in day, you can have the container kept at a secure storage center until the day comes.
If you already live on campus or in an apartment building, be sure to check with your property manager or dorm supervisor before reserving a container to make sure you can reserve a parking spot for the container while you're packing it. If you're renting a house, it's even easier because the provider can place the container right there in your driveway, which means storage is just steps away — a convenience that's hard to beat.
7. Figure out if you need storage in your college town.
There may be some things that you want close by, but maybe there's just not enough room or need for them to be in your apartment or dorm room all of the time. Think seasonal clothing or furniture that you'll eventually need once you move out of your dorm room and into a larger apartment and don't want to haul to and from your hometown. If you're in this boat, you may want to consider the aforementioned storage units or portable storage containers.

If you don't need all the space that comes with a unit or container, ask a friend or roommate to split it with you. This doesn't just save space; it saves money!
8. Don't forget to check for storage discounts.
Self-storage and
portable storage
companies may offer special discounts for college students, like
deals for storage
for three months or more. Just be sure you get all the details and think beyond offers for a free month. Consider that it's quite possible you'll be storing your stuff for several months, so factor that in.
Packing
9. Make a list — and check it thrice.
Not to sound like your mom (but, let's be real, she's probably the one reading this article and doing a lot of the work), but a packing list is the best way to keep college moving on track. It doesn't have to be anything complicated, either.

Here's an example of how you can sort your things into categories:
Educational items
Computer/laptop
Office Supplies
Printer
Backpack
Chargers
Organizational items
Under-the0bed storage containers (these are great for packing)
Cubbies
Desk organizers
Desk Organizers
Hanging shelves
Over-the-door hangers
Hangers
Décor
Pictures
Throw pillows
Posters
Artwork
Small lamp
Small house plant
Entertainment
TV
Books
Portable speakers
Linens
Towels
Washcloths
Sheets
Pillowcases and pillows
Blankets
Mattress cover
Clothing
Save closet space by only packing one season at a time
Hygiene
Toiletries
Shower caddy
Shower shoes (if you're using a communal bathroom)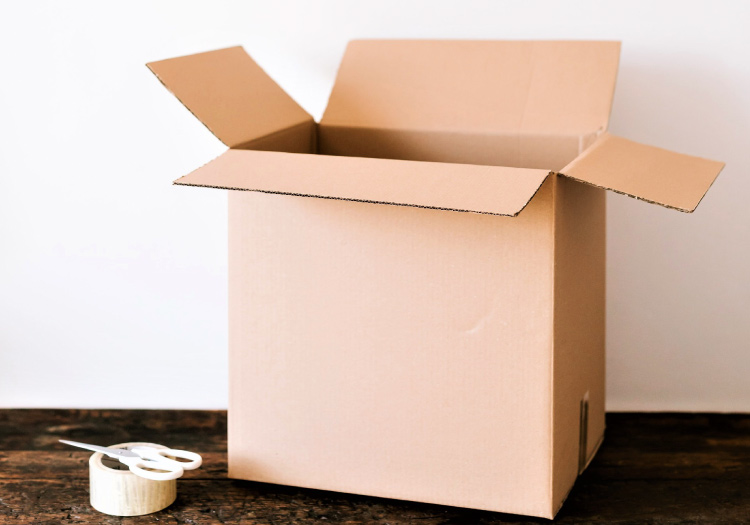 10. Have the right materials before you get started.
College moving requires more than a few suitcases. You're going to need moving boxes, so now is the time to stock up. And don't forget the packing tape and markers. Wondering which sizes are right for the job? The PODS Blog has detailed information about moving box sizes and types.

And if you want moving materials delivered to your door, PODS Boxes can get the job done in no time. Now that you've got your moving list in place, check out the container kits to select just the right amount of storage.
11. Set your packing strategy.
It's tempting to just throw stuff into moving boxes, but this packing style won't help you in the long run. Take care of your items by packing them strategically. A good rule of thumb is to pack heavier items into smaller boxes — and vice versa — to make hauling boxes easier.

There's no reason to start packing for college as soon as you pick a school — but don't wait until time is an issue. Packing three to four weeks before your college move-in day should give you plenty of time.

Wrap fragile items in tissue paper or, if you want to maximize your storage space, use your soft clothing (think T-shirts and sweatshirts) instead. And don't forget to label your boxes as you go. This will help you with loading and unpacking. For more perfect packing hacks, check out these tips from the pros.

Wondering which items to pack first when moving to college? There's not an exact answer, but you'll want to pack the items you currently need the least. For example, don't pack clothing that you'll want to wear between now and your college move-in day. Maybe start with smaller items that aren't immediately useful, like decor or linens.
12. Disassemble your furniture.
If you're taking furniture from your home to your dorm room or apartment, take it apart before transporting. This will save tons of space in your trunk or container.

Pro Tip: Clear sandwich baggies are your friend. Use them to store small pieces like screws, and tape baggies to the underside of furniture items. That way, you won't have to worry about losing parts, and you'll know what pieces belong to what items.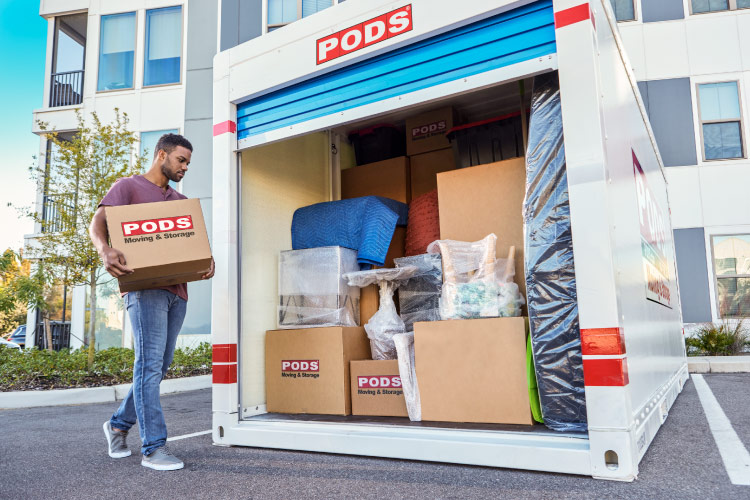 Moving
13. Ask about move-in procedures and parking arrangements.
You know your college move-in day and time window, but what about the process and parking arrangements? There are lots of incoming cars and only so many parking spaces and moving lanes. You don't want to start your school year with a parking ticket, so get all the necessary details a few days before you depart.
14. Load your vehicle or container strategically.
Everyone has their own way of playing trunk Tetris, but there are a few simple rules you can follow if you're unsure how to properly load your van or truck. Start with your heavier items or boxes. This not only puts the weight closer to the front of the vehicle, but it also creates a base for your other items.

Think about packing the trunk from floor to ceiling (if applicable) to maximize space, but leave enough room for rear visibility. Before hitting the road, make sure smaller items are secure and boxes are strapped down. Things can shift during transit, and you don't want to move a bunch of broken items into your new place.

If you're using a PODS container, many of the same rules apply. Load heavier items first and put lighter objects and boxes at the top. If you're moving a rug, it may be tempting to lay it on the container floor, but we recommend rolling it up and storing it vertically. Pack all items in as tightly as you can, and secure as you go to prevent movement.

One of the perks of using a PODS container? You can load the back with things you want to store away and the front with things you're bringing to college. After you unload what you want at college, PODS can store the rest in a secure storage center. If you transfer to another school or accept an out-of-state job after graduation, PODS can bring your container to you, you can load it up again, and PODS will deliver it to wherever life takes you.
15. Stay flexible.
Even with meticulous planning, unexpected challenges may arise. It's important to keep your cool, no matter what's thrown in your path. Stay adaptable and open to adjustments as you settle into your new space. And know that everyone experiences a learning curve during the transition to college life.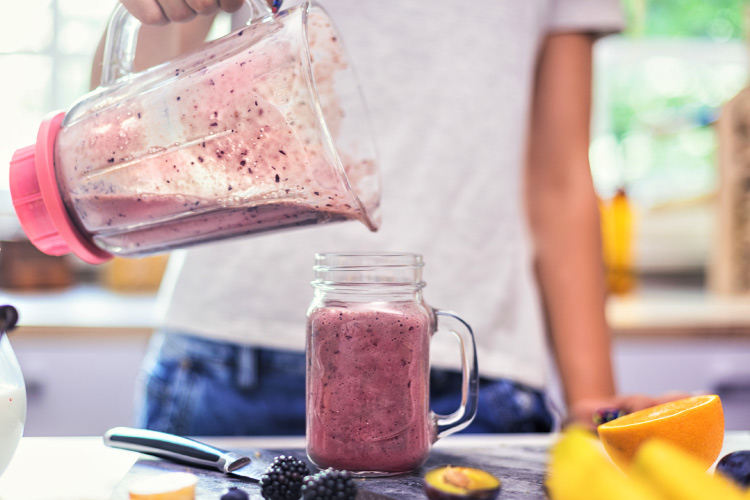 16. Take care of yourself along the way.
Moving is a marathon, not a sprint, even if it feels like you're rushing your way across the finish line. One of the best ways to stay strong through the entire process is to take care of yourself mentally and physically. Eating healthy food, drinking plenty of water, and getting enough sleep make a big difference in the college moving experience. There will be plenty of time for fast food and less-than-ideal sleep during exam time!

College move-in day is an exciting milestone, signaling the beginning of a new chapter in your life. By following these tips and staying organized, you can streamline the packing process and set yourself up for a smooth transition. Moving into college is not just about the physical items you bring but also about embracing the opportunities and experiences that lie ahead. Enjoy the journey, make lasting memories, and get comfy in your new academic environment!
LB Gabriel is a freelance writer who lives with her husband, daughter, and Golden Retriever in Memphis, TN. A frequent PODS Blog contributor, she's a sucker for any tip she can find on downsizing, cutting clutter, or minimalist living. When she's not on a deadline, you can find her on a tennis court or golf course
Get a Quote
Choose the service you need
Comments
Leave a Comment
Your email address will not be published. Required fields are marked *