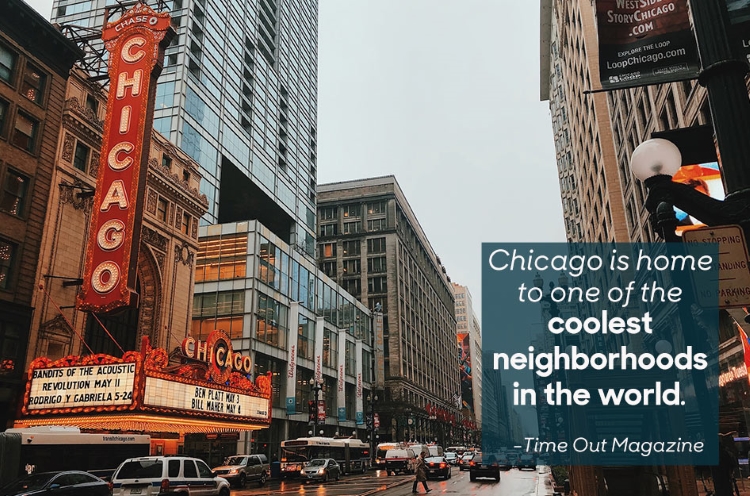 11 of the Coolest Chicago Neighborhoods You Need to Check Out Now
If you've only visited or Googled Chicago, you might know the Illinois city for its mouthwatering deep-dish pizza or perhaps the giant, mirrored Bean ripe for taking selfies with the city skyline in Millennium Park. But if you're preparing to move to the city, you're about to learn much, much more about all the coolest Chicago neighborhoods this midwestern hub has to offer.

Chicago is the third-largest city in the U.S. by population, comprises no fewer than 77 neighborhoods, and encompasses 234 square miles of land. Needless to say, there's a lot of Chicago to explore. From museums with art you've seen in textbooks (hello, Art Institute of Chicago) and incredible eats all around town to free concerts in the park and a rollicking comedy scene, there's no shortage of things to do. And that's precisely why it consistently wins awards like "best large city in America" — there's just so much to love.

But for newcomers, parsing all of the square mileage can be overwhelming. Where exactly are the coolest Chicago neighborhoods? And which one may be the best fit for you? While living in Chicago means incredible access to 77 enclaves that are no doubt all cool in their own right, here are 11 that top our charts for cool neighborhoods in Chicago.

Q: Is Chicago a hipster city?
A: In a word, yes. Chicago is a hipster city. Certain cool Chicago neighborhoods (like Wicker Park) have landed on lists of most hipster places, and guides have even been written about how to assimilate as a hipster in Chicago. But its massive footprint and diversity of neighborhoods means the city has so much more to offer than just one stereotype — you'll find all kinds of cool in the Windy City.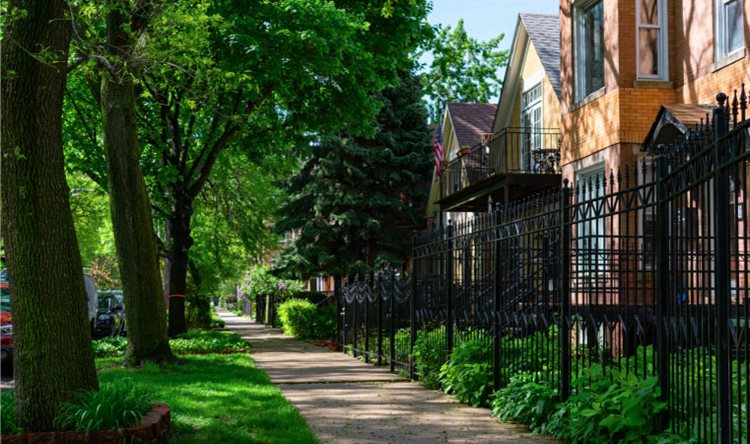 Logan Square
1. Logan Square
Average rent (one-bedroom):
$2,050
Average home value:
$447,800
If your idea of a perfect Saturday involves an oat milk latte, some incredible vintage thrift shopping, and a night that ends in craft cocktails and dancing, you should make your way over to Logan Square, one of the many cool neighborhoods in Chicago. The West Side neighborhood is well known for its thoroughfare, Milwaukee Avenue (which you may even hear called "Hipster Highway"), where you'll find gems like The Logan Theatre — a 1915-built institution with an Art Deco look that screens old and new flicks and is equipped with a full bar. Stroll along Milwaukee and you'll see tons of bars, cafes, music venues, and galleries, along with the Illinois Centennial Monument and its surrounding Logan Square Park.


Q: What is the hippest neighborhood in Chicago?
A: That depends. If you're looking for Chicago hipster neighborhoods in the 2012 sense — that is, beanies and skinny jeans — you probably won't find them anywhere. But if you're looking for genuinely cool record shops, incredible vintage thrift finds, and trendy coffee shops and cocktail bars, you should check out Logan Square or nearby Wicker Park.
2. Andersonville
Average rent (one-bedroom):
$1,425
Average home value:
$473,500
Situated in west Edgewater, this community may feel pretty far from the buzz of downtown if you're looking at a map of Chicago neighborhoods. It's closer to suburbs like Evanston than it is to Millennium Park, after all. But take an amble down Clark Street, the area's main drag, and you'll find plenty of reasons to make this North Side community your home. You can tour the Swedish American Museum, for instance, and pay homage to the Swedish immigrants who settled in Andersonville in the 1800s. In June, you can watch the street bloom with flower crowns and live music when Midsommarfest takes over a section of Clark Street for a weekend. And all year long, you can shop an abundance of local businesses along the street and around the neighborhood, which hosts "the largest network of local and independent businesses in the area," according to Andersonville Chamber of Commerce.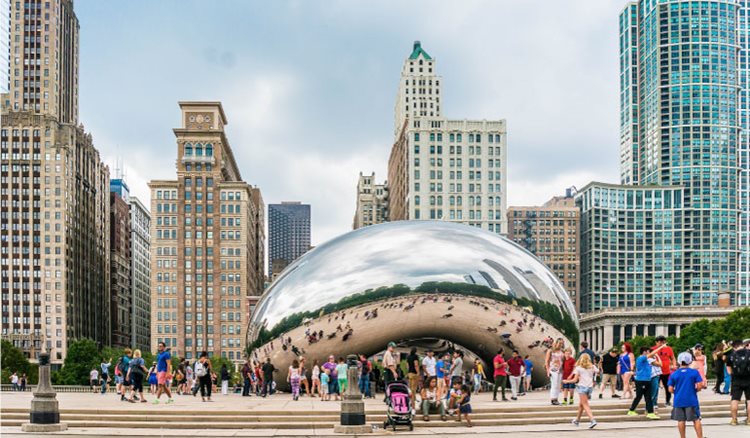 The Loop
(Source: Richard Tao via Unsplash)
3. The Loop
Average rent (one-bedroom):
$2,725
Average home value:
$290,200
Great for:
Commuters, young professionals, sightseers
If you look up a picture of Chicago, The Loop is probably what you see. Right on the Lake Michigan waterfront, the downtown area is where you'll find iconic scenes like Millennium Park (with the recognizable mirrored Bean) and the Chicago Riverwalk. It's a small area, only about 1.5 square miles, but it's packed with businesses. You may not find many families living there, given its comparatively steep rental rates (an average of $2,714 for about 820 square feet), but you'll find plenty of residents and sightseers alike roaming around the waterfront, weaving through the business district, snapping photos from the glass observation deck atop Willis Tower, or boarding the elevated L train. And let's not forget Lollapalooza, a massive nine-stage music festival that reverberates across Grant Park each August, where world-famous bands perform against the backdrop of the Chicago skyline. When it comes to postcard-worthy views, this is surely one of the coolest Chicago neighborhoods.
4. Pilsen
Average rent (one-bedroom):
$1,125
Average home value:
$401,600
Great for: Artists, foodies, family-owned businesses
Southwest of Downtown, Pilsen is the place for art aficionados to be. It's home to the National Museum of Mexican Art, which features Mexican textiles, paintings, photography, and more, and admission is always free. Not only that, but all over the neighborhood, you'll find colorful murals adorning the sides of buildings. Once home to many Eastern European immigrants, the enclave is now home to a large Mexican-American population, and the Latina influence shows through the neighborhood's delicious spots for tacos, chorizo breakfast burritos, margaritas, sweet empanadas, and so much more. Forget the limits of Chicago — Forbes named Pilsen one of the coolest neighborhoods in the world in 2018.

Q: What is the most underrated neighborhood in Chicago?
A: When asked to sound off about which is the most underrated Chicago neighborhood, locals bring up Rogers Park over and over again. Situated by the water, just north of Edgewater and 10 miles north of Millennium Park, the area may be a bit of a commute but it's still accessible by the Red Line (though it'll take you about an hour). From its diverse population to its wide-ranging dining options, bustling arts district, and lakefront location, it's worth looking slightly further out from the city center at Rogers Park.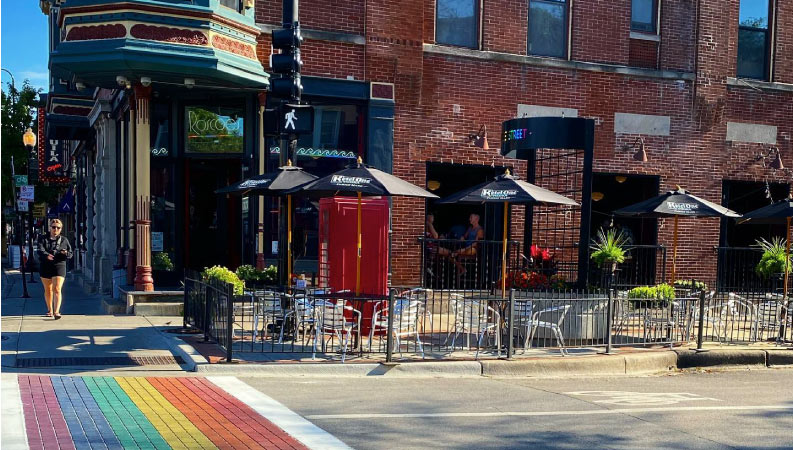 Northalsted
(Source: Northalsted via Facebook)
5. Northalsted
Average rent (one-bedroom):
$2,000
Median home sale price:
$480,000
Formerly known as Boystown, this recently renamed enclave (a portmanteau of North Halsted, the street that creates the neighborhood's western border) was the first gay neighborhood officially recognized by a large U.S. city back in 1997. Today, the LGBTQ+ community remains hugely important. Whether you're looking to watch a drag show while getting tipsy at Brunch or learn about LGBTQ+ history while strolling along Legacy Walk, the subsection of Lakeview is rich with small businesses, nightlife, rainbows, and, of course, pride.

Q: What is the trendiest neighborhood in Chicago?
A: When it comes to development, Chicago's West Loop neighborhood is rapidly evolving. Formerly an industrial meatpacking district, the neighborhood now boasts a slew of luxurious high-rise residential buildings and Michelin-starred restaurants that call in foodies from all around the city.
6. Ukrainian Village
Average rent (one-bedroom):
$2,675
Average home value:
$515,200
Situated just south of Wicker Park, this small (about two square miles) burrough has a distinct feel from its trendy northern neighbor. The brick rowhouses, multi-family inhabitants, and tree-lined streets create a residential vibe, but don't think that means there's nothing to do. On the contrary, you can support a local Ukrainian-owned business (the Chicago area is home to the second-largest Ukrainian and Ukrainian-American population, according to the 2019 U.S. census); take in some art at the Ukrainian Institute of Modern Art or the Ukrainian National Museum; catch an alternative music show at The Empty Bottle; or enjoy a farm-to-table Italian meal at a tavola.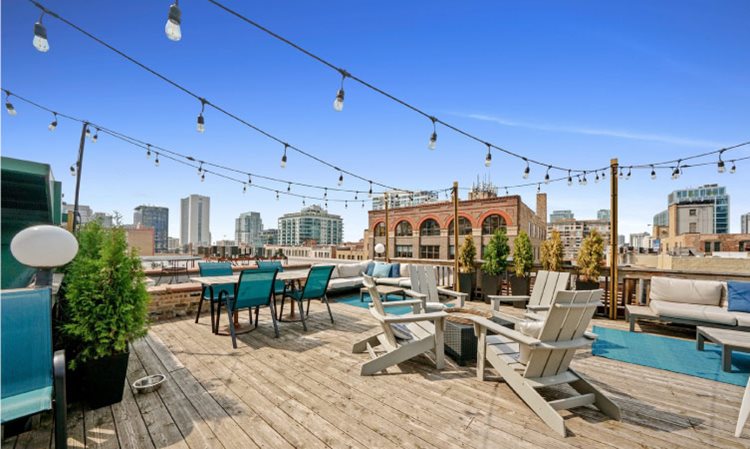 River North
(Source: Fulton Grace Realty via Facebook)
7. River North
Average rent (one-bedroom):
$2,825
Average home value:
$380,900
Great for:
Artists, singles, nightlife
Chicagoans who are single, love art, and are looking to mingle should take their stylish selves over to River North. The Near North Side neighborhood is known for its abundance of architecture, art galleries, and chic nightlife. In fact, it's said to claim the largest concentration of art galleries outside of Manhattan — from exhibits of works imported from Asia to masterpieces painted locally in Chicago, you can travel around the art world by visiting them all. There are tons of trendy restaurants, shops, and clubs to go around, too, plus gorgeous venues like the House of Blues Chicago, an opulent concert hall modeled after an opera house in Prague.

Q: What is the most beautiful neighborhood in Chicago?
A: Beauty is in the eye of the beholder, of course, and from architecture to green space, each of Chicago's 77 neighborhoods offers up a unique kind of beauty. If you're looking for those iconic Windy City vistas, though, you'd be remiss not to go to the Loop, where you can see the city skyline reflected in Millenium Park's Cloud Gate ("the Bean") or from the observation deck atop Willis Tower.
8. West Loop
Average rent (one-bedroom):
$2,575
Average home value:
$287,800
Great for:
Foodies, families, young professionals
West of Millenium Park, this Chicago neighborhood looked pretty different a decade or so ago — a former meatpacking district, the vibe was decidedly industrial. These days, rapid development (read: frequent construction) has transformed the area into a hotspot for modern eateries with sought-after reservations and high-rise condo buildings. Be sure to dine out on Restaurant Row on Randolph Street, treating yourself to some delicious Mediterranean-meets-Midwestern fare at avec. While living in West Loop may mean tolerating some construction, it comes with the perk of easy access to each new restaurant that opens its doors.

Q: What is the posh area of Chicago?
A: If you equate poshness with price point, Streeterville is the Chicago neighborhood with the highest average rent price, at $2,944 for a one-bedroom apartment. Situated on the water, just north of Millenium Park, the Near North Side neighborhood boasts sleek, luxury condo buildings. If you're looking for a plethora of art galleries or high-end restaurants, River North and West Loop are also posh Chicago neighborhoods.
Wicker Park
9. Wicker Park
Average rent (one-bedroom):
$2,675
Average home value:
$612,500
If, when packing your bags for your move to Chicago, you find yourself unable to part with any records in your carefully curated collection or lovingly amassed coffee mugs, Wicker Park may be the place for you. The hip residential area is brimming with cafes, taprooms, vintage boutiques, and so much more, making it one of the cool neighborhoods in Chicago worth considering. Take to The Wormhole for a freshly brewed pour over and a serving of 80s nostalgia (peep the "Ghostbusters" poster on the wall, along with other memorabilia). Keep the throwback vibes going that night at Emporium, an arcade bar with all the classics, from air hockey and Austin Powers-themed pinball to Centipede and Galaga. Looking to spend some time in some of Chicago's prized green space? Head over to The 606, an abandoned railway that's been reimagined as a 2.7-mile paved path bordered by greenery, where walkers, bikers, and runners can get an elevated view of the city below. It runs through the north side of Wicker Park and also touches nearby neighborhoods like Bucktown, Humboldt Park, and Logan Square.
10. Old Town
Average rent (one-bedroom):
$2,500
Average home value:
$302,300
Great for:
Comedy lovers, green space, families
East of Wicker Park and north of River North, Old Town boasts incredible green space in the nearby Lincoln Park, quick access to Lake Michigan, and a lovely residential vibe. Keep your ears open as you walk around and you may just hear a punchline or two: The incredibly famous improv comedy club Second City lives in Old Town and has been a jumping off point for comedians ranging from Gilda Radner and Bill Murray to Jordan Peele and Tina Fey. You can also catch a show and plenty of laughs at other local haunts, like Zanies Comedy Night Club.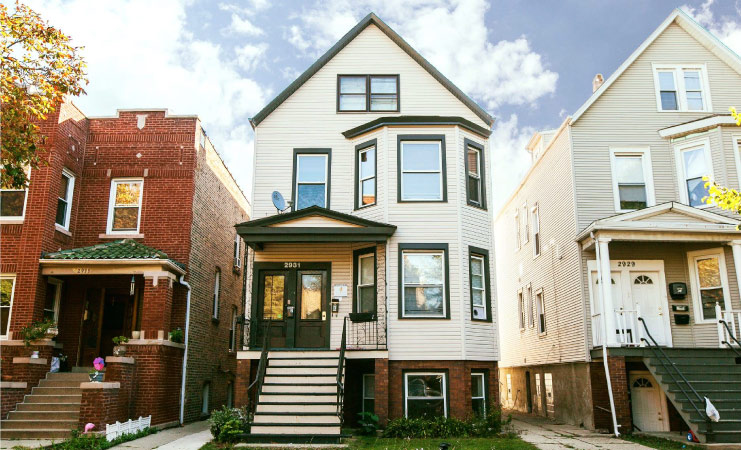 Avondale
(Source: Fulton Grace Realty via Facebook)
11. Avondale
Average rent (one bedroom):
$1,275
Average home value:
$445,100
The coolness of any place is such a subjective metric, but when there's so much consensus around one spot, you can't help but listen. Such is the case for Avondale, which, in 2022, won a spot on Time Out Magazine's survey of the 51 coolest neighborhoods in the world. They polled more than 20,000 urbanites around the globe to make the list, and Chicago's Avondale rang in at number 16. Time Out touts the neighborhood's eclectic mix of businesses, from a self-proclaimed "horror-themed coffee shop" to a museum dedicated to insects, any curious child or bug-lover's dream come true. "Avondale is a rare place that feels equally welcoming to families, arty twenty-somethings, and working-class Chicagoans," writes Time Out Chicago editor Emma Krupp. "And as the neighborhood deals with rising rents and other symptoms of gentrification, community organizations are hard at work to make sure it stays that way."

Okay, now that you have an idea of the coolest Chicago neighborhoods, it's time to pack! (And if you're looking for motivation, be sure to peruse the PODS Blog for helpful tips on moving and packing.) Thankfully, moving with storage makes for a flexible move. If you're not sure where in Chicago you want to put down roots — how to decide between proximity to amazing vintage shopping or the Lake Michigan waterfront?! — you can give yourself time to get to know the city and which area best fits your vibe by renting a place short term. Bring what you need with you and pack the rest into a PODS portable moving and storage container. Keep it at a PODS Storage Center as long as you want and, when you've found your perfect place, have it delivered right to your new home. Easy!


Sofia Rivera is a Boston-based lifestyle editor and frequent contributor to the PODS Blog. Her work has appeared in Boston magazine, Apartment Therapy, and more. You can most often find her redecorating her apartment, trying out a new recipe, or trekking all over the city.
Editor's note: For ease of reading, monthly rental prices were rounded to the nearest $25 and home values were rounded to the nearest $100.

(Source for image featured at top: Joel Mott via Unsplash)
Get a Quote
Choose the service you need
Comments
Leave a Comment
Your email address will not be published. Required fields are marked *