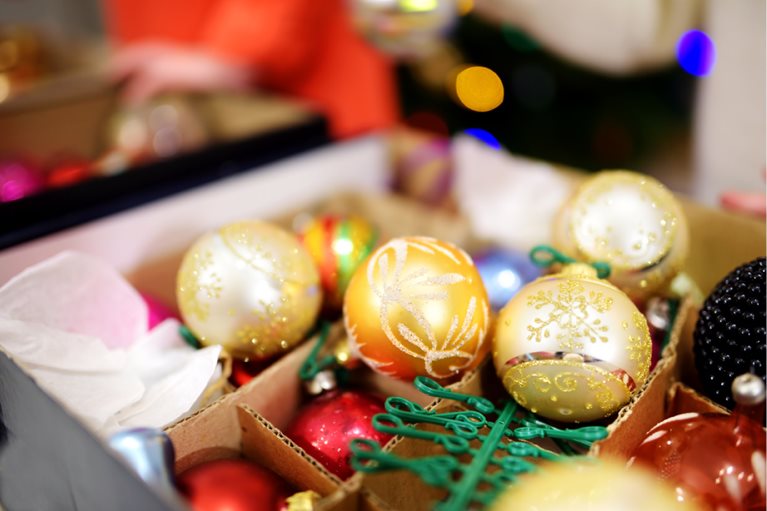 Tips For Holiday Decoration Storage
When it's time to haul out the holly, do you regret your lackadaisical approach to decoration storage? Are snowmen and Santas scattered willy-nilly in your crawl space? Extension cords tangled around Rudolph's red nose? Take a look at these decoration storage tips, and make this year the one for getting your tinsel and trappings in order and wrapping up the holiday season in organized style.
How should I store my holiday decorations?
Three words: clear storage bins. Get the ones that seal tightly to keep out humid air and — dare we say — tiny, curious critters during those 11 lonely months between displays. Red and green bins are good, too. That way, you can quickly spot the Christmas decoration storage bins that may share the same space as Halloween delights.
Before you pack your holiday treasures in the bins, however, be sure to organize ornaments, lights, and other goodies separately; remove any leaves or other remnants of the outdoors; and wrap everything as needed for a long winter's (and spring's and summer's and autumn's) nap. Here are some specific tips:

Ornaments: From delicate bulbs to handmade childhood beauties, your ornaments deserve special treatment. Save up egg carton storage containers for packing away tiny treasures. Wine boxes do the trick for larger ornaments. Wrap your bulbs up in tissue or packing paper and place them in the individual sections, protected from bumping up against other bulbs. And if you're not into going the DIY route, there are also boxes you can purchase specially made for ornament storage.
Lights: Are you the type to toss the tree with the lights still wrapped around it? Tsk, tsk. Unravel your twinkly strands and wind them onto a cardboard "post" cut from a box — no more tangles! There are also "reel"-type contraptions, like old-fashioned film reels, available at any craft or home store, for neatly packed Christmas light storage. Both options are perfect for pesky extension cords, too. Besides, who wants to have to buy new strands every year just because of some lazy storing?
Garland: If you're a faux garland fan, don't give in to the temptation to toss it on top of the bins — you'll regret it next November. Like the lights, wrap it around a cardboard post or wind it up into a tidy roll and tuck it into a bin.
Artificial tree: Oversized garment bags are handy for keeping your tree safe. Be sure to dust it well first, though, and clear away all the ornaments. You don't want to accidentally damage a treasure under all those branches.
What's the best way to store wrapping paper?
Speaking of garment bags, they are also great for storing wrapping paper. Your favorite designs will stay safe and dry, protected from potential humidity and pests. For a store-bought wrapping paper storage option, consider a nifty upright plastic container that keeps the paper pristine and clean.
Insider Tip: If you're a last-minute shopper (or just prefer not to wrap all of your gifts) and deliver your presents in pretty gift bags, file-folder boxes are a great way to sort and keep them unwrinkled and sturdy until next year. 
Where should Christmas decorations be stored in an apartment?
If space is at a premium, get creative with your storage ideas. Think about hiding places where you might be able to stash a box or two, such as under the bed. Bins are available in flatter, wider styles you can stuff with items and slide under your box spring. How about a living-room corner? Furniture that's placed diagonally provides the perfect hiding place for your decor stash. You may also be surprised how much you can pack away into a TV stand or empty-ish armoire.
Sometimes, though, a secret cubby just won't cut it. You need something bigger for more space-consuming goodies — like that toy train winding its way through little Christmas villages throughout your house and around the flock-covered Christmas tree. No worries. Keep your closets, cabinets, and under-bed spaces freed up for other uses by making use of a PODS portable storage container held in a secure Storage Center with care. Simply fill it up in the comfort of your own driveway, and we'll come pick it up when you're ready. The best part? You can access your belongings anytime, so you can feel free to fill your storage container with more than just holiday storage.
What about storing holiday tableware, kitchen gadgets, and baking tools?
It's so much fun breaking out the special Christmas dinnerware and cookie cutters shaped like snowflakes and Santa hats. But when the season's over and the treats are all gone, it's time to pack the china and accoutrements away until next year. Here are some DIY options:

Paper-plate china protectors: For your special holiday dinnerware, wash and dry everything thoroughly, and then stack your plates with a paper or styrofoam plate in between each one to keep them safe from scratches — particularly if they feature delicate designs. Wrap each stack of four in plastic wrap for extra buffer from exterior forces.
Aluminum foil cookie boxes: You know the boxes that the aluminum foil rolls come in? They're perfect for keeping your cookie cutters tidy. If you're feeling super crafty, color the outside of the box in a holiday theme so you don't forget what's in it — and you get a festive reminder of the holidays every time you open the cabinet.
Coffee-filter pie plate dividers: Use coffee filters between your pie plates to keep them safe from potential jostling if they get moved around.
How long should holiday decorations stay up?
This one's entirely up to you! And if your answer is "all year," more power to you. Ignore the "one holiday at a time" crowd. Life is for celebrating, and holiday decorations make things more festive. But if you prefer a clear delineation between holidays, there are a few options to follow: The Epiphany is considered by the Christian faith to be the end of the Christmas season and, therefore, time to take all the trappings down. Many families believe that it's good luck to at least get the tree down by the end of New Year's Day. And some folks view Valentine's Day, deep into the winter season, as the must-finish-wrapping-up-Christmas-decoration-storage date. But whatever works for you — do it.
When you've got all your decorations tidily put away for the season, it's time to think about a fresh start in a brand-new year. Check out our tips for decluttering, serious downsizing, and hosting a yard sale to unload unneeded stuff — all found in the PODS blog.
---
Shannon Jacobs is a Tampa-based freelance writer and frequent contributor to the PODS blog. She has lived in Atlanta, the Berkshires, and Nashville, but always returns to the warmth of Florida's Gulf Coast.
Get a Quote
Choose the service you need
Comments
Leave a Comment
Your email address will not be published. Required fields are marked *