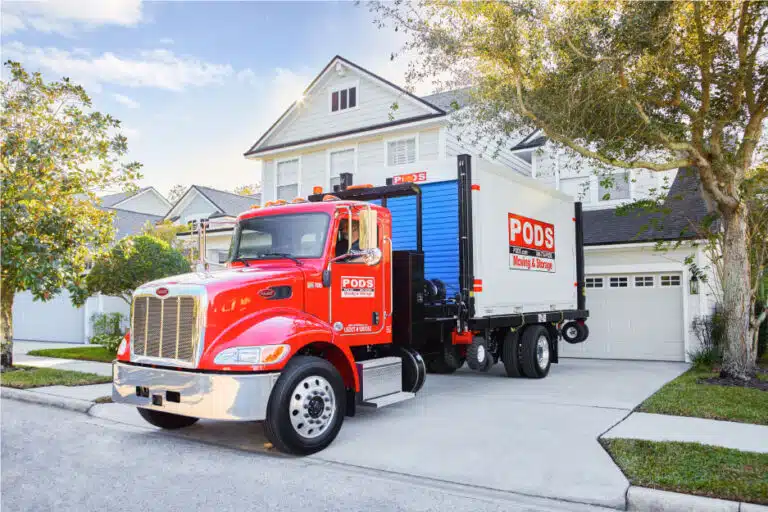 Ditch the Trailer Hitch: DIY Moving With a Portable Storage Container
If you're in the early stages of planning a move, you've probably started to consider how you're going to get your stuff from Point A to Point B. Are you the "sit back with your feet up and watch the movers work their magic" type? Or do you prefer to be in the middle of the action, knowing exactly what's in every box and exactly where every box is loaded?
There are all kinds of pieces that make up the moving puzzle, and everything is dependent on how involved you want to be in the process. But two main options typically come to mind when people think about the logistics of it all: You either hire help or you get it done yourself. And chances are, since you're reading this article, you fit into the do-it-yourself category.
Sure, the benefits of hiring a moving company to do the heavy lifting (literally!) for you are obvious. And you can certainly save some money if you rent a truck or trailer and go the DIY route. But what if we told you there's a compromise between spending all that dough on hiring a company and forcing your body and car to go through the extra wear-and-tear with DIY moving?
Portable storage containers are an affordable, flexible, and convenient way to move and store your stuff — without the hassles and headaches that come with movers and rentals. Ahead, learn more about how a portable storage container may be the perfect solution for your next move.
Portable storage container vs. trailer
If you're going the DIY moving route, at least part of your decision has probably been based on costs. What's cheaper than hiring a moving company? Renting a moving truck. And what's cheaper than renting a moving truck? Renting a moving trailer. As an added bonus, you move your car and belongings at the same time with a trailer. You know, two birds with one stone and whatnot.
But how far are you moving? Do you really want to put that much wear-and-tear on your car with a trailer (versus having it shipped)? And how much stuff do you have to move? Will fitting it in a trailer mean selling most of your things first? What if you don't have a trailer hitch?
Using a portable storage container instead of renting and pulling a trailer is the best of both worlds. Not only is it likely to be less expensive, but it's more efficient, as well. Here are some reasons why:
Gas is already expensive (and climbing!), and you'll be using even more gas if you're towing a heavy trailer.
The hassle of renting or buying a trailer hitch and installing it on your car alone is enough reason to rent a portable storage container.
For long-distance moves, you can ship your car and spare it the wear-and-tear of the long drive instead of driving your car with a trailer.
You'll experience less packing damage and moving stress, since someone else with insurance and liability is handling everything for you.
With a trailer, you'd need to navigate the roads and any twisty turns with clunky extra baggage slowing you down (especially if you're not used to driving with a trailer).
You can take your time moving things in and out of the container (you won't be rushed!) instead of paying multiple days for a trailer and having a tight timeline.
If you need more time to move in because your new house isn't ready or your plans have changed, you can keep your stuff stored in your portable storage container at a secure storage center as long as you need to.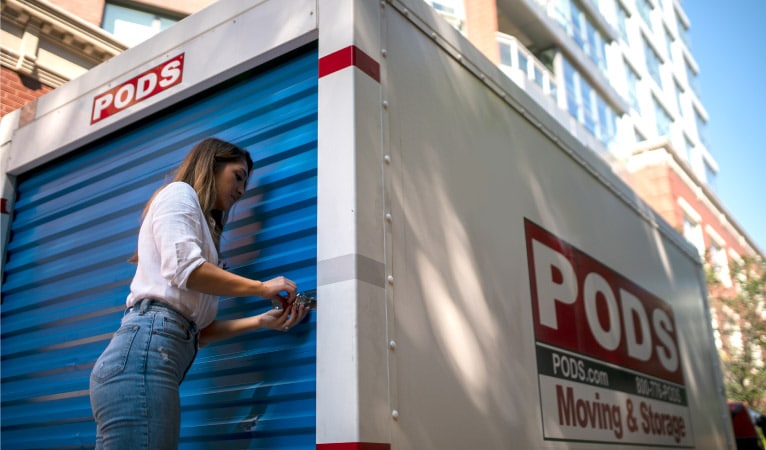 How do you move by yourself without a car?
No car? No problem! That still doesn't mean you have to resort to renting a moving truck. As you've probably figured out by now, you can take advantage of a portable storage container. After you load it with your belongings, it's put onto a truck and delivered to your next home with nary a station wagon to speak of.
Now, if you're moving without a car, there are a couple things you should consider:
How you'll get to your new home
How you'll move your stuff that isn't in a container
The first consideration is relatively simple to figure out. Flights, trains, buses, or a big road trip with friends all work perfectly well if your move has you traveling a long way. For a jump across town, an Uber or a lift from your friend is great. The second consideration gets a little more tricky.
Personal effects and important documents (old photographs, deeds, birth certificates, etc.) are typically better off on your person — or at least somewhere you can readily check and keep secure — and a car provides an easily accessible and safe spot for them. Without one, you'll need to discern what will be taking up precious suitcase and bag space during your trek. The irreplaceable heirlooms and IDs are definites, but take the time to go through the other things you have questions on and decide what's worth bringing along. Can it be mailed? Can a friend or family member hold onto it? Or are you better off putting it in storage or donating it?
If you find yourself needing to store some things before, during, or after your move, moving with a PODS container is the way to go. Just rent one out, and put what you need to store in the container alongside the things you're moving. The key to success? Leave what needs to be stored in the container after you're all moved in. PODS can keep it at a secure storage center until you're ready for it again.
Did you know? If you're worried about how your container is actually loaded and unloaded from the truck, don't be. PODS has an innovative level-lifting device named PODZILLAⓇ that securely lifts the containers on and off the truck while keeping everything level.
What to know before ordering a portable storage unit
Before ordering a mobile storage container, make sure it's weather resistant and sturdy enough to hold your things. PODS portable moving containers, for example, are built for weathering storms — literally and figuratively.
Another important factor is determining which container size is right for you. You'll need to identify how many rooms you have and whether you'll need a small, medium, or large container. You can learn more about how to choose a container size on the PODS Blog.
And last but not least, ahead of loading your container, document everything you have and write down what box will go where. Once the container arrives at your doorstep, you'll already be packed and prepped for loading your portable storage container — and well on your way to your next new adventure!
---
Bonnie Azoulay Elmann is an NYC-based freelance writer and frequent contributor to the PODS Blog. Her work has appeared in Glamour, Health, and Parents, among others. She is an extremely driven digital storyteller who may or may not have a slight obsession with fanny packs.
Get a Quote
Choose the service you need
Comments
Leave a Comment
Your email address will not be published. Required fields are marked *