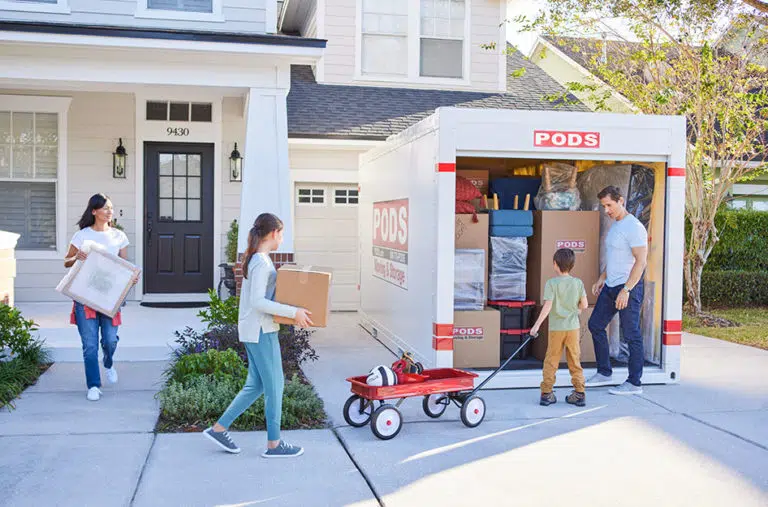 Thinking of Moving By Yourself? Here Are 6 Reasons You Should Choose Pack-Yourself Moving Containers
Moving is rarely a clear-cut process. You're often dealing with budget limitations, time constraints, changing schedules, or all of the above. For a solution that's not only flexible but budget-friendly, try self-service moving with pack-yourself moving containers.
Now, before you're scared off by the thought of maneuvering that heavy den couch around your home's corners (pivot!), rest assured there's a way to DIY that doesn't put too much weight on your shoulders — literally and figuratively.
What is self-service moving?
Before we get into the benefits of self-service moving, it helps to first understand the difference between full-service vs. self-service moving.
Full-service moving means you're doing little to no moving tasks yourself. A professional crew packs up all your belongings, loads the moving truck, transports it to your new home, and unloads and unpacks your stuff. This list can change depending on the agreed-upon moving plan, but the general idea is that the pros are handling everything.
Self-service moving is when you're responsible for your move. This doesn't mean there's absolutely no professional assistance, but you're responsible for the packing, loading, and unloading (or recruiting strong friends to help). With a self-service move, you can either rent a portable container or rent a moving truck to get the job done.
For a more detailed breakdown of self-moving options, check out this article on the PODS Blog.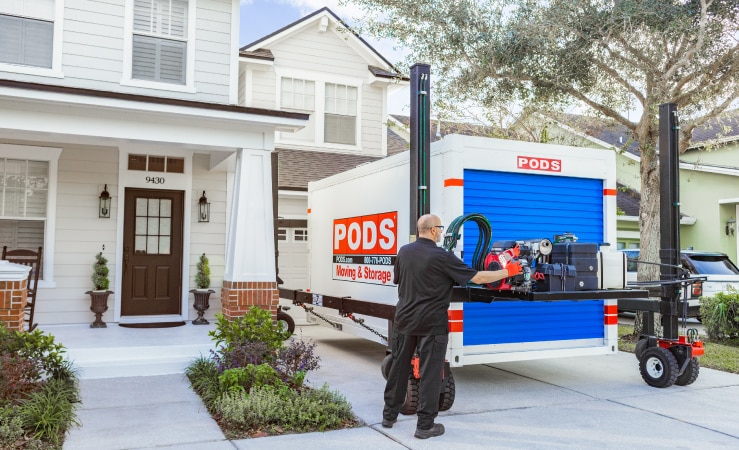 How do you move a storage container by yourself?
Well, you don't. You leave that up to the pros. And don't think a rental truck is basically a storage container on wheels. It's much more difficult to maneuver. With a rental truck, you've got to load it yourself and do the driving — often in one or two days. With a moving container, a container is delivered to your home (typically right in your driveway!), you can load it according to your timeline, and then your container is picked up and delivered to your new home. Yes, you do the packing, but a professional does the driving.
Did You Know? Using a portable moving and storage container has the added bonus of enabling you to easily load your things at ground level versus having to navigate up a skinny ramp — like you would with a moving truck.
PODS makes moving simple with multiple-sized containers, built-in storage, flexible moving options, and moving supplies delivered right to your door. Our team of experts will help you choose the right sized container for your move, so you only pay for what you need. That packing thing is negotiable, too. Don't want to pack the container entirely by yourself? That's no problem! PODS can refer you to local packing and loading help to assist with the heavy lifting.
Why should I choose a self-service move with pack-yourself moving containers instead of a full-service move?
While a self-service move with pack-yourself moving containers is typically preferential to a self-service move using a rental truck, you may still be asking yourself why you'd choose a self-service option over a full-service one. We have to admit that one does sound easier than the other. But keep in mind the many benefits that come with a self-pack move.
1. A self-service move is more flexible than a full-service move
As luxurious as a full-service move is, it may not have as much flexibility as you'd like. It's a very point-A-to-point-B-type service: The movers come to your house on your chosen day, and they drop your stuff off at your next home on your chosen day. It doesn't leave a lot of wiggle room for life's uncertainties.
Maybe your house isn't quite ready for move-in. Or you would like to spend a few more days unloading your stuff. Or maybe you realize you brought too much stuff and need to put some things in storage. If you move with a container, none of these are a problem. Just keep it on site with you as you work through loading/unloading at your own pace.
Q: Which is the cheapest PODS container to rent?
A: The least expensive PODS container is the 8-foot container, but an overall price estimate is based on the number and size of containers needed for your move plus the distance, time frame, and season. This may sound like a complicated equation, but PODS actually makes it simple and quick to figure out with their customized quote process. For a better understanding of your self-pack move costs, get a quote.

2. You have more control over your stuff
Don't want other people packing up your things? You may feel more comfortable handling this job yourself. If you're doing the packing, you control how your prized possessions are wrapped, packed, and loaded. No college kid playing it fast and loose with your grandmother's crystal stemware.
3. A professional does the driving
Like we said earlier, with a rental truck, you take the wheel. Literally. And that means being familiar with the route to your new home and knowing how to avoid any narrow streets or alleyways, among other things. Not only do you need to be stocked with navigation know-how, but you'll also need gas money for filling up that big rental truck tank along the way.
With a self-pack moving container, a professional handles the driving for you, just like they would for a full-service move (so you can enjoy some luxury after all). All you need to do is load your container, and they'll handle the rest.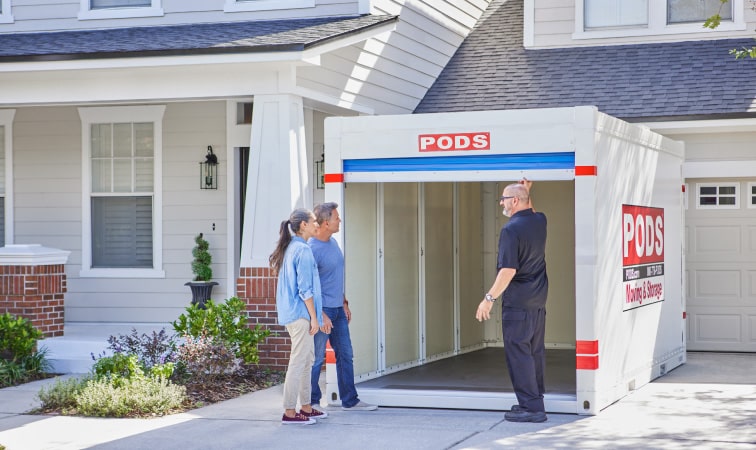 4. You only pay for the storage space you need
With a rental truck or full-service move, you're paying a fixed price — and usually some fun extra fees tacked on top of that, too. That can mean you're paying for services or space that you don't actually need. With pack-yourself moving containers, you can customize your container order based on how many rooms you're moving and how much stuff you have. It's a great way to rest assured you're using your moving budget effectively.
5. Complicated moves are less… well… complicated
Sometimes moving means moving out of your current home and into a temporary residence until your new home is ready. With a rental truck, you'd have to do the whole loading, driving, and unpacking thing two times. The same goes for a full-service move — only with a higher bill. With a self-pack move, you can keep the container at a secure storage facility until you've reached your final destination. And if you need to get to your container before that time comes, it's easy to access.
6. You still get real support from real people
It may be intimidating undertaking a self-pack move, but you don't have to go it alone. When you work with the PODS team, you've got a support system every step of the way. From deciding how many containers you need to making scheduling adjustments and planning for container pickup and dropoff logistics, you'll never feel like all of the responsibility is falling on your plate. You've got enough to do — trust your move to a partner who will lighten your load in more ways than one.
---
LB Gabriel is a freelance writer and frequent PODS Blog contributor. When she's not on a deadline, you can find her on a tennis court or golf course.
Get a Quote
Choose the service you need
Comments
Leave a Comment
Your email address will not be published. Required fields are marked *