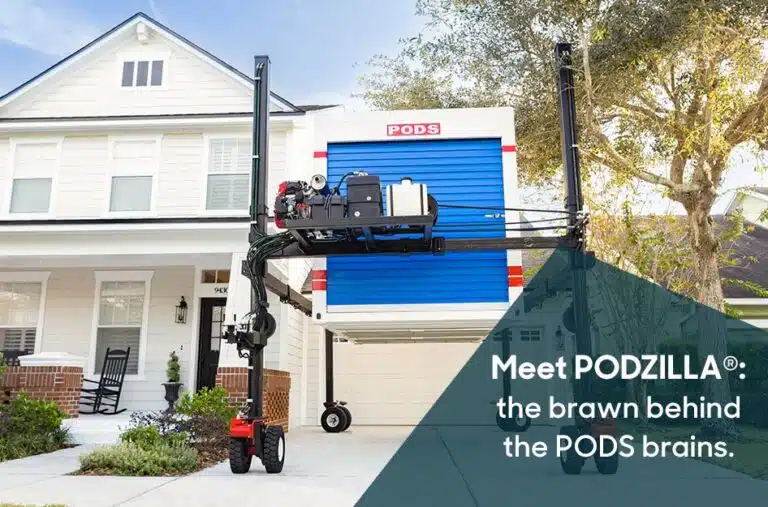 Get Ready for PODZILLA, The Transformative Way To Lift PODS Containers
Between packing up your belongings and saying your goodbyes, preparing for a move is tough enough. That's where PODS comes in — simply load up a container with your things and let the professionals take it from there. They'll use PODZILLA® to lift up your unit and whisk it away to your new home.

But… how exactly is the container delivered and picked up? It's easy to picture one sitting pretty in your driveway, but it may be hard to imagine what needs to happen beforehand. Enter the PODZILLA lift system: the brawn behind the PODS brains. Using innovative technology, PODZILLA and its maneuverability literally lifts and moves containers in one fell swoop — allowing your container to boldly go where a typical moving truck cannot. All while you just sit back and watch — or maybe capture a few photos and videos to share with your friends on social media!

But how does PODZILLA work its magic? And what do you need to do to prepare for your delivery? You've come to the right place. Whether you've already rented a PODS container or you're considering booking PODS containers in the future, it's useful to know exactly how all of your things will get from Point A to Point B, right? So, with that in mind, we thought it would be helpful to answer some of your most frequently asked questions about our heavy-lifting capabilities here.

Let's get to it!
Insider Tip: A checklist makes everything easier! Luckily, PODS has one ready for you, loaded with everything you need for a successful container delivery.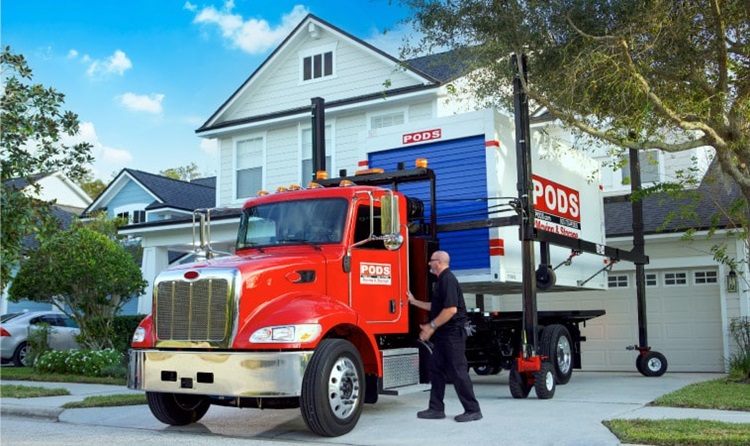 What is PODZILLA?
PODZILLA is a hydraulic lift system that allows drivers to seamlessly place PODS containers in your driveway and then pick them up later, when they're chock full of your furnishings.
Ever wonder if your things in the container get tilted? Wonder no more. PODZILLA's innovative level-lift system lets drivers move every container onto and off of PODS trucks while keeping your container, and therefore your stuff, largely level and stationary with its awesome maneuverability. However, that doesn't exempt you from securing your belongings inside of the container — more on that later.
Q: Who makes PODZILLA?
A: PODZILLA is a state-of-the-art lift system used by PODS to move your container on and off of the PODS truck while keeping it level and expertly maneuvering it into place. Once you pack up your PODS moving container, the professionals and PODZILLA take care of the rest, keeping your belongings level while delivering them to your new home.
Does PODS have a weight limit?
PODZILLA can lift an impressive amount, but there is a PODS weight limit, depending on the container's size. The limit for 8-foot containers is 5,200 pounds; 12-foot containers, 4,700; and 16-foot containers, 4,200.
You don't have to calculate how much your things weigh, but if you're concerned, pick your heaviest items and look for similar ones online. Most retail websites should list their weight. The total weight of your heaviest items should be less than 75 percent of the container's max capacity — so if you're moving things like pianos, pool tables, safes, and exercise equipment, be mindful.

Q: How strict is the PODS weight limit?
A: It's important to note the weight limit of the container, so you can choose the right size for your stuff. If you have a few Steinway grand pianos, for instance, you'll want to plan accordingly for a container with a high weight limit. If you exceed the limit, though, nothing bad will happen — you'll just need to make some adjustments or consider booking another container.
What happens if a PODS container is too heavy?
As mentioned, the PODS 16-foot container weight limit is 4,200 pounds. If you opt for the largest PODS container and find you've exceeded the weight limit, worry not: There's no PODS overweight fee, since PODS pricing isn't based on the weight of your belongings. If your boxes are too heavy for the largest PODS container (16 feet long and capable of holding 4,200 pounds), consider taking some of the densest items out and renting a second, smaller container (with a higher weight limit) or moving in batches. Getting your containers within the weight limit will ensure that the PODZILLA lift system can do its job without a hitch.

Speaking of taking items out of your container, while you're at it, be sure to check for any prohibited PODS items — such as perishables, living things, or hazardous materials — and remove those, too. Take note of what other items not to pack here.

Note: Hazardous materials and motorized vehicles cannot be loaded in a PODS container. For a comprehensive list of prohibited items, check out our FAQs.
How do they lift PODS moving containers?
We call it PODZILLA for a reason! The apparatus can lift loaded containers with just a few levers, but did you know it can do all that heavy lifting in the span of 10-15 minutes? Then your PODS driver smoothly drives your containers over to a storage facility or to your new address. It truly is that simple.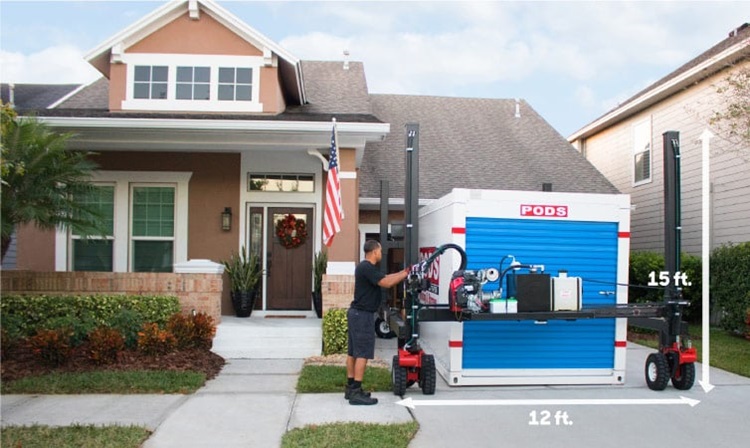 How should I prepare for the PODS container delivery?
There are some optimal conditions that need to be in place to ensure the process of moving a PODS container is as swift as possible. Let's break it down a little further with some expert insight from PODS Market Manager Shawn Carlisle:
1. Clear the way.
Spatially speaking, PODZILLA needs a clearance of 12 feet wide by 15 feet high to work its magic. That means making sure no low-hanging tree branches, utility lines, or other vertical obstacles are in the way, as well as any bushes, concrete curbing, sprinkler heads, basketball hoops, parked cars, mailboxes, or other features that might get in the way at the ground level. You'll also need to ensure your driveway or parking space is level and even.
As for length, it's best to have about 40 feet, but if your driveway isn't quite that long, PODS drivers can use the street, too. Having ample space, lengthwise, will make it easier to move your container into your preferred placement with plenty of room to decouple PODZILLA.
"If the container is 16 feet long, which is our biggest PODS container, we're going to need 16+ feet in order to separate PODZILLA from the container. Make sure the space is at least longer than the container itself," says Carlisle.

Q: How big is PODZILLA?
A: The PODZILLA lift system needs a clearance of 12 feet wide by 15 feet high to do its job. The length it needs to pick up or deliver your PODS container depends on the size you choose — you'll want to make sure the space is longer than the container itself (and a space 40 feet long is ideal). So if you have a 16-foot container, which is the biggest PODS size, you'll need a space 16-plus feet long.
2. Move your car.
Even if your car could fit in your driveway with your PODS storage container, you should still move it out of the way for a smooth delivery and pickup. If you're having your container delivered to a condo or apartment complex, keep three parking spots open for delivery and pickup.
"I would recommend that people move their cars just a little bit further [away from their driveway] to give our drivers enough room to maneuver the truck and PODZILLA because our trucks are about 25 feet long," explains Carlisle.
You can always move your car back into place once your container has been delivered.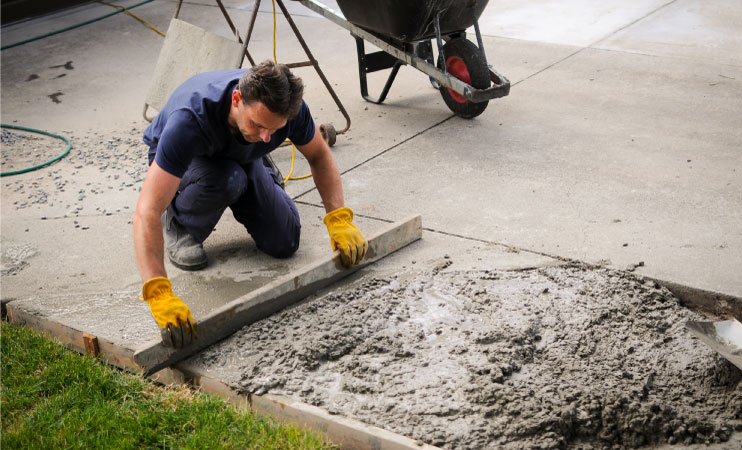 3. Be cautious of new pavement.
As maneuverable as PODZILLA may be, it still needs space to do its job and a surface that can support the weight of the container. Considering that, a freshly paved driveway is not a great match — the asphalt needs plenty of time to fully cure.
"The same thing with pavers," Carlisle says. "We don't want to drive the truck on newly [installed] pavers."
Your best bet is mature pavement. A driveway, parking lot, or even the street work well for your container — but be sure to get the appropriate permissions if you're having it placed in a shared lot or the street.
4. Be easily reachable.
If everything is ready for PODZILLA to arrive and do its job, it's likely the driver delivering or picking up your container won't need to contact you at all — and you don't even need to be home. Simply include your ideal placement requests (like which way you would like the door to face, which side of the driveway you prefer, or any other specifics) when you book your container.

But just in case, it's useful to keep your phone on you during the three-hour window in which they're estimated to arrive (PODS provides you with this timeframe the day before). That way, if the driver has a question about where to deliver the container, the password to get into your gated community, the direction you would like your container door to face, or any other obstacle that may prevent a smooth delivery or pickup, you can resolve it on the spot.

"The driver calls the customer at least 30 minutes before arriving when they're actually on the way, to give the customer an ETA, which usually falls within that three-hour window," Carlisle says. "So if the customer's home and can meet the driver, that's the best-case scenario. Because, if there's an obstacle, the driver can explain why he can't put a container where they specifically want it."

Second best-case scenario? Just keep your phone on with the ringer volume up — and let PODS and PODZILLA take care of the rest.

Now, once your container is delivered, it's time to load it up and get it ready for pickup. Shawn provided some extra tips to make sure picking up your container and delivering it to your next home goes smoothly:
5. Don't block the door.
As mentioned before, the weight limit is not a big concern when loading your PODS container. But the container doors are roll-up style, so you do want to be sure to leave room for the door to open when it's time to unload. "A lot of times, customers will load everything up as high as they can, but if one box or mattress shifts, now the door is not going to roll up because you have an obstacle in that space," explains Carlisle.
"Your stuff is going on a moving vehicle, so it does need to be secured. I definitely make sure that customers understand they need to tie down their things."
- PODS Market Manager Shawn Carlisle
6. Secure your belongings.
While PODZILLA can lift a container parallel to the ground and everything may look okay while it's ground level, that container is still going on a moving vehicle. As such, Carlisle says, "[Your stuff] does need to be secured, so I definitely make sure that customers understand they need to tie down their things." Most containers come with handy tie-down rings to make this easy.
This precaution helps to keep items intact and also helps prevent a jammed door — boxes, mattresses, and other odds and ends that shift in transit can unintentionally block the exit.
Another tip he stresses is checking that the latch is firmly secured by ensuring it's all the way to the right and then pulling up on the door to be sure. It's also recommended you lock your container with a secure disc lock. PODS has some available on PODSboxes.com, but you can supply your own, as well.
7. Watch this PODZILLA video.
And not just because it's cool to watch the innovative lift system in action! If you need a refresher before your moving PODS container arrives in your driveway, watch this PODZILLA video to take note of how much space you need for the container, how to know if the zone is level enough, and to catch a glimpse of what it looks like for PODZILLA to deliver your container.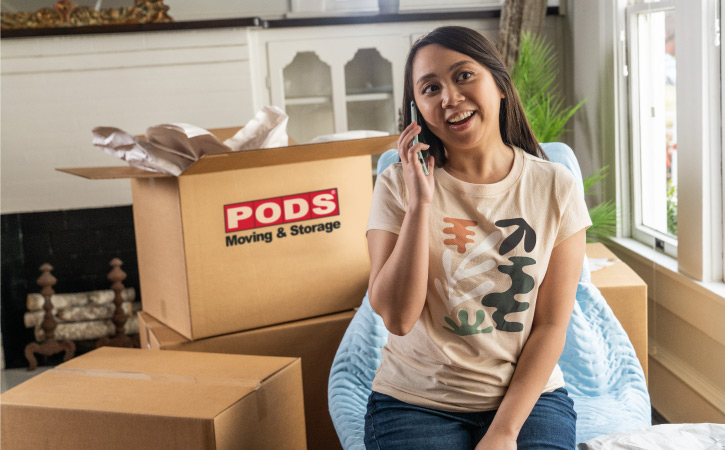 With PODS moving and storage containers and PODZILLA, you can officially move with flexibility, ease, and peace of mind. For more tips to use before and after your move, check out the PODS Blog. From pro packing tips to remodeling trends, we've covered it all.

Sofia Rivera is a Brooklyn-based lifestyle editor and frequent contributor to the PODS Blog. Her work has appeared in Boston magazine, Apartment Therapy, and more. You can most often find her redecorating her apartment, trying out a new recipe, or trekking all over the city.
Get a Quote
Choose the service you need
Comments
Leave a Comment
Your email address will not be published. Required fields are marked *