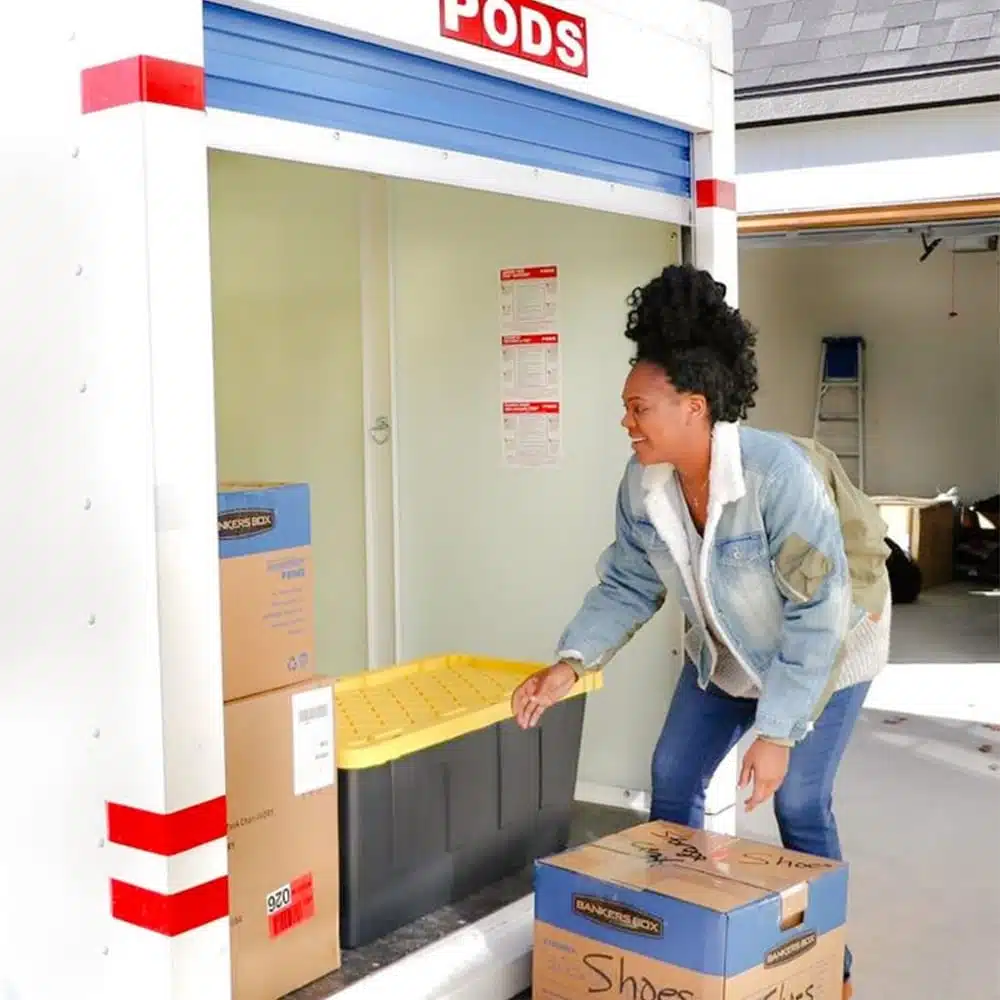 10 Things to Know Before Renting Portable Storage Containers
You've probably seen portable storage containers parked in someone's driveway or traveling down the highway on the back of a big truck. Beyond that, you may not have given them much thought.
But now that you're thinking about storing some of your own stuff, moving, or maybe doing both, you want to know more. How do the units work? How do they get to your house? What else do you need to know before renting portable storage containers? Keep reading — we've got all the details.
Let's start with the basics.
What is portable storage?
Portable storage containers are large, secure, and (usually) weather-resistant boxes that can be conveniently moved from place to place. You can put your stuff in the containers — everything from large furniture items to small personal treasures — then have them delivered to a storage facility or to your new home. Millions of people find these containers are an affordable, flexible, and convenient way to move and store belongings.

When it comes to renting portable storage containers, you don't have to worry about moving all of your stuff in one day (with a PODS storage unit, you have a minimum 30-day window to load and unload your stuff) or driving a big truck through the city or across the country. And it can actually be a lot more valuable than full-service movers.

Q: Is it better to use PODS or a moving company?
A: That depends on your personal preferences, of course, as well as how much time you need. With a PODS storage unit, you have the flexibility to take as long as you want to pack, load, and unload your container. It's conveniently dropped off in your driveway and picked up and delivered on your timeline — not the moving company's schedule.

If you think renting portable storage containers from PODS means you have to do all the heavy lifting yourself, think again! PODS has plenty of recommendations and guidance for packing and loading. Not to mention, PODS does all the driving. And, to top it off, you have built-in storage with PODS. So if your plans change or you need to store your items for a bit longer than expected until your new home is ready, you can easily do that — as opposed to potentially loading and unloading multiple times with a moving company.
Here's a quick look at how renting portable storage container works with PODS, whether you're just using them for storage, for a move, or a combination of both:
Get an estimate (you can get a free local quote from PODS, or call 855-706-4758 for long-distance moves).
Choose your container size(s) and make a reservation.
Your container is delivered to your current residence.
Load your container.
Your loaded container is picked up.
Your container is taken to a secure Storage Center or delivered to your new home.
Unload your container.
The container is picked up and you're done!
As you can see, all you really have to do is the loading and unloading (and you can even hire someone to do that part for you if you'd like).
Portable storage vs. self-storage units
So why not just go with a local self-storage unit if you just need storage or you're not moving far? You can definitely do that, and it might be a bit cheaper. But there are some big differences between portable and local storage that you'll want to keep in mind. Take a look.
| | | |
| --- | --- | --- |
| Feature | Portable storage | Self-storage |
| Unit delivered to your door | ✔ | X |
| Units are portable | ✔ | X |
| You can move your stuff without unloading and reloading multiple times | ✔ | X |
| You don't have to drive your stuff to the unit location | ✔ | X |
| At-home storage option for 24/7 access | ✔ | X |
| Convenient access to your unit at a local storage facility | ✔ | ✔ |
What you need to know before renting portable storage
Now that we've gone over some definitions and fundamentals, let's dive into more details. Here are the most important factors to consider when renting portable storage containers:
How will you be using the portable container?
Watch out for sturdiness and weather resistance.
What size and how many containers do you need?
Do you have space for delivering and parking the container?
Will you need local or nationwide service?
You'll want to keep track of your stuff.
Proper packing and loading minimizes damage risks.
You can still hire hourly help.
Will you need moving insurance?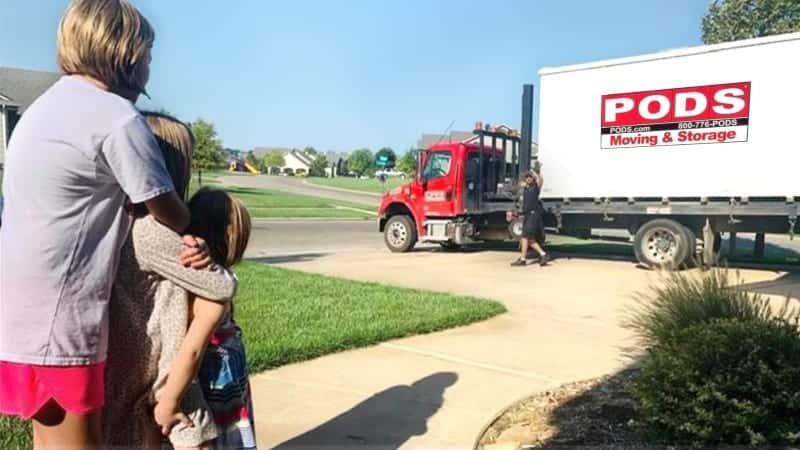 1. How will you be using the portable container?
Portable storage units can be useful for all kinds of situations, but these are some of the most common uses:
Moving With Storage
Portable containers give you flexibility for loading and unloading your stuff, and you don't have to worry about driving a box truck. They can also simplify challenging moving situations, like when you don't have your next place lined up yet or are moving in stages.
Selling Your Home
Containers give you convenient on-site storage that can help you stage your home for potential buyers.
Remodeling Your Home
Remodeling and renovations are stressful enough already, so why not skip the trip to the storage unit by having a storage container delivered right to your house?Downsizing
Whether you're moving somewhere to relocate after retirement or just trying to simplify, portable containers can make home organization and downsizing a lot easier. Just put all your extra furniture and possessions in the container and have it taken directly to storage or to the donation center.
Did you know? Portable storage containers are also great as sorting stations during a major decluttering!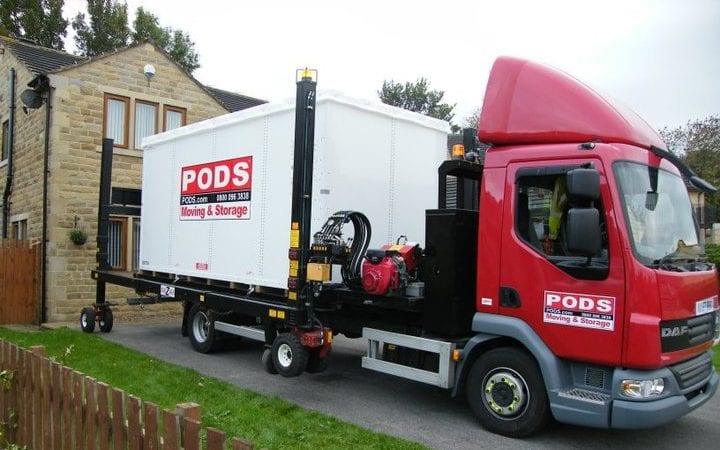 2. Watch out for sturdiness and weather resistance — not all containers are created equal.
Moving and storage containers may seem simple: They're just big boxes that hold your stuff, right? Well, not exactly. If you're not careful, you may end up with a container that doesn't actually protect your stuff.
The quality can vary significantly from company to company. While PODS containers are steel-framed and built for impact and weather-resistance, others may be made mostly of wood and covered by a tarp. Watch out for some companies that advertise their containers as "all steel," which may only be lightweight metal sheeting that offers no added security for your belongings.
Be sure to research the container quality before you choose a company.
3. What size and how many containers do you need?
While some young college students may be able to fit everything they need into the back of their cars, the rest of us will need something bigger. But just how much space do you need for storing and moving? That will depend on a number of factors, like how large your home is, whether it's lightly furnished or filled to the gills, and how efficient you are at packing and loading.
Not all providers offer multiple sizes, but PODS container sizes come in 16-foot, 12-foot, and 8-foot units.* You can mix and match different sizes to meet your needs.
Q: What fits in an 8-foot PODS container?A: An 8-foot PODS moving and storage container is the perfect size for a smaller move. It's great for college students, small apartment dwellers, or anyone looking to downsize. Comparable to a 5'x10' storage unit or a 10' truck rental, it can fit about as much stuff as you would expect to be able to fit into a typical walk-in closet — up to 402 cubic feet of usable space. And the best part? It's also the perfect companion to one of the larger container sizes, to make your move even more customized.
4. Do you have space for delivering and parking the container?
While portable storage containers don't take up a huge amount of space, you do need to make sure you have enough maneuvering room for the container and its delivery process. Fortunately, if you're using PODS, the innovative PODZILLA delivery system can maneuver containers into some amazingly tight places a normal moving truck or container company can't reach. It's a level-lift technology that makes it easy for PODS drivers to pick up and set down your moving and storage container almost anywhere that's flat, level, and clear of obstructions. Once placed, you'll be ready to start moving, store your belongings, or kick off your renovation project.
As for clearance room for PODZILLA, you'll need a path that's 12 feet wide, 15 feet high, 40 feet long (about two standard parking spots), and free of obstacles to make the delivery. If your driveway isn't quite 40 feet long, the maneuvering area can include the street, too. Key obstacles to watch out for include sprinkler heads, bushes, concrete curbing, basketball hoops, parked cars, and mailboxes. Once that's taken care of, leave a couple of feet open so your driver can decouple the container from PODZILLA, and you're set.
For most container companies, having your own driveway is ideal. But thankfully, a storage container can usually go on the street or even in a shared parking lot — as long as you have the proper permits. If a paved surface isn't an option, contact your company to discuss alternatives, and remember that your container's placement is always up to the driver's discretion.
To help you have a smooth delivery process, here are a few more tips:
Make sure you decide which direction you want your container door to face, for the most convenient loading and unloading — and tell the company ahead of time.
Keep in mind the surface should be flat and clear of any objects. A paved surface is best, but it's not required — but be sure to communicate if you won't be using a paved surface ahead of time.
If you're wondering if your driveway is flat enough, park your car with the front facing uphill. Open one of the doors and see if it stays open. If not, contact the company to discuss where your container can be placed.
If the space is on the street, check with your local parking department about permitting requirements well in advance.
Clear any overhead hindrances, like branches of low-hanging wires.
If you live in an apartment, work with building management and your neighbors in advance to reserve space for delivery and pick-up.
Some HOAs can be picky. If you live in an HOA district, check on the rules regarding keeping storage containers in your driveway or street.
Depending on the company, you may not need to be there for delivery or pick-up (PODS doesn't require you to be present). But obviously, you want to make sure all these bases are covered if you won't be there. Pro tip: keep your phone on you with the ringer up.
Finally, if you have any questions or concerns at all about container placement, you should always reach out to the company ahead of time — before the delivery.
5. Will you need local or nationwide service?
One of the best parts about using portable storage containers is that you get to skip the driving. Well, as long as you're using the right company.
If you choose a moving and storage container company that has a broad, nationwide network (like PODS), then you shouldn't have to do any driving — no matter where you're going. With PODS, when you decide, the container will come to you, whether that's in the same city or another state.
On the other hand, while PODS offers both local and long-distance service, some container companies don't provide local portable storage or moving service at all.
6. You'll want to keep track of your stuff.
Using a moving container is easy, but you'll still have to keep track of a few things, like where you put your stuff. This is especially true if you're using multiple containers.
Here are a few neat tips to help organize your stuff with multiple containers:
Make an Inventory for Each Container
Record the container serial number and write down everything that's inside so you can unload easily and efficiently or access what you need while it's at a storage center.
Stagger Container Deliveries for Convenient Unloading
For instance, you might want to have the container with your essential everyday items — like your mattress and television — come before the one that has all of your specialty china and old record collection.
Designate One Container for Storage
If you're downsizing or not sure what items you'll want in your new home, designate one container for storage. That will cut down on the number of items you have to deal with when you start unloading.
If you take a little bit of time to plan your packing and loading before you get started, you'll thank yourself later.
Q: How many containers will I need for a three-bedroom house?
A: One 16-foot PODS storage container, our largest, is the ideal size for moving a larger home. For comparison, think about a parking space (but imagine it in 3D), a 10'x15' traditional storage space, or a 20-foot rental truck — each of those is approximately the size of our 16-foot unit. And believe this: You can get a lot of furniture and belongings into an 835-cubic-feet container.
7. Proper packing and loading minimizes damage risks.
As with any type of move, when you pack and load your stuff carefully, you can significantly lower your risk of damage. Just make sure that you're following best practices.
Some of the most important things to remember when packing are:
Use good, clean materials (boxes, tape, padding).
Break down and disassemble big items when possible.
Take your time.
Pack your things tightly so that they don't shift in transit.
Opt for insurance (we'll talk about this more below).
Get a quality lock and keep it locked at all times.
For more packing advice, see our packing and loading guide and tips to avoid damage when moving long distance.
8. You can hire hourly help.
If all this talk about packing and keeping track of your stuff sounds intimidating, don't worry. You don't have to do it all by yourself. You can hire hourly assistance from pros who have experience working with portable moving containers.
They'll know how to pack and load your stuff safely and efficiently, so you maximize your space and reduce the risk of damage.
If you're going with PODS, then the company can help you find reputable packing and loading services in your area.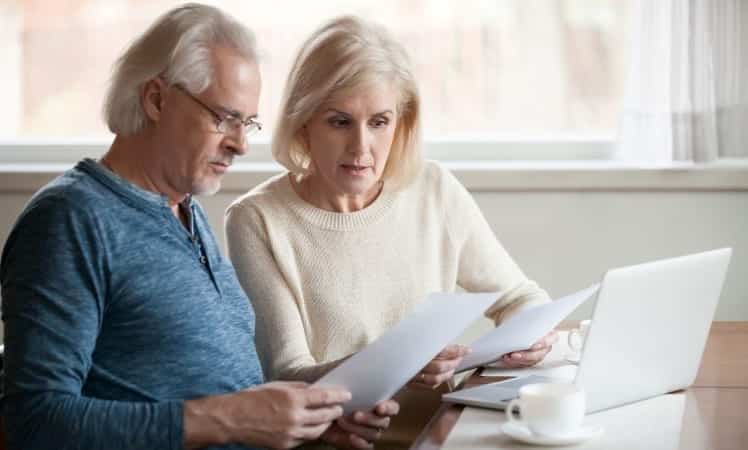 9. Will you need moving insurance?
You've got insurance for your stuff while it's in your home. But what about when it's not in your home?
Homeowners insurance doesn't always cover your belongings during a move. And even if it does, getting supplemental moving insurance may still be a good option. For instance, if you file a claim through the moving company's coverage, your homeowners insurance rates wouldn't be impacted. In addition, the plan's deductible will probably cost you less out of pocket (as little as $100), compared to your homeowners insurance deductible, which could be $1,000 or more.
In some cases, you can get these policies from your existing insurer or a third party. But it's often easiest to just get insurance through the moving container company.
If you go with a company like PODS, there are two main kinds of protection:
Contents protection covers both the container and your contents against accidents, burglary (while in PODS' care), and vandalism while being stored in PODS containers on your property, at PODS Storage Centers, or during transit.
Container-only protection only covers the container.
No matter what kind of insurance you end up getting, make sure that you read the policy carefully before signing it.
10. It pays to plan ahead.
A lot of the considerations and tips that we've outlined in this article come down to one thing: good planning. If you plan your move in advance you can save money and time and cut down on the stress and hassle.
It can help to make a master list of everything that needs to get done and then make a timeline for doing each item. And lucky for you, we just happen to have a master list to follow. You can even take your pick: Storage Checklist or Moving Checklist.
Figuring out storing and moving solutions isn't always the most fun process, but with these tips, you should have everything under control!
*PODS is constantly upgrading its container fleet and container sizes may vary slightly from one model to another.
---
Easton Smith works as a freelance writer and researcher, reviewing technology trends and the moving industry. He moved all around the continent, from New York to California, before landing back in his hometown of Salt Lake City.
Get a Quote
Choose the service you need
Comments
Leave a Comment
Your email address will not be published. Required fields are marked *