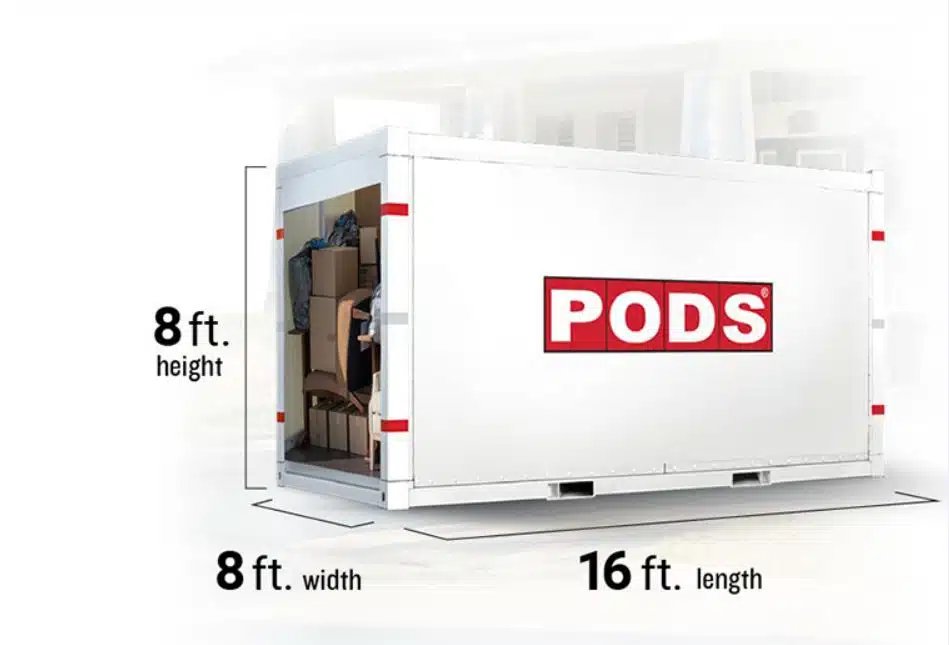 PODS Moving Container Sizes Explained: Find the Mix That's Right for Your Home
We all know the childhood story about the three bears and the curious little home invader who just wanted to find a good meal and a cozy place to snooze. Our girl Goldilocks had to try a few wrong options before she found her perfect fit. Unfortunately, when you're moving, you don't have the luxury of ordering three different moving container sizes to find the one that's just right for holding the contents of your home.
Need more info on the ideal portable moving and storage container size for you?
See how much each container can hold
.
So if you're considering ordering a portable moving and storage container and wondering which of our PODS moving containers is best for your needs, here's our advice.
Why should I use PODS moving containers?
If you're moving to a new home, you've got options when it comes to storing and transporting your stuff.
Full-service movers will handle the entire job for you — from packing, loading, and driving to unloading and assembling. Sounds great, right? Well, consider the drawbacks. Full-service moving comes with a full-service price tag. And the longer the haul, the larger the final bill. (Thinking a couple thousand? Try more like $10,000!) Also, your things may be combined with other households'. The moving company does this to make the most out of its trips, but it can result in lost items and other mixups.
Rental trucks come in handy if you're looking to DIY. They're affordable, and you can choose from multiple sizes. But remember, DIY has heavy emphasis on the "Y" — you're responsible for every part of your move. Packing, loading, unloading, gas costs, driving — consider everything you have to handle by yourself. Plus, if you need to store your things, you'll have to get a self-storage unit in addition to the rental truck.
PODS portable moving containers give you the best of both worlds. You can have the professional assistance you need to get the job done right with the time to load and unload at your own pace. You don't have to drive, your stuff isn't mixed with anyone else's, and you have all-in-one moving and storage. The best part? You get to work around your schedule, not a time and date dictated by a full-service moving company. Load when you want, store as needed, and unload when you're ready.

Q: Is it better to use PODS or a moving company?
A: In our humble opinion, PODS is the superior option — especially if you need flexibility built into your move. Moving with PODS versus a traditional moving company means you move on your own schedule and that you are the only person with access to your things. And it's generally less expensive to boot.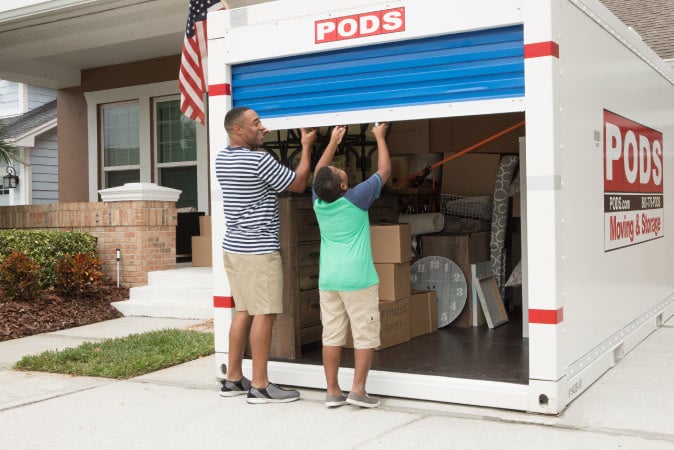 What are all the sizes of containers?
Again, we revisit our childhood fable theme — you have three options of PODS moving container sizes.
Large, 16-foot
About the length of a standard parking spot, this moving container size is comparable to a 10x15-foot storage unit or a 20-foot truck.
Medium, 12-foot
This moving container option is great for a few rooms, and the size is similar to a 10x10-foot storage unit or 15-foot truck.
Small, 8-foot
A popular choice for college students, this small moving container is comparable to a 5x10-foot storage unit or 10-foot truck.


PODS is constantly upgrading its fleet, and moving container sizes may vary slightly from one model to another. Therefore, moving container sizes are estimates.
You can choose one or multiple portable moving containers to handle your move. Mix and match to find the fit that works for you. You can even stagger your moving container deliveries to prevent overcrowding your driveway. And if it turns out you don't need as many containers as you thought, PODS is flexible with changes. Easy peasy.
Let's break down some common home types and the PODS portable moving container sizes needed for each:
Size of home: Small studio apartment
Recommended Moving Container Size: Small
Size of Home: Studio or 1-bedroom apartment
Recommended Moving Container Size: Small or Medium
Size of Home: 1-or-2-bedroom apartment
Recommended Moving Container Size: Medium or Large
Size of Home: 2-or-3-bedroom apartment or home
Recommended Moving Container Size: Large or large and medium
Size of Home: 3-bedroom home
Recommended Moving Container Size: Large and medium or large and large
Size of Home: 4-bedroom home
Recommended Moving Container Size: One large container for every 1,000 square feet
*Suggested moving container sizes are for guidance only. Larger items and how efficiently containers are loaded can significantly impact the size and quantity of containers you'll need.
What fits inside each PODS moving container?
What fits in a 16-foot PODS container: King-size bed, 2 twin beds, 2 dressers, 2 bookshelves, dining table with 6 chairs, sofa, coffee table, 2 end tables, entertainment center, TV, desk with chair, several lamps, several pictures, washer, dryer, 2 bikes, and up to 60 boxes in a range of sizes.
What fits in a 12-foot PODS container: King-size bed, twin bed, 2 dressers, 2 bookshelves, dining table with 4 chairs, small sofa, arm chair, coffee table, entertainment center, TV, small desk, chair, a few lamps, a few pictures, a few mirrors, 1 bike, and multiple boxes of household contents.
What fits in an 8-foot PODS container: King-size bed, dresser, bookshelf, dining table with 4 chairs, small sofa, a few lamps, a few pictures, a few mirrors, TV, bike, and multiple boxes of household contents.

Q: How many PODS moving containers do I need for a 3-bedroom house?
A: Deciding what size container you need is part art and part science. For a three-bedroom home, you likely need two large moving containers or one large and one medium moving container. Certain variables, like how much stuff you have and what type, affect which moving container size is right for you. Our moving and storage calculator can help give you a better idea of which size or combination of moving container sizes will work best for your home. When you're using the calculator, be sure to include the contents of all rooms. And don't forget spaces like the garage, attic, basement, and closets.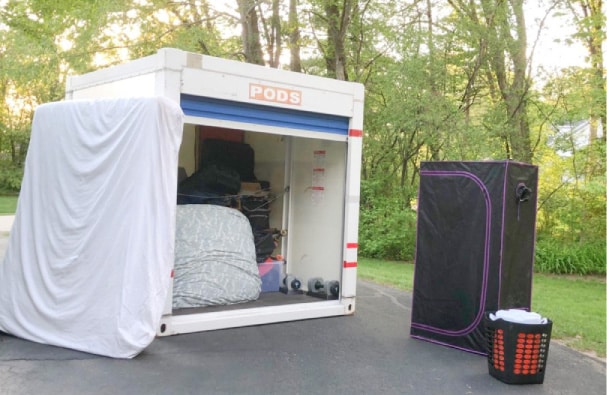 (Source: Michele of hellolovelystudio.com)
How much does it cost to rent a PODS moving container?
PODS prices are based on several factors, including the number and size of your containers, distance, time frame, and season. Containers are rented by the month, so you can take your time and move according to your schedule. You also have the option of keeping the container close by in your driveway or at one of our secure storage facilities.

You can get the most accurate estimate of your moving cost by requesting a personalized quote. This quote is provided by a real PODS team member who's going to give you personalized support, not just during the quote stage but through your entire moving journey.
How can I maximize moving container space?
Calling all Tetris fans! It's time to put your skills to the test. Not only will a proper container loading job make the best use of your space, but it'll help keep your stuff from shifting during the duration of your move.
Do some prep work.
It doesn't matter how well you load if your things are packed poorly to begin with. Make sure you're using the right boxes and applying best practices. Place your heavier or more fragile items upright into smaller boxes, so they're easier to lift. Then, reinforce those heavier boxes with extra tape.
Pack as much as you can into boxes.
This will provide greater protection for your belongings and will make loading your PODS container easier. Try to use as much box space as you can, filling any gaps with packing paper or bubble wrap. Boxes that have empty space are more likely to dent and cave in.
Build a base.
Load your heaviest items on the bottom of the container and the lighter ones on top. Distribute the weight evenly across your container. Don't stack all of your heavy items in the back of the moving container.

This isn't likely to happen, but keep in mind that PODS moving containers do have a weight limit. They are as follows:

8-foot container: 5,200 lbs.
12-foot container: 4,700 lbs.
16-foot container: 4,200 lbs.

Put that bathroom scale away. You don't have to calculate your moving container's total weight, but if you're concerned that your moving container is loaded with too many heavy items, you may want to remove a few before transit. The total weight of your heaviest items shouldn't exceed 75 percent of the total allowed weight. Heavy items to consider are appliances, sofas, large entertainment centers, bookcases, bedroom chests, safes, exercise equipment, pianos, and pool tables.
Secure your belongings.
Use ratchet straps or ropes to keep things tied down and in place inside the moving container. When you're done, use a large sheet of cardboard, or tape four large, flattened boxes together to make a barrier between your things and the door. This keeps the door from jamming and objects from falling against the door during transit to your new home.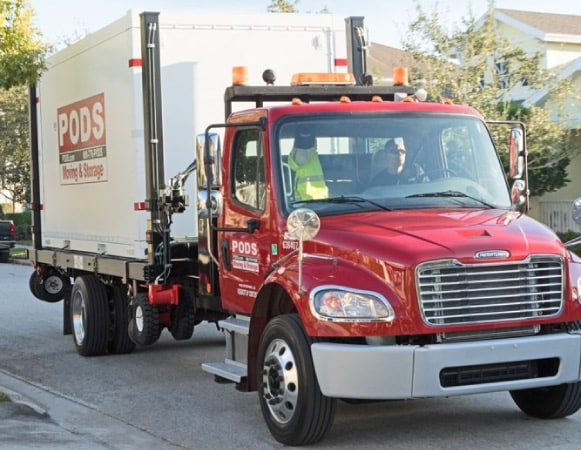 Is PODS a good way to move across the country?
Indeed. Moving cross-country with PODS frees you up to fly, road trip, canoe, marathon, roller-blade, or transport yourself by any other means, unencumbered from lugging all your stuff. You'll save a pretty penny by sending your things across the U.S. with PODS rather than a full-service mover, too.
If you are flying to your next destination, PODS can help you transport your car, too. Our preferred providers will load your car on a transportation truck and ship it to where it needs to go. That means your vehicle arrives safely at your new home without incurring extra mileage.
Are my things safe inside PODS moving containers?
PODS portable moving containers are designed for protection. They're built with a steel frame and are weather-resistant to keep your things protected from the elements. For extra security, they have impact-resistant, high-tech polymer wall panels or sturdy wood reinforced with an aluminum exterior sheet.
Not only are they tough on the outside, but they also keep what's inside protected, as well. And loading with an innovative ground-level lift (PODZILLAⓇ) instead of a ramp means less chance of damage. The best part? You, the PODS customer, own your container's lock and key, so no one else has access to your belongings.
What can't I load into a PODS moving container?
PODS moving containers can handle almost anything, but there are some items you need to store or pack elsewhere. This includes toxic chemicals, lawn mowers, cars, and illegal items. It's also recommended that irreplaceable or extremely high value items like deeds, legal notices, currency, and items that are not your personal property are not placed inside the moving container.
How much time do I need to move with a PODS moving container?
Container delivery is dependent on container availability and open dates on the PODS calendar, so the best way to check is to fill out a quote form on PODS.com or call (855) 706-4758.
But oftentimes, the moving process begins weeks, if not months, in advance. We recommend reserving your container as soon as you know your moving date details, especially if you're moving during our busy season (between April and September).
We won't charge you for your moving container when you reserve. For local moving and storage, we'll charge you the day before your delivery or re-delivery using the credit card you used for your reservation. If you have a long-distance move, your card will be charged seven (7) days before your delivery. And monthly rental charges will be billed on the same day every month, so it's easy to keep track.

You can get a step-by-step walkthrough of how to move with PODS from this moving checklist here.
Looking for more packing and loading tips? Check out the PODS Blog for all things moving-related. From how to avoid moving scams to how to get the kids involved in the moving process, we've covered it all!

LB Gabriel is a freelance writer and frequent PODS Blog contributor. When she's not on a deadline, you can find her on a tennis court or golf course.
Get a Quote
Choose the service you need
Comments
Leave a Comment
Your email address will not be published. Required fields are marked *