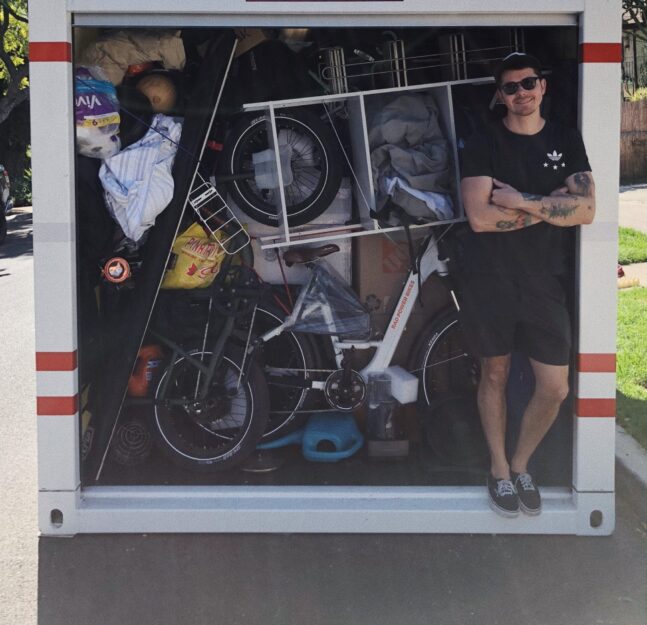 Self-Moving 101: How to Save Money and Avoid Stress
There was a time when moving yourself meant calling up your cousin who owns a pickup truck and promising to buy pizza for your "moving crew" (AKA your friends). But times have changed, and there are better ways to do self-moving.
Moving containers and rental trucks are both viable options for those who want to save some cash by relocating on their own. But what are the advantages of each option, and how can you choose the self-moving company that's right for you?
Don't worry, self-moving newbies, we're here to help. Here's everything you need to know about planning and executing a lower-stress move — even when moving by yourself.
What is a self-move?
It might sound like some new dance craze that the kids are doing on TikTok, but the self move is actually a very old tradition. Your ancestors probably did a self-move at some point in the past, whether it was with a boat, a covered wagon, or just on foot.
A self-move is, technically speaking, any residential move that doesn't involve a full-service moving company that sends two or more strong workers to load all your stuff up in their truck and then reverse the process at your new place. But that doesn't mean there's no outside company involved at all.
For example, you can rent PODS containers, but it's still DIY moving because you're responsible for loading and unloading your couch, your TV, and those boxes of sentimental junk that you never open but can't throw away (you know the ones we're talking about).
Q: What does self-moving mean?
A: DIY moving, or doing a self-move, means you are not hiring a full-service moving company. Instead, you're doing the packing yourself, asking friends for help, or hiring help; then you're renting and driving a moving truck or using a moving container company like PODS.
Comparing self-moving & full-service moving
There are some major differences between doing a self-move and hiring full-service movers.
The first major difference is the cost.
Self-moving is significantly cheaper. On a long-distance move, we could be talking a grand and some change vs. five grand or more for traditional movers. That's like the cost of a big screen TV vs. the cost of a used car.
The second big difference is the workload.
Full-service movers will bring a bunch of strong people to move that antique armoire for you. With a self-move, it's up to you and your buddy who sometimes does CrossFit on the weekends. Or you can hire helpers to do the heavy lifting — DIY moving doesn't need to mean doing it all by yourself.
There are a few other details to consider, as well.
Self-moving allows you more control over how your prized possessions are handled, and it gives you far more flexibility when it comes to scheduling. Plus, if your move-in date doesn't exactly line up with your move-out date, moving container companies like PODS offer easy built-in storage options so you don't have to sweat it.
What are your self-moving options?
If you're going to do a self-move, you really have two routes (assuming you have more than just a carload of stuff, that is): The portable container route and the rental truck route. So which is best for you? Let's walk through the differences.
Comparing PODS containers & rental trucks
Pop quiz: Rental trucks are just moving containers on wheels. True or false?
If you said false, you get an A+! (If you said true, we'll still give you an A+ because we like you.) There are many important differences between PODS containers and rental trucks.
PODS Containers vs. Rental Trucks
| | | |
| --- | --- | --- |
| Feature/Service | PODS | Rental Trucks |
| Cheaper than full-service movers | ✓ | ✓ |
| You're responsible for loading and unloading | ✓* | ✓ |
| Driving done for you | ✓ | X |
| Option to store at home or at a storage facility | ✓ | X |
| No-contact moving | ✓ | X |
| Delivered directly to your door | ✓ | X |
| Multiple sizes available | ✓ | ✓ |
| Ground-level loading | ✓ | X |
| You don't pay extra for gas and mileage | ✓ | X |
*PODS can refer you to local, professional packing and loading services to help you load and unload.
Need storage during your move?
It's not uncommon to have to store some of your stuff while you're fixing up your old or new home, downsizing, or need to move quickly because you're relocating for a job. A key difference is containers make storage much easier because you don't have to rent a truck multiple times and then repeat the process of loading and unloading from home to truck, truck to storage unit, storage unit to truck, and truck to new home. Whew. We're exhausted just thinking about it. When moving by yourself with PODS moving and storage containers, you load and unload only once, whether you keep the container in your driveway or at a PODS Storage Center.
Plus, you won't have to stress about unexpected costs, like gas, because with PODS, you don't have to drive. That's, like, a million hours of stressful driving in a big box truck that you just dodged.
Want to turn your cross-country relocation into a fun road trip? Having your stuff shipped in a moving container instead of hauling a truck opens up all kinds of possibilities. Get tips from someone who did it twice.
Sizing it all up
Let's talk about sizing for a moment: If you have a four-bedroom home and you're DIY moving, you're probably looking at doing multiple loads in a large rental truck. But with PODS moving containers, you can just order the specific container sizes you need, have them delivered straight to your driveway, and get them picked up at the same time.
Pro Tip: You can stagger your deliveries to get just one container at a time. That way, you save room in your driveway. Plus, you can even cancel the additional containers if it turns out you don't need them.
Here's a gander at how the sizes of PODS moving containers and rental trucks compare.
PODS Containers & Rental Truck Size Guide
Home size /
Square feet
PODS container*
Rental truck*
Small Studio Apt
Less than 400 SF
8'**
Cargo van or
10' truck
Studio/1 BR Apt
600 SF
8' or 12'
10', 15' or 16'
1 to 2 BR Apt
800 SF
16'
15' or 16'
2 BR Apt/Home
1,000 SF
Single 16' or
16' + 8'
15' or 16'
2-3 BR Apt/Home
1,200 SF
Single 16' or
16' + 8'
15', 16' or 18'
3 BR Apt/Home
1,600 SF
16' + 8' or
Two 16'
20', 22' or 26'
4 BR Home
2,000 SF
Two 16'
26'
(may take multiple trips)
4-5 BR Home
2,500 SF
Two 16' + 8' or
Three 16'
Multiple trips or
other options
5-6 BR Home
3,000 SF
Three 16'
Multiple trips or
other options
More than
3,000 SF
One 16'
per 1,000 SF
Multiple trips or
other options
*Suggested container sizes are for guidance only. Larger items and how efficiently containers are loaded can significantly impact the size and quantity of containers you'll need. **PODS is constantly upgrading its container fleet and container sizes may vary slightly from one model to another.
Q: How can I move without a moving truck?
A: If you're not keen on the idea of hurtling down the highway in a moving truck, you have a couple of options. You can opt for a full-service moving company, who will take care of all the loading, driving, and unloading for you. Or you can use a moving container company like PODS for your self-move. They'll deliver a container to your home, where you can pack it up yourself, and then they'll pick it up and drive it to your new residence for you..
Price difference between PODS & rental trucks
We'll talk more about the cost of moving with PODS below, so for now, we'll just say that the base rate tends to run higher than renting a truck. However, costs can quickly add up with a rental truck, depending on your location, destination, gas usage, and other fees — especially if you're relocating across the country. Not to mention the mental cost of stress-driving a box truck on narrow city streets and speedy highways.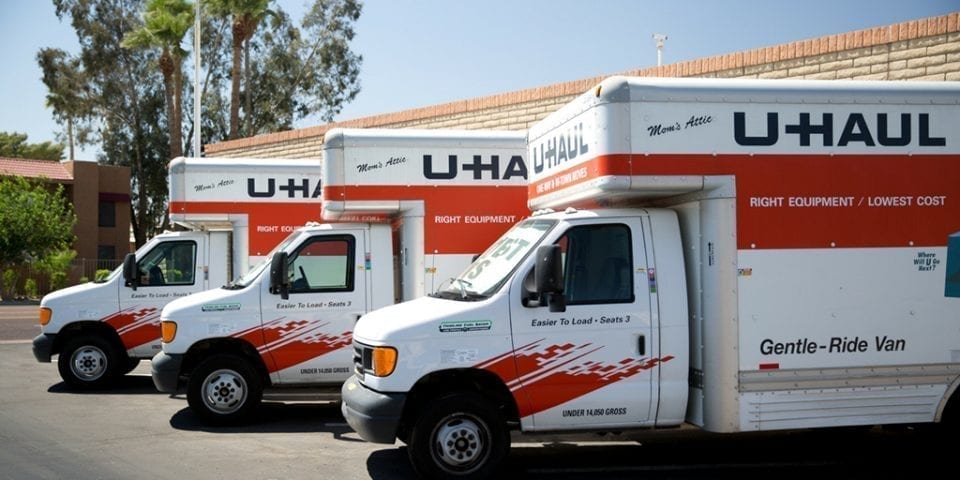 How do moving truck rentals work?
If you've decided to go with the rental truck option, we commend your bravery and wish you well on your adventure. Here's a rough play-by-play of what to expect.
Self-Moving With a Rental Truck
Figure out the truck size you need.
Choose a rental truck company.
Reserve a truck.
Pick up your truck.
Load your possessions.
Drive (hopefully you have some good audiobooks!).
Unload your possessions.
Repeat steps 5-7 for extra loads, if needed.
Fill up gas tank.
Return rental truck and pay for any additional fees.
If that sounds a bit stressful, then maybe you should consider using a moving container company for your move.
How do moving containers work?
If moving and storage containers are starting to look like the better option for you, you're not alone. But how does the process work? Let's run through it, step by step.
Self-Moving With a Moving Container:
Get an estimate (you can get a free detailed quote from PODS).
Reserve your container.
Your container is delivered to your current residence.
Load your container.
Your loaded container is picked up.
Your container is taken to storage or delivered to your new home.
Unload your container.
The container is picked up and you're done!
Pretty much everything is done for you, except the packing, loading, and unloading. While that might seem like the hardest part, it definitely doesn't have to be if you use these self-pack moving tips. Just think about all the money you're saving as you wrap your glassware in bubble wrap. And if you're more interested in saving your back, you can also hire hourly labor to help with the heavy lifting for loading and unloading — or both.
Moving in a big city?
What if you're moving somewhere that's so crowded you can't leave a moving container or park a rental truck? Depending on the location, PODS City Service may be just the solution for you. Available in select ZIP codes, the service is designed for those moving in the most urban areas. As with the standard PODS service, a driver brings a container to you, but it stays on the truck while you load or unload with the help of a built-in lift. The driver also stays with the container to guard against tickets and help protect your belongings during your loading and unloading process. Then your container gets whisked to your new digs — or to a PODS Storage Center if you can't move in right away.
Q: How can I move by myself?
A: When doing a self-move, you have multiple options for DIY moving. You can recruit your closest friends and pay them in pizza, rent a moving truck, and pack it up and drive it yourself. Or you can contract some of the work out. You can use a moving container company like PODS, who will deliver a container to your door and pick it up for you. You can also hire helpers to do some of the heavy lifting involved in packing and loading up your truck or container.
How to choose self-moving companies
Let's be real: Most of us are going to choose the self-moving company that's easiest on our wallets. But there are other factors in DIY moving you should consider before you make the final call.
Think about the following before you hire a self-moving company:
Reputation
What feedback has the company received from past customers? Is the company highly rated by reviewers? Does your cousin have a horror story about her container arriving weeks after the promised date?
Licensing
Major self-moving companies, like PODS and U-Haul, are accredited by the Federal Motor Carrier Safety Administration. But smaller outfits might not be, so be sure to check a company's accreditation.
Ease
Is it easy to get in touch with the company? Can you get a fast and free quote? Does the company regularly operate in your area, or will this be a stretch for them (increasing the possibility of delays or mistakes)?
Services
Does the company offer all of the services you want? Storage or room scheduling may not be included in every portable container solution. For instance, one company gives you just three days to load and unload, compared to 30 days with PODS.
Pricing
Are they including everything in the quote? Some container companies may not include delivery and pickup fees, and one company makes you pay extra for a guaranteed delivery date. With PODS, the price quoted is the price charged, as long as nothing changes.

And speaking of services, let's look at how different moving container companies' offerings compare.
Comparing PODS & other moving container companies
Sure, we could write a manifesto (or even a poem) about how moving container companies compare, but a chart is worth a thousand words.
Comparing PODS & Other Moving Container Companies
| | | |
| --- | --- | --- |
| Service/Feature | PODS | Other Moving Container Companies |
| Local moves | Yes | Not usually |
| Long-distance moves | Yes | Yes |
| Nationwide coverage | 230+ locations in the US, UK, and Australia | Varies by company |
| Loading/unloading time allowance | 30 days (with option to store longer with monthly rental fee) | Varies (from 3 to 30+ days) |
| Steel-framed and weather-resistant container | Yes | Varies (some companies use wooden crates) |
| Storage included | Yes (30 days, with option to store longer with monthly rental fee) | Varies (from no free storage to 30+ days) |
| Multiple storage options | On-site or at secure storage location | Some companies require storage on-site |
| Online quotes | For local moves only | Varies by company |
| Fast quotes over the phone | Yes | Yes |
| Contents protection options | Yes | Yes |
| Easy cancellations and refunds | Yes | Refund policies vary by company |
How much does a PODS move cost?
So PODS sounds great and all, but let's talk numbers. How much does moving with PODS cost? The short answer is $350 to $4,999, but the price is based on several factors, including the number and size of your containers, distance, time frame, and season.
Here's the longer answer.
Cost of a Local Move
Doing a local self-move with a PODS container usually costs between $350 and $500.
Cost of a Long-Distance Move
The average cost of making a long-distance self-move with PODS is harder to determine because there are so many factors (like distance, location, and container size). However, most long-distance moves with PODS fall within the range of $499 to $4,999.
Of course, the best way to find out how much moving with PODS moving containers will cost you is to get a quote. You can get an online quote for local moves, while long-distance moves require a phone call (855-706-4758) to go over all the details and make sure you get the best deal for your specific moving situation.
Is moving anxiety a thing?
Now that you've decided how to do your move, let's talk about the emotional upheaval it can cause. Yes, moving anxiety is a thing. Plenty of studies have shown that moving ranks high on the list of life stressors. A new home — even if it's in the same town — brings with it a potential variety of challenges. For starters, you're leaving behind memories and a familiar setting. But the antidote is straightforward, too: Be prepared. Go visit your new home at different times of the day and week so you can get comfortable with things like the volume of traffic and whether there are a lot of pedestrians in your neighborhood. Knowing what to expect is key.
Choosing the right method for your DIY move is another way to win nearly half the stress-battle. With PODS, you have the freedom to take breaks when you need a breather. Your container is safe and sound in the driveway — not going anywhere until you say it should. And the timetable is up to you.
What happens psychologically when you move?
The stress is real. No matter how positive the relocation may be — for a fabulous new job or to a fantastic new home — there is a sense of loss. You're losing neighbors, you may be moving away from friends and family, and you're likely exhausted from all the planning and preparation. Obviously if you're feeling overwhelmed, a counselor is a good option. But for garden-variety sadness about moving, we recommend adding some self-care to your DIY move with these tips: 9 Ways to Reduce Stress When Moving. Go ahead. Take advantage of these tips, even if you're not feeling overwhelmed, because everyone deserves some stress-relief — especially during a move.
---
Easton Smith works as a freelance writer and researcher, reviewing technology trends and the moving industry. He moved all around the continent, from New York to California, before landing back in his hometown of Salt Lake City.
Get a Quote
Choose the service you need
Comments
Leave a Comment
Your email address will not be published. Required fields are marked *