Need extra storage space? Try these 8 tips for tight spots
When the clutter starts to take over your home, the search for extra storage space begins, and it can be quite the challenge. Where do you turn when you've got a full house or a cozy apartment? With a little ingenuity, you may be pleasantly surprised at how much you can pack away — out of sight but still within reach, that is. Read on for eight of our top ideas to help maximize your space for storing your stuff.
1. Hook it
By using hooks, hangers, and cabinets, your walls and ceilings have the potential to double as in-home storage facilities. Here's how to go vertical for your storage needs:
Hang your bicycles from the wall or ceiling. This requires professional guidance: Nobody wants to watch TV with the threat of a 10-speed dropping from the heavens. But with the proper approach, hanging the bikes up high is a great option for getting your wheels out of your way. Imagine what you can do with the living room or garage space now free for other items!
Peg boards are terrific for tools. A staple at just about any craft store, a simple peg board provides easy options for storing your tools — much more convenient and tidy than digging through a toolbox to find that screwdriver. Grab some hooks at the hardware store, secure the peg board to your garage or workroom wall, and situate your tools in easy-to-reach rows. Bonus: Peg boards don't just have to be for tools. Get creative and use them wherever they'll save space!
Hook up your coats and towels. If closet space isn't a thing, hang some hooks in your entryway and bathrooms as quick-drop stations for coats, hats, towels, and anything else that needs a home. DIY options include anchoring a few hooks into the wall. However, less-industrious types can find plenty of sturdy, stylish racks that work well with minimal assembly required.
Stash it above the toilet. Everyone's bathroom cabinets fill up quickly — it's just a fact of life. So why not take advantage of the wall space above the commode and hook up an additional storage option? This solution is especially useful for parents who want to keep their products and potions in their own tidy space, away from tiny curious hands.
2. Stack it
Have a cache of collectibles tucked away in a moving box? Set them free! Show off your treasures on a pretty floating shelf, and use that old box for something less visually appealing — like warranties or manuals. And don't limit yourself to the main living areas for your pretty displays. Unexpected places like the kitchen, laundry room, or a hallway (safely out of head-bump range, of course) are fun spots to come across shelving displays of objets d'art.
If your library is overflowing, single shelves are a great option for extra book storage, as well. Stack a few of your faves on a firmly anchored shelf to add an attractive literary touch to a room. Pair with a framed family photo for a design flair with personal meaning.
3. hide it
The footstool may be the most utilitarian of all furniture. But it's also a handy place for hidden storage. Nobody has to know that your holiday decorations or kids' childhood masterpieces are neatly packed away under their comfortably elevated feet. Storage ottomans are also ideal for everyday items like the kids' goodies and books — easily accessible and easy to put away at the end of the day. Imagine: No more stepping on stray squeaky toys or building blocks.
4. Pack it
Jet-setters might not find this useful. But folks who don't travel a lot can make good use of their unused luggage by packing up things like winter clothing, seasonal sports gear, and even paperwork that doesn't need to be on hand. And with some creativity, you can also turn your suitcase storage into an artsy piece of furniture: Stack up three or four vintage hard-cover bags, secure them with a bungee cord or some kind of tether, and voilà — a nifty nightstand or side table that doubles as extra storage space.
5. Tuck it
Long and lean plastic tubs are perfect storage solutions for under the bed, safely tucked away and hidden by your bed skirt or comforter. The clear tubs are particularly useful: You can see what's inside, which means no more digging for that cashmere scarf you think you might have stashed there. Another option is to follow the dorm-room model and go with a trundle or bed with built-in storage drawers. It's like having a dresser but without taking up that precious extra square footage.
Under a cabinet, wicker baskets offer an attractive option for books or photo albums and other keepsakes. After all, you never know when you might want to take a trip down memory lane. In the kitchen, though, a more functional setup is needed. Try a two-tiered storage rack for your cleaning supplies and other kitchen accoutrements — you'll double your capacity and tidy up the clutter.
6. Zip it
Those of us who struggle keeping the "junk drawer" in the kitchen free of, well… junk, will find this one useful. By zip-tying similar items that aren't used very often — think assorted wires, extra appliance parts, etc., you can free up precious space in your kitchen for items that actually belong there. Zip ties are also great for organizing those pesky cables behind your TV into one bundle and can even be used to mount your tools to a pegboard (if hooks aren't available)!
7. Hang it
Over-the-door organizers are a space-saver's dream. From cloth pockets for shoe storage to spice rack wire shelving in the pantry, the door-hanging solution works wonders in apartments and cozier homes. Make sure you attach your storage solution securely to the top of the door — hooks are helpful and safe — so your goods stay safely off the floor.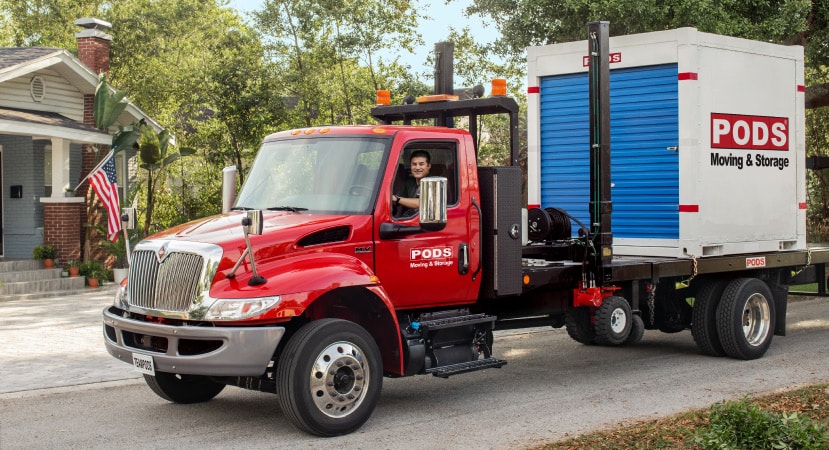 8. store it
If you quickly find that you're using up a lot of your newly found extra storage space for things you don't use very often, a self-storage container may be a better option. A PODS portable storage container can be delivered right to your driveway, and you can keep it as long as you need. When you're done loading, we'll pick it up and keep it at a secure PODS Storage Center. Need to get your hands on something you stored away? No problem. Just give us a call at our storage facility, and we'll have your container ready for you to access.
Now that you've addressed your storage situation, why stop there? This is the perfect time to go all out and fully declutter your home to free up even more space. Check out some kitchen organization ideas, tips for maximizing your garage, and more from the PODS blog.
---
Shannon Jacobs is a Tampa-based freelance writer and frequent contributor to the PODS blog. She has lived in Atlanta, the Berkshires, and Nashville, but always returns to the warmth of Florida's Gulf Coast.
Get a Quote
Choose the service you need
Comments
Leave a Comment
Your email address will not be published. Required fields are marked *