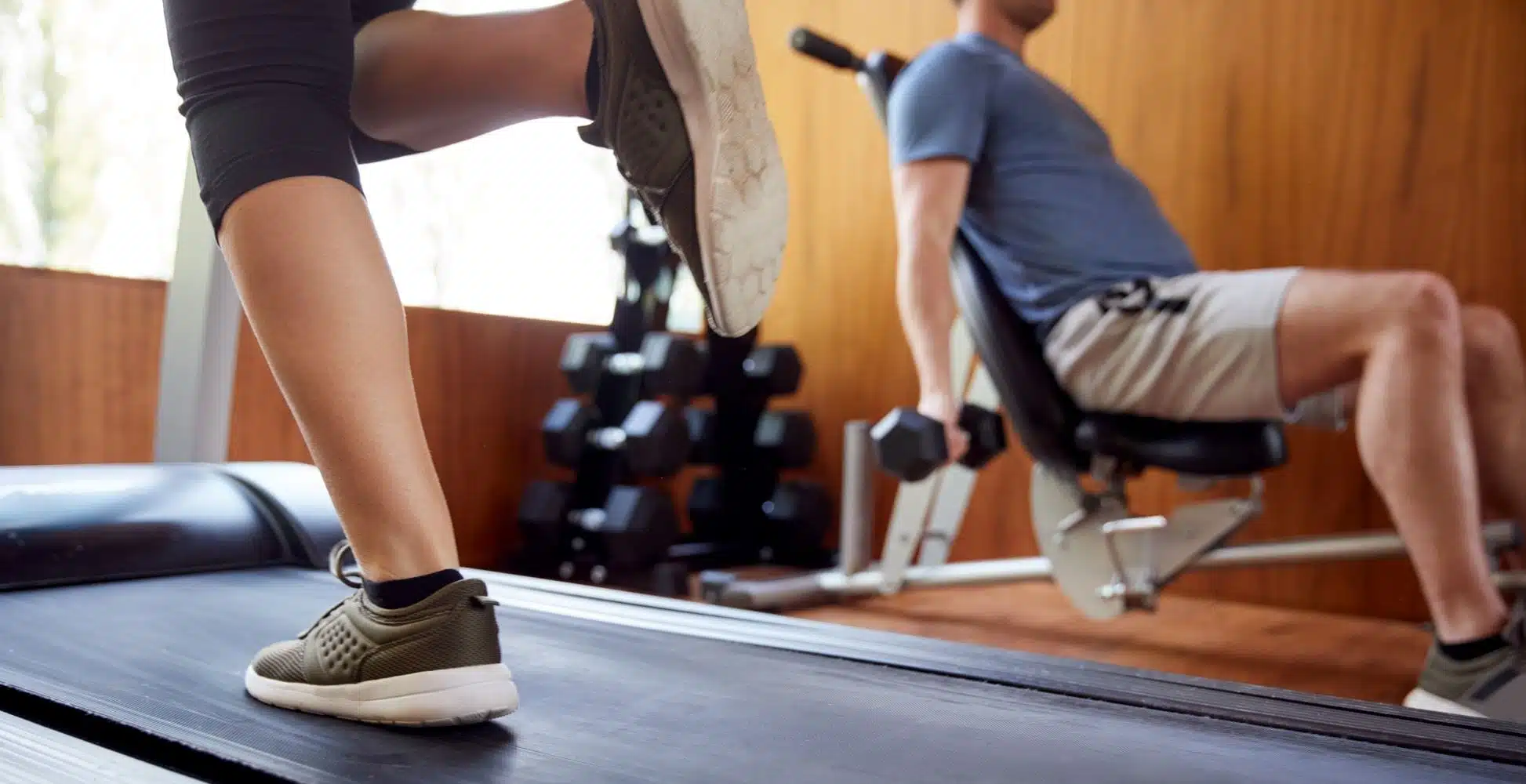 Get Pumped With These Home Gym Ideas
We've all been there: Cozy in bed, hitting snooze on the alarm for the third time. Getting done with work late, with little energy left over to go anywhere but the sofa. Busy with chores on a weekend day. Dinnertime arriving before we realize it. It all adds up to the same result: No time or motivation to workout.
A recent study by Finder.com found that about 5 million Americans neglect to use their gym memberships, squandering some $1.8 billion each year. Combine that with the revolution of remote work for many Americans, and the idea of owning your own gym in your home has seldom been more attractive.
Though the upfront cost to make your own gym might be pricier than a membership, it's much more affordable in the long-run. And, coronavirus or no coronavirus, working out around throngs of strangers can leave you vulnerable to getting sick, from airborne illness to germs that find a home on shared exercise equipment. Besides, just think how great it will be not having to wait endlessly while someone hogs your favorite machine. You'll also save time and stress driving to and from the gym.
Intimidated by the prospect of designing a home gym? Don't be. We'll walk through all your crucial questions about how to get it done, including:
How much space does a home gym need?
Where should I put my home gym?
What are the home gym essentials?
How can I set up a quick or temporary home gym?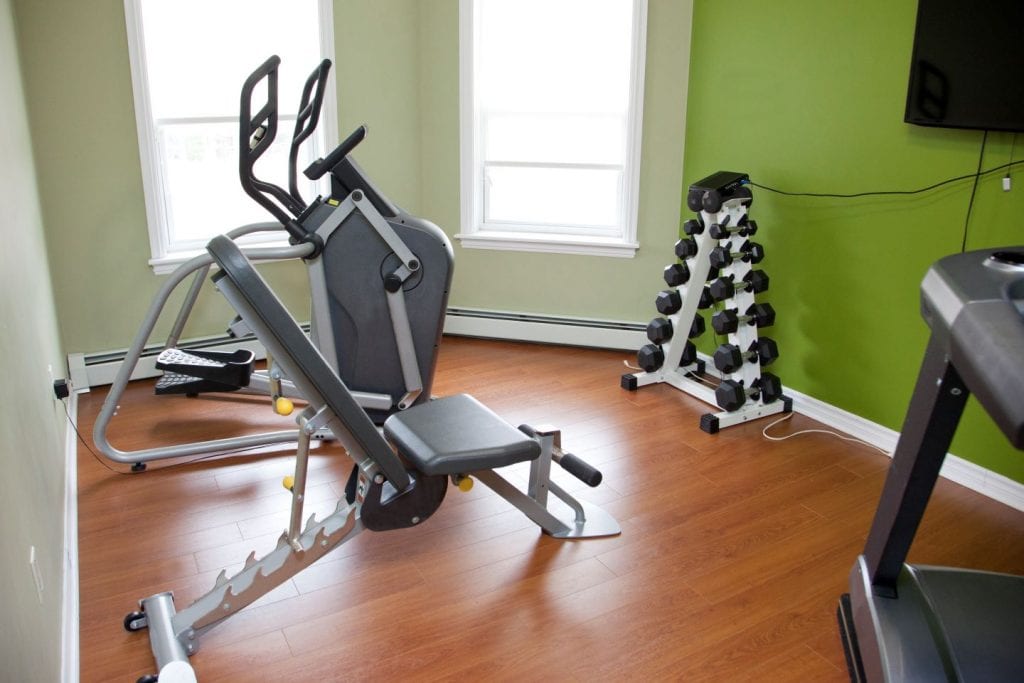 What's a good size for a home gym?
Ultimately, a good size for your home health club depends on what your living situation is and how much space you have to set aside. But, to determine what best accommodates your situation, the American Council on Exercise offers some useful square footage estimates for various pieces of exercise equipment:
| | |
| --- | --- |
| Exercise Equipment | Square Footage Space Needed |
| Treadmill | 30 square feet |
| Elliptical | 30 square feet |
| Single-station gym | 35 square feet |
| Free weights | 20-50 square feet |
| Stationary bicycle | 10 square feet |
| Rowing machine | 20 square feet |
| Stair climber | 10-20 square feet |
| Multi-station gym | 50-200 square feet |
Source: American Council on Exercise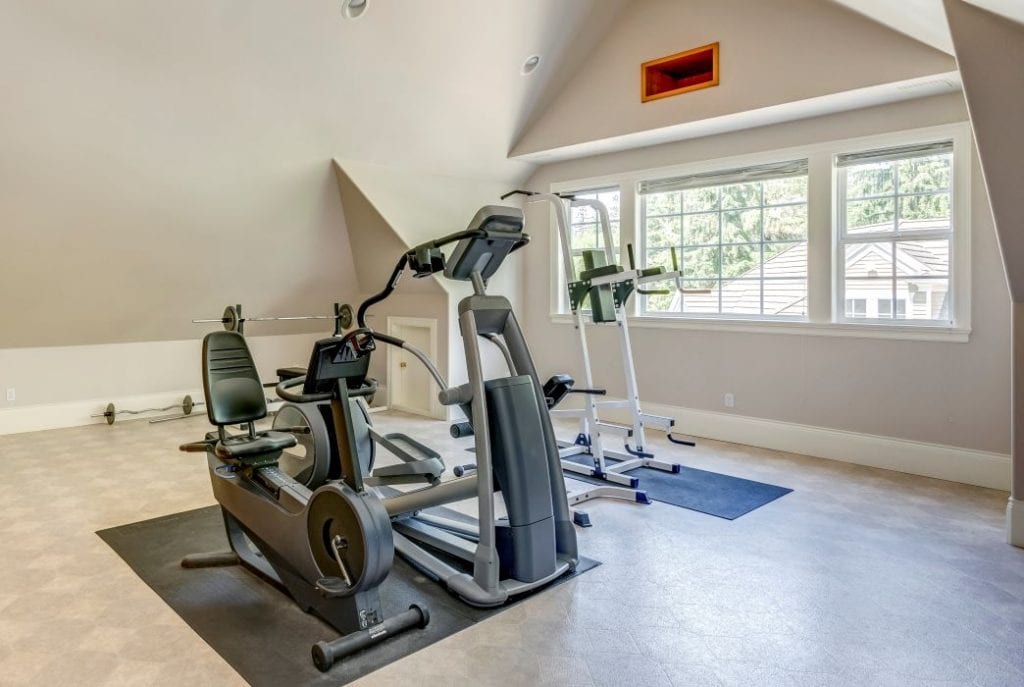 Ideas for where to put your home gym
You can't start until you know where to start. The good news is that there are several places in your own home that you can convert into a workout haven, each with its own perks. Now that you've calculated how much room your workout zone needs to occupy, consider setting up shop in one of these spaces:
Basement: Located on the lowest level, not only is there plenty of room to spread out your exercise gear, but the subterranean location helps limit sound travel and keep the temperature cool.
Attic: An attic is another perfect opportunity to take advantage of an underutilized floor. However, if you plan to use it for more than yoga or meditation, you'll want to have it inspected first to make sure it's structurally sound enough to support heavy equipment. And, since top floors have a reputation for getting hot and stuffy, fans and possibly a portable AC unit are crucial for ventilation.
Guest room or spare room: An unused office, old playroom, or any other kind of spare room is an ideal opportunity for a home gym makeover.
Walk-in closet: Don't have a spare room? No sweat. If you have a spacious closet, set up a yoga mat and stationary bike for a compact and well-located workout.
Your sneakers and leggings are already right there, and there's bonus points for being close to the shower.
Garden shed: Transform a freestanding shed by reinforcing the floors, having an electrician add some outlets, and hauling in some free weights and exercise machines, and voila—you have your own fitness studio.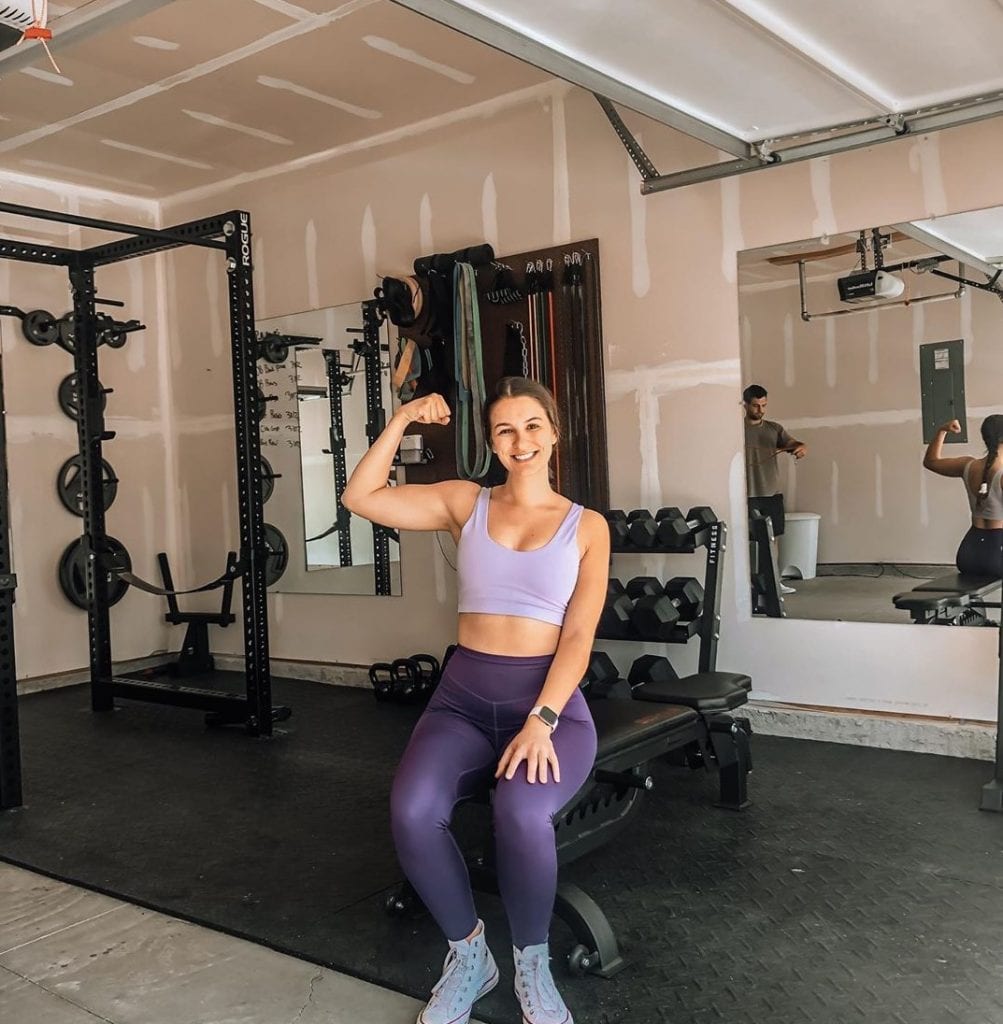 Garage or workshop: Already equipped with durability, electricity, and an industrial aesthetic, a workshop is a great option to turn into an at-home gym. Thanks to a garage's sturdy frame and concrete floors, you can easily install a punching bag or some battle ropes, and if your old stereo is still out there, you can crank up the music and kick it old school.
If you're like most of us, there isn't one space in your home that's not filled to the brim with stuff. Don't let that stop you! Here's a quick guide to decluttering. To avoid getting stuck on this step forever (no, this is not the perfect excuse not to work out!) look into having convenient on-site storage delivered to your driveway. With PODS, you can even have the container whisked away to a secure Storage Center for safekeeping.
Essentials for designing a gym at home
You don't need to buy a Peloton or a lap pool to build a home gym. In reality, the type of exercise equipment and embellishments the room requires will vary based on how you like to work out, and what kind of space you're using. Personalizing the zone to your own preferences is part of what makes a homemade gym superior to a traditional health club. Here are some home gym ideas and inspiration for designing your own: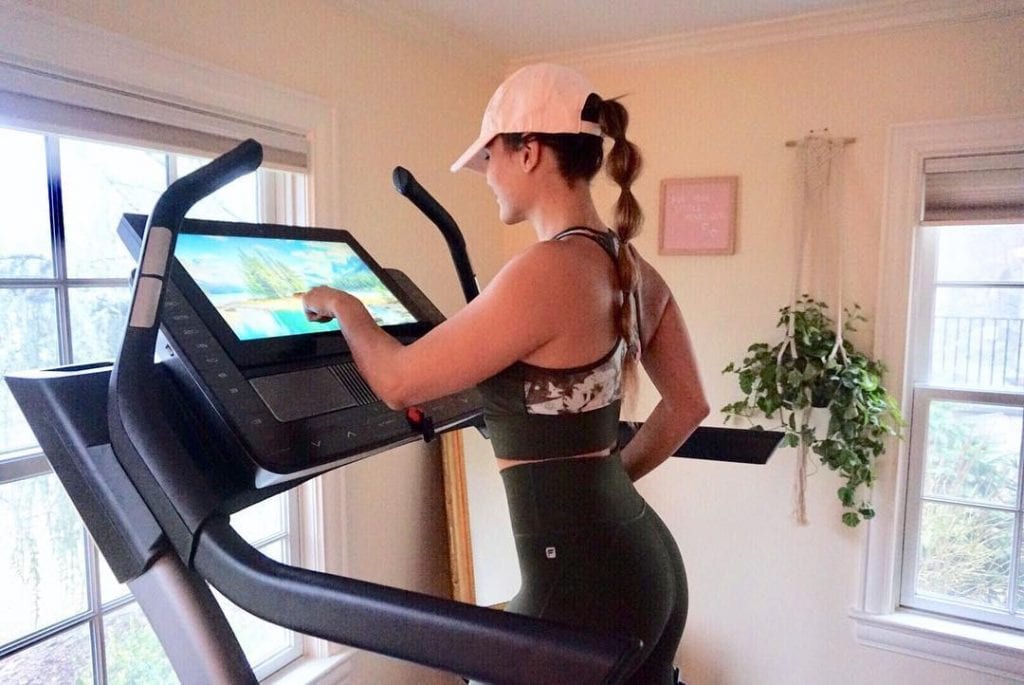 Exercise Equipment
For full-body conditioning, it's smart to choose a few machines that focus on distinct areas of the body. Here are some options and the areas they target:
Indoor rowing machine: Upper body, shoulders, back
Treadmill: Legs, overall cardio
Elliptical: Upper and lower body (including biceps, shoulders, calves, and quads), overall cardio
Free weights and weight benches: Entire upper body (including pectorals, triceps, biceps, and deltoids)
Stationary bike: Legs, lower body (especially hamstrings and quads)
Stair climber: Legs, lower body (especially glutes, calves, and quads)
Whatever type of equipment you choose, here are four more home gym ideas that will boost both workout safety and success:
Rubber flooring: Laying down interlocking rubber tiles is an easy way to amp up the durability of your home gym, while also creating a surface that will absorb some of the shock when you're jumping around, reducing strain for your ankles, knees, and back.
Sound system: What's more motivational than your favorite song? Investing in some quality speakers will improve your gym time tenfold.
Storage: Shelving, bins, and baskets are the name of the game for keeping your workout space safe and tidy. You can use a shoe shelf for sneakers and weights, hooks for towels and ropes, and woven baskets or laundry bins for gym mats and yoga balls.
Mirrors: Watching your reflection in a large wall-mounted mirror (or several smaller ones) is helpful for checking your form and seeing progress in your workouts.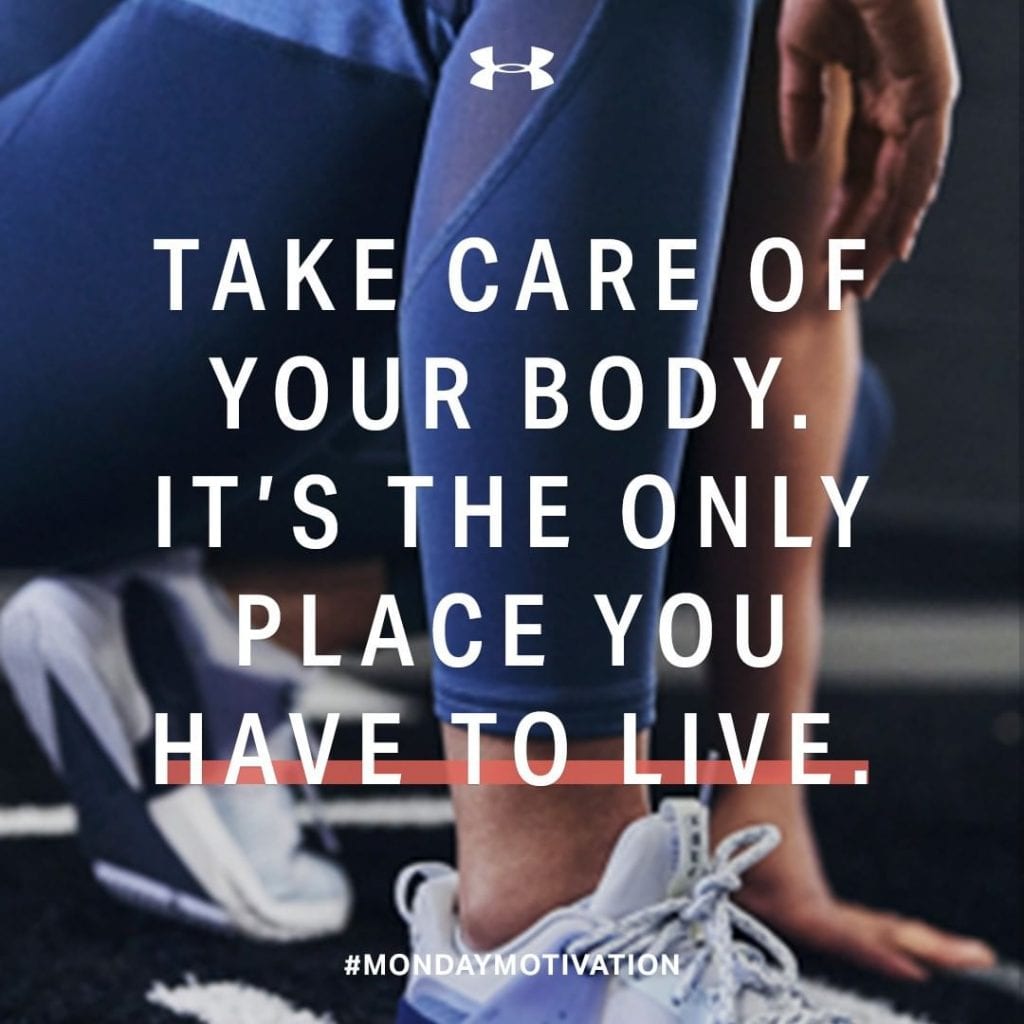 Motivational ideas for your home gym
Ok, so you've got the equipment, music, storage and mirrors, now for the big and little extras that will help you kick workouts into high gear:
Large-screen TV: Say sayonara to too-long infomercials, Law and Order reruns, or whatever else always seems to be playing on the television at your gym. Having a big monitor in a home gym is ideal for watching workout videos or catching up on the shows you're watching — while strengthening your muscles and giving your immune system a boost, too.
Posters and pictures: Whether it's stenciling a quote that resonates on the wall, hanging up beautiful photos from a favorite vacation, or an accent wall painted in a color that energizes you, adorn the space with visuals you'll love to look at each day.
Chalkboard or white board: Writing a weekly schedule on a large surface is a great way to keep track of your routine. You can buy chalkboard paint or white board contact paper to quickly transform a wall into a giant inspiration board or calendar.
Mini-fridge: Stocking a small fridge with a favorite cool-down snack or beverage — from kombucha to a protein bar that actually tastes good — is a fun incentive for slipping on your sneakers and going into your studio (and one a typical gym can't afford to do).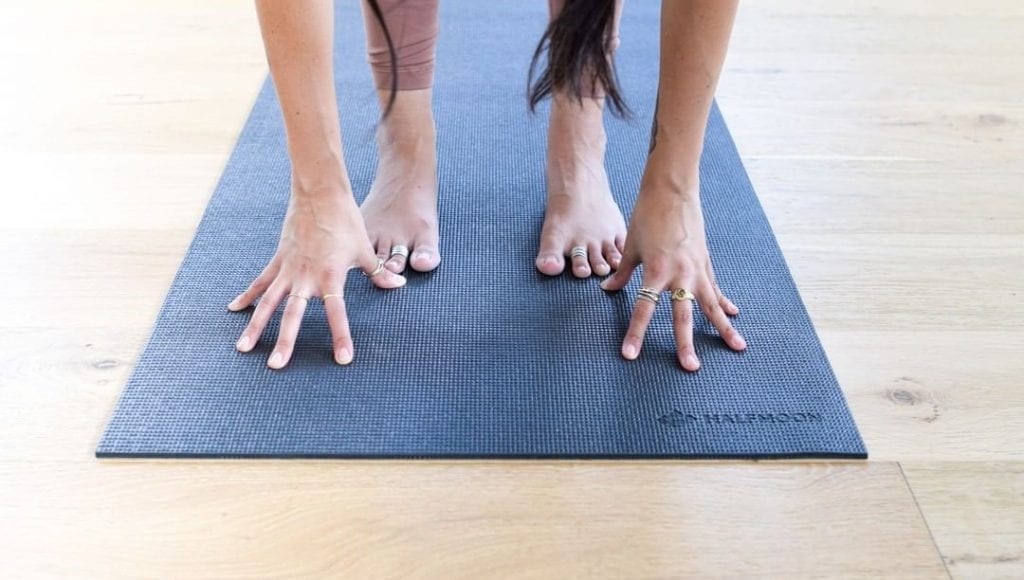 5 quick DIY home gym ideas for during the coronavirus pandemic
Okay, this is all great, but how can you start working out right now? Good news is there are myriad creative ways to get your blood pumping straight away. These tips may be useful to those looking for short-term workout solutions while social distancing during the pandemic, and they're also good hacks for those living in rented apartments to create a small home gym of their own.
Yoga mats: Instead of installing rubber flooring, lay down a yoga mat or two to provide some cushion and traction. Grab one from Target or Amazon for about $15.
Floor mirrors: Sure, those giant wall-mounted mirrors are wonderful, but floor or over-the-door mirrors are a cheap and temporary alternative for keeping an eye on your form.
Jump rope: Get that cardio in by skipping with a jump rope, a small step stool that you can jump up and down from, or even a piece of masking tape on the floor that you can hop over side to side.
Canned goods: Though a rack of free weights or a medicine ball doesn't take up a ton of space, chances are you have items in your home already that you can use for some bicep curls, such as a couple cans of beans or other shelf-stable pantry items you've stocked up on.
Yoga ball: From cardio to core-strengthening exercises, a yoga ball is a cost-effective, multipurpose item to have on hand for a DIY home gym.
Your laptop and wifi may be your most important equipment
YouTube has hundreds of workout videos, many of which use just a yoga mat and your own body weight. Cue one up and set it to full-screen to follow along with the moves. Connecting the computer to a Bluetooth speaker is a quick way to amp up the volume for a little extra motivation.
Ready to get started? Find out how portable storage can be a fast and easy way to make room for your at-home gym, by visiting our PODS Remodeling page or calling (877) 350-7637. You can have a PODS storage container delivered to your driveway, where you have 24/7 access to your stuff, or have it taken to a secure Storage Center for safe keeping. The entire process involves no contact, as there's no need for you to be on hand for your container delivery or pick-up.
Looking for other healthy at-home ideas? Check out the PODS Blog to learn about how to feng shui your home, how to live more sustainably, and why you'll love having a vegetable garden.
---
Sofia Rivera is a Boston-based lifestyle editor and frequent contributor to the PODS Blog. Her work has appeared in Boston magazine, Apartment Therapy, and more. You can most often find her redecorating her apartment, trying out a new recipe, or trekking all over the city.
Get a Quote
Choose the service you need
Comments
Leave a Comment
Your email address will not be published. Required fields are marked *