Take advantage of our limited time offer. Enter promo code HOLIDAY25 to save up to 25%.
See offer details
.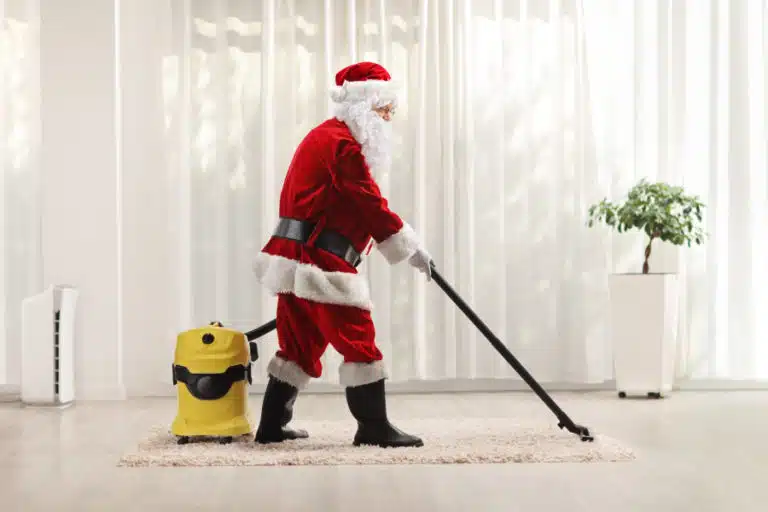 Here's Your Complete Guide to Holiday Cleaning
by
PODS
Posted on November 22, 2021
Don't let holiday cleaning turn into your own "Nightmare Before Christmas" this year! Sure, when it comes to preparing for the holidays and the new year, there are so many things to take care of that it can feel truly overwhelming. But the good news is that it doesn't have to be that way. Use these holiday cleaning tricks and tips to learn how to get — and stay — on top of things, so you can relax and enjoy the holidays with your family and friends.
First things first
As you probably know, the key to executing all kinds of big projects is having a plan. To be as productive and efficient as possible — you do have a deadline, after all — you'll need to make a checklist of everything that needs to get done and break it up into manageable chunks. If you can, we recommend you start well ahead of the holidays to avoid unnecessary overwhelm and the accompanying anxiety.
Q: How can I clean my house for the holidays?
A: All you need to tackle a big task like whole-house holiday cleaning is a foolproof system. How do professionals clean a house? With a checklist. How do you deep clean a house with a checklist? Start by classifying what needs to be done by scope and importance. Once you have that figured out, you should check your calendar and realistically assign days (or weeks) to the items on your list. The key is to avoid procrastination and stick to a schedule.
If you want a solid system you can easily implement, you've come to the right place, but before you can get started, do the following:
Don't wait until the last minute. Start early so you can create a plan of attack and execute it without rushing.
Assess the current state of your home. Look around and pay attention to the small things, too. Are there cosmetic issues — big and small — that need resolving and you can realistically afford to fix them before your holiday deadline?
Make a list of the things you want to get done before the holidays (taking into account money and time requirements). Don't be excessively ambitious.
Prioritize the tasks as needed. Things that require you to take entire rooms apart and take several days (or weeks) should go to the top of the list, so you can get started and get them out of the way ASAP.
Consider if you'll have visitors staying over. You will need to prepare your spare rooms or get creative in the absence of them.
Once you have an updated idea of the state of your house and a list of things you need to get done, it's showtime! You can officially transfer your prioritized checklist to a calendar, so you don't fall behind and everything stays under control.
When should you get started on what, you ask?
A few months before the holidays
Declutter, declutter, declutter
Do you really need all those mismatched pots and pans? Has your extra bedroom been more of a dumping ground than a guest room? It may surprise you how much extra time you spend picking up, moving, dusting, and cleaning items that you no longer use or need. Taking the time now to go through and declutter any excess belongings will actually save you time in the long run and make holiday cleaning a quicker and simpler process.
While you're decluttering, you can use a PODS portable container as dedicated space right in your driveway to stage and go through everything while you decide what stays and what goes. Have some larger pieces taking up precious space but you don't want to part with? (I'm looking at you, antique crib and old bunk beds.) No prob! Just load them into the container when you're done decluttering and have them stored securely at a local PODS Storage Center.
Big projects? Get started now!
We all have big projects we've been putting off, right? Well, if your holiday list includes any of those big projects, such as room or furniture paint jobs, window or carpet replacement, installation of new cabinets, or anything else of a similar scale (i.e., that requires lots of work), you definitely need to get started as early as possible.
It's ok to need some (expert) help
Some maintenance tasks are more annoying than they seem, so even if your carpet doesn't need replacing, check whether it needs a bit more TLC than basic everyday cleaning. If it does, this is a great time to call in the experts to schedule some carpet stain removal or overall carpet cleaning, since this could be a time-consuming endeavor and you're better off budgeting plenty of time for it.
Out with the old (and the expired)
When it comes to kitchen cleaning, this is a great time to empty your whole pantry and fridge, classify items, and get rid of anything old or expired. If you're feeling especially ambitious, check out this complete guide to kitchen organization.
Q: What should I clean before the holidays?
A: The last quarter of the year is a good time to deep clean your entire house, but especially those social areas where you'll be entertaining and spending most of your time from the moment Thanksgiving preparations start and until you say hello to the new year.
A month before the holidays
Time to get steamy!
Get ready to truly deep clean your kitchen, bathrooms, windows, and walls. Steam cleaning will become your best friend when it comes to getting rid of grease, grime, and all types of dirt stuck on walls, counters, and other surfaces. We recommend this method because you can get professional-level results (even if you're cleaning on your own) without unnecessary effort and with far less time invested. Just be sure to do your due diligence beforehand and make sure the surfaces you're tackling can handle the heat.
Get your hosting and cooking essentials ready
Check your linens, towels, aprons, pot holders, and assorted kitchen rags. Soak them, wash them, and replace them as needed. Remember, you'll need them in tip-top shape for all the cooking and hosting in the months ahead.
Spot clean and wash all the fabrics!
If your upholstery needs a little bit of help, this is the time for spot cleaning. It's also the time to get all those curtains and other window treatments in the washer. Note: Fabrics can be tricky. Make sure you're following the manufacturers' laundering instructions for anything you're cleaning.
Pro Cleaning Tricks and Tips
:
Some steam cleaners can be used on carpets and sofas, so check if yours offers that functionality and includes special accessories for fabric and other surfaces. This option could save you both time and money!
A week before the holidays
Keep dust and small messes under control
You've done so much already, this week should be smooth sailing! If you have children, it's time to get your cleaning supplies ready again and do some maintenance freshening up. Pick up toys, and do another round of bathroom cleaning and kitchen cleaning. It's also a great time to vacuum the entire place to keep the dust bunnies at bay.
Wipe down things after using them
Since you already deep cleaned recently, this whole process should be much simpler and quicker. Focus on wiping down appliances that are used often and keeping heavy traffic surfaces as spotless as possible. You should also start polishing silver items now (if you're fancy like that).
A day before the holidays
By now you're probably done with most of the hard work, so take it easy and don't drain yourself before your big celebration!
Add your personal (magic) touch
Take a quick inventory of everything you've accomplished (impressive, right?!) and focus on small details that could stand a tiny bit of maintenance, such as dusting off shelves and tables, fluffing pillows, making sure any heavily-used hardware and mirrors are as shiny as possible, etc. You could even try adding some extra-nice touches to set the mood, like candles or fresh flowers and fruit you can quickly pick up from the market (along with those last-minute purchases) before you get ready to celebrate.
Unclench that jaw!
Last but not least, remember a warm and lived-in house is better than a perfect house, so pat yourself on the back for all you accomplished over the past weeks (or months) and get ready to enjoy some downtime with your family and friends!
Happy Holidays!
---
Ivonne Spinoza is a freelance writer and a frequent contributor to the PODS blog. Her work has appeared in Matador Network, PBS' Independent Lens, and The Chicago Tribune, among others. When she's not snuggling her cats, she's either Kondo-ing someone's life or fighting jet lag at some airport.
Get a Quote
Choose the service you need
Comments
Leave a Comment
Your email address will not be published. Required fields are marked *