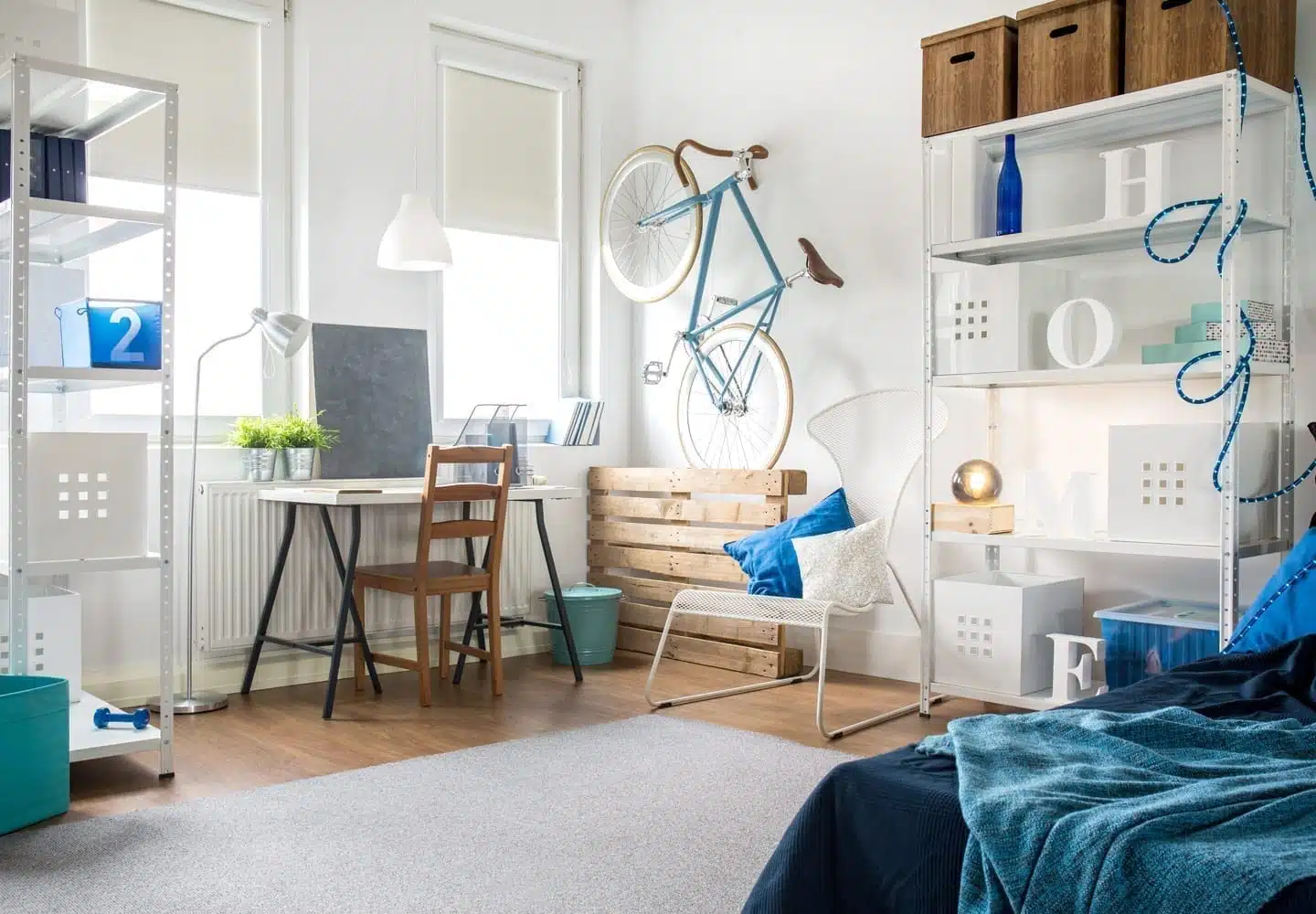 10 Tips For Decorating Small Spaces in 2023
Home decor. It's the secret sauce behind walking into a home that takes your breath away. It's the magic driving endless Pinterest boards and Instagram tags. It's an entire industry filled with nuance, trends, seasonality, and skill. But home decor for a one-bedroom or studio apartment? Decorating small spaces is notoriously difficult, often cramped, and hard to get just right.
We understand. You want to spice up your home decor game, but you just can't seem to get it right for your small apartment. You're starting to wonder if it's even possible to make your small space seem bigger. We're here to tell you it's tough, yes, but it's absolutely doable. You just need some advice, a bit of planning, and a lot of follow through. So sell your California-king bed, ditch that tiny mirror, and get ready — because these tips for decorating small spaces are about to change your entire outlook on just how much you can do with your "cozy" home.
1. Minimize and organize
An easy way to make a small space feel even smaller is to fill it to the brim with stuff. Before you start decorating a little home, you've got to declutter. Go through each room, each closet, each drawer and pull everything out. Look at each thing and decide if you need it, want it, or if it's time to let it go. It may be hard at first, but it's a super important step on the road to having a spacious and livable little home. Donate or sell whatever you decide to part with and then organize the rest so there's a place for each thing in your home.
Too much stuff for your small space? If after decluttering, you still have too much stuff for your little space, consider putting some of it away in storage. Seasonal items and too-big pieces of furniture (that you plan to use in the future) are just a couple examples of the things that can be stored. PODS will deliver a portable storage container right to your driveway (or parking lot), where you can pack and load at your own pace. When you're ready, PODS will pick it up and keep it in a Storage Center until you need it.
2. Make it tall and skinny
Tall and skinny doesn't just make for a good latte. When you approach the elements of your entire home with this mentality, your apartment will start to click. Long curtains and drapes add the illusion of space, as do tall bed frames. Skinny cabinets infuse a bit more breathing room into every space, and if you have the chance to do some remodeling, take a look at your windows. Tall (and in this case, large) windows go a long way to making an apartment or room feel bigger.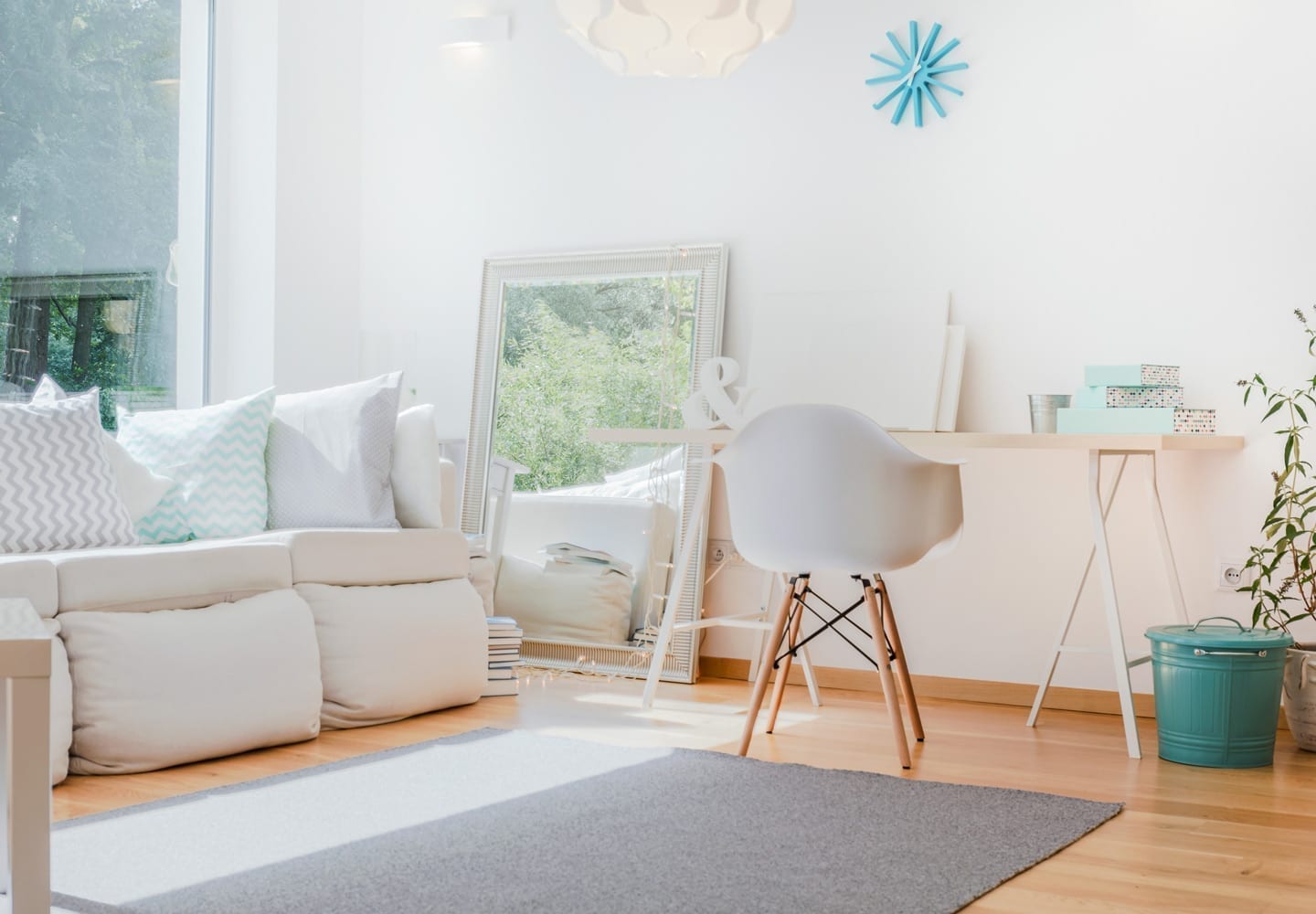 3. Learn to love large mirrors
As you may have read in our article on must-have furniture pieces for small spaces, mirrors are your best friend when it comes to making a space feel larger than it is. Get your hands on a long vanity mirror to lean against a wall, or even the more artistic circular mirror to work double-duty as an accent piece. If you really want to trick yourself (and your friends) into thinking your small space is anything but, check out this multi-pane mirror from Amazon. It's like adding another window to your living room!
4. Mount everything on the wall
One thing we recommend, if you're looking to make room in your apartment or your home, is to turn wall space into floor space. That means mounting everything you can on walls, as long as it still looks good. When decorating vertically, think lamps (whether mounted or inset), cabinets, storage spaces, floating chairs, desks, TVs — you name it. Just make sure you have the right screws and washers, and that your lease (if you have one) allows it.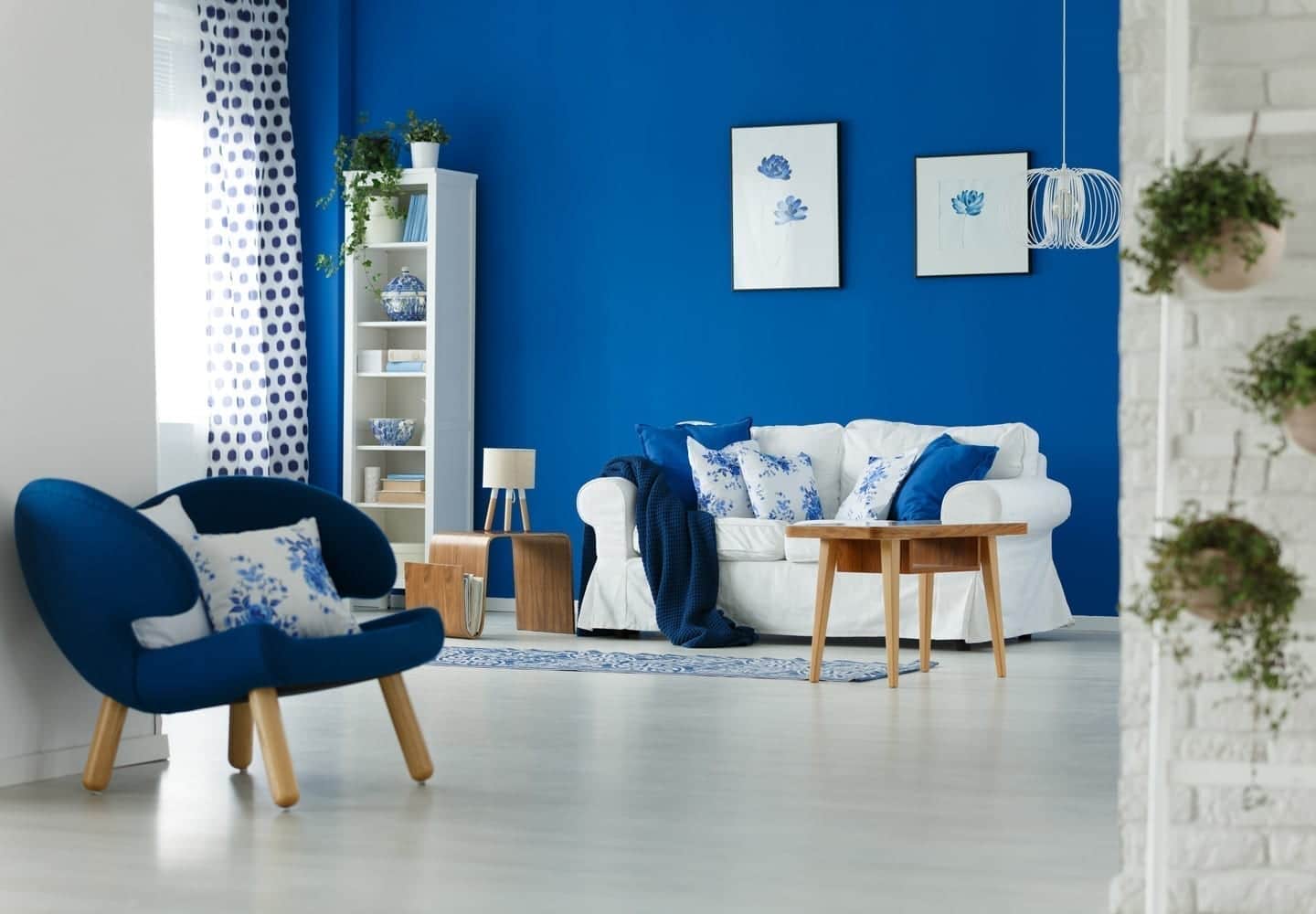 5. Use simple and focused color schemes
An age-old trick for opening up space in a cramped room is white painted walls. And while this certainly helps, that doesn't mean you have to avoid darker colors. We recommend picking a light color base if you want a very breathable area, or a dark color base if you're looking for that jewelry-box effect. You can meet in the middle by painting three walls in a light color and the fourth in a darker accent hue. As far as decor goes, focus on one or two complimentary colors and anchor them throughout the room or your entire home. When it comes to living small, simple is better.
6. Get clever with your furniture
"Convertible" doesn't just apply to cars. When you're decorating small spaces, the more uses one piece of furniture gets, the better. The possibilities are practically endless, but here are a few awesome pieces from Wayfair to get you started: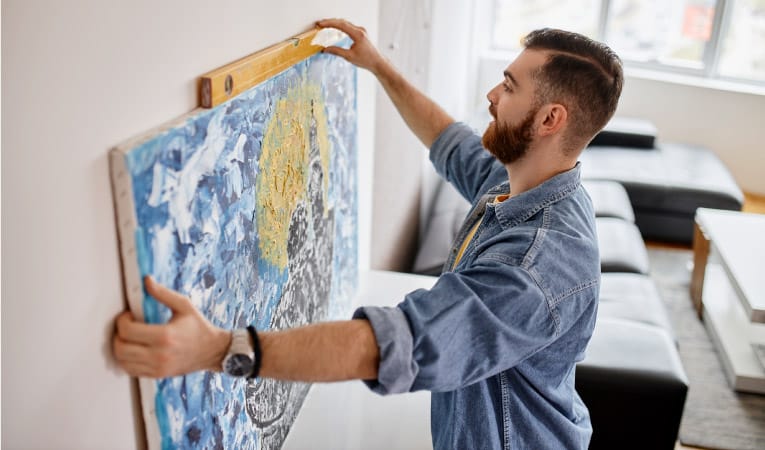 7. Bigger (art) is better
It may sound counterintuitive, but when it comes to wall art in a small space — bigger is definitely better. Ditch the dozens of small photos, band posters, or paintings, and replace them with a single, large piece of art. It'll act as a focal point for the room and actually make it feel larger than it is. And if you're not a fan of large art pieces, you can reframe smaller pictures and paintings with larger mats and thinner frames to make them appear bigger.
Working with a budget? It's understandable if you don't want to shell out big bucks for decor and furniture. When you're decorating small spaces on a budget, search second-hand first. Local thrift stores, Facebook marketplace, flea markets — these are all great resources for furniture and decor. It takes a little longer to find what you're looking for, but buying second-hand will definitely save you some moolah and it's better for the environment, too!
8. Keep your floor cleared and organized
Square footage is valuable real estate when you don't have much to work with. It's a lot easier to notice clutter in a small area, making it that much more important to keep your floor space neat and organized. Start by getting creative with your storage space and designating a "home" for everything — shoes, throw blankets, your bicycle, mail, etc. Develop a system to keep things organized and the floor clear of clutter. A great method is to have a decorative basket that you keep in a closet or the corner of your living room. At the end of each day, grab that basket and walk through your home, picking up all the little items that have accumulated throughout the day. If you have time, go ahead and put them where they go. If not, put the basket back in the closet and handle it when you have 15 minutes to spare. The daily walkaround is an easy five minutes of your day, and it's definitely worth it to make sure your walkways are, well, actually walkable.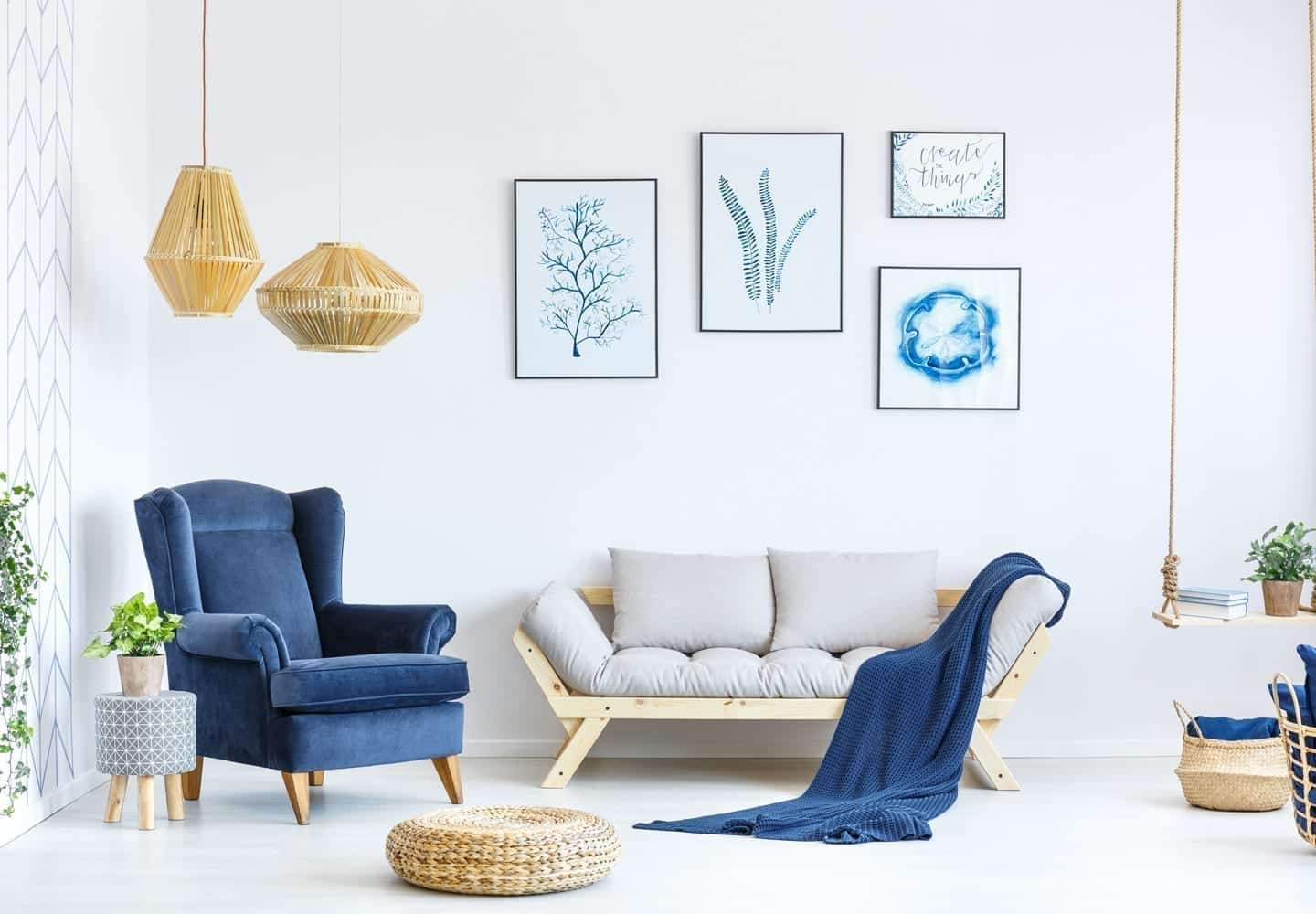 9. Make a room bigger with lighting
There's a reason why movie sets have entire teams dedicated to lighting. It can make or break a room! Though before you shine any lights, it helps to paint or wallpaper the ceiling to make the room look taller when you've got soft and hard lighting balancing with each other. Place vertical floor lamps in the corners of the room to draw your eyes across the whole area. You should consider wall lamps too, which free up valuable floor space and scatter more light. But it's not all about electric lighting. Pulling in plenty of natural light from your windows will help reduce the cramped feeling of the place as well.
10. Balance with feng shui
Our final tip is that you decorate your pad with the careful touch of feng shui. This is especially important in smaller spaces, because it's much easier to feel the contrast of ill-placed furniture and colors when everything is competing in close quarters. Approach your home decor with a sense of minimalism — understand that less is easier to balance than more. Find the centers of gravity in each room, depending on how you use it, and make sure any one area doesn't feel like it's overcompensating without the right counter-balancing element.
The beauty of home decor (and home remodeling) is that there are seemingly endless ways to bring your dream home to life. What tips did we miss? How did you make magic in your own small space? Tell us in the comments!
---
Heather Magness is a member of the PODS Blog creative team. When she's not formatting images and blog layouts, you can find her writing a song, watching a movie, or enjoying the great outdoors.
Get a Quote
Choose the service you need
Comments
Leave a Comment
Your email address will not be published. Required fields are marked *