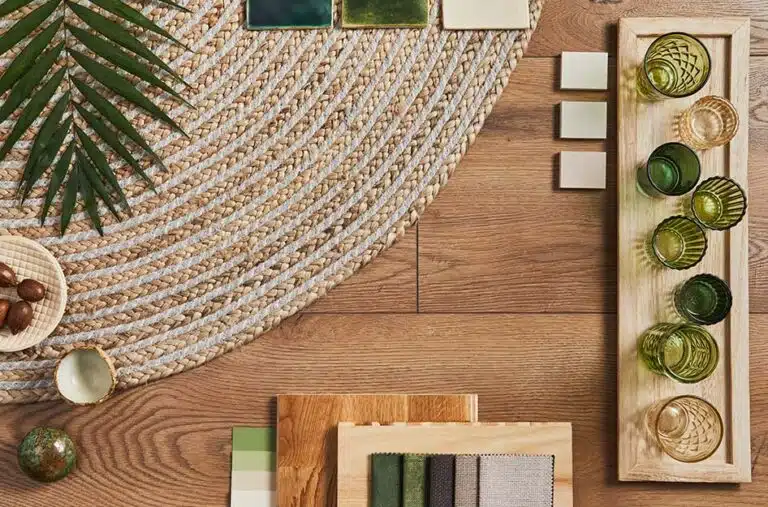 Home Design Trends 2022: What To Do and What Not To Do
What better time than the laidback days of summer to take on a home remodel? More time off, longer daylight hours to shop and tackle DIY projects, and free subcontractors — the kids! — at home to help. Sounds like a no-brainer! But the first step? Figure out the right look. And, not gonna lie, this step can be a bit of a hurdle without some up-to-date info on what's hot (and what's not).
Lucky for you, we've checked in with some experts to narrow down some of the most popular home design trends — 2022 style. From kitchen and bath to textures and colors, here's what's out, what's in, and how to decide what works for you.
First, what design trends are out for 2022?
As life begins to show signs of getting back to normal, home design trends are reflecting the move toward spending less time at home and more doing the things we used to do — like date nights, rather than every-single-hour-cozied-up-with-the-family nights.
Here are a few trends on their way out (and here's to hoping they take the pandemic with them!):
Modern Farmhouse
Cozy was good for 2020 and 2021. We needed comfort and a return to the warmth of a bygone era. But now it's time to say bye-bye. For starters, the look is literally everywhere — and saturation of anything is a signal it's a goner. Who wants to look like everybody else? In 2022, designers are ditching faux-distressed furniture, redoing kitchens to erase the all-white mode, and tossing boho chic throw pillows and wall hangings that are ubiquitous in the farmhouse trend.
Minimalism
While we're definitely moving away from the cozy-crowded vibe of the modern farmhouse, we're not embracing its polar opposite trend either: the stark, clean, cold lines and colors of minimalism, which has been a big deal for the uber-chic crowd in the past couple of years. Leave it in the rearview mirror (and relax a little!).
Open Floor Plans
This is another trend that grew exponentially in response to pandemic-era living, when everybody was home all the time doing everything together. Today, people are ready for some privacy and back-to-normal spaces designated for their specific purpose. The kitchen is for cooking and occasional family chats, not for serving triple-duty as food prep, home office, and classroom, amiright? We need our space.
Q: Is gray still popular in 2022?
A: In a word, no. Who wants drab and boring anymore? Certainly not designers tracking home decor color trends for 2022. Anything dull is passé — throw it out. Go for bright, radiant, and strong. Natural textures and tones pair beautifully with white kitchen cabinets or a sunny backsplash. And green is definitely in. Combine different shades from mossy to crystal-clear sage in pillows or linens. You can't go wrong with green this year.
How can I decorate my home in 2022?
We've gone through the biggest on-the-outs trends, so what's on the "in" list? Here are our three favorites for 2022:
Au Natural
During the stresses of the past couple of years, the beauty of the outdoors has been a salve of sorts — hiking, bicycling, swimming, and all manner of communing with nature helped maintain health and wellness when the gym was closed and entertainment options were slim to none. And now, 2022 home trends and design are replicating the textures, colors, and even scents of the outdoors in indoor living spaces. Let's break down a few ideas:
Kitchen: In kitchen trends, 2022 is bringing stoneware, travertine, and terracotta back as popular choices for flooring. The natural materials create warmth and a rich, earthy style in the heart of the home.
Bath: For bathroom flooring trends, 2022 is all about marble and other organic materials — offset by sparkling faucets and fixtures. Do the unexpected: Pair a bright framed poster or piece of art against a soft white bathroom wall, add a fragrant bouquet of flowers to a marble countertop, and make the bath your very own spa.
Bedroom: This is where bringing the outdoors in can obviously be the most relaxing and soothing — and easy to do. Go with earth-tone linens and a faded vintage throw rug for a warm, cozy vibe. Plants are another low-maintenance way to be on-trend this year in your room. Bonus: A lot of plants help to purify the air! Not a bad tradeoff for providing a little sun and water every once in a while, huh?
Modern Artisan
One of the top elements found in 2022 design home trends? Modern artisan signature pieces. Decorators are looking for individuality and one-of-a-kind style — and it doesn't have to break the bank. Flea markets and craft fairs, now gearing up for the summer season, are a great place to find surprisingly inexpensive handmade goods. Not to mention it's always worthwhile to support local craftspeople.

This style takes elements of others — natural materials and nature-inspired looks — to create its own distinct vibe. Wicker furniture, for example, has now moved indoors, along with rattan and elements of stone, like a handmade vase or planter. Try a hand painted ceramic bowl in a soft, mossy green on the coffee table and a tall leafy plant in the corner — real or faux (we won't tell) — to get your look started.
Bold and Beautiful
Just because natural materials are all the rage doesn't mean you can't be colorful. Bold primary colors are big in home design trends for 2022. An accent wall in the living room in a deep green (have we mentioned green is good?) adds depth and accentuates highlights in your throw pillows or a plush area rug.
Even ceilings are getting the color treatment. Imagine waking up to a soothing blue sky overhead every morning without even getting out of bed. Go for bold colors in accessories, too. Sometimes just a few accent pieces, strategically placed, can make you feel like you've had a full home design makeover. Oversized vases on the TV cabinet, for instance, or an abstract piece of artwork at eye level will do the trick.
Q: How do I determine what design style to use?
A: Spend just a few minutes on Pinterest, and you can quickly become overwhelmed by all the different style choices. But you know what? It all comes down to what makes you happy. Can't stand the color green? Don't include it in your decor. Think it's super silly to bring wicker furniture inside the house? Keep it outside. Even though something is a trend now, that doesn't mean it will be trendy in a few years. Your best bet? Only implement design choices that make you feel excited to walk into a room!
How do I handle large renovation projects?
We're big fans of going big. Want to close in all those open-concept spaces? Redo your flooring throughout the house? You go for it! But if you go this route, make sure you get the right permits and permissions from your city or town (if you're moving walls or plumbing pipes, for example). For more extensive projects, it's always wise to consult a professional who understands safety considerations and other requirements, as well. And never ever do electrical work on your own unless it's your vocation.
If you go the contractor/designer route, you'll also want to do your due diligence: 
Check online references: Or better yet, get a recommendation from a friend or family member.
Get everything in writing: Better safe than sorry. Even with the most trustworthy-seeming professional, misunderstandings can arise. Save yourself the hassle and get it on paper. And don't assume that working with a friend means challenges won't come up. Not only can there be snafus, but those snafus have the potential to damage even the closest friendships. We repeat: Get it in writing to avoid misunderstandings.
Share the wealth: If you're happy with the results after the work is done, pay it forward and refer your designer, contractor, or other professional to your own friends and family.
And our best advice? If your redesign plan involves some shuffling around, consider having a PODS portable storage container delivered right to your driveway. Use it to safely store furniture, boxes, and anything else you need out of the way during this fun (but big) project. That way, you'll have plenty of breathing room while you work on your masterpiece, lowering your stress level and cutting down on all those bruises from bumping into things! Once you're ready, simply move everything back into your home and PODS will pick up the container. Easy as that!
Got the remodeling bug now? Check out the PODS Blog for ideas to refresh your living room, redo your kitchen cabinets, and redesign your bedroom.
---
Shannon Jacobs is a Tampa-based freelance writer and frequent contributor to the PODS Blog. She has lived in Atlanta, the Berkshires, and Nashville, but always returns to the warmth of Florida's Gulf Coast.
Get a Quote
Choose the service you need
Comments
Leave a Comment
Your email address will not be published. Required fields are marked *