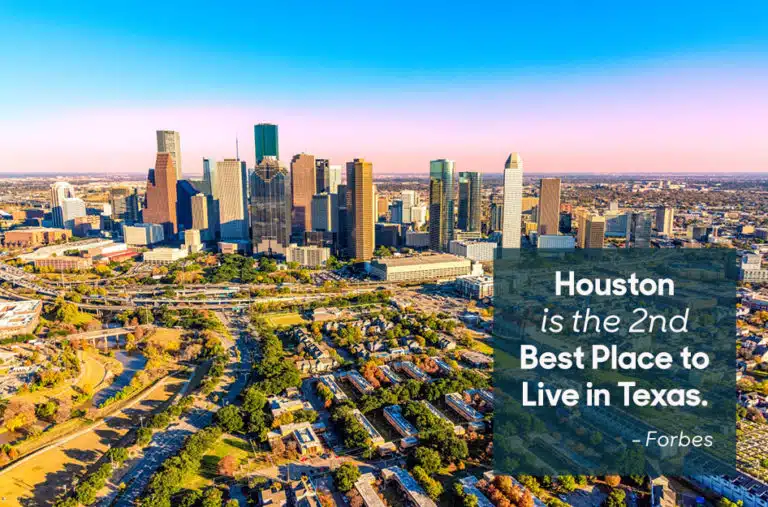 Wondering Where the Best Houston Suburbs and Neighborhoods Are for 2023? Start Here.
Looking to move to a diverse, innovative, and culturally rich metropolis full of sunshine, pro sports, and excellent food? Surprise! Moving to Houston can check all of these boxes — and then some! Ranked as the second best place to live in Texas by Forbes, Houston (and Houston suburbs) are big on big-city amenities. Sure, H-Town may be known as Space City (NASA and the Johnson Space Center are there, after all), but there is so much more to Houston than a tagline from a Tom Hanks movie.
First things first: Houston is huge. Spanning over 600 square miles and with an estimated 2.28 million residents, Houston is one of the top 10 largest cities by area and the fourth most populated city in the country. This beautiful behemoth is teeming with excellent museums, devoted baseball fans, cutting-edge scientific and medical innovation, arts, history, and a wealth of fantastic restaurants and nightlife. Plus, Houston's large immigrant numbers keep it impressively diverse and culturally rounded.
So whether you've already made up your mind about moving to Houston or you're still trying on a few other cities for size — or, heck, you're already a Houston resident, and you're just looking for your next favorite neighborhood — let this guide to Houston suburbs and neighborhoods give you a glimpse of what the city has to offer. There's a lot of area to cover, so let's just dive right in.
Top 8 Houston Neighborhoods
No matter what you're looking for — a sleek downtown high-rise apartment, artsy loft, starter home, or a family-friendly space with a big yard and room to grow — you can find it in one of the many Houston suburbs and neighborhoods. With well over 50 to choose from, we've narrowed it down to 13 of the best places to live in Houston.
For each area, we'll take into account the schools, commute times, things to do, housing costs, and overall vibe of the area, so you can compare them all and find exactly what you're looking for.
Did You Know?
Houston was founded in the 1830s — before neighborhoods were a thing — and the founders divided the city up into four quadrants (and later six) called "wards." Today, the city is teeming with neighborhoods, though the different areas of Houston are still referred to as wards. Neighborhoods are also referred to as being inside or outside of the "inner loop," which is just a way of denoting whether they're inside or outside of the I-610 loop that encircles Houston's Central Business District.
1. Downtown Houston
As expected, there's plenty to do here in the heart of Houston — this is where you'll find the famous Minute Maid Park, concert venues, conference centers, great bars and restaurants, the city's theater district, and decent public parks with events. Within this 1.173-acre space, you'll find ten distinct districts (or neighborhoods). These downtown districts are extremely walkable (if you can handle the heat), and it's a great pick for young professionals or people who want to be close to work.
Families with school-age children should keep in mind that public schools in Downtown Houston aren't the best in the area, but they're still above average.
Condos, townhouses, and single-family homes are the norm here, though condos are probably most common. A recent Zillow search shows quite a pricing spectrum — on the low end, you can get a 1-bed/1-bath condo (906 sf) for $240K and, on the high end, you can purchase a 3-bed/4-bath condo (3,739 sf) for $1.3M.
2. Midtown
If you're picturing yourself somewhere trendy, a little bit weird, and very lively, Houston's Midtown neighborhood, adjacent to the downtown area, might be your spot. There, you'll find mostly young professionals in their mid-20s to 40s and a vibrant vibe. The bars, museums, shops, and restaurants are highly walkable, and there are three METRORail stations. Midtown's convenient location — close to both Downtown Houston and Texas Medical Center — is also a big draw for its residents. Niche lists Midtown as one of the 10 best neighborhoods in Houston to live and gives the public schools an overall B+ rating.
The popularity of Midtown is growing, but (for now) it remains one of the more affordable areas in the Inside Loop. Here, you'll find single-family homes, condos, and a whole lot of townhouses. According to a recent Zillow search, a 697-sf condo (1-bed/1-bath) is going for $175K, but the price jumps to closer to $235K for a 2-bed/2-bath (1,574 sf). When it comes to townhouses and detached homes, prices start around $330K for a 2-bed/2-bath (1,771 sf) and gradually increase to over $1M for a (much) larger home.
3. Memorial
Looking for your happy place that straddles the border between the suburbs and city life? There's a reason Memorial is rated one of the best neighborhoods in Houston to raise a family. Well, actually, there are a few reasons. There, you'll find a mix of big traditional and contemporary single-family or attached homes on spacious lots, surrounded by forest areas and some of the city's best parks and green spaces. Families, in particular, love having access to two of Houston's top Grade-A school districts, Spring Branch and Katy. The area also has a worthy collection of cafes, restaurants, and nightlife options — not to mention a country club and golf course — all within a 20-minute drive from Downtown Houston.
While there are definitely condos in this area, you'll mostly find detached homes and townhouses. Listing prices for all home types range roughly from $130K up into the millions, so whatever your budget, you'll have a pretty good chance finding something in this area. Niche lists Memorial as a top neighborhood to live in Houston and as the second-best neighborhood for families in Houston.
4. Kingwood
Kingwood is located about 25 miles from Downtown, though technically it's still considered a Houston neighborhood (remember, Houston is HUGE). Formed in the 1970s as a master-planned community, "The Livable Forest" (as it's affectionately called) is located on the shores of Lake Houston and has 25 residential villages with an array of amenities. Here, you'll find about 100 miles of greenbelts connecting various sections of the community with schools, parks, and shopping districts. There are hiking and biking trails through pines, magnolias, and a variety of other shade trees
The majority of homes are detached single-family, but there are some condos in the area. Listing prices range from about $200K to 1.25M and up. And while 80 percent of Kingwood residents own their homes, there are still plenty of apartments available for renters. The best part? Kingwood is rated as Niche's top neighborhood to raise a family.
5. Greater Heights
The Greater Heights Super Neighborhood (yes, that's what it's called) is made up of 14 subdivisions and centered on Houston Heights, the largest neighborhood in the area.
For the love of historic homes, we've decided to focus our attention on Houston Heights (aka "The Heights"). The Heights is Houston's first master-planned community and one of the only Houston neighborhoods that boasts beautiful historic homes and bungalows, ranging from Craftsman and Queen Anne to Victorian and other turn-of-the-century architecture styles. The vintage vibe of this neighborhood, combined with its cute walkable streets and growing local businesses and shops, gives Houston Heights a classic neighborhood feel. Plus, it's just a 10-minute drive or 30-minute direct bus to Downtown Houston. Charm and accessibility? Sign us up!
Okay, so there is one potential con to living in this landmark historic neighborhood: If you're buying, you'll be beholden to follow the city's (and likely HOA's) strict preservation rules when it comes to any work done on your home. It's probably also worth noting that Niche gave an overall B rating to the public schools in Greater Heights (on par with the Houston average), though there are several A-rated schools in the area.
Looking at Greater Heights overall, houses reign supreme, but you'll find all sorts of homes in this Super Neighborhood. Listing prices start around $200K for condos and $300K for houses. And if you're looking for something bigger, you're in luck — there are several larger homes in Greater Heights listed for a million or more. Rentals are less common, but still an option.
Q: What is the best place to live near Houston, Texas?
A: Cinco Ranch is considered the best suburb to live in Houston (and all of Texas), according to Niche.com.
6. Neartown - Montrose
Neartown-Montrose is probably best described as Houston's Austin. It's Boho, artsy, creative, eclectic, and full of spirit. In 2018, it was named one of America's Hippest Neighborhoods, and in 2023 Niche rated it the second-best neighborhood to live in and the third-best neighborhood for young professionals in Houston. This is where you go for great vintage shopping, cool bars, quirky restaurants, live music, galleries on galleries, and some pretty dang cool-looking 1920s mansions — plus, it's adjacent to the Museum District, which is packed with over 50 different cultural institutions, museums, and more. Neartown-Montrose is also Houston's LGBTQIA community epicenter and has a high concentration of gay bars.
In addition to 1920s mansions, Montrose also has eclectic townhomes, slick condos, and traditional single-family homes. Homes here have a wide range of prices, from as low as $200K up to the multi-millions; however, the average value is about $573,000. Schools here have an overall B+ rating, which is a little better than the city as a whole. Still, this area is home to many A-rated schools, including several of the top public schools in the state.
7. Medical Center Area
Houston's Medical Center Area is a neighborhood that, no surprise, is home to a bulk of the city's medical facilities — including 47 institutions, education buildings, and the world's largest concentration of scientists, physicians, and researchers. Over 72,000 medical professionals are employed within these facilities, making this surrounding area a convenient commute. This area was named the best Houston neighborhood to live in by Niche.
At the north end, you'll find the 445-acre Hermann Park, which has an amphitheater, Houston's zoo, and a small natural history museum. Because many of the shops and restaurants in the area have been replaced by medical center facilities and high-rise condos and hotels for families of patients, this neighborhood is better suited for young professionals rather than families. However, the public schools here are above the city average with a B+ rating.
Fully-loaded luxury condos run between $325,000 and $600,000, and multiple-bedroom homes range from $600,000 to $1.6M. Apartments are expensive, but you'll usually get modern features and fixtures throughout.
8. Washington Ave Coalition-Memorial Park
This lively neighborhood has an urban feel and sits just west of Houston's city center, bordered to the top by the 10 freeway and to the west by Memorial Park and the 610. The area has seen a revival as disused and crumbling buildings have been developed into sparkling new luxury apartments, hip boutiques, and some of the city's most popular up-and-coming bars, restaurants, and venues. All this draws in a high number of active professionals who get their fix of cool places to hang, an urban vibe, and a close proximity to Houston's largest greenspace.
Schools in Washington Ave Coalition-Memorial Park have earned an overall B+ rating from Niche, though few families are here. Most residents are young professionals between 25 and 44 years old. If you're looking to buy, options start at around half a million. The majority of people here rent, however, and rent for a 1-bedroom is on the higher end of the spectrum, averaging about $1,975 per month.
The 5 Best Houston Suburbs
1. Cinco Ranch
About 30 miles west of Downtown Houston, you'll find Cinco Ranch. This master-planned community (MPC) opened in 1991 and now includes more than 15,000 homes. Residents enjoy access to 63 pocket parks, 20 on-site schools, 17 tennis courts, a 6,000 sf clubhouse, The Beach Club, and the LaCenterra shopping district (to name a few of the amenities). Not only was Cinco Ranch rated the best suburb in Houston, but Niche also tapped it as the best place to live in all of Texas.
Homes here are big, beautiful, and often made of brick. There are no condos or townhouses to speak of in Cinco Ranch, only single-family, detached homes. Most of them have 4-5 bedrooms and go for between $375K and $750K (according to a recent Zillow search). The majority of residents own their homes, but 26 percent still rent. And most apartments in the area go for between $1,300 and $1,900 a month.
(Source: @visitthewoodlands via Instagram)
2. The Woodlands
Not a misnomer, The Woodlands is a 28,000-acre forested suburb located 40 minutes north of Downtown Houston. This popular suburb is essentially just one large planned community full of luxury houses and excellent amenities like kayaking, hiking, swan boat rides on the lake, and an outdoor amphitheater. This affluent community speaks mostly to nature lovers, outdoor enthusiasts, and those pursuing an active lifestyle, but education is also a top priority. The schools are highly rated and some of the best in Houston and in Texas and carry an A+ rating from Niche.
On top of all of that, The Woodlands tops several best-of lists on Niche, including coming in as the #1 city to buy a home in the country, the second-best city to raise a family in the U.S., and the third-best city to live in America. Pretty impressive, eh? However, all this bliss doesn't come cheap. The median home price, which comes in at around $530K, is one of the highest you'll find in Houston's suburbs. Houses here are huge, with multiple bedrooms and massive lots that often tip the scales at over 10,000 square feet. While you can find smaller condos for as little as $175K, single-family homes start around $250K before climbing and climbing and climbing as high as $13M. However, renting can be much more affordable, with the majority of apartments renting for between $1,000 and $2,000 a month
Q: What areas of Houston are safe to live in?
A: Kingwood is the safest neighborhood in Houston and sports an A+ rating from Niche.com, while the suburbs of Shoreacres, Stagecoach, Woodbranch, and Bayou Vista earned an A rating for safety.
3. Sugar Land
Just 20 minutes from Downtown Houston, Sugar Land offers big-city amenities with a small-town vibe. This popular suburb offers plenty to do for residents and visitors alike, with a world-class baseball park, natural science museum, retail and boutique shopping, dining, nightlife, and world-class performing arts.
In Sugar Land, shady trees line neighborhoods filled with large houses and big yards. Niche awarded this suburb an A grade or better for its public schools, housing, diversity, and family-friendliness, which explains why it was fourth in Best Places to Live in the Houston Area (behind Cinco Ranch, The Woodlands, and Medical Center Area) and third for Best Houston Suburb.
The average home value is $433K, but you can find homes closer to $250K without too much effort. 81 percent of residents own their homes, but there are still plenty of apartments available in the area, as well, with one-bedroom apartments averaging around $1,675 a month.
4. Nassau Bay
If you're looking for a safe, quiet spot with a unique aquatic perk, you might want to consider Houston's Nassau Bay suburb. With just over 5,300 residents, Nassau Bay offers small-town life with an urban edge. It's also conveniently located just a 30-minute stone's throw from Houston and Galveston Island. Plus, you'll share the neighborhood with NASA and the Johnson Space Center. How cool is that? Surrounded by water on three sides, this is a great pick for folks looking to be near the waves.
Apartments here are affordable, starting at around $800/month for one bedroom and topping out around $2,200/month for three bedrooms. Many homes offer a mid-century look with several bedrooms and a big yard. Nassau Bay is also served by the Clear Creek Independent School District, with many schools rated A or better.
5. Katy
Highly rated public schools and town amenities (like the Katy Mills Mall, Katy Contemporary Arts Museum, and Typhoon Texas waterpark) have boosted Katy as an increasingly popular Houston suburb. Not to mention the fact that this suburb has plenty of parks and large homes on large lots. That being said, it may not come as a shock to learn that Katy attracts a lot of young families. An added bonus? It's a straight 30-minute shot on I-10 East to Houston, making Katy a top pick for professionals who work in the city but want a quieter life at home
You'll find big contemporary houses and new builds as well as a host of planned communities in Katy. The average home value is around $420K, but homes start at around $200K and continue up into the millions. Niche ranks Katy #3 in Best Suburbs to Buy a House in the Houston Area. Apartment buildings in Katy are modern, pet-friendly, and have other shared amenities like pools and fitness rooms. Rent starts at around $1,300/month for one bedroom and goes up to $6,000/month or more for three or more bedrooms. Large condos are also available for rent there.
Apartment buildings in Katy are modern, pet-friendly, and have other shared amenities like pools and fitness rooms. Rent starts at around $900/month (or just under) for one bedroom and goes up to $3,300/month or more for three or more bedrooms. Large condos are also available for rent there.
Relocating in or out of the Lone Star State? We're here to help with our big-picture guide to moving in Texas.
Houston Schools: They're Just As Plentiful As The Neighborhoods
Thankfully, this big city goes big on education, and you'll find over 600 schools throughout the area. Niche gave Houston an overall B grade for schools, but that shouldn't deter anyone from moving there, as several neighborhoods have great options. For example, five of the Houston area's public high schools and four of its private high schools rank among the top 10 in Texas, and over 100 schools have some kind of advanced learning curriculum available, like AP or International Baccalaureate. Schools in the Houston area also have a student-to-teacher ratio between 13:1 and 19:1, depending on the district. If schools are a top priority, just be sure to do your due diligence.
There's no denying it: Deciding which Houston suburbs or neighborhoods make your short list is tough — they're all such great communities. When you do make the decision, and you're ready to go big and call Houston home, we've got the 4-1-1 on what you need to know about living in Houston, so you can start acting like a local faster than you can say "Go, Houston Astros!" Need help with your pre-move moves? We have that covered, too. Let us help make the process better with our easy moving checklist and packing and moving hacks.
---
Alex Keight is a frequent contributor to the PODS Blog who has moved 20+ times because she loves to experience new places.
Get a Quote
Choose the service you need
Comments
Leave a Comment
Your email address will not be published. Required fields are marked *