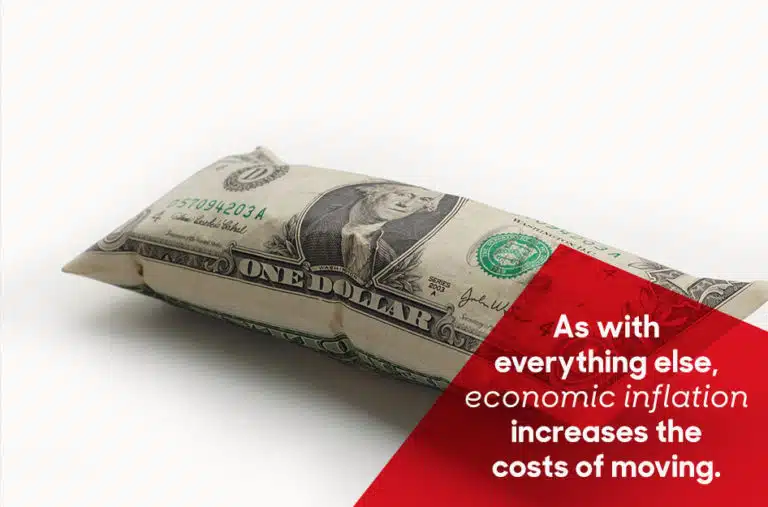 Watch Out! These 9 Inflation Trends Are Increasing Your Moving Costs
There's a good chance that over the last couple of years, you've caught a case of home-buying fever and considered moving into another house nearby — or maybe even across the country. If you're a homeowner, it's been especially tough to ignore the lucrative seller's market possibilities. And you know what? You're not alone. In fact, during the pandemic, millions of people have taken advantage of exceptionally low mortgage rates, remote work options, and home sales that have often closed thousands above asking price.
But if you haven't made that dream a reality yet, we hate to burst your bubble, but it's looking like you won't be getting quite the same deal now. Why? Because of inflation. Yep, inflation will be your unwanted companion during your home-buying journey, and there's no way to stop it.
Can you still get that new back patio oasis or decked-out home office you've been dreaming about? Absolutely! There are just a few things you'll need to be aware of first. Let's take a deeper look at how inflation is affecting the moving industry.
What is inflation?
By now, you've felt inflation's impact — it decreases the purchasing power of your money. Inflation means you're paying more for fewer goods and services than before. For example, if you've ordered the same pizza every Friday night for the last year but noticed the restaurant has increased its price and possibly reduced the size of the pie, you can blame that on inflation. The same is true for your trusty grocery list; you choose the same fruits and vegetables week after week, but the total cost is higher.
The "rate of inflation" measures how quickly those prices change and how it affects your bank account month to month. For reference, The Balance reports that "the unadjusted U.S. inflation rate increased 0.3% in April 2022, slightly dipping year-over-year inflation to 8.3%."
How inflation affects moving
Sure, your weekly bananas are one thing. But if you're planning to move soon, you probably have questions about the relationship between inflation and actual moving and housing costs.
What happens to home prices during inflation?
Unfortunately, if you're a home buyer, inflation increases home prices and affects your spending power. To meet your monthly mortgage budget, you may need to increase your down payment or search for homes in a lower price range.
Are moving costs increasing?
You've always known moving was expensive during the best of times, but during inflationary periods, moving costs definitely increase, and you'll spend more money preparing for the move. The worst part? The costs for hiring moving companies, buying packing supplies, and renting moving trucks aren't just increasing; they're also harder to find due to nationwide labor shortages in the manufacturing and relocation industries.
If you're sold on moving soon, you'll need to know what you're up against to plan your relocation strategy. Here are nine ways inflation is busting your moving and storage budget.
1. Increased demand for homes
It's likely you or someone close to you was the lead character in an unbelievable home-buying story over the last few months or years. Do any of these scenarios sound familiar? Stacks of offer letters, multiple all-cash offers, and lines out every open house door. They all sum up the buyers' pool of voracious appetites for real estate over the last two years.
The pandemic sped up and intensified the high demand for the existing low supply of housing that simmered well before 2020. However, the tiny bit of good news is that the market has slightly cooled in recent weeks, thanks to higher interest rates. But if you're on the hunt for a home, stay vigilant. You should still expect competition from other eager buyers who have yet to meet their bail-out point.
And inflation, coupled with an out of whack housing supply (housing bubble, anyone?), affects not only homebuyers, but it also squeezes renters. The rates for rental homes across the country are more expensive than ever and in short supply. It's now common for renters to encounter bidding wars for the most sought-after properties. Did you ever think that would happen?
2. Elevated home prices
The real estate market may have kept the economy afloat during the direst days of the pandemic, but it isn't resistant to the effects of inflation. Increased building material prices, the insatiable buyer's demand for housing, and local costs of living all factor together to elevate housing sales across all price points throughout the country. Take a look at how the average prices of home sales have jumped between 2019 and 2021.
2019: $383,900
2020: $391,900
2021: $453,700
As the peak moving season starts, depending on your location, you might see homes sit a little longer and have fewer offers to compete with because higher mortgage rates (5% and up) are pricing more buyers out of the market. But you won't find bargains or see major market corrections that reduce home prices back to pre-pandemic days.
3. Federal interest rate hikes
Economists widely accept that the Fed will increase interest rates by as much as 3% in 2022 to try and manage surging inflation, starting with a half of a percentage point. The last time the federal government increased interest rates at this frequency and extent? That was in the 1980s.
4. Higher mortgage rates
If you've considered buying a home recently, you've undoubtedly watched the mortgage rate increase substantially over the last several months. Although the current mortgage rates remain historically low, their upticks have started to influence buyers' decisions — either because they're priced out (especially first-time buyers) or because experienced buyers are putting on the home-buying brakes altogether. Thanks to higher mortgage rates, the housing demand has chilled, but it remains a seller's market for most real-estate markets.
Now, and likely in the foreseeable future, when you're shopping for a mortgage, you'll probably need proof of a higher income to afford a home and possibly a larger down payment to counteract the interest-rate increases.
5. Soaring home-improvement costs
Although it's a little easier to find the 2x4s you need to update your back deck, lumber prices remain high, and home-improvement supplies and tool inventory remain low. Inflation touches all consumer goods, including the raw materials needed to create the finished home-improvement products. You're probably tired of hearing about the ground-to-a-halt "supply chain," but it's still a significant inflation factor. If manufacturers don't have sufficient labor or the parts, fewer finished goods hit your local home-improvement store, driving up the price of what does make it to the shelves.
6. Gas price increases
GasBuddy released their fuel outlook for 2022, noting that most of the year, gas averages would remain over $4.00. Of course, inflation is partially to blame for increased gas prices (the projected average gas price is 32% higher this year compared to 2021), but the conflict in Ukraine and President Biden's ban on imported Russian crude oil and petroleum products have heavily contributed to the higher costs at the pump. The report included the peak moving season national gas averages. Take a look at what's ahead, according to GasBuddy:
June: $4.21
July: $4.18
August: $4.23
Pro Tip: If you're planning a move soon, you might automatically think driving your belongings yourself will cut costs, but with the current gas prices, reserving a PODS container could actually save you more money in the long run. Plus, you'll save yourself a little sanity during the process, knowing professionals are carefully delivering your items to your new home.
7. Moving supply shortages
Of all of the moving supplies, you'll have the most trouble finding and paying for moving truck rentals to pack and drive your belongings because of competition among DIY movers. They've taken their moves into their own hands because of the disruptions in professional full-service moving companies' availability, including shortages in truck drivers, packers, and movers.
You may also have to contend with a packing supply shortage, if you're considering moving during the peak season. Store shelves are low on boxes, bubble cushioning, and packing paper due to a lack of raw materials.
8. Surging labor costs
It's hard to spend time online and not read about The Great Resignation and its aftermath; it's a powerful trend that's still unfolding. Work from home options and workers' quality of life priorities shifted and changed the U.S. labor market overall. From construction to the real estate and relocation industries, every industry has felt the effects of the labor shortage and passed their cost increases onto their customers. It's now more costly to hire most types of labor — assuming you can even find companies with enough employees to help you when you need it.
9. In-demand storage costs
The pandemic has changed the way we live, including the need for more storage. Remote work requires a home workspace, and storage units are the answer for storing the furniture that didn't fit into the redesign plans. Similarly, those who need more space but can't afford to buy larger homes have taken advantage of portable storage to unload their extra stuff. And finally, the country's love affair with recreational vehicles and boats blossomed over the last two years, and now owners need somewhere to store their toys.
But you know those supply and demand issues we've been talking about? You can blame the shortage of storage space and increased rental prices on soaring demand, supply chain chokeholds, the labor shortage, and the increased costs of steel (up a whopping 200% in 2021 compared to prices before the pandemic) for the lack of new storage facility construction.
The silver lining
Buying and renting a home during a challenging inflationary period may seem daunting, but understand that, when you step back and look at the big picture, current interest rates are still historically low. They're not even close to the double digits of the 1980s. And you may even find the housing inventory slightly expanded in your area than it was earlier this year. Knowing how to account for increased costs will help you make the best decisions while creating your relocation budget.
Insider Tip: Before you start scrolling for your next home, check out the PODS Blog for tips and tricks straight from the pros to help make the most of your next move.
---
Dawn M. Smith writes about most home topics, including relocation, real estate, and home improvement. As a military spouse, she knows all too well the ups and downs of creating a new home after each move. From scouting the best neighborhoods and packing last-minute to choosing the perfect paint color, she gets it all done (usually in a hurry) with her family and Golden Retriever in tow. Dawn shares her lessons learned with the PODS Blog and other outlets like Angi, HomeAdvisor, and MilitaryByOwner.
Get a Quote
Choose the service you need
Comments
Leave a Comment
Your email address will not be published. Required fields are marked *