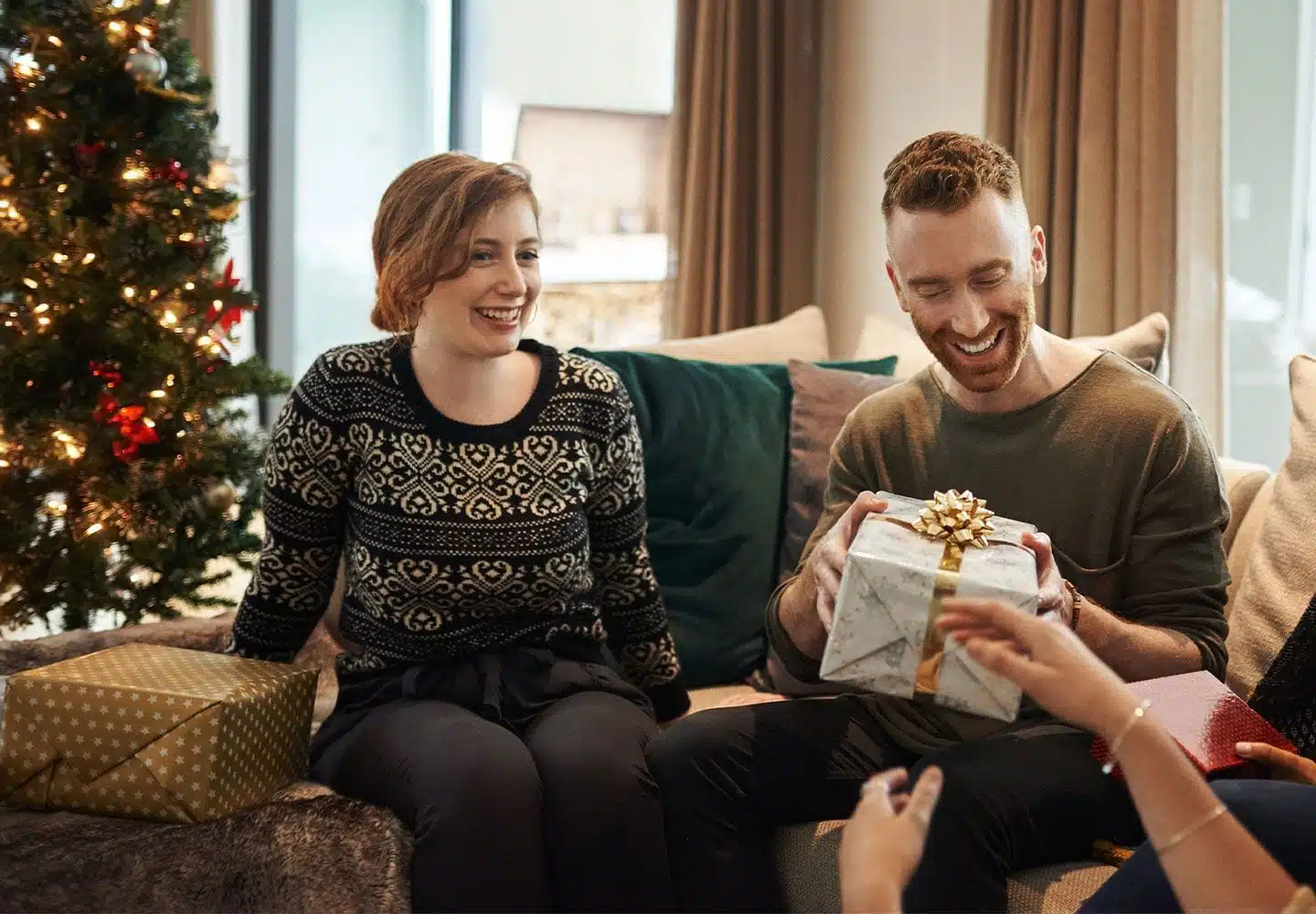 9 Last-Minute Christmas Gift Ideas That Won't End Up in Storage
First, let's get something straight. With the kind of year we've all had, it's totally understandable that you might be a little (ahem) behind on holiday shopping. No reason to pile on more stress. We've put together some last-minute Christmas gift ideas that you'll not only be able to get in time -- you can also be reasonably confident they won't end up in storage. And if your budget is tight, like so many these days, we've got some free or low-cost ideas on our list, too.
By definition, last-minute probably means you've missed most shipping deadlines to get any out-of-town gifts there in time for Christmas day. Even with Amazon 2-day shipping, you'll need to make your purchases by Dec. 22. But don't worry, we've still got at least one other solution for getting a gift delivered to your loved ones that live far away in time for the big day. Fortunately, for items that don't require shipping, there are plenty of stores that will make it safer and easier for you with curbside pickup -- or BOPUS (buy-online-pick-up-in-store).
You can also avoid the crowds and long lines at big box and chain stores by supporting local and independent retailers. Chances are better that you'll find something unique and special at one of these stores.
But we promised you ideas, and there's no time to waste. Here are nine last-minute gift ideas that won't end up in storage.
1. Sharing Photo Memories: How To Get It Done
Meaningful photos are always appreciated, but how do you get it done in a hurry? Just head to your local Walgreens or CVS. Both stores have a wide selection of same-day photo-related gifts. First, go online to Walgreens Same-Day Photo or CVS Same-Day Photo to check out their selection of wall art, frames, photo books, calendars, and even small jigsaw puzzles! Choose the photos you want to use from your phone or computer and follow the store instructions for uploading and ordering. Don't forget to check your Facebook page if you're looking for photos.
Some of our favorite gift ideas include the custom puzzle and collage posters at Walgreens. At 252 pieces, the puzzle measures 10 X 14 inches when completed, and comes inside a metal tin personalized with the same image on the top for $35. Sticking to a strict budget? The collage posters start at $10.99 for an 11 X 14 inch poster. Choose an inexpensive frame or one you already have.
2. Homemade Treats or Snacks
Gifts that can be consumed are the perfect choice if you want something that won't end up in storage. It's also a more sustainable option, instead of buying plastic gadgets and gizmos that people won't actually end up using. Plus, it's an affordable choice that means a lot because you took the time to make it. You can make a big batch of treats or snacks, then package them up in beautiful holiday tins or decorated paper bags. Here's a few classic holiday recipes for some ideas:
3. Wine, Craft Beer, or Spirits
For an easy gift to take to a party, it's hard to go wrong with wine, craft beer, or the recipient's favorite spirit. If you want something a bit more special for someone close to you, look for a rare vintage wine or a selection from their favorite local craft brewery or distillery. Rather than ending up in storage, these are last-minute gifts that are unlikely to stay on the counter for more than a few days, especially during the holiday season! Of course, always make sure the person you're giving it to drinks alcohol. But even if you unknowingly give a bottle to someone who doesn't drink wine, it's an easy item for them to regift to someone else or have on hand for a party.
4. Treat Basket
This is one of our fave last-minute gifts. Buy a basket or reuse one you have that's in good shape. Go to a local gourmet store, healthy foods grocery, or a HomeGoods or Ross with gourmet-for-less items, and fill 'er up! Tie some ribbon or stick a bow on the basket, and you've got a fun basket filled with yummy treats that are likely better than ready-made baskets that cost twice as much, or more.
5. Traditional Gift Card
Most people don't like giving a gift card or think it's the lazy way out, but lots of people love receiving one! It's all about what the gift card is for. Make sure it's something meaningful to the person you're giving it to. If you don't know the person well, opt for a popular place in town that most people enjoy. Here are a few gift card ideas to get you started:
Their favorite restaurant or the best one in town
Local spa or nail salon (who doesn't love to receive a free massage or manicure?)
Starbucks, a reliable standby for many
Home improvement or arts and crafts store for those who thrive on DIY projects
6. Charity Gift Card
For that special someone who says they absolutely don't want anything (especially no more stuff!), charity gift cards can be the perfect solution -- in addition to being the ultimate feel-good last-minute Christmas gift. These work like conventional gift cards, but with one meaningful exception: Your recipient "spends" the card by choosing which charity to support with the funds you donated.
For example, you can use TisBest Charity Gift Cards to make a donation on your loved one's behalf. They'll receive an eCard, which you can customize with a personal note, and you'll be notified when the donation is made, including the charity selected. One cool thing about TisBest is that in addition to enabling donations to 1.5 million charities in its database, they help with the selection process by offering their top vetted recommendations by categories such as Children and Youth, Civil Rights, Education, Environmental, Faith Based, and many more. Even more important: 100% of your donation goes to the charity.
7. Soft Throw Blanket
With cold weather in full swing for the next few months, everyone will appreciate a soft, ultra-cozy blanket to wrap up in. A person can never have too many blankets, especially if they happen to be a pet owner, as cats and dogs have a tendency to take possession of at least one. For last-minute gift shoppers, most stores have great deals on blankets and throws. Instead of falling for one of the cutesy holiday-themed blankets, look for one in a solid or neutral color, so the gift will be less likely to end up in storage for most of the year. Even in summer, a light throw is a welcome way to stay comfortable when a family member insists on keeping the air conditioning set for frigid.
8. Low-Maintenance Plant
If you're looking for another sustainable, last-minute Christmas gift option, a plant offers an easy solution. Visit your local plant shop to look for the right kind (and maybe come home with a few for yourself!). Or, if you happen to have a green thumb yourself, you may be able to dig up plants you've been propagating in your own yard or indoor succulent garden. Consider the person you're giving it to and the type of home they live in. Do they have lots of natural light, or is it an apartment or townhouse with limited direct sunlight? There's a plant for every scenario; you just need to make sure the one you choose will thrive. Succulents are a popular choice these days. They're low maintenance when it comes to water, but they do need the right amount of sunlight. Low-maintenance aloe, English ivy, snake plants, or air plants are great options. 
9. Holiday Bouquets and Flower Power
If you've got to get a last-minute Christmas gift to someone in another city or state, one of the best ways to beat the clock is to go with same-day flower delivery service -- available right up to Christmas eve, depending on the location. For example, for delivery by Christmas, FTD floral network says orders should be placed by 11 a.m. Dec. 24 in your loved one's time zone. These same-day deliveries are restricted to those designed and delivered by the local florist. For shipped flowers, plants, and gifts, orders should be placed by 2 p.m. Central Time on Dec. 23. While holiday-themed ideas include the Happiest Holiday Poinsettia and Dashing Through the Snow Bouquet, you may need to be flexible based on availability. But whatever you choose, flowers are a sure way to brighten someone's home on what may be an otherwise dreary winter day and let them know you're thinking of them!
With these fun and thoughtful ideas, you'll be able to check off your holiday list, and no one will be the wiser that this was a last-minute Christmas gift. Plus, you can feel confident that your friends and loved ones won't be shaking their heads and thinking of you (not in a good way) while they're decluttering after the holiday.
---
Liz Taylor is a freelance writer who keeps up with moving and storage trends while managing the PODS Blog.
Get a Quote
Choose the service you need
Comments
Leave a Comment
Your email address will not be published. Required fields are marked *