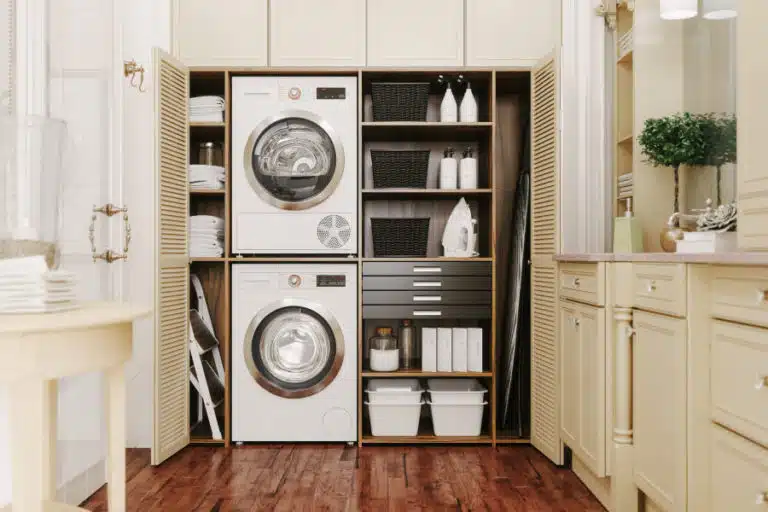 6 Laundry Room Storage Ideas To Maximize Space And Usability
The laundry room generally ranks just above the garage in terms of décor and design priorities. Why bother decking out the space where dirt goes to die?
We can think of several reasons. For starters, a laundry room designed for maximum maneuverability with a touch of flair can greatly improve the time you spend washing, drying, and folding. And with a little ingenuity, the updated space can be a strong selling point when you're ready to move — particularly if you're in a smaller house.
It may be a bit of a challenge to figure out how to turn a small, utilitarian space into an attractive yet still functional laundry room, with all necessary cleaning accoutrements within easy reach. But that's why we're here. Read on for some laundry room ideas and helpful hacks to make your space sparkle.
1. Make laundry room organization your #1 priority
How do you organize a small laundry room? As with any redo or makeover, your first step is to purge. Figure out what you need in the space and toss the rest. Half-a-dozen half-empty containers of detergent pods atop the washer? Consolidate. Dryer sheet boxes cluttering the corner shelf? Same. Solo socks and raggedy towels past their prime lingering in the basket? Gone.
Q: How do I add storage to my laundry room?
A: A laundry room organizer can be a lifesaver for people who buy in bulk or like to have a variety of detergent and stain-removing options on hand at all times. Think closet organization systems, but for laundry needs.
If your space is small, as in tiny house small, consider converting to a stackable washer and dryer. Most new models are easily adaptable from side-by-side to stackable — and your floor space will literally double. If there's a height-challenged launderer in your household, no worries: A small step-stool will do the trick.
Once your laundry room space is pristine, it's time to get organized. And when you're talking about small laundry room storage ideas, you likely need every square foot of space. Under-sink storage is one way to go — if you have a sink, of course. A couple suggestions:
Woven storage baskets: A great option for hiding unsightly bottles and boxes under your sink. Wicker baskets come in all shapes, so you can match your sink size without creating an underfoot hazard, and you can add fabric covers to complement a throw rug or curtain.
Lazy Susan: Add a little spice to your space with a 360-degree holder for your detergents and dryer sheets. Tuck it under the sink for camouflage. When you need a dash of fabric softener for the rinse cycle, just give it a spin.
2. Take advantage of walls
If you're lacking laundry room cabinets and aren't ready for that level of investment, you still have options for maximizing space. Pop some pegs into a wall for hanging delicates to dry. Adapt a small bookshelf as a mini-closet to hold your detergent and dryer sheets. And if you're feeling ambitious, mount a DIY shelf or two. It's a relatively simple project and gives you a spot to hold laundry supplies and any tchotchkes you might want to display.
Installing laundry room shelving does involve a degree of skill and strategy, however. First, make sure there aren't any electrical wires in the walls you've selected for mounting your shelves. Then consider the following:
Height: Mount your shelves at about eye level, so you can see everything clearly. You don't want to have to strain to reach products you're going to use frequently, right? So break out that tape measure and do some math.
Width: Measure the space where you want to mount the shelves, and make sure sharp corners aren't poking out where you might catch a sleeve — or worse, a shoulder — as you walk by. The shelves do need to be wide enough to hold detergent containers and other goods you need, though. Again, tape measure and math.
Sturdiness: The last thing you want is for your shelf to collapse under the weight of a container of detergent. To avoid such a mishap, follow the mounting directions carefully and make sure the shelves are appropriately sturdy. Before you start, determine whether you're installing your shelves in plaster or drywall and in a wall stud or in between studs. Then, proceed accordingly. Any questions? You might want to get some guidance from a professional before you fire up the drill.
Pro Tip: If you want to go full dorm-room-style DIY, gather up a few plastic milk crates at your local supermarket or discount home-goods store (clean them, of course). One by one, turn them sideways so the bottoms are against the wall, attach with sturdy fasteners, and voilà: cubby-hole shelves! (See above for the importance of sturdiness.)
3. Consider creating a counter
Need a convenient spot to fold your clean laundry so it doesn't pile up on your bed, get tossed to the floor, and migrate to the dirty clothes stack — and then back to the laundry room for another cycle through the wash? Fold it in the actual laundry room while it's still fresh from the dryer.
The tops of your side-by-side, front-loading washer and dryer can easily double as counter space, creating another attractive design touch that dresses up the room. Want to go a step further? You can find a countertop kit at your local home store or hire a woodworker to do the project. Or you could take the DIY approach and fashion a counter yourself from plywood. This involves a table saw and wood glue — not for the uninitiated — so proceed carefully and/or hire a professional.
4. Make a room for your laundry room
Lots of laundry rooms aren't really rooms. They're more like laundry areas. But when square footage is at a premium, creating a more defined space can make a big difference — both aesthetically and functionally. To foster the feel of a real room, here are a few hacks to try:
Sliding barn doors: These have been all the rage for a few years now, and for good reason. They're great space-savers — no need to account for a traditional door's wide berth — and they add a stylish, rustic-chic look and feel to your laundry room.
Garment rack: This can serve double-duty in your laundry room as a convenient place to hang up your clothes right away (bye, wrinkles) and to act as a dividing "wall" between the laundry facilities and adjacent living space. Drape a pretty tapestry over the rod and add multi-hued hangers for a pop of color. For added ingenuity, get one on wheels so you can gently slide it out of the way, a la barn door, for entry and exit.
5. Don't think you have to skimp on style
Just because it's a room dedicated to doing laundry doesn't mean your laundry room can't be cute. Some ideas for laundry room décor include:
Adding some flair to your laundry room: Maybe an inspirational quote on a glossy canvas, or your kid's latest masterpiece dolled up in a bright frame.
Adding a key holder: If your laundry room is attached to the garage, hang an oversized copper key ring inside the door that you can easily access when you walk in. It'll spruce up the room and (bonus!) you'll always know where to find your keys.
Finding a fun rug: Do away with the utilitarian floor mat and find a fun runner-style rug for the space in front of your washer and dryer.
Switching out your hamper: When it comes to your dirty clothes, avoid the grandma-style hamper that's definitely seen better days. How about a collapsible laundry basket? Pick one in a bright color, and when it's empty, fold it up flat. You can tuck it behind your washer or dryer or hang it from a wall peg until you're ready to use it again.
6. Go all in with a laundry room remodel
We get it. Sometimes a tiny laundry room just doesn't cut it — even with all the small-space storage hacks available. If you decide to take things to the next level and opt for a full laundry room remodel, consider using a portable storage container to make your project easier. PODS delivers the container right to your driveway so you can easily load it up with whatever might be in your way (looking at you, washer and dryer). Once your new space is ready, simply move everything back inside and PODS will pick up your empty container.
If reorganizing your laundry room puts you in the mood for renovations, check out the PODS blog. You'll find dozens of ideas for re-dos, from tips on fixing up your fixer-upper to award-winning remodels you'll want to make your own.
---
Shannon Jacobs is a Tampa-based freelance writer and frequent contributor to the PODS blog. She has lived in Atlanta, the Berkshires, and Nashville, but always returns to the warmth of Florida's Gulf Coast.
Get a Quote
Choose the service you need
Comments
Leave a Comment
Your email address will not be published. Required fields are marked *