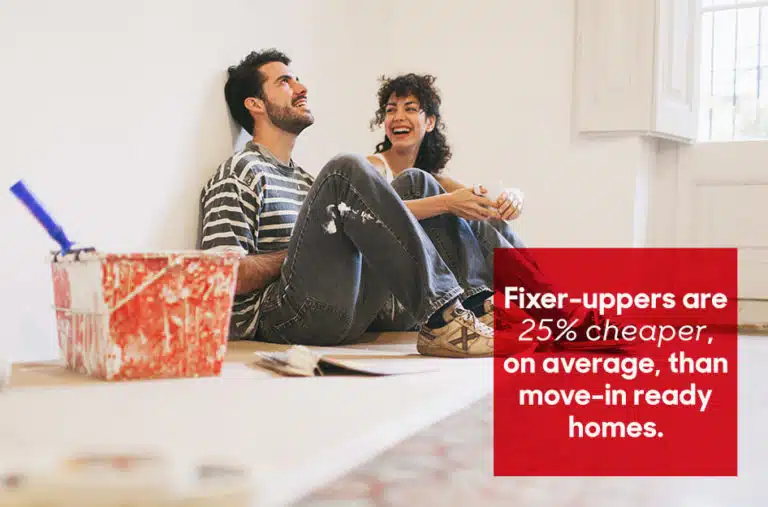 Living in Your New Fixer-Upper While You Remodel
Buying a fixer-upper home sounds like the perfect idea, right? Especially after watching those fun home renovation TV shows. Getting a home, shaping it just to your liking, saving thousands along the way, and maybe even flipping it for a profit… How glamorous! Owning one, however, can still get pretty pricey — no matter how much needs to be "fixed up." There's the down payment, closing costs, insurance, taxes. Oh, and of course, those renovation costs. And if the fixer-upper is in a good school district or a higher-priced area, in general — then fuhgettaboutit. You're still going to be shelling out a lot of money, so a "flip" may be out of reach for most of us.
But! Living in a fixer-upper may be the ticket to your dream home and big, big savings. So, this blog will focus on finding a fixer-upper home, buying it, and then living in it while you, erm, fix it up. By living in your own investment, you'll save thousands, and it could even help you qualify for a special loan (more on that later). Not to mention, you'll be able to supervise all the happenings up close, from the purchase and renovations, and maybe a sale down the road.
Here's our advice on making it all happen as smoothly and stress-free as possible.
Finding fixer-upper homes
Want to know how to find fixer-upper homes for sale? It's all about who you know and where you go:
Use a real estate agent
Search online listings
Hop in the car and DRIVE!
Reach out directly to owners
Search auction, foreclosure, and short-sale sites
Use a real estate agent.
A local agent, especially one who's experienced and knows the area well, can help you find fixer-upper houses for sale that would be worthwhile investments versus ones that may have too many structural or other major issues. Your agent may even have information, through professional connections, that isn't public yet — including fixer-upper homes for sale that haven't even been listed!
Search online listing sites.
Search real estate sites like ­Zillow and Realtor.com. You can use filters and narrow your search to homes that have had their sale prices reduced, have been on the market a long time, or have been foreclosed on. You can even search the sites with keywords such as "fixer-upper."
And check out MLS.com. MLS stands for Multiple Listing Service (not Major League Soccer), and it is a great resource for fixer-upper houses. This site lets you search for homes that are listed for under their market value (cha-ching!), and you can set up notifications so you don't miss any new listings in your area.
What is it called when you buy a house, fix it up and sell it — hopefully making bookoodles of moolah in the process? It's called flipping, or wholesale real estate investing. It's basically buying a house, bettering it, and then "flipping" it (selling it) at a profit. And that could certainly be a wise financial move if you can make it happen.
Hop in the car and DRIVE!
It's old school. It takes a long time. And it's the most work out of any of the solutions we have here. But it also gives you the chance to find the particular home you want. Fire up the ol' station wagon and drive around the neighborhoods you're most interested in. This part is not an exact science — look for the houses that appear the most beat-up. Keep a particular eye out for overgrown lawns, old paint, and maybe a window or two that could use replacing.
Reach out directly to owners.
Once you find houses that you deem worthy of the title fixer-upper, write down the address. If you're lucky, they'll already have a for-sale sign in front of them for you to grab information from. If not, don't fret. You can send a friendly letter or postcard through the mail to the address indicating that you're interested in the property. Do not leave a note on their doorstep. Be upfront and courteous if you go this route — include your own contact information and what you plan to do with the home. You don't want to give the impression of being a "shark."
Now, if it turns out that the property is unoccupied, you may have to dig a little to find the owner. The good news is that these sorts of things are kept in public records.
You can usually find information for a property owner (usually a name) by contacting your county assessor or property appraiser, or by looking up the address on their website. For example, if you're looking for a home in Tampa, Florida, you would Google "Hillsborough County Property Appraiser". Navigate to the search feature on the site and enter the address you wrote down. Hit search and you should get the owner's name. Then, see if you can find any other addresses that would be occupied and send a letter there.
Search auction, foreclosure, and short sale sites
Keep in mind these houses are sold "as-is," so make sure to have extra budgeting on hand for expensive surprises ahead.

Insider Tip: When looking for a fixer-upper, if you see one for sale that's the most unappealing on the block, don't ignore it. That may be "the one." It shouldn't cost as much to bring it up to par with its neighbors, and the outside cosmetic changes alone should reap big rewards in the end!
Ready, set, buy your fixer-upper!
It's undeniable that the real estate market nationwide has been booming. Some houses are selling for hundreds of thousands of dollars more than they did just two years ago! But those houses that need a little extra TLC? They're still 25% cheaper, on average, than move-in-ready houses on the market.
When you've found the perfect fixer-upper, do some homework before getting that offer in.
Know your budget: It's not just how much house you can afford. It's how much house and how much fixing up you can afford. Keep the following in mind while figuring out your budget:



How much are you going to fix it up? When you're looking at prospective homes, keep a list of the "must-fix" items and do a little research to see what those jobs typically run. This will give you an idea of how much it's gonna cost to get everything up to snuff. Factor these costs into your overall fixer-upper budget.

Are you going to be doing the work yourself? The way to get the most out of a fixer-upper is to do the fixing up yourself. This is nearly impossible for many, but if you know how to paint, change flooring, or install cabinets (or are willing to figure it out with the help of YouTube) you're going to find yourself with a much fatter wallet when all's said and done.

Are you going to use a contractor? For some projects, you may have no choice but to hire a pro, which can be very pricey. And with the ongoing shortage of employees, it might take longer than you think to find a contractor with time in their schedule. You can reduce the likelihood of delays by finding a good contractor ASAP, so you can get your project penciled in. Start by asking friends and neighbors for referrals, then request estimates from your top three choices. Add those estimated costs to your budget, but remember to always add a few thousand dollars as a buffer in case of delays, unforeseen expenses, etc.



Get that home inspection. This home is your investment and you work hard for your money. Trust no one but a certified professional to tell you exactly what may be faulty with your fixer-upper home. This is especially important for homes being sold "as-is." No matter how much HGTV you've watched, it's not a good idea to rely on your untrained eye to spot structural issues, in-wall leaks, or serious problems with the air conditioning and plumbing. Go with a pro.


Secure a home loan. This may be easier said than done. Financing the purchase of a home with "issues" is riskier for lenders, making these loans a bit harder to acquire. But here are a couple of options:


You could get a conventional mortgage (not insured or guaranteed by the Fed), but only for homes with minor defects (think cracked windows and interior walls, damaged driveway). The downside? You're still going to have to come up with the moolah to fix it up and, as time goes on, it can be hard keeping a large cash reserve for the renovations.

An alternative to a conventional loan is an FHA 203(k) loan — aka a renovation loan. This option does come with some requirements, but it's backed by the Federal Housing Administration (FHA) and allows you to take out a single loan for both the property and the upcoming renovation costs in the form of a 15- or 30-year fixed-rate mortgage. The minimum down payment will land between 3.5% and 10% depending on your credit score. Just be sure you're okay with living in your fixer-upper — one of the caveats of this loan is that the home has to be your primary residence.
Fixing up that fixer-upper
Congratulations! You've bought your very own fixer-upper and moved in. Now what? Here are some dos and don'ts to help you get the most out of this exciting endeavor.
DO tackle the big items first. If your fixer-upper has major things that need to be addressed (think plumbing, electrical work, structure, replacing windows or doors), take care of those ASAP. If you have the know-how to take care of them yourself, you can save bookoo bucks, but most of us are better off contracting them out. After all, you can't live in a fixer-upper if it's not livable, right?


DO paint. A fresh coat of paint on the interior and exterior of your "new" house is relatively affordable and creates a night-and-day effect. It doesn't have to be all boring neutrals either. Try these interior painting ideas to create warmth, draw focus, and accent architectural details in your home.


DO upgrade flooring. Many older houses have beautiful hardwood floors that were carpeted over at some point to stay on trend. If you're lucky enough to uncover this (literally), then you've scored! Polish them up and show them off. If all you have is carpet, old linoleum, or even tile, try the newer luxury vinyl plank flooring. It can look like real hardwood boards or marble tile but the vinyl is much more durable and water-resistant — perfect for the kitchen and bathrooms. The whole job shouldn't take more than a few days.


DO work on the exterior of the house. "Curb appeal" is still a thing — and an important thing at that. Updating landscaping, pavers, windows, and the main entrance will scream newness and make a dramatic difference to your fixer-upper house. And don't forget the garage door. It's typically the first thing visitors notice and replacing it comes with an impressive ROI of 93.8%.


DO a minor kitchen remodel. By now, just the idea of renovating your kitchen could be wearing you out. However, a minor kitchen remodel is a great way to update the heart of your home without costing you an arm and a leg. Begin with simple kitchen fixtures and new cabinet pulls. Then move to resurfacing or replacing kitchen drawers and cabinets. Countertops don't have to break the bank either; there are many wholesale warehouses that can offer granite at a good rate. Add a new sink and, voila! You could be looking at an ROI of more than 72%.


DON'T get too personal. If your goal is to sell later on, avoid putting up green palm frond wallpaper or a yellow honeycomb backsplash. It's fine to play with patterns, just keep in mind that when it comes time to sell, over-personalized design elements could make finding a buyer challenging. Try to keep things more neutral and open-to-possibility. Appealing to as many potential buyers as possible is key.
Working on your fixer-upper while living in it
So how will you live comfortably and peacefully in your new fixer-upper while it undergoes this transformation? It may not be easy, but it can definitely be done! Here are some tips to help make it possible:
Set up a temporary kitchen
Use a portable storage container
Dedicate some time to tidy up each day
Create a dedicated space where there's no work being done
Make your house a home
Set up a temporary kitchen.
Once renovations begin on your kitchen, you can't exactly stop cooking and eating — and trust us, you don't want to resort to take-out every night. My wallet hurts just thinking about that. Simply create a temporary kitchen to meet all of your culinary needs while the real thing is getting spruced up.
Have a PODS portable storage container in your driveway.
Use it to contain the chaos of home remodeling. Store tools, materials, equipment, appliances, and anything else you want close at hand (but also out of the hallway) right in the container. It's an easy and efficient way to keep your home livable during renovations. After all, you want to enjoy the journey and not just the destination.
Dedicate some time to tidy up each day.
Renovations get messy and a messy room breeds anxiety. Be sure to set aside a little time each day to put some order in and sweep up a bit to stave off that unwanted stress.
Create a dedicated space where there's no work being done.
You don't have to wait for the whole house to be perfect to start making it cozy. There are going to be a million things happening at once while you bring your new home up to snuff. You'll find yourself wishing to step away from everything more than once, and you don't want to feel trapped in a labyrinth of renos. Dedicate your bedroom space as a zen garden of sorts where you can unwind and get away from it all.
Make your house a home.
Light some nice-smelling candles, hang that painting you love, brew yourself a nice cup of tea, and make yourself at home!
When it's all said all said and done, and the last speck of dust has settled and been promptly swept up, you can finally breathe. Congratulations! The fixer-upper you've been living in is fully renovated and ready to become your forever home. So, are fixer-uppers worth it? Absolutely! Buying the right fixer-upper at the right price with a good, solid plan to renovate can save you many a pretty penny. And, the best part is that you get to design your new home in a way that is completely and uniquely you!
---
Kiran Bahl is a freelance writer who loves discovering how to make something better yet simpler at the same time. She lives happily and peacefully amongst her family and enjoys dessert every day — especially after meeting a writing deadline early. You can find her on Instagram at @kiran_bahl.
Additional source:
Get a Quote
Choose the service you need
Comments
Leave a Comment
Your email address will not be published. Required fields are marked *