Take advantage of our limited time offer. Enter promo code HOLIDAY25 to save up to 25%.
See offer details
.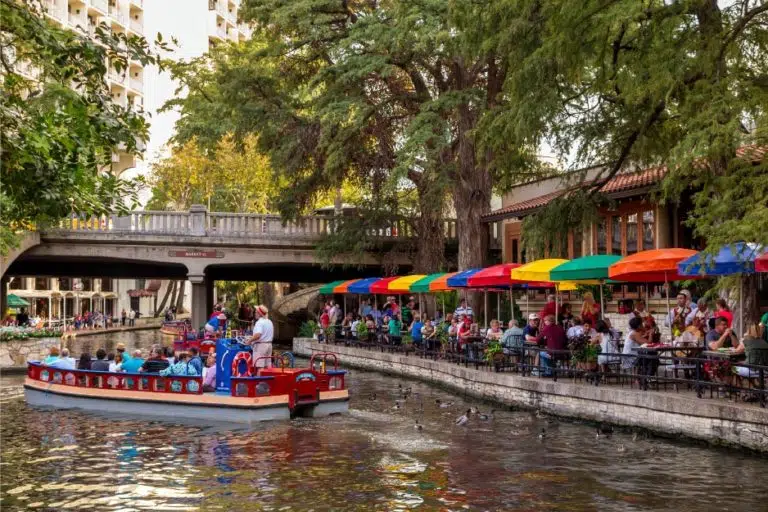 10 Things to Know About Living in San Antonio, TX, in 2023
Living in San Antonio means mixing the old and the new, and the city fully embraces it. Big-city amenities like a humming downtown and beautiful River Walk, with more shops and restaurants than you can visit in a month, blend perfectly with traditional Spanish, Mexican, and Native American historical and cultural influences to create a Texas-sized oasis in the southern part of the state. The affordable living cost in San Antonio, Texas, is another thing the locals love, and it's a big reason people make their move.

Ready to make the move and live your best San Antonio life? See how PODS can help.

In fact, like every major Texas city, the word is out. San Antonio was the 14th most moved-to city in the PODS 2023 Moving Trends analysis (and it was 13th in 2022). It's no surprise. After all, a boat tour of the San Antonio River Walk is almost worth the cost of moving by itself.

While the San Antonio life is a glamorous one, there are a few questions you'll need to answer before moving.
Q: Is San Antonio a good place to live?
A: We'll let the stats speak for themselves: San Antonio's population increased by nearly 19,000 in 2022 (one of the fastest-growing large cities for that year). A strong job market and business-friendly economy are key factors for this growth — add the general laissez-faire attitude of its residents, and you've got a great place to live.
Q: What are the pros and cons of living in San Antonio, Texas?
A: We'll get into more details below, but here are some Living in San Antonio, Texas, pros and cons to consider.
Pros: Relatively affordable cost of living, growing economy, plenty of things to do, amazing food
Cons: Tight housing market, lower than average wages, constant road construction, little public transportation
Now that we've got that out of the way, let's dive into the 10 things you need to know before moving to San Antonio, Texas.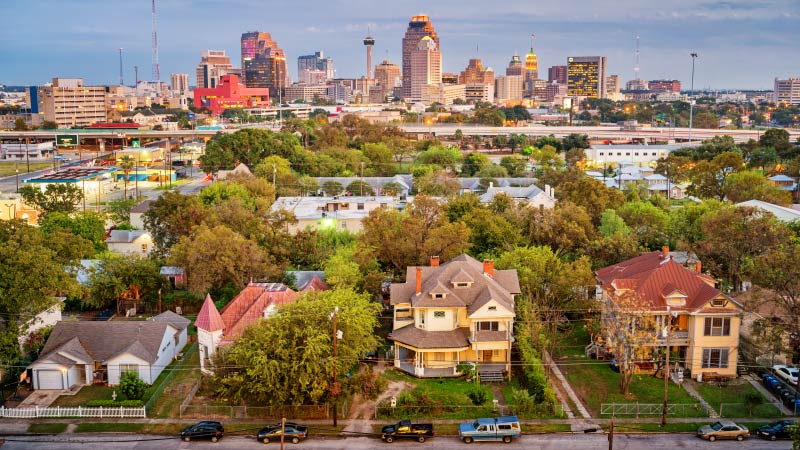 1. You Can Easily Find a San Antonio Neighborhood that Connects with Your Lifestyle
If you're worried about what it's like living in San Antonio and how to find the best neighborhoods, don't stress because there's more than one "best" neighborhood.

To find your perfect abode, you'll have to whittle the choices and sort essential details like access to public schools and cultural amenities, but you'll certainly find somewhere to love and call home. Here's a quick look at some of the most popular San Antonio neighborhoods and suburbs.
Downtown San Antonio
Average rent (one-bedroom):
$1,525
Median home sale price:
$515,000
If you visited San Antonio and reveled in the River Walk's call to fantastic food, one-of-a-kind entertainment, and all-around festive fun (make sure to check out the holiday lights schedule), you might prefer San Antonio's downtown for your next home. As attractive as the River Walk is, you'll also have easy access to more city attractions like museums, theaters, clubs, and restaurants — pretty much anything a young professional, student, or anyone who loves the heartbeat of a true downtown could want.
Monte Vista
Average rent (one-bedroom):
$1,375
Median home sale price:
$747,000
"Up and coming" describes Monte Vista well. But some retirees, families, and students already know Monte Vista's secrets, like plenty of green space, quality restaurants, and shopping. There's an overall pleasant community atmosphere in Monte Vista, and residents also enjoy the quick trip downtown if the call of the city beckons.
Southtown, Arts District
Average rent (one-bedroom):
$1,850
Median home sale price:
$401,000
Creatives, artists, and lovers of all things unique will find a welcoming community in Southtown. If your perfect evening starts with a couple of art exhibits and ends with a cocktail or two, you've found your home in Southtown. Made of five neighborhoods, Southtown is dotted with an eclectic collection of housing styles, from modern condos to show-stopping Victorians.
Alamo Heights, TX
Average rent (one-bedroom):
$1,450
Median home sale price:
$1,010,000

Good for:
Families, schools, suburbia feel, safety
Families flock to Alamo Heights thanks to high-performing schools, family-friendly streets, multiple nearby museums, and the quintessential upscale suburban feel. Homes range from charming cottages to mega-mansions, so don't be surprised if your neighbors are some of the wealthiest in the area. While Alamo Heights is technically its own city, it's only 6 miles from Downtown San Antonio and is rated the best suburb to live in the San Antonio area, according to Niche.
Boerne, TX
Average rent (one-bedroom):
$1,350
Median home sale price:
$471,000

Texas small-town charm with a trendy twist is Boerne's best quality. So much so that many family income earners drive the 30-plus minutes into San Antonio so they can come home to a tight-knit community with family-friendly perks like hiking trails and a calendar-busting plethora of city-sponsored events. If big homes with big lawns à la Texas style are your thing, Boerne's real estate is the first place you should look.

If you want to check out more neighborhoods and suburbs, the PODS Blog takes you on a deep dive through the seven best places to live in San Antonio.

Did these descriptions stoke the San Antonio fire even more? Consider using a PODS portable moving container for your move to Texas. To meet your unique moving needs, PODS will deliver a container right to your driveway, where you can pack and load at your own pace. When you're ready, they'll pick it up and deliver it to your new home in one of San Antonio's fabulous neighborhoods. You won't have to hurry or stress because, if you need to, you can store your container at a secure PODS Storage Center for as long as you want. PODS will deliver it when you're ready.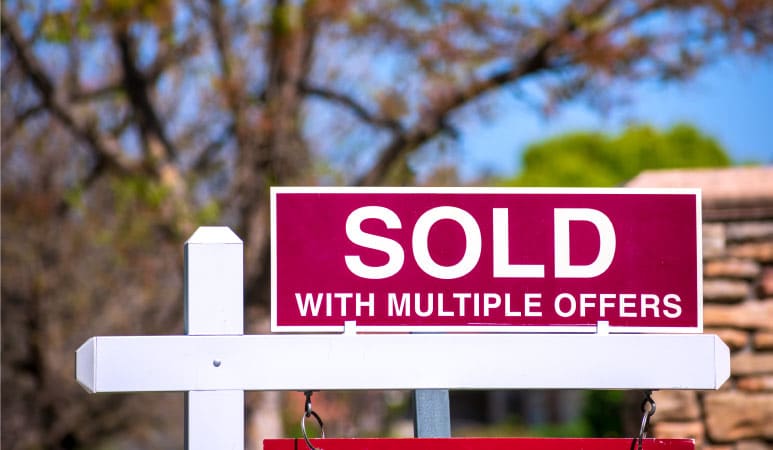 2. Heads up: San Antonio's Housing Market Is Very Competitive
While not as crazy as Austin's housing market (some of SA's growth has been from people moving out of Austin), the steady stream of newcomers combined with a nationwide housing shortage and rising interest rates means you'll work hard to find a home that meets your budget and must-have list. Expect houses to sell fast, pending in just a few weeks. You'll also contend with competing offers, waived contingencies, and prices above asking. If you're hoping to find relief by renting a home instead, know they're competitive, too. As of August 2023, an apartment rents for $1,304 per month, while a single-family home gets $2,033 citywide (on average).
3. The San Antonio School Stats You Should Know
Schools and neighborhoods go hand in hand when it comes to home shopping, so you should know that San Antonio has a large school-age population with 333,099 students in 559 public schools. If you prefer a private education for your kiddos, there are 114 private schools (serving another 22,452 students).

U.S. News & World Report's Best High Schools rankings include 75 San Antonio schools, but it also mentions that the city has a lower college-readiness score than similarly sized metro areas, so you'll have to pinpoint the schools you're most interested in to see how they stack up against neighboring schools.

And if higher education is your calling, you'll have more than 30 colleges and universities in the San Antonio area to investigate, including the University of Texas, San Antonio; San Antonio College; Texas A&M University-San Antonio; Trinity University; and Northwest Vista College.
Q: Is San Antonio, Texas, an expensive place to live?
A: There's a reason you constantly hear about droves of people moving to Texas — affordability. It's a less costly place to live, and the city has the stats to prove it. Compared to the national average, the cost of living in San Antonio is 8% lower, and the housing costs are 20% lower.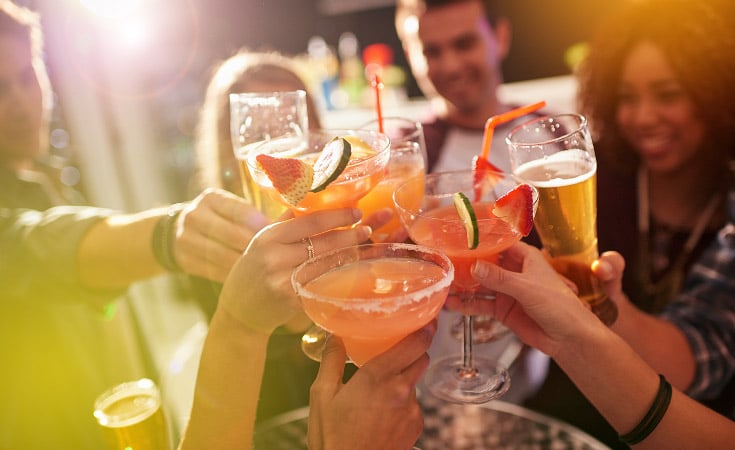 4. San Antonio's Cost of Living Is Less Than the National Average, but So Are the Annual Incomes
Interpreting a good cost of living and affordability is all about what's important to you, right? So you'll have to run the numbers to ensure they work for your household. Take a look at some of San Antonio's important cost factors.
The median San Antonio household income is $55,084 vs. the national median of $69,021.
As of July 2023, Zillow reported that San Antonio's average home value was $263,747, compared to the national average of $348,126.
Texas doesn't impose an individual income tax.
Texas has a 6.25% state sales tax. San Antonio imposes an additional 2%, bringing the total sales tax rate in San Antonio to 8.25% (the maximum allowed in Texas).
Q: What salary do you need to live in San Antonio?
A: Smart Asset says that in 2023, you need to earn $59,270 a year after taxes to live comfortably in San Antonio as a single person.
If curiosity has taken over and you're wondering what salary you need to live and thrive in San Antonio, use an online calculator to help you make the comparison between the city you live in now and what you're earning. Check out these examples of what you'd need to earn to live comfortably in San Antonio if you earned $60,000 in:
Washington, D.C.= San Antonio salary of $35,777
Des Moines, Iowa = San Antonio salary of $68,463
Phoenix, Arizona = San Antonio salary of $49,568
Seattle, Washington = San Antonio salary of $32,110
Austin, Texas = San Antonio salary of $41,638
U.S. News & World Report says that San Antonio offers a better value than similarly sized metro areas when comparing housing costs to median household income. If you're someone who earns more than the median (maybe one of the thousands of new remote workers), the city could easily be your best bet in Texas.
5. San Antonio's Job Market and Economy Continue to Grow
San Antonio's job market is diverse, so there's plenty of opportunity in multiple fields like bioscience, renewable energy, manufacturing, and tourism. You'll probably also recognize major corporations like Toyota, Southwest Research Institute, Valero Energy Corporation, and insurance giant, USAA, in the area.

Quick segue here — speaking of the USAA, San Antonio's military presence is mighty. Active Duty, Reservists, and the National Guard work out of nearby Joint Base San Antonio, which includes Lackland Air Force Base, Fort Sam Houston, Camp Bullis, and Randolph Air Force Base. San Antonio's economic health is intimately tied to the Department of Defense and the industries that support the bases. You can also thank the dense military population for the patriotic vibe that surges through the city.

PODS is proud to serve the men and women who serve our country. Active, Retired, and Veteran members of the military receive a PODS military discount of up to 30%. For PPM/DITY moves or storage during deployments, call 866-556-9574.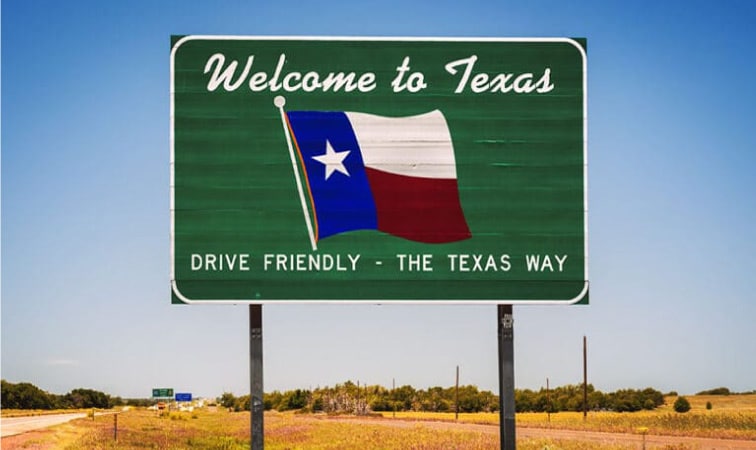 6. Living in San Antonio Vs. Houston, Dallas, and Austin. Where Should You Choose?
Although San Antonio has more than its share of modern city amenities and a population of nearly 1.5 million, it's slower-paced and has more of a neighborhood feel compared to its Texas city cousins. Plus, the cost of living in San Antonio is less than in Houston, Dallas, and Austin. However, each city has a lot going for it, so it's smart to check them out if you know deep in your heart that Texas is where you belong.
Get a Quote
Choose the service you need
Comments
Leave a Comment
Your email address will not be published. Required fields are marked *