Storage 101: How to Make Long-Term Storage Work for You
Perhaps you got an overseas assignment. Or you were selected for a fellowship you've dreamed about. Maybe you're making a career move or simply downsizing but wanting to take your time going through your things. Or maybe you're waiting for your dream home to be built and wanting to live in a smaller rental, in the meantime. Whatever the reason, it's time to start looking into the best long-term storage options for you. That doesn't mean you should just go with the first company that answers the phone, though. Instead, you need to do some research beforehand and go with one that not only stores your stuff well but also makes you feel confident that everything will be just as you left it when you're ready to return.
Yes, finding the right long-term storage units to rent can seem daunting — these are your belongings, and you want them to remain in pristine condition, after all. The good news, though, is that long-term self-storage has become more commonplace. The options for long-term storage units and containers are more convenient and cost-effective than ever, and more and more people on the move trust their belongings are in good hands. Thus, it's definitely possible to find a long-term solution that you can trust, as well.
Bottom line: You may have lots of questions about storage and what options are out there for long-term storage solutions. And we get it. So read on for our advice on determining:
Where you want to store your things.
How you want to prepare and pack them.
How you can trust where they're being stored.
And, most importantly, how you will get them home when you're ready to settle back into your regular routine.
First Things First: Take Your Time
One thing to keep in mind is packing for a long-term move or experience is different than throwing your things in a box to take them to a new apartment. There are a lot of details you'll want to think about before putting your items into long-term storage. Don't worry; this isn't too much extra work on the front end, but you'll want to take your time in making decisions. It will help to ensure, on the back end, that all these things that make your house a home and bring you joy are still looking great months or years down the line, when it's finally time to unpack.
Determine the Long-Term Storage Options Important to You
What is the best long-term storage option? It's the one that checks all of your "must-have" boxes. Some key factors you'll want to consider include:
Auto-pay options — so you don't have to worry about keeping up with payment due dates
Access to your belongings when you want
Restricted access for people you don't want near your stuff
A sense of security that everything is covered while you are away
You may also want to see if the location has climate-controlled storage, especially if you are going to be storing papers, furniture, or precious possessions.
Additional questions you may want to think about: How will I feel when my items are with this storage company? Do they make me feel comfortable about long-term storage?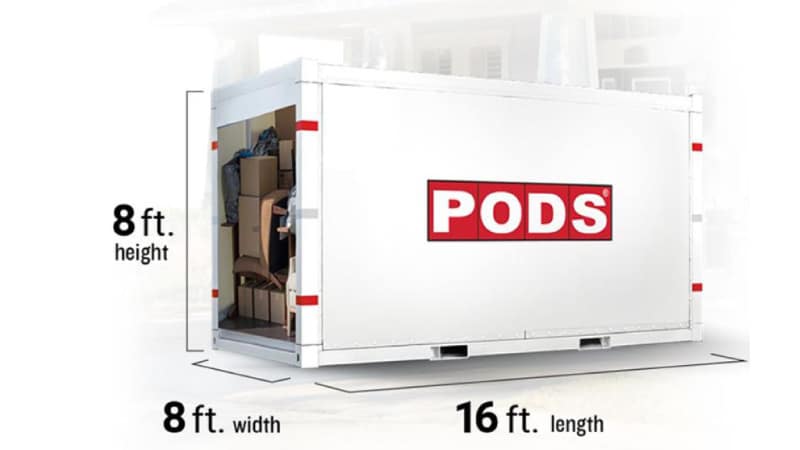 Size It Right
If you're loading up for the long term, you'll want to have enough room to ensure everything fits tightly but air can still circulate. Otherwise, that can affect how well your items are preserved while you are gone. Likewise, selecting an area that is too large will end up costing more — not just in monthly storage fees but in potential replacement costs, if your items are transported and are not loaded correctly.
Consider Your Containers Inside Your Container
It seems funny to say, but you'll want to have the right long-term storage containers within your portable storage container or unit. That means using sturdy, clear containers to hold your things while they are in the long-term storage unit. Clear bins that have strong sides and a lid are often the best way to store things. That way, you can see into the bins to find out what you packed and how it is arranged. They are also easy to carry and won't attract mold or mildew, like cardboard boxes can. So don't be tempted to pack up everything you own in any box that is sitting around your garage at the moment. It's worth taking a trip to your local home-organizational store or ordering some clear tubs or bins online to make sure what you pack survives its time in storage.
Also, you'll want to use soft cloths, bubble cushioning roll, and packing peanuts — or any other creative packing materials — to cushion your items inside the bins or boxes you select. This may sound like a lot of prep, and you may feel like you just want to get on the road and get on with it. But long-term packing is definitely different than a short-term move. Little things mean a lot when it comes to packing, loading, and storing all of your belongings in long-term storage containers.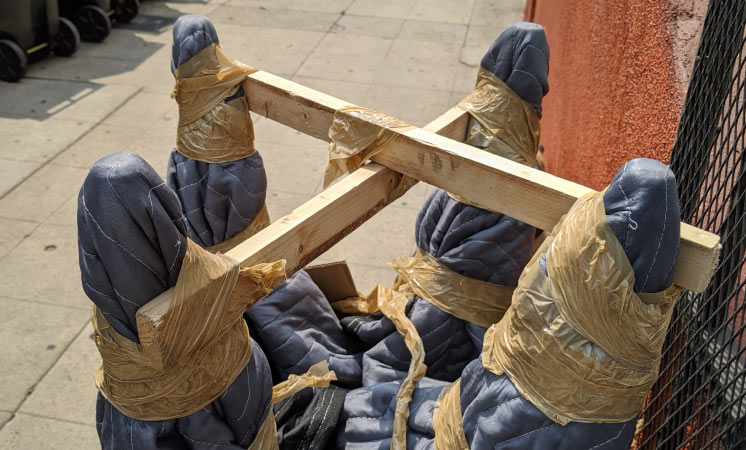 Pack Like You Mean It
If you're looking for long-term storage, you'll want to prepare each item carefully, given it will be inside a storage container for months, if not years. That means making sure each item — whether it's art, documents, furniture, or clothing — is clean, wrapped, and carefully placed inside a strong box, bin, or tub. When it comes to long-term furniture storage, in particular, you may also want to add protective padding around fragile items or support if an item is made of glass. What is the best way to store clothes long-term? Garment boxes — so they maintain their shape and have air circulation.
Think Outside the Box(es)
Want to know the most efficient way to store items? Then think about the game of Tetris. Bet you didn't think those stacking skills would come in handy one day, did you? Well, this is the part of the process where your organizational skills and hand-eye coordination shine. When you're working to get your belongings ready for long-term storage, look for ways to ensure everything stays in place and stable while you are away. For example, you may want to put your boxes, bins, or items on top of something like a wood pallet or cinder blocks to allow for airflow around the items. You can also line the floor with a tarp or plastic sheets to act as a barrier between the floor and your stuff.
How you stack everything also matters — you want to put heavier things on the bottom and get lighter as you build upward. Think about how your local grocery store bagger places stuff into bags when you're shopping. You don't want delicate items to get squashed by the heavy books or wooden furniture nearby. And remember: If you're taking advantage of a portable storage container, you'll want to stack everything as neatly and tightly as possible for its trip to your local PODS Storage Center to avoid any damage (and avoid any wasted space).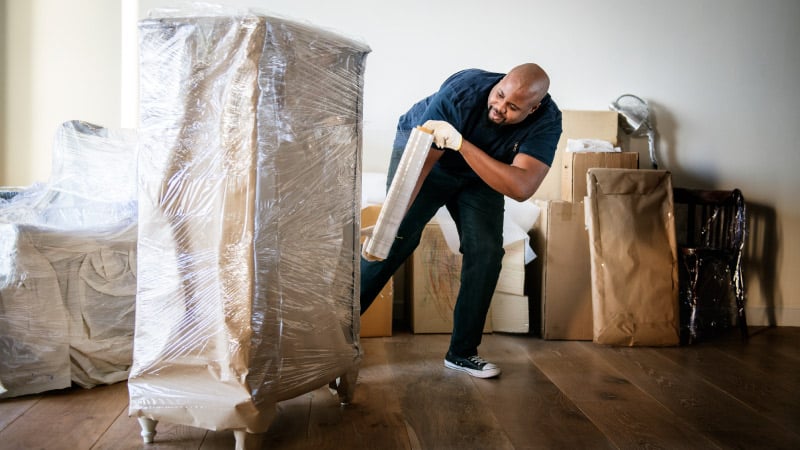 Know the Rules
There are some important basics to follow with long-term storage. Basically, think of yourself as an archivist — you are preparing your belongings to stay in good shape while you are away. Make sure they'll be protected over time. For example, you don't want to put plastic wrap or tape directly on wood, glass, or other delicate materials. Tape can leave a residue, and plastic wrap can deteriorate your items, holding moisture next to the material or even corroding it. You also want to avoid storing anything that may be hazardous or odorous.
Breathe a Sigh of Relief
Understanding the security of your items in long-term storage is another aspect of this process. You'll want to make sure only people you want have access to your storage container or unit. In fact, you may want to purchase storage insurance if it is available to ensure the value of your items is protected going forward. Another option is to give someone you trust access to your long-term storage, so they can check on it from time to time and give you an update on how everything is doing or get items you may find you need where you are.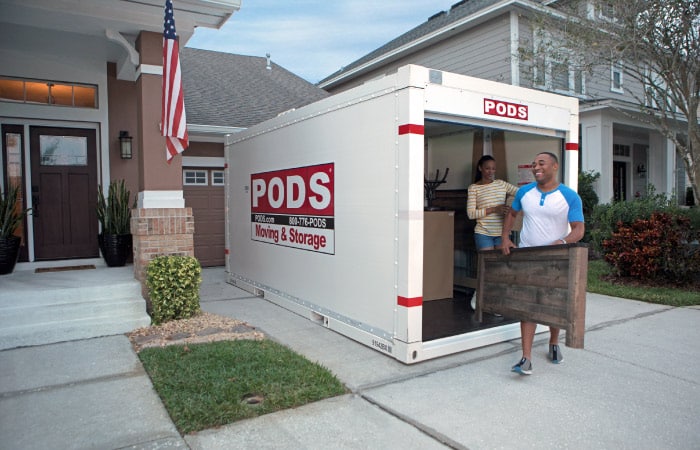 Come Home for Good
When you are ready to unpack and unwind, coming home is even easier when you work with a company like PODS. Sure, a secure PODS Storage Center offers peace of mind when it comes to long-term storage, but it also adds convenience. When you are ready to settle back into your old life, you can ask PODS to deliver your container to your home, and the container will be placed conveniently in your driveway. It is expedient in the best possible way and will help you get back into your regular routine as quickly and easily as possible.
Want more storage tips? Keep perusing the PODS Blog to find out how to choose a storage facility, ways to cut storage costs, and more!
---
Karen Dybis is a freelance journalist and a frequent contributor to the PODS Blog. Her work has appeared in Time magazine, U.S. News & World Report, The Detroit News, and more.
Special Notes on PODS Container Sizes:
Suggested container sizes are for guidance only. Larger items and how efficiently containers are loaded can significantly impact the size and quantity of containers you'll need.
Dimensions are based on exterior measurements. Container sizes may vary slightly. Some earlier 8 ft models in PODS' fleet are 7'2" x 7'3" x 8'4"
Get a Quote
Choose the service you need
Comments
Leave a Comment
Your email address will not be published. Required fields are marked *