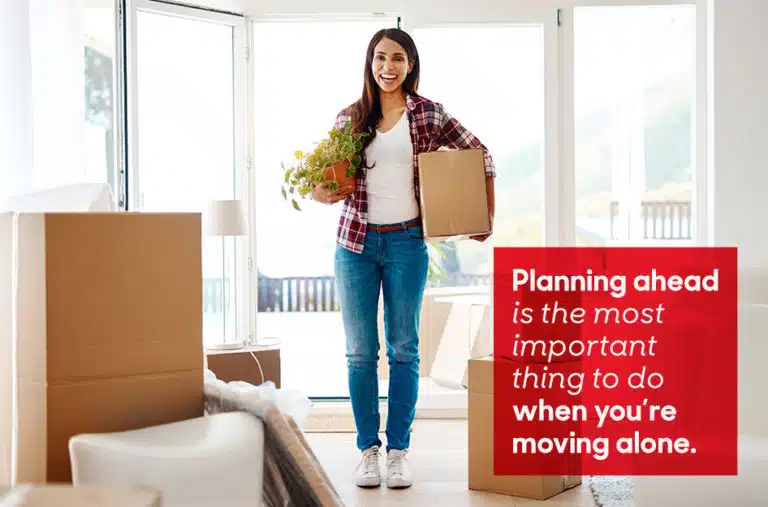 Moving by Yourself: How to Master a Solo Move
Just graduated and ready to get a place of your own? Snagged the perfect remote position and considering how to move by yourself to a new city? We get it. The world is your oyster, and it's time to get a move on!
But what if you don't have a mile-long list of friends and family willing to be bribed by free pizza to help you move? Can you really tackle moving by yourself?
Sure you can! It may not be the easiest endeavor, but you're a go-getter anyway, right? Whether you're moving down the street or moving to a new state alone, with the right planning and preparation, you'll be a solo moving pro in no time.
First things first: Moving by yourself requires planning
Is it possible to move alone? Absolutely! But planning ahead is the most important thing to do when you are. Chaos and confusion can quickly take over with such a big change, so having a plan to turn to when you're stressed will work wonders during the moving process.
With that being said, here are four major factors to consider when developing your plan:
Your budget
Your schedule
What you need to move
What you need on hand
Let's take a closer look at each of those factors.
1. Your budget: Determine how much you have to spend on moving by yourself
Knowing how much money you have to spend is going to help you know which resources you can utilize during your move. There are plenty of ways to save money during your move, but purchasing things like moving insurance or hiring local packing and loading help for the items you can't lift yourself can be worth it when you're doing things on your own.
If you're on the fence about anything, ask yourself what would help you the most throughout the process. If you think of something and instantly feel like it would take some of the load off of your shoulders, it's likely worth spending the money on.
2. Your schedule: Figure out the timeline and logistics of your move
Once you know your budget, you'll have to decide how you're actually going to get the job done. And a big part of that is figuring out how much time you have to get the job done. Depending on your timeline, you have a few moving solutions to choose from:
Hiring Movers
If it's in your budget to hire moving help, are you planning well enough in advance to score a spot on their busy schedule? (Remember: You'll need help once you reach your destination, too.)
DIY Move With a Moving Truck
You can drive a truck if you know how to do it safely. Just keep in mind that you have a very limited amount of time to use the truck without having to pay additional fees. And those gas prices… Whew!
Renting a Moving and Storage Container
If you can afford to take your time with packing, you can rent a moving container. It will be delivered to your current address for you to load at your leisure and then picked up and delivered straight to your new address for you to unload — you guessed it — at your leisure.
Insider Tip: Do you think moving containers are too large for your move? You may want to reconsider. Small moving containers are actually a great solution if you want (or need) to take your time loading your belongings and don't want the added responsibility of driving a big rental truck. All you have to do is figure out which size container would work best for your situation, load it up on your own time, and let PODS take care of the rest.
3. What you need to move: How do I move my house on my own?
What do you do when you can't enlist the help of friends or family and you don't have room in your budget to hire help? You chug a lot of water and get 'er done yourself — safely, that is! And, while you're at it, use a few of these tips designed for this exact thing.
Start Early
The earlier you can start packing, the better. Ideally, you should give yourself several weeks to pack up and get things organized. But if you can't do that, try to at least follow as much of a typical moving checklist timeline as you can. Having an efficient plan can save you time and money.
Want to know something else you can save yourself from? A major backache! When you're packing, be sure to spread heavy belongings out over several boxes, so you're not putting too much weight in one. Trust us, this isn't a lifting competition.
Pro Tip: Wondering how you're going to make it all fit? That's what packing hacks are for! From your dresser to your shoes, the pros have some great tips for you. And that makes things a lot easier when you're stuck or need help fitting all your belongings into tight spaces.
Remain Intentional
The best thing you can do when moving by yourself is to remain intentional with the things you choose to take — especially if you're trying to save time and space. Even if you're not, you'll have less to move as a result. If there are things you can donate or get rid of, then you should definitely do that. Selling items you no longer need is also a great way to make extra money throughout your move.
But that isn't the only way you can remain intentional. It's also important to take time for yourself throughout this process, especially when you start to feel overwhelmed or stressed. That's why it's so important to plan ahead and make sure you're ready for anything your move might throw your way.
Borrow Some Wheels
Dollies, carts, and even a wagon (for loading multiple boxes at a time) can help you (and your back!) when you're doing a solo move. Just be sure to also have something to secure the loads while you're rolling, since you won't have someone on the other side of the wheels.
Use Heavy-Duty Plastic Wrap
Speaking of needing extra hands, did you know plastic wrap can help with that? Simply wrap anything up that has the potential to fly open (like nightstands with doors) or bump into walls (like chair legs). Instead of having another person on the other end to hold things shut or block things from scratching walls, the plastic wrap will act as a nice, cushiony barrier.
Pro Tip: If you're taking your dresser with you, there's no need to box up its contents separately. Just take the drawers out, wrap them individually in plastic wrap (with your clothes still inside), load them up, and then move the dresser itself. To save on space, you can place the drawers back inside before moving on with other furniture pieces.
Get Furniture Sliders
Want to know how to move furniture by yourself? Get some sliders! These little, round plastic pieces can help do the work of several strong people — with no scuffs left behind. Furniture sliders are especially helpful when you need to get your furniture out of tough corners.
4. What you need on hand: Keep the essentials with you
During your packing frenzy, take a moment to think about what you're going to bring with you — not what you're going to load up. Things like your pet, important documents, food, clothes, and stuff you'll need the first few nights in your new place go into this category.
Knowing your essentials ahead of time can help you get everything together when the time comes to actually start loading up. It's also going to help ensure you have all the essential documents and credentials you need to get into your new home.
Moving by yourself is certainly an adventure, but it doesn't have to be difficult. And when you move with PODS, we take care of the driving and you get the flexibility to move on your own time, so you can focus on enjoying the journey — and your new home.
For more packing tips and storage solutions, visit the PODS Blog.
---
Katlynn Mullins is a St. Petersburg-based freelance writer whose only roommate is their cat. A frequent PODS blog contributor, Katlynn loves finding ways to make moving into new spaces simple and stress-free. Between yearly apartment hopping, you can find them on the waterfront or experimenting with new ways to make coffee.
Get a Quote
Choose the service you need
Comments
Leave a Comment
Your email address will not be published. Required fields are marked *