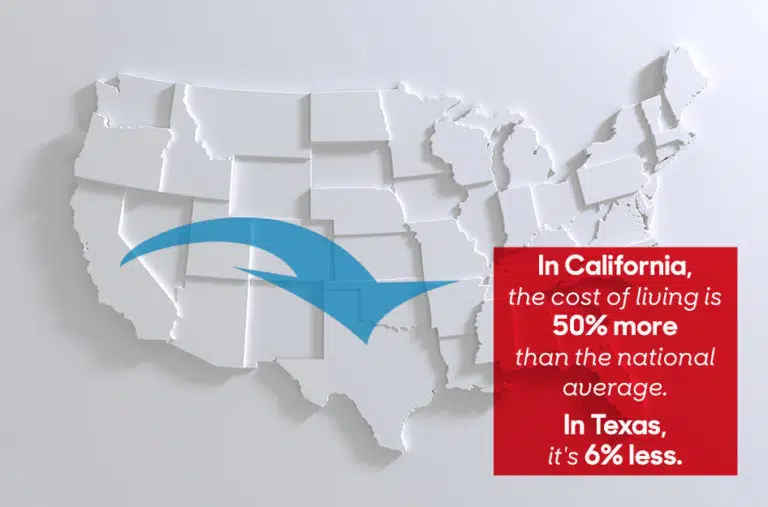 Why Are So Many People Moving to Texas from California?
California and Texas are the two largest states in the U.S. after Alaska. Both are big, but is everything really bigger (maybe better?) in Texas? In 2021, research found that there was an influx in the Hollywood-to-Texas pipeline, with many Californians choosing The Lone Star State as their new home. Why are so many Californians moving to Texas? Here are some pros and cons of moving from California to Texas to get you thinking.
Pro: Taxes Aren't So Taxing in Texas
One of the BIG reasons to move to Texas from California is the taxes. California state income tax is the highest in the country, on all levels. Californians pay as much as 13.3% in state income tax and, depending on local rates, between 7.25% and 10.75% in sales tax. In Texas, there is no state income tax, and sales tax ranges from 6.25% to 8.25%. Surprisingly though, the effective property tax rate in Texas is higher than in California at 1.80% vs. 0.76%.
In business, too, you fare better in Texas. California's corporate income tax rate is 8.84%. While Texas has no corporate income tax, it does levy a franchise tax in some cases (still, it's less than 1%). These numbers bode very well for entrepreneurs wanting to start a business.
Pro: The Cost of Living in Texas Is Actually Liveable
In addition to lower taxes, you're going to have a much easier time finding an affordable house in Texas than you would in California.
The Zillow home value index shows California having a typical home value of $775,876, up 11.3% compared to last year. Even though typical home values in Texas increased by nearly 20% year-over-year, at only $314,837, the number is still much lower than California's. Of course, these values are state-wide and local home prices can vary substantially. Still, it gives you an idea of the staggering difference between the two state's housing markets, and, more than likely, you can expect much more home for your dollar when moving from California to Texas!
Food and entertainment are also cheaper in Texas, as well as childcare. These savings can mean thousands of dollars each year on top of everything else when moving to Texas from California.
Pro: Growing Employment Opportunities
Its convenient location makes Texas a hotspot to live in, especially for those who travel often for work. It's centrally located in the United States, which makes flying to either coast from most large Texas cities easier and often cheaper than it would otherwise be.
Texas is known for having very strong employment prospects, for blue- and white-collar workers alike. And with no corporate income tax, large corporations have caught on, too.
AT&T, American Airlines, and Keller Williams have already made Texas their home. But they're not the only ones. Tesla made its move to Austin along with CEO, Elon Musk! Apple and Google are planning to expand into the state, as well.

Pro: Traffic Ain't That Bad (Compared to California)
When it comes to traffic, Texas wins hands-down. In truth, it will depend on the city, the road, and the time of day, but overall — Texas has California beat. In a study of the top ten worst U.S. cities for traffic, California made the list three times, with L.A. placing first and San Francisco third. While Austin was also on this list (coming in sixth), it's clear that California traffic is losing this race. Texas may have its bumper-to-bumper moments, but overall fares much better in traffic times and gas usage. And to top it off, the average price for regular gas in California is about $6.39/gallon, while in Texas, it's only $3.23!
Getting Your Texas Driver's License
Contrary to what you're probably used to, you're going to have to make a visit to the Department of Public Safety (DPS) instead of the DMV when it comes time to get your new Texas driver's license. The state is infamous for its two hour waits at the DPS, even with an appointment time booked. California is more efficient with their streamlined online systems. When considering all that West Coast traffic, though, an occasional wait may be favored over hours in bumper-to-bumper on the daily.
Con: Smaller Paychecks
There are a few cons to consider before moving to Texas from California and a lower median household income is a big one. Yes, overall, Californians will see a financial gain in between taxes, housing, food, childcare costs, etc. But if you're planning to start a new job in the Lone Star State (versus working remotely for a California employer) don't be surprised if your paycheck shrinks a little. The U.S. Census Bureau reported California's median household income to be $78,672, while that number was only $63,826 in Texas. If you calculate ahead of time, you'll be far more prepared and won't notice the difference as much.
Con: Texas Gets Hot!
California is known for its gorgeous weather, especially the further north you go. Not too hot, not too cold, low humidity. It's no wonder it's been such a popular state to live in and visit. Texas, on the other hand, tends to be very hot and humid in the summers, and can get pretty cold in the winters (depending on where in Texas you are). For many, this is a fair trade-off for a lower cost of living. Just be sure to make air conditioning and access to a pool or lake priorities, and you'll be fine!
Con: Bye, Bye Beautiful Beaches
Being a Gulf Coast state, Texas definitely has beaches, but if you're used to the likes of Santa Monica, Laguna, La Jolla, and Venice, you're probably going to be disappointed. Instead of mourning the loss, we recommend you take up a favorite pastime of many Texans and pack a cooler for a day at the lake.
Q: Is it worth moving from California to Texas?
A: Whether moving to Texas from California is worth it really depends on you, but with a lower cost of living, culture-rich cities, and its central location, we think the answer for most will be a resounding yes!
The Best Way to Move from California to Texas
Once you've settled on which Texas city to move to, it's time to plan your relocation. Item one on your "Moving from California to Texas Checklist" should be choosing your moving partner. Traditionally, options included either a full-service moving company or DIYing it with a rental truck. You can also mix and match by renting a moving truck in California and then hiring movers in Texas to help you unload it (they're likely less expensive than movers in California). Finally, there's the hybrid option of portable moving containers with built-in storage. Let's take a look at each of these and see what's best for your move.
Full-Service Movers
If you want someone else to do the majority of the work, you can hire full-service movers in California to get 'er done. Keep in mind, this is typically the most expensive way to go. For example, the cost of moving from California to Texas (or more specifically, L.A. to Dallas) will run between $3K and $7K, or more, with a full-service moving company.
Moving Truck Rental
If the moving cost from California to Texas is your main concern, then renting a truck and doing all the packing, loading, and driving yourself is probably the cheapest way to go about it. Just remember it takes a lot of work and a lot of time. In the end, it may not be worth it.
Portable Moving Containers
The hybrid option is to have a PODS portable container delivered to your home where you can pack and load at your leisure. When you're ready, PODS will pick it up and transport it to your new Texas home. One of the big plus points to moving with PODS is that storage is built in. If you need more time, you can keep your container at a PODS Storage Center for as long as you want, and access it as needed.
PODS City Service
Moving from Los Angeles or San Francisco, or to Dallas? PODS City Service specializes in moves in and out of these cities. No need to worry about getting parking permits, or keeping an eye on your container as you unload from a busy city street. A PODS driver will stay with your stuff to make sure everything is golden.
Shipping Cars from California to Texas
What's the best way to transport your car across the country? The main options are drive, tow, and ship. The downside to making the drive is that it takes a lot of time, gas, and adds wear and tear to your car. Towing will generally save on the wear and tear, but still requires time as well as some skill in driving a truck with a car hitched to it. Hiring an auto-transporter is a great way to avoid having to do either of those. PODS can refer you to trusted auto-transport partners so you can find the best one for your needs.
California does have its own splendor. Between the ocean, beaches, mountains, canyons, and Hollywood glamor, there is so much to explore and enjoy. For many, though, it seems the cost to experience all that is California is just too high for comfort. Inflated taxes, employment problems, and the super high cost of living are hard factors to ignore. Texas is indeed a strong contender with its lower taxes, more employment opportunities, very reasonable cost of living, and culture-rich cities. You'll gain some southern charm and hospitality too. Like the infamous Texan catchphrase insists, Don't Mess with Texas — move there instead!
______________________________________________________________________
Kiran Bahl is a freelance writer who loves discovering how to make something better yet simpler at the same time. She lives happily and peacefully amongst her family and enjoys dessert every day — especially after meeting a writing deadline early.
Get a Quote
Choose the service you need
Comments
Leave a Comment
Your email address will not be published. Required fields are marked *