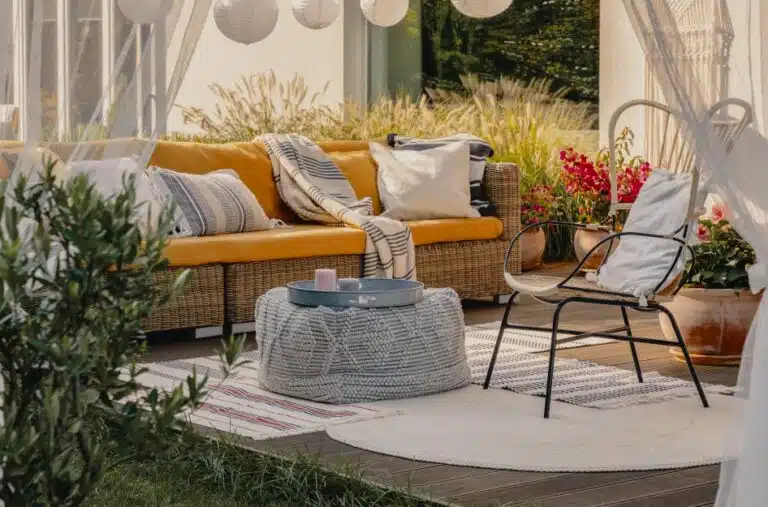 From Cheap and Chic to Expensive and Extravagant: Patio Remodeling Ideas
When warmer temps make an appearance, where's the first place everyone wants to go? The patio! Evening drinks, Sunday barbecues, reading the newspaper with coffee — it's the quintessential outdoor hangout spot. But if your patio looks more like a pati-no, you could be missing out on some valuable home relaxation space.
But can you renovate a patio? Absolutely! A patio remodel can be as simple as updating your existing elements or as complex as building an outdoor kitchen. The best part, though? It's one of the few times you can renovate your home while being relatively unbothered in your indoor living space.
Ready to get started? Let's look at some popular patio remodeling ideas.
First, decide how you want to use your patio.
Before you start your remodel plans, ask yourself how you'll most use and enjoy your patio. Are you looking for an outdoor dining room? Or do you want more of a casual living room feel? Will you be using the patio for sunbathing (especially if your backyard has a pool), or are you wanting something that showcases your garden?
Try to have some realism with your objectives, too. If you have four kids but desperately want a zen outdoor yoga space, how can you incorporate something that takes care of their needs, too? Decide on your patio's primary use and plan around that goal. Once you start the remodeling process, it's easy to get carried away. Use your purpose as an anchor and hold to it when plans start to spiral.
How much does a patio remodel cost?
The simple answer to this question is anything but simple: You can spend as much money as you want on a patio remodel. We know, we know, that's not helpful. To break it down into specifics, if you want to go the DIY route, you can spend around $1,500 for new plants, pressure washing current patio furniture, a small fire pit, and some concrete or pea gravel flooring. If you want to transform your backyard into a covered, luxurious outdoor kitchen, you're looking at more like $50,000. Since many of us fall somewhere in the middle, expect to spend around $10,000, according to information from Fixr.
Your desired patio type — ground, sunken, raised, or covered — also affects the remodel price. Ground-level patio remodels are typically more cost effective, especially if you're not adding new flooring material. Adding a pergola or other type of cover usually requires professional assistance, as does creating a sunken patio area or building a foundation for a raised patio.
How can I make my patio look nice on a budget?
There's a lot you can do with an outdoor rug and new patio furniture. If you're looking for a quick patio facelift, purchasing new items like these (or even just updated cushions for your current furniture), pressure washing your patio, and adding some plants and twinkle lights can have a significant impact without breaking the bank.
Do I need to hire a contractor for a patio remodel?
If the scope of your project includes some of the previously mentioned elements, like adding a cover or creating a sunken area, you'll want to call in the professionals.
Even if you're working with a ground-level patio, if you're tearing up the existing foundation and installing a new one, DIY isn't always going to save you money. Leveling a yard is no small feat, and you'll want someone who's experienced with earth-moving equipment so you're not paying to fix amateur mistakes.
Not only do contractors know how to use the necessary equipment and tools, but they can also analyze your plans, compare them to the size of your backyard, and tell you what will work, what needs modification, and even how you can enhance your want list and still stay within your budget (partly because they get better prices on building materials than you do).
Patio remodeling ideas
Now the fun part — the inspiration! Once you've decided how you want your patio to function and if the patio remodel would benefit from professional help, it's time to find some images and ideas that exemplify your goals.
Make Surface-Level Changes
Patio remodels don't have to be deep. There's a lot you can accomplish on the surface level. Stained, damaged patio slabs are an eyesore that even the best outdoor area rug can't fix. Concrete resurfacing is perfect for the DIY enthusiast who wants a budget-friendly makeover.
Before you can resurface your patio slab, everything on it will have to go (temporarily). If your garage is occupied with other things — like, your cars — have a PODS portable storage container delivered right to your driveway. Use it to store equipment, tools, and anything else you want close at hand (but out of the way). Keep it as long as you need and, when you're done with your project, PODS will pick it up. Easy!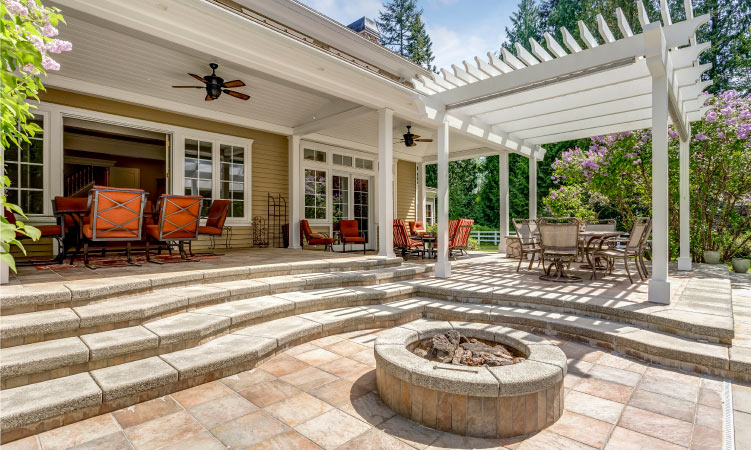 Add Some Warmth — Literally and Figuratively
Ground patios can sometimes look a little cold and blank. Adding a fire pit and a pergola is a great way to make this a warmer and more dimensional space. If you're looking for patio cover ideas but don't want a pergola, you can use large outdoor umbrellas, a trellis, a prefabricated cover, or go the natural route with large, leafy trees or wisteria.
Have Fun With Floor Designs
Who says brick has to be boring? Try a pattern or brick accent to add some style to your slab. If you want to do the job yourself, try a basket weave pattern, which doesn't require any brick cutting or advanced masonry work.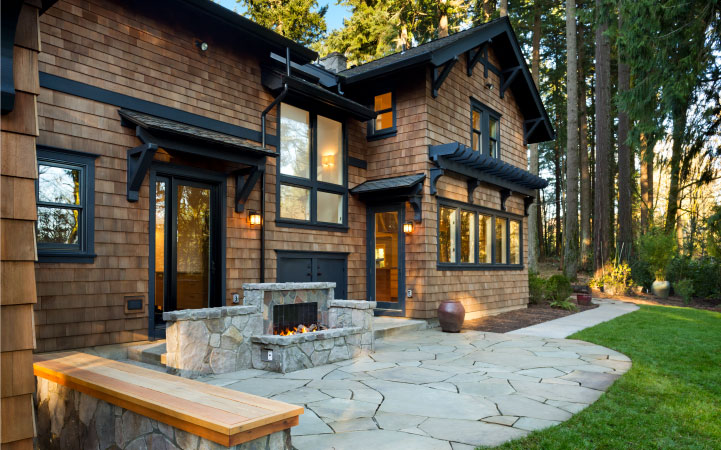 Fire Things Up
Adding an outdoor fireplace is a great way to get the most use out of your patio. Not only do they look stylish and upscale, but they also give some much needed warmth to cooler nights. If you have some building experience, it's possible for you to build a fireplace yourself. If this isn't something you want to undertake but you still want to avoid hiring a professional, try a fire pit or Chiminea.
Budget Tip: Think all patios have to have wood planks, fencing, and loads of detail? Think again. It just takes some lush grass, a little concrete, and a lot of imagination to turn your yard into a modern oasis with a minimalist patio.
Go Gravel
If you're looking for something with more texture and color than concrete, try gravel. Building a basic foundation is all you need to contain the material. While pea gravel is a popular choice because of its smoothness (it's easier on bare feet), if you're going to put any furniture on your patio, that same smoothness will cause your items to sink. For a heartier, sturdier type of gravel, try limestone.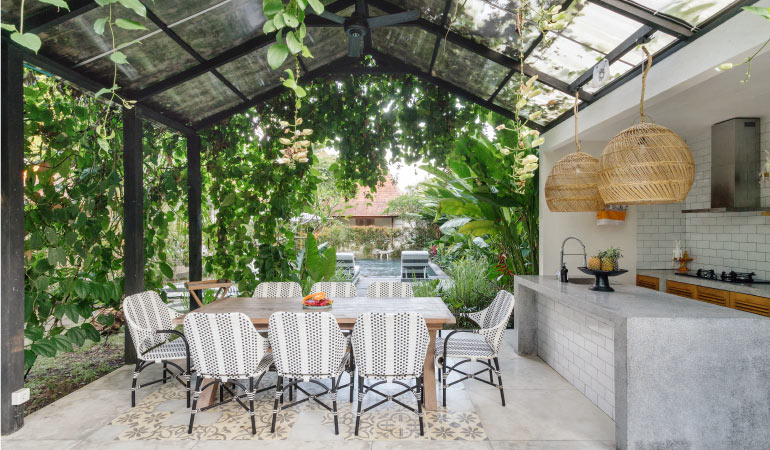 Get Cooking in an Outdoor Kitchen
This is on the more expensive end of the patio remodel idea list, but outdoor kitchens are incredibly popular. And for good reason. They take the idea of a backyard barbecue and elevate it to a higher, sleeker level. When it comes to bells and whistles, there's so much you can do with this functional space. If budget is a concern, you can stick to a grill and prep area. If the sky's the limit, add a refrigerator, island, wet bar, and more.
Let Your Garden Grow
Building a small herb garden on your patio is a wonderful way to combine form and function. You can build your own garden foundation, or you can reuse containers you likely have lying around, like pots or silverware organizers.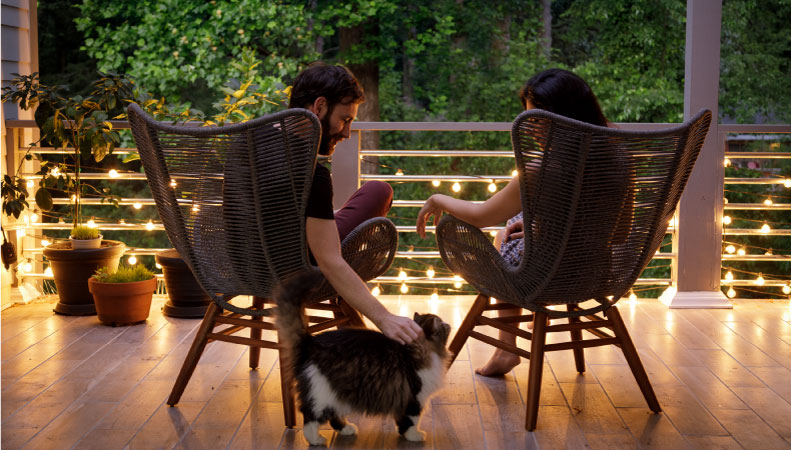 Let There Be Light
No one likes to sit outside in the dark. Keep the good times going all night long with these creative patio lighting ideas. We suggest trying one or more, as lighting works best when it's layered.
Path lighting: Light your walkways or garden edges with easily installable path lighting.
String lights: Who doesn't love some playful yet elegant white lights above an outdoor dining room table, along the beams of a pergola, or even wrapped around tree trunks and branches?
Lanterns: If your patio is covered, you can hang paper lanterns from the ceiling, or you can wall-mount more traditional boxed glass lanterns.
Outdoor wall lighting: Wall lighting can be installed in a variety of places. Wall sconces look great flanking back doors, ceiling lights can be used on a covered porch, or lights can be added to steps for safety that doesn't sacrifice style.
Chandeliers: Don't have a covered patio but want to add some lighting above your outdoor dining room table or seating area? Hang a chandelier from a sturdy tree branch. It's an unexpected way to add a wow factor.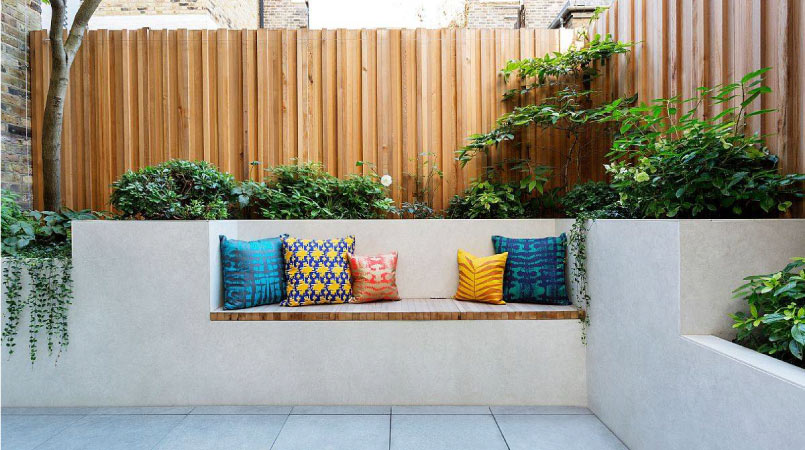 Build Your Own Seating
Who needs new patio furniture when your patio has seating built into the design? It'll probably take a contractor to pull this one off, but it's an imaginative way to turn a sunken patio into a surround-seating dream.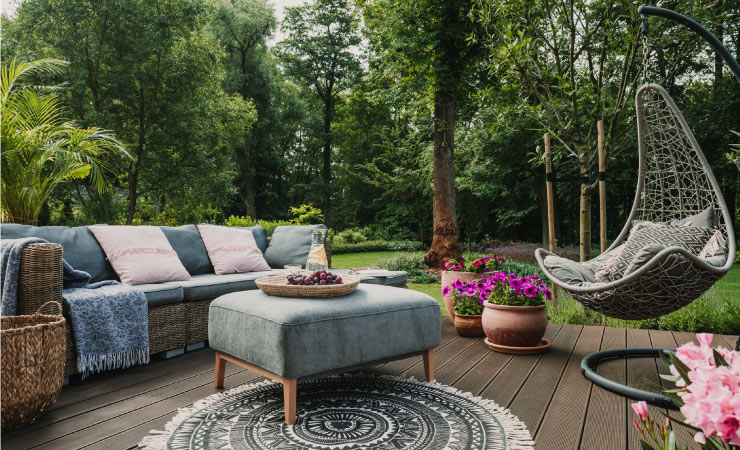 Patio decor ideas
Sometimes all it takes to transform an outdoor area is some new furniture and accessories. Here are ideas that don't require any tools — unless assembly is required.
Give Your Patio a Pop of Color
To balance out patio remodel ideas that have a higher price tag, here's some inspiration that you can make your own for less than $1,000. Replace your patio furniture cushions with something more cheerful. Add some colorful pillows, candles, lanterns, plants, and other accents to make this space bloom like your flower garden.
Looking for other simple ways to refresh your outdoor space? The PODS Blog can help you get your patio summer-ready in no time.
Invest in an Outdoor Seating Area
Outdoor living rooms are used more often than outdoor dining rooms. If your table is collecting dust (and pollen), trade it in for an outdoor sofa and chairs. If you're working with a smaller space, you can swap the sofa for two adirondack chairs and a small accent table. It's a comfortable way to make seating space for two.
Swing Into a New Seating Idea
If you want to add some whimsy to your patio's seating area, install a swing. You can use chains to support the swing, but if you want to have a more farmhouse feel, try some sturdy ropes.
Before you start installing, though, make sure your porch can support a swing by using a stud finder to look for ceiling joists. These overhead beams support a ceiling and are the spots where you want to anchor the swing.
If your patio doesn't have joists — or a ceiling at all — a hanging chair gives you all the joy of a swing with no cover required.
Avoid some common patio remodel mistakes
There's lots of advice for what you can or should do when it comes to patio makeovers, but there are also some pitfalls to avoid.
Don't Sink Too Much Money Into a Flip
If you're undertaking a patio remodel because you're going to sell your home in the near future and want to make it more valuable or appealing to potential buyers, don't overspend on materials. Brick is more expensive than concrete, and refinishing with one material instead of another isn't going to have a major impact on your listing price.
If you want to get the most bang for your remodel buck, add outdoor lighting, a fire pit, or an outdoor kitchen. Yes, a kitchen can be costly, but it can recoup around 70 percent of its initial cost.
Don't Forgo the Budget
As we mentioned previously, patio remodels can be expensive, especially if you don't think about how much you can and want to spend beforehand. As you add features and elements to your plan, that final price is going to grow and grow.
Don't Skimp on Patio Furniture
Clearly, we respect a budget. But saving money at the onset isn't going to matter if you have to purchase replacements down the road. For example, buying cheaper patio furniture that can't stand up to the elements. Check the furniture and cushions for UV ratings and mildew resistance. Note the weight, too, to make sure it won't blow away in a storm.
Don't Fail to Consider Drainage
It's not the most exciting patio remodel topic, but it's one of the most important. When rainwater runs off your patio, where is it going to go? Make sure it's going into a drainage channel instead of into your house. Consider a French drainage system if you're installing a sunken patio. Even if your patio furniture can handle a little rain, you don't want it sitting in standing water.
No matter what you do, at the end of the day, if you love your patio, that's all that matters.
---
LB Gabriel is a freelance writer who lives with her husband, daughter, and Golden Retriever in Memphis, TN. A frequent PODS Blog contributor, she's a sucker for any tip she can find on downsizing, cutting clutter, or minimalist living. When she's not on a deadline, you can find her on a tennis court or golf course.
Get a Quote
Choose the service you need
Comments
Leave a Comment
Your email address will not be published. Required fields are marked *