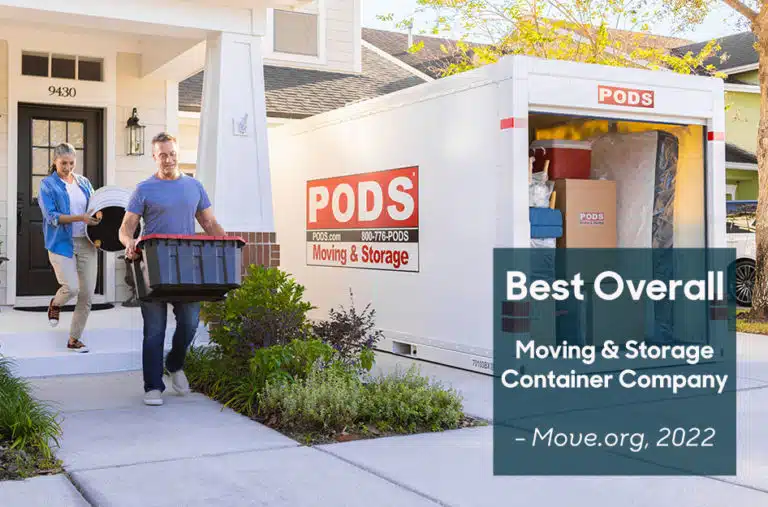 Moving Locally? Learn Why PODS May Be the Right Move, Too
Moving locally to a nearby neighborhood might seem like a walk in the park. In an ideal world, we could all just rent a truck, load it tight with all our things, and have everything moved into the new digs before dinner. But, as is the case with most things, the process gets a little more complex once you start to dig in.
Whether you're moving down the block or across the country, the fact is, packing up and moving all of your belongings can get complicated. You'll still need to figure out where everything will be going (In containers? In boxes? What about your furniture? Are you leaving anything behind?) and how you're going to securely move everything from Point A to Point B.
Fortunately, with PODS portable moving and storage containers, you can ease the stress and calm the single-day frenzy that comes with moving houses all at once. Instead, you can pack and store everything in your container over time. You won't feel rushed to move yourself, hire a moving company, or even schedule a moving day. What does that mean? Any outside factors won't put the kibosh on your move. For example, if your home's closing date changes, you haven't finished packing, or if you just want a couple more days in town, you're not beholden to a strict schedule. You can simply keep your container on your property and move things in and out at your leisure.
Moving with PODS portable containers is one of — if not the most — flexible and cost-effective options for a local move. And we're not just tooting our own horn. In fact, Move.org rated PODS the best overall moving and storage container company. With built-in storage for flexible relocations and availability in more than 20,000 cities, you can bet that when you're ready to move, PODS will be ready to make it happen.
Ahead, learn more about what makes PODS stand out from the competition.
With PODS, you can take your time unpacking
Typically, moving feels like a rush job, right? From the packing to the loading and everything in between, you may feel like you're in a race against time. I gotta get the truck back to the store in the next 20 seconds or they're gonna charge me an extra fee!
With PODS portable moving and storage containers, you don't have to worry about that. With storage containers, you can focus on taking your time loading everything and focus on taking your time unloading everything.
Once you're all loaded and ready to get moving, just call PODS to pick up and deliver your container straight to your new home. Then, keep the container at your new home until you're fully unloaded — every PODS move includes a month's worth of storage.
Moving your things in gradually gives you time to properly unpack and put things away without creating chaos in your new home. With typical local moving services or if you move yourself, you can expect to have boxes all over your new home until you completely unpack everything. It's kind of like going on vacation and coming home with luggage filled with summer clothes that sit there for months until you need those clothes again — except on a much larger scale. With PODS containers, you can enjoy (and actually see!) your new home without feeling pressured to "put things wherever they will fit for now."
With PODS, you can continue storing after your move
Once you move into your new home, you might not have the space to store everything in your home. That's okay. It happens all the time. That's why, if you need to store anything longer, you can just leave it in your container and PODS will pick it up and keep it at a secure PODS Storage Center.
If you have extra furniture, seasonal belongings, or anything you don't know where to store, this option gives you the time to figure it out and the space to unload your necessities in a new home. Plus, your stuff will be stored locally, so you can take what you need when you need it — just give the center a 24-hour heads-up so they can have your container ready for you.
With PODS, you can get help packing and loading
If you're moving locally by yourself or need an extra hand or two, PODS can refer you to local packing and loading help. This can take a big weight off your shoulders as you manage the logistics of your move, while a third party packs and loads everything into your PODS storage container on your property. Not unloading everything the same day? No problem! Simply schedule the unloading help when you need it down the line.
Local Moving FAQs
Q: What is the average cost for a local move?
A: The average cost for local moving services depends on where you live, the size of your home, moving supplies you want to use, gas, transportation fees, and the number of containers and furniture you have.
The cost of renting a PODS portable container for a local move is usually between $349 and $549. This includes a month of storage, a whole lot of flexibility, and a lot less stress. PODS local move prices are based on several factors, including the number and size of your containers, distance, time frame, and season.
Q: How do I move locally?
A: To move locally, you can either go the DIY route or hire some help. Here are a few scenarios:
Hitch a trailer to your car or rent a truck and pack, load, unload, and unpack your stuff by yourself
Hire a company to do it all: Pack, load, unload, unpack
Hire a company like PODS to deliver a storage container to your driveway, both at your old place to load and at your new place to unload by yourself at your leisure
Do a mixture of the above — For example, rent a PODS container but hire help for loading and unloading it
Q: What is the cheapest way to move my stuff?
A: The cheapest way to move your stuff is to do everything yourself, either by loading up your own car and taking tons of trips, or searching for a "cheap local movers near me" company, but you have to take into consideration surprise fees, insurance costs, and more. If you do want to handle some of the moving yourself, you can rent a portable storage container but load and unload everything yourself. That way, you don't have to worry about the actual logistics of getting your things from your old place to your new place — the portable moving and storage container company will do it for you!
Q: How much does it cost to move?
A: The total cost of moving depends on how far you're moving, how much stuff you have, and other determining factors. Some local moving companies will offer a general moving cost calculator or calendar, or you can request a quote to get an exact number. Don't just think about expenses from one aspect of the move, though (like how much a moving company will charge). For instance, if you're having some work done to your new place and have to stay at a hotel for a night or two, that cost should be budgeted for, as well.
Okay, so moving locally might not be that walk in the park referenced earlier, but with PODS, you can expect an efficient and secure move without feeling pressed for time. And isn't that what it boils down to anyway? Moving is all about timing, and the more you have, the better. Learn more about how PODS can help with your move on the PODS Blog.
---
Bonnie Azoulay Elmann is an NYC-based freelance writer and frequent contributor to the PODS Blog. Her work has appeared in Glamour, Health, and Parents, among others. She is an extremely driven digital storyteller who may or may not have a slight obsession with fanny packs.
Get a Quote
Choose the service you need
Comments
Leave a Comment
Your email address will not be published. Required fields are marked *