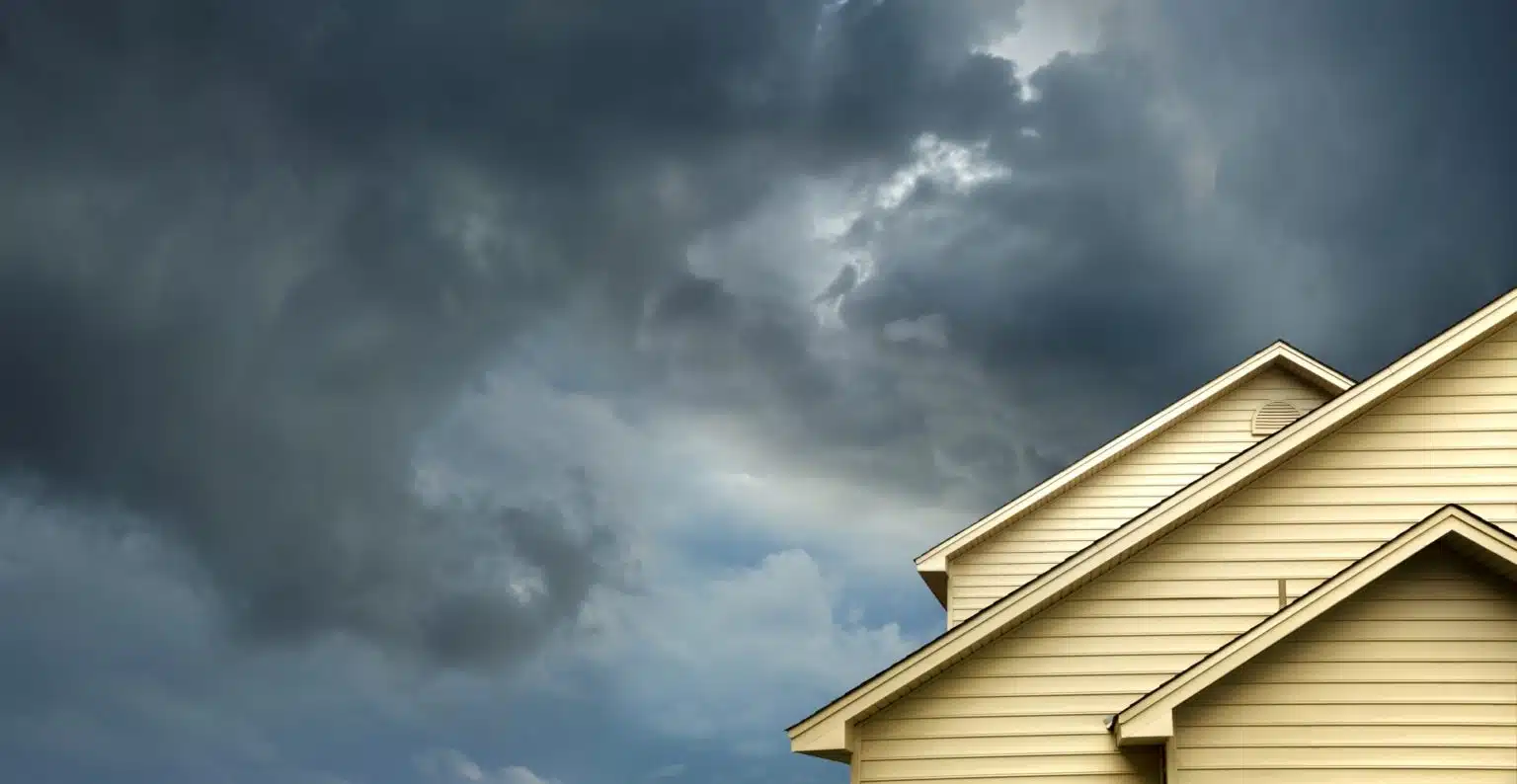 Are you prepared? Protecting your home from hurricane and wind damage
Your home is likely your largest asset in terms of your financial foundation, but it also serves as a source of safety, warmth, and comfort for everyone in your family. Strong winds, storms that expand into hurricanes, and other natural disasters can have short- and long-term impacts on your house, so experts agree that investing in protecting your home is one of your best decisions as a homeowner.
Rain storms, tropical depressions, hurricanes, you name it. It's like that old adage about death and taxes — they're going to happen, no matter what. That's why preparing with items such as storm shutters, heavy-duty garage doors, impact-resistant doors and windows, storm-resistant shingles, and a home generator are essential in many parts of the United States.
Why is it important to think about storm protection — especially when the weather is relatively calm?
Because experts are predicting another above-normal hurricane season in 2021, according to the Climate Prediction Center of the National Oceanic and Atmospheric Administration (NOAA). As a result, hurricane preparedness is essential for protection of life as well as property.
Forecasters say there is a 60% chance of an above-normal hurricane season, a 30% chance of a near-normal season, and a 10% chance of a below-normal season. There is some good news in the June 2021 hurricane-season update, though: NOAA's Climate Prediction Center does not expect "the historic level of storm activity seen in 2020." However, experts are still 70% confident that we'll likely experience 13 to 20 storms with 39 mph winds or higher — 6 to 10 of which could become hurricanes, including 3 to 5 major hurricanes. You can't exactly breathe a sigh of relief with that news, huh?
Likewise, summer weather also brings its own share of weather-related challenges. NOAA experts say these hazards, such as heat, thunderstorms, tornadoes, flooding, wildfires, and hurricanes, escalate quickly. And that's a primary reason why people need to step up in good times and bad to make sure their houses are ready for anything Mother Nature brings their way.
So how can I protect my home from wind damage and other storm-related issues?
With a topic as serious as protecting your home from wind damage and preparing for a hurricane, it only makes sense to go straight to an expert for advice — someone with first-hand knowledge and experience. So that's exactly what we did.
"The first step is determining what stage of the process you're in. That way you can get advice, purchase the correct products, install the products properly, and get the right level of insurance for the area where you live," said Duane Talaski, a longtime Florida homeowner with more than 15 years of experience weathering all types of storms.
"If you are planning to build a house, currently building one, or have a newly finished home, this is your best opportunity to prepare it for wind, rain, storms, and hurricanes," Talaski said. "Retrofitting a home is challenging and needs its own set of standards, many of which you can learn from local state and municipal officials where you live — but it certainly can be done."
He goes on to explain that the state of Florida, for example, has stringent requirements that builders must follow in terms of storm and hurricane protection for newly built homes. Other states may not be as detailed, so it is worth your time as a homeowner to do your research at every step of the planning, construction, and completion process. Moreover, having a reliable builder and a good working relationship with their company is essential to maintain an open line of communication and have an avenue for any follow-up questions.
But how do you wind-proof a house exactly? How do I protect my house from a storm surge? If I'm not building a new house, is it too late?
Whoa, now, slow down. Yes, this is a big undertaking, and it can get pretty overwhelming if you try to do everything at once. Keep this in mind: Any effort you put into protecting your home is worth it, no matter how minor it seems. And if you live in an existing structure in a storm-prone area, your home likely already has some protection. Your best line of defense? Focus on one area at a time, to ensure you end up with high-quality results. The following are some of the key elements in a home that experts, including Talaski, say need to be considered when building or retrofitting a home to be prepared for wind, storms, and hurricanes.
Roof storm protection
There are two factors homeowners need to think about when considering a new roof that can withstand the strongest of storms: materials and shape. When it comes to roofing materials, many wind and hurricane experts suggest installing a metal roof because it is less likely to sustain as much damage as a shingled roof during a strong wind storm — wind-damaged shingles are common because they are often not properly adhered to the home.
For roof shape, many engineers recommend hexagon or octagon shapes that help resist wind or hurricane damage. A hip roof — where all sides slope downward — is also an ideal option because it prevents the wind from hitting any obstructions. "The wind easily passes around and over the roof," Talaski said of his hip roof.
Want an added layer of protection? Install hurricane straps inside your home, which help hold the roof to the walls. For homeowners with straps currently installed, check the nails, straps, and bracing in the attic annually to make sure everything is in tip-top shape well before hurricane season.
Window storm protection
Experts agree that having the right kind of windows is essential to get through wind, storms, and hurricanes. One of the best ways to handle this is through the installation of impact-resistant windows. While this option is expensive, it is considered the easiest for homeowners. The idea behind impact-resistant windows is that they can handle extremely high winds and hurricanes. And if they do break, the glass does not fly across the room — rather, the glass breaks in what is best described as a spider web pattern. These windows are rigorously tested, Talaski said, so they are worth the investment.
If you do not have impact-resistant windows, you will want to install hurricane shutters for protection. There are permanent options, such as accordion shutters, which are attached to your home year-round, as well as temporary shutters like panels that are made of steel, aluminum, or other sturdy materials.
Door storm protection
This category includes entry, side, and garage doors, and all have manufacturers who are creating wind- and hurricane-rated products for homes that are in areas with the potential for high winds or hurricanes.
Believe it or not, high winds are especially hard on doors, Talaski claims. If a door isn't the right material or installed correctly, the wind can pull it open and wreak havoc around the home's interior. Generally, homeowners will want entry or side doors that open to the outside. Look for products from manufacturers that are rated for "coastal impact," or "wind load" or "wind rated" doors or garage doors. For what's considered "premium" protection, go for stainless steel or aluminum metal doors. They can certainly put up a fight against heavy winds and hurricanes.
Home exterior storm protection
There are two other aspects of your home that Talaski suggests considering, and they may not have been top of mind. Make sure your landscaping and outlying property are prepared for high winds, storms, or hurricanes. That means thinking about the types of trees you plant or how you maintain the trees that are on the property. For example, some trees are prepared for high winds and can withstand big storms. Others will lose limbs, which can become projectiles, or may be uprooted entirely.
Likewise, consider how many items you leave around your property. If there is a sudden storm and you have large planters, timber, rocks, or bricks laying around, these can become projectiles as well. These items need to be secured. If they aren't, they can cause hundreds — if not thousands — of dollars in damage to your home. Excellent points, Talaski!
Insurance storm protection
Sure, having a home means always having home insurance, but this is especially important in areas where storms, winds, and hurricanes are possible. Talaski recommends making a friend out of your insurance agent or company. Visit their office or talk to them on the phone about how a house should be built or how a product should be installed if it is going to have the maximum protection; these individuals are extremely knowledgeable about what has to be done from the start or along the way, he says.
Another way to get ahead of the game? Have special experts in areas such as wind mitigation come out and inspect your home. These licensed experts can assess what needs to be done or what could be done to better protect your home.
What to do when disaster strikes
Let's be real. Unfortunately, sometimes even the best preparations can't prevent damage. We have no control over Mother Nature, after all. So just as it's important to prepare for disaster, it's important to have a plan in place if and when disaster does strike.
When the storm passes, everyone is safe, and it's time to start picking up the pieces, consider your options for your salvageable belongings. A portable moving and storage container is a great solution. It allows you to quickly remove precious belongings from a compromised home and store them for as long as you need while you restore your house. The best part? If you work with a company like PODS, you'll receive the ultimate in flexible service, so you can focus on what really matters.
"You have to protect your house all the way around," Talaski said. "Storm prevention should be an ongoing thing." And if you ever need us? We'll be here, too.
---
Karen Dybis is a Metro Detroit-based freelance journalist. Her work has appeared in Time magazine, U.S. News and World Report, The Detroit News, and more.
Get a Quote
Choose the service you need
Comments
Leave a Comment
Your email address will not be published. Required fields are marked *