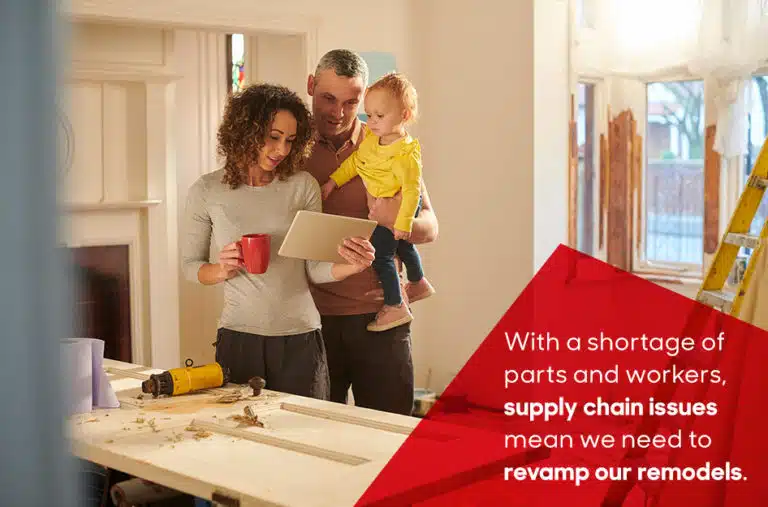 How to Conquer Your Remodel Despite Supply Chain Issues
If there's one term hopeful home remodelers have become accustomed to over the past several months, it's "supply chain." Actually, "supply chain issues" is more precise.
For those unfamiliar with the vagaries of the global economy, the challenges contributing to the supply chain crisis and how it's affecting consumers are a bit perplexing. But if you just want to redo a room in your home without having to get an economics degree, here's a quick explanation — along with suggestions for how to work around some of the most common hurdles and (finally!) get your remodeling project done.
Why supply chain issues are affecting your plans to remodel
The supply chain crisis got real for many Americans late in 2021, when news reports showed nearly half a million containers stuck at sea on cargo ships waiting to dock at the side-by-side Port of Los Angeles and Port of Long Beach, the two largest import sites in the U.S. But that backup was the result of a domino effect that actually began at the start of the pandemic, when factory shutdowns meant shortages of materials and parts needed for everything from dishwashers to drywall. Without those building-block items, stores at the end of the chain — appliance dealers, lumber yards, etc. — had nothing to sell and, in turn, had to shut down or cut labor.
Then about a year into the pandemic, COVID-19 vaccinations became available and U.S. consumers began to get out and about in a big way. Where did we go? Shopping! But with so many people suddenly on the hunt for goods, and many businesses still playing catch-up from "pandemic mode" with fewer staff members and fewer items on their shelves, the system began to buckle.
Labor shortages are complicating the crisis
Adding to the supply chain crisis, roughly 33 million people have left their jobs since the spring of 2021, ditching roles they considered underpaid or unsatisfying. No matter where people are in the labor market — from service jobs to white-collar types — the radical pandemic shift in the way we work has sparked a massive reevaluation of priorities and needs.
You've likely been touched by "The Great Resignation" in several aspects of your life. Restaurants, supermarkets, and other service-based businesses have struggled mightily to keep workers and customers happy at the same time — and not always successfully. And when it comes to remodeling costs? Employers have had to boost wages to attract new employees, which has, combined with the higher cost of goods, meant hiking price tags on the products you need for your remodel.
But wait. Let's back it up and revisit California again. How did the ships get stuck in the first place? The same issues plaguing goods and services were haranguing shipping and ports: not enough dock workers to unload the containers and not enough truck drivers to get the goods out of the port and on the road to consumers. Eventually, that initial backlog cleared out. But even today, some of the same challenges and supply shortages that caused it remain.
Phew.
How to get your new kitchen, bath, or bedroom finished (despite the supply chain crisis)
Okay, okay, enough of the Debbie Downer stuff. Let's keep our eyes on the prize: Anything's possible with patience and a little imagination. Sure, we may not be able to directly impact the supply chain issues. However, here are a few strategies you can implement as you encounter delays, frustrations, and other possible obstacles:
Be Flexible
Staying agile with your remodeling timeline is a good idea. We're still facing unknowns with the pandemic — the potential for new variants, for instance, which could ignite supply chain issues all over again. It's important to realize from the get-go that you might not have your dream kitchen fully finished in time for, say, Easter. But it will likely be ready in time to cook your Thanksgiving feast. Either way, patience is a virtue in this economic climate. Just know that it will get done, and it'll be absolutely worth it!
Complete Your Remodel Piecemeal
You might also consider the possibility of tackling your remodel one bit at a time, rather than all in one shot. For example, once your remodeling permits are in place for your new bathroom, perhaps you can get your new tile installed or work on installing your new tub while you wait to receive the new vanity and faucets. Adjust your expectations so you're prepared for calls from your contractor to report inevitable delays. And remember: It's not the construction company's fault.
Adjust Your Design
Think about selecting a different brand or model of appliances or items on your list. If your heart's set on one particular type of tile and nothing else will do, this approach isn't for you — and you will have to remain at the mercy of the market. But if you can be flexible, talk to your contractor or a designer about what else is available. You might be pleasantly surprised, both with your bank account balance and your potentially expedited remodeling timeline.
And in the meantime…
While home remodeling delays are frustrating all on their own, what's worse is that the rest of your home can remain cluttered with construction materials and spillover for much longer than you originally planned. No one wants to live in a construction site, which is why a great solution to this problem is a portable storage container kept conveniently in your driveway. Use it to organize materials for your remodel or to hold furniture and other belongings during renovations. Either way, keep everything out of the way but close at hand with a PODS portable storage container.
The pandemic has altered so much about everyday life — not all of it related to supply chain issues. Check out the PODS Blog for more on the changes in the past few years, including adapting to in-home learning, top trends in creating a home office, and how the moving process has changed.  
---
Shannon Jacobs is a Tampa-based freelance writer and frequent contributor to the PODS Blog. She has lived in Atlanta, the Berkshires, and Nashville, but always returns to the warmth of Florida's Gulf Coast.
Sources:
Get a Quote
Choose the service you need
Comments
Leave a Comment
Your email address will not be published. Required fields are marked *