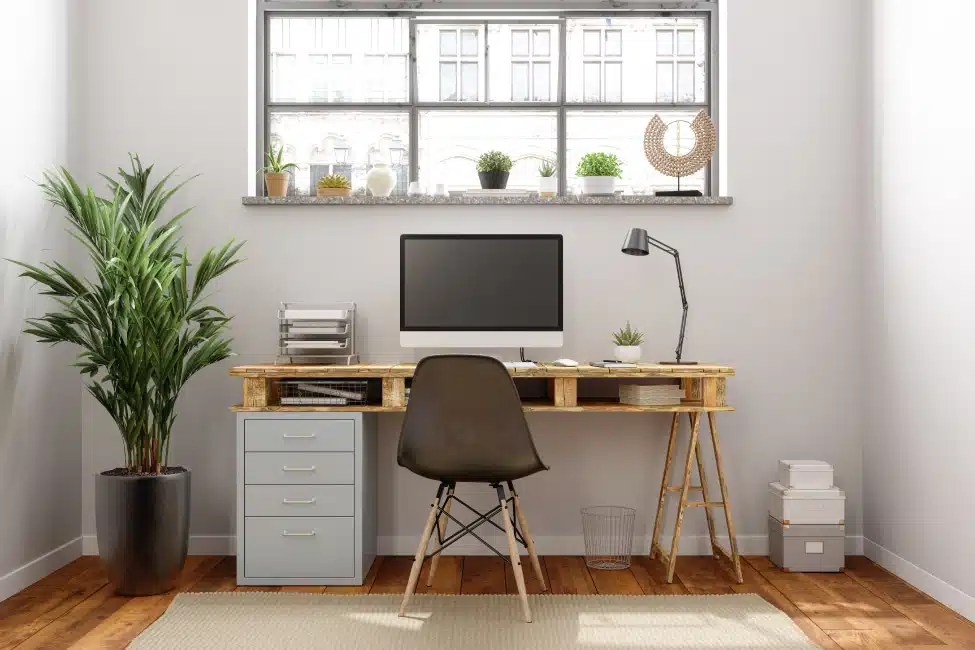 How To Design A Home Office That Works For You
Hybrid working from home is here to stay and now, more than ever, there's a great need for an appropriate and dedicated working space in our homes. This is our new normal, even if some of us have been resisting it over the past couple of years. And, whether we realize it or not, our working space impacts our productivity.
Sure, working in a corner of your kitchen is okay until your kid interrupts an important meeting with a tantrum about some spilled cereal, and that's even before considering the less-than-ideal conditions working like this entails (those cute bar stools and your kitchen island aren't exactly ergonomic and comfortable for all-day use!).
Adapting or renovating a hybrid working-from-home space isn't as hard — and it definitely doesn't have to be as expensive — as you may think. You just need a little guidance and some imagination to make it a project that fits your needs (and limitations).
Q: How do I remodel my existing home office?
A: Research "home office ideas" that match your taste and space, like these work-at-home office setup ideas that will up your work-from-home game. Follow that with a realistic budget for the changes you want to make. Depending on those things (and your skills), decide whether this is a project you can handle on your own or something you're better off doing with the help of a pro. Then, you can dive in.
So let's get up, stop working from the bed or dining table, and make a plan to have the most productive home office on the block!
How to get started when you want your hybrid workplace to look more like modern home offices
Designing your home office setup can feel overwhelming, but these easy-to-follow tips will make the whole process go more smoothly.
1. Pick a space that matches your needs
Make sure the area you're choosing to adapt works for your work needs. If you take a lot of video calls (and who doesn't nowadays?), you probably won't want to choose a small corner by a hallway where your family members are always walking past you. Conversely, you won't want to cramp yourself into any old nook. Find an area, maybe in a bedroom or den, that doesn't get a lot of foot traffic but has ample space to stretch out. Speaking of…
2. Take advantage of unused rooms you have at home
If you have a guest bedroom that barely gets any use (or a spare one that slowly morphed into a catch-all storage room), consider transforming it into your home office. There's no logic behind saving a room for use just a few days a year when you could be taking advantage of it daily.
Declutter, declutter, declutter. Take away what doesn't belong to make room for what does.
Find the pieces you need. Everyone will need a few basic things — a desk, a chair, and a filing cabinet or two. You can either buy these pieces new or from secondhand markets like Facebook Marketplace.
Make it your own. The best part about home offices is that first word — home! It should be a sacred space to get your best work done, and that means decorating and customizing to your heart's content. You pay a premium for space, so make good use of it!
Q: How do I create a home office when I'm short on space?
A: Not all of us have a dedicated room for a home office. Fortunately, however, there are plenty of small home office ideas that don't require extra walls. Have a large living room area? Divide it up with room dividers. Work solely from a laptop? Consider installing a fold-down desk on a wall that can easily be stored when not in use. Have a closet that can be consolidated? Take the doors off, create a desk area, and voilà — you now have a dedicated workstation! With a little creativity, you can easily create the perfect home office setup for your small space.
3. Get some home office inspiration
When you're not an interior designer (and even if you are), it's important to discover what kind of aesthetic you're attracted to and what types of objects fit within that style, so you can make a cohesive shopping plan instead of buying random objects that make no sense together. Think about the rest of your home — do you lean toward more classic or modern stylings? Eclectic or chic? Of course, if you're looking for something different, your dream office is just a few Pinterest Pins away.
4. Remember that function can also be pretty
Your work-at-home office setup doesn't have to be boring to be functional. When choosing home office furniture, such as lighting, chairs, or the best desk (for you), make sure they fit the space and are comfortable, but also pay attention to the design and how they make you feel when you're surrounded by them. These are things you'll be spending a lot of time with, after all. A little bit of color and flair never hurt anybody!
5. Have fun with all the little details
Everything doesn't have to be serious and functional in an office space, especially when it comes to your home office. Have fun when picking the art and small elements you bring into your space and all those small home office decorations. Love cats? Maybe use a set of brass yoga cats as bookends. Love color? Paint a wall or pick a piece of art in your favorite color. You get the idea. Be sure to add things that make you smile and help you stay inspired!
6. Make your home office Zoom-ready
In pre-pandemic days, only YouTubers used to care about "your background" (as in what you see behind you while you're on camera), but now, this is a concern for everyone who's been working (and attending classes) over Zoom or a similar video conferencing platform. Make sure to put your desk in a well-lit area so you'll have good lighting on video calls, and style the wall or bookshelves behind you in a way that supports the image you want to project and the type of work you do. Pro tip: A small ring light is a great way to -literally- put yourself in your best light!
7. Be mindful of your home office lighting
You'll need good light to be productive (and, as mentioned above, also look good on video calls), so don't overlook this seemingly small detail. This is also another opportunity to get creative and pick fun light fixtures that may not work in other spaces of your home but that can help bring your personality into this space.
8. Maximize storage space
Even if you have a dedicated space or spare room, do you still find that there's rarely enough space for all your storage? If so, be sure to check out storage ideas for small spaces and our 10 easy IKEA hacks, so you can make the best out of any space without breaking the bank. Basically, find a good solution that works for you and is easy to maintain, so you can avoid clutter at all cost. Hint: You probably have more storage space than you think. Poke around for extra bins, ottomans, and even space below beds and dressers. If you just have too much stuff, though, there are plenty of professional storage options available.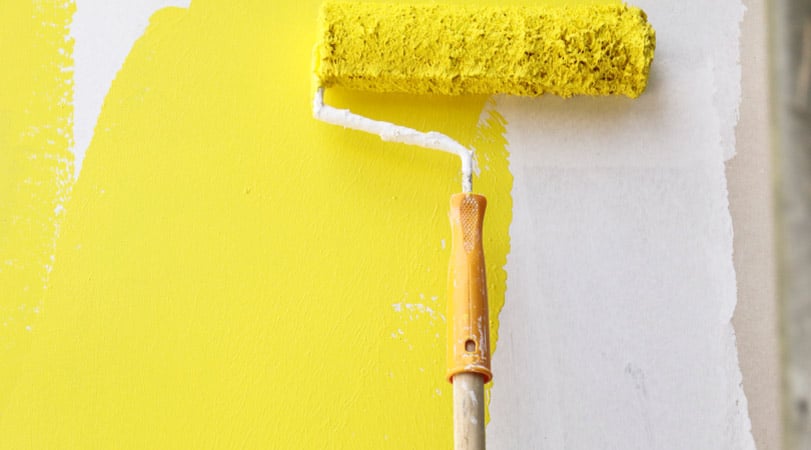 9. Add colors you love
Color influences everything we do, so choosing the right color is essential when it comes to designing a space. Make sure to mix a little research with your personal taste, and don't be afraid to paint a wall or two. This is your chance to escape the boring neutrals most corporate office spaces use.
Q: How can I make my home office look professional?
A: Investing in a couple of good statement pieces of home office furniture is your best bet. You should also keep in mind whether you plan to take in-person meetings there at all in the future, or if you will only be hosting conference calls.
How to plan a big home office remodel
If you need or want to embark on a big remodel beyond changing your home office furniture and adding new paint, make sure you do your research and stay realistic if you're on a smaller budget.
1. Start with a mood board
As with any design or decor project, make sure you know what your vision is, so you can more easily and clearly share it with the pros who will be helping you turn it into a reality. Think hard about what you want this space to be — a cozy, friendly vibe or a professional, TCB feel? A mood board full of the colors and imagery you want will help the experts bring what you have in mind to life.
2. Check your house plans and consult an expert
If you are planning to build or take down walls, you need to consult an expert to make sure you won't compromise the structure of your house. It's easy to get excited about moving walls, but only an expert can tell you how viable your initial ideas and plans actually are (and you don't want your house falling down, right?).
3. Hire pros
Unless this is your area of expertise, you'll want to work with either an architect or an interior designer — along with some contractors — to properly design and execute your project. Don't bite off more than you can chew.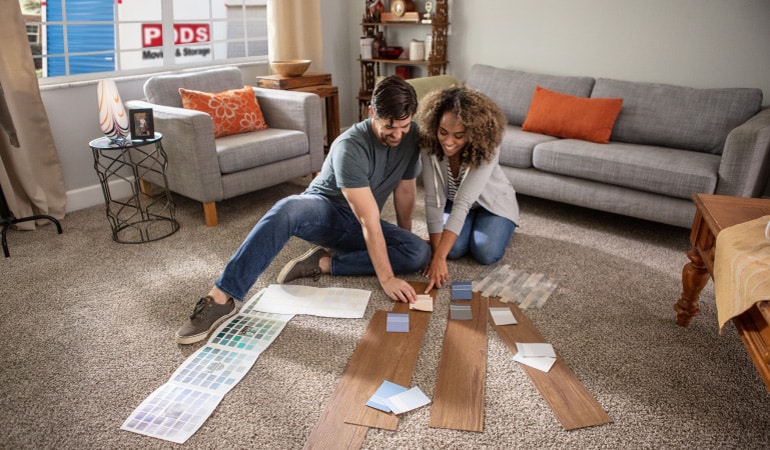 4. Get a storage solution for your furniture while construction is underway
If you decide to give one of the more heavy-duty "remodeling a home office" ideas a go, consider using a PODS portable storage container to store your things while you spruce the place up. Keep the container right in your driveway for as long as you need so your things are out of the way, but never out of reach. Once your renos are done — just unload and PODS will come to pick up the empty container!
Q: How much does it cost to design a home office?
A: Costs of designing a home office vary greatly, depending on the space and type of changes you want to make (as well as the professionals you hire), but the average starting price for a smaller project — like replacing your desk and adding some new light fixtures — is around $2K.
Lastly, if your work has moved to fully remote now and you don't feel like you have the right space to thrive under these new conditions (which is understandable, since most of us picked our places before things changed), consider possibly moving. The PODS blog has you covered here with a guide to the best places to live when you're working from home, buying a home during the pandemic, and much, much more.
---
Ivonne Spinoza is a freelance writer and a frequent contributor to the PODS blog. Her work has appeared in Matador Network, PBS' Independent Lens, and The Chicago Tribune, among others. When she's not snuggling her cats, she's either Kondo-ing someone's life or fighting jet lag at some airport.
Get a Quote
Choose the service you need
Comments
Leave a Comment
Your email address will not be published. Required fields are marked *