Retired Life in the Tar Heel State - Here's Everything You Should Know About Retiring in North Carolina
One of the biggest draws of North Carolina is the magnificent natural beauty — from the mountain views to the more than 300 miles of coastline. And from the vibrant city streets to the peaceful communites, there's truly a place for every lifestyle when retiring to North Carolina.
Benefits of Retiring in North Carolina
If you're a new retiree looking to relocate somewhere else for a change in lifestyle, it may be difficult finding a state that holds low taxes on retirement income. You're in luck if you move to the Tar Heel state, though, as all social security retirement benefits are exempted from income taxes. As a bonus, you also don't have to pay estate taxes.
And in North Carolina, you can basically have your pick, when it comes to weather preferences. If you prefer warmer weather year round with calm and mild winters, then it's smarter to move somewhere east, near the coast. If you love bundling up in the cold and enjoying mountain views, though, west might be best.
Retiring in North Carolina - FAQs
Q: Is North Carolina a good state for retirees?
A: With lower tax rates on retirement income than other states and a cost of living lower than the national average, North Carolina is a fantastic state for retirees!
Q: Is North Carolina or Florida better for retirees?
A: That depends on your personal preferences, of course, but by retiring in North Carolina rather than Florida, you're opting for a cheaper lifestyle. You'll also get to experience the changing seasons and a different type of environment altogether. And if you want to access mountains and snow during the winter, North Carolina is a far better option than Florida.
Q: Do retirees pay state taxes in North Carolina?
A: Social security on your federal tax return is exempt from the state's income tax, but withdrawals from retirement accounts, along with pension incomes, are still taxed.
Q: Is it cheaper to retire in NC or SC?
A: While both NC and SC offer many of the same amenities and tax perks, it's slightly cheaper to retire in SC, as it has a slightly lower cost of living.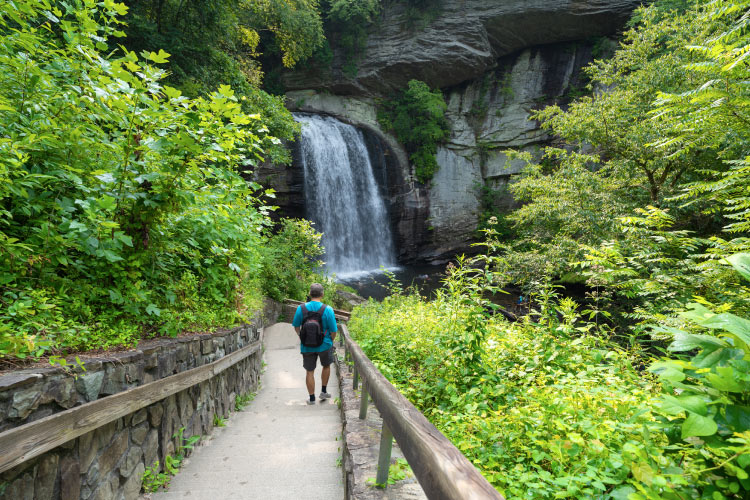 Retiring in North Carolina Pros and Cons
Along with having a strong mix of diverse retirement communities, the benefits of retiring in North Carolina are plentiful. But while the perks certainly outweigh the bad, it's important to take a look at some of the pros and cons of retiring in North Carolina.
Pro: Affordable Cost of Living
North Carolina is known for its low cost of living, compared to other states such as Virginia, Tennessee, Florida, and New York. And according to Best Places, the state's cost of living index of 91 is lower than the national average of 100.
Con: Limited Public Transportation
Depending on where you choose to live, public transit may not be that great. There are a few bus systems, but you can't get around very easily without a car. Charlotte, for example, has a walk score of 26 out of 100 and a transit score of 27 out of 100. Raleigh, however, has a walk score of 81 and a transit score of 71.
Pro: Lower Tax Rates
The lower tax burden in North Carolina is one of its best perks! With a flat income tax rate of 4.99 percent and a sales tax rate of 4.75 percent, tax rates in North Carolina are among the lowest in the nation.
Con: Heavy Traffic
Like larger cities in any state, you should be prepared for traffic. It can get particularly congested in areas like Charlotte, Raleigh, and even Asheville.
Pro: Excellent Healthcare Programs
North Carolina is known for its top-notch healthcare programs and facilities — especially those at the University of North Carolina at Chapel Hill and Duke University. A variety of renowned research facilities can also be found in North Carolina, including Research Triangle Park — one of the largest research parks in the world.
Con: Natural Disasters
Since North Carolina is situated in a hurricane zone, you'll have to be prepared every season (particularly in August, September, and October). Tornadoes, flooding, and severe storms also occur, which puts houses in coastal areas at risk.
Pro: Gorgeous Natural Surroundings
North Carolina is home to over 40 state parks, four national forests, and 10 national park sites. The lucky residents of this state have easy access to the Appalachian Trail, the Blue Ridge Mountains, and the Cape Lookout National Seashore (to name a few).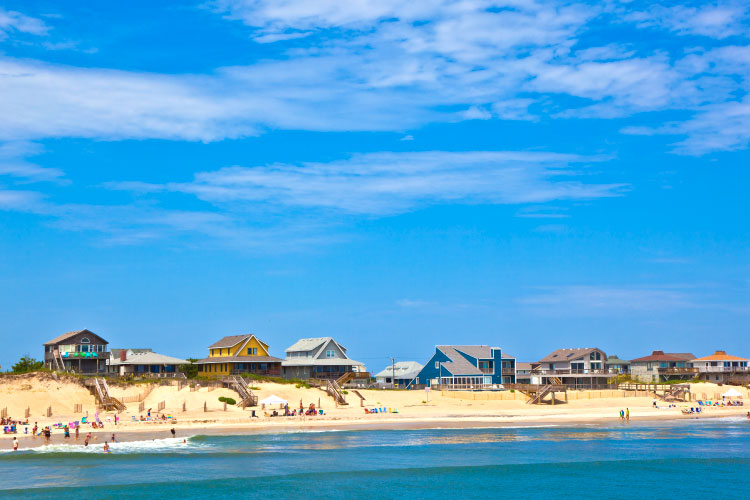 The Best Places to Retire in NC
Whether you decide to immerse yourself in North Carolina's rich arts and culture scene, become an outdoor enthusiast and start hiking in the mountains, or even choose to take a college course or two, North Carolina is home to many great cities for retirees and offers lower housing prices and an affordable cost of living. From bigger cities to smaller towns, here are some of the best places to retire in North Carolina.
1. Pine Knoll Shores, NC
Pine Knoll Shores is actually ranked #1 on Niche's list for "Best Places to Retire in North Carolina." This town is right near the ocean, where you get access to some of the state's most beautiful beaches, including the town's namesake shores and Iron Steamer. The mild and warm climate allows residents to enjoy various outdoor activities year round, such as fishing, swimming, and kayaking. It does snow in this seaside town, but you'll only see an average of one inch per year. Aside from that, the average low is only 50 degrees.
There are also plenty of shopping establishments in town, like the Atlantic Station shopping center. Trash & Treasures Antique Mall is also right over the bridge, only about 20 minutes away from the coast.
2. Charlotte, NC
Retiring in Charlotte, NC, is great for those who are interested in volunteering. There are a variety of museums in the area, like Discovery Place Science museum, the Charlotte Museum of History, and Blumenthal Performing Arts center.

Sports fans will also love living here, as the Carolina Panthers, Charlotte Hornets, and Charlotte Checkers all play in the city. It's also home to both the NASCAR Hall of Fame and the Charlotte Motor Speedway.
3. Raleigh, NC
Retiring in Raleigh, NC — the state capital — offers retirees plenty of entertainment options, including a variety of historic sites and museums, as well as historic homes from the 1800s. Various cultural events are held throughout the year in the community, including the popular State Farmers Market. The Neuse River Greenway Trail and William B. Umstead State Park are also great places to get out and spend some time outdoors.
4. Wilmington, NC
Wilmington is situated along Cape Fear, right near the Atlantic Ocean. Retiring in Wilmington, NC, offers residents easy access to the Wilmington Riverwalk, along with several nearby beaches, making it a laid back and enjoyable place to live for retirees.
You can explore Downtown Wilmington on a horse-drawn carriage tour or by foot if you'd rather stop along the way. Locals also love exploring the National Register Historic District, which spans over 230 blocks and is often compared to areas like Charleston and Savannah.
Some of the area's most notable examples of Victorian architecture can be found in the Bellamy Mansion Museum. Other notable structures include the Burgwin-Wright House and Gardens — the only Colonial-era building open to the public.
5. St. James, NC
St. James is a fantastic retirement community that caters to active retirees with a variety of golf courses nearby. This community is situated just 20 minutes outside of Southport and about 10 minutes from the beaches of Oak Island.

There's also a retirement community in the area that has over 4,500 homeowners and was first established in 1991. It even has its own fire department and mayor.
6. Nags Head, NC
Average rent (one-bedroom): N/A
Average home value: $694,500
Retirees often choose the town of Nags Head due to its beautiful beaches and fun local activities. This town is situated in the middle section of the Outer Banks, right across from Roanoke Sound.
Nags Head has a wide variety of custom-built homes that stretch between the Atlantic Ocean and Roanoke Sound for over 400 acres. Locals love visiting Whalebone Park, which provides easy access to Jennette's Pier. Here, you can participate in activities like fishing, sailing, and plenty of other water sports.
The local Village Beach Club also serves as the community's recreational and social center.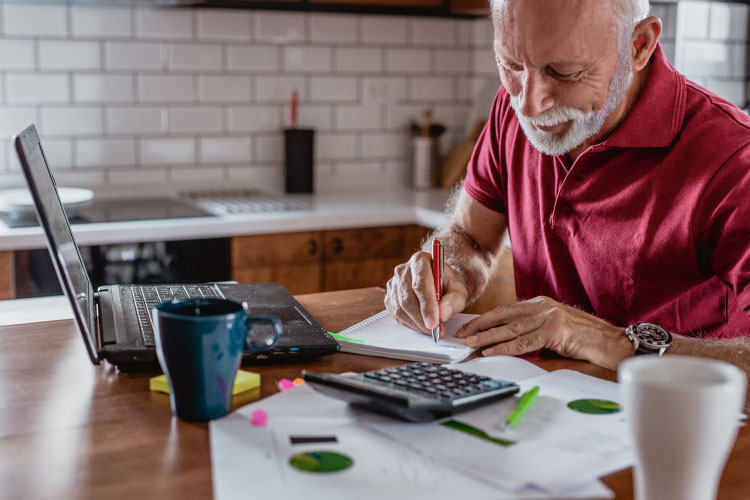 How Much Money You Need To Retire Comfortably in North Carolina
If you're looking for a hard number, you should start with your pre-retirement salary. According to NerdWallet, you want to aim to save about 10-15 percent of your pre-tax income annually before you retire. How much you end up with depends on when you started and how much you saved, of course. And how much you need to live comfortably in North Carolina, specifically, depends on your personal lifestyle preferences.

The good news is that, as discussed before, retirees in North Carolina have some favorable tax conditions that make living there a little easier. Not only is there no estate tax, but social security is also exempt from state taxes. There is still a tax on withdrawals from retirement accounts, however, along with pension incomes. The state's rate comes in at a moderate 4.99 percent, and you can expect it to gradually decrease to 3.99 percent by 2027. This might be steep when you consider the fact that nearby states like Florida have no individual income tax, but compared to South Carolina's sliding scale that can reach up to 6.5 percent, North Carolina's tax rate isn't so bad.
It's also important to reconsider the state's overall cost of living. Compared with the national average index of 100, North Carolina comes in lower at 91, while South Carolina's average is only slightly cheaper at 89.3. Florida, on the other hand, comes in at 103.1. So while you're winning on tax savings in the Sunshine State, it's important to consider all of your expenses before you rule out the coast of North Carolina.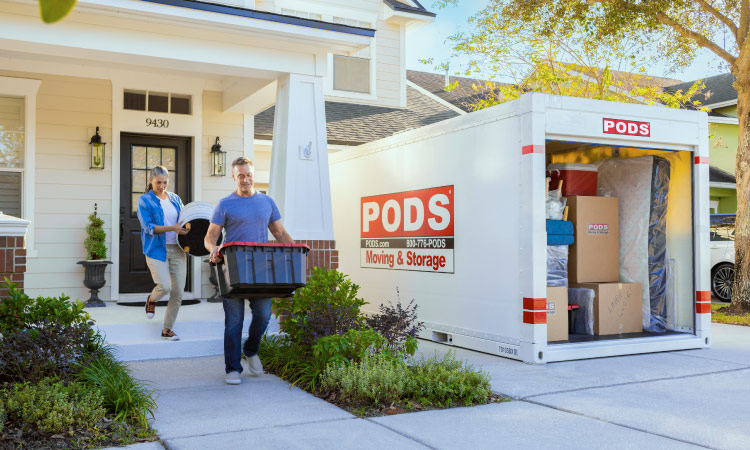 Retiring in North Carolina: Making the Move
Moving to North Carolina can be made simple with the help of a portable container from PODS. They'll deliver the container to your doorstep, where you can pack and load it up on your own schedule. They'll then pick it up and take it to your new home in the Tar Heel state once you're ready. And if you need a little extra time before unloading, that's no problem, as one month of storage is included with each rental.
Editor's note: For ease of reading, monthly rental prices were rounded to the nearest $25 and home values were rounded to the nearest $100.
Get a Quote
Choose the service you need
Comments
Leave a Comment
Your email address will not be published. Required fields are marked *