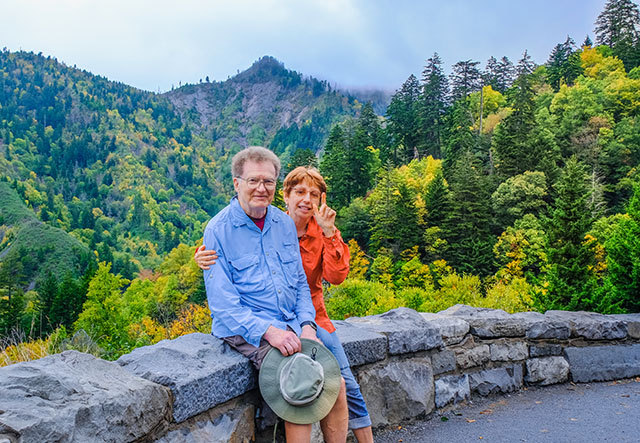 Ready to Retire to the Volunteer State? Here's Everything to Know About Retiring in Tennessee
Good music, great drinks, and easy access to the Great Smoky Mountains — no matter what you're on the hunt for, Tennessee has it all. You might even be surprised to learn about all the benefits the Volunteer State has to offer retirees! Are these benefits enough to make retiring in Tennessee worthwhile for you, though? What other factors should you consider first? Our guide is here to answer all those questions and more.
What are the benefits of retiring in Tennessee?
When it comes to planning for retirement, many people seek out states that offer benefits like the following:
Good healthcare
Transportation services
Affordable housing
Warmer weather to enjoy year-round
Easy access to leisurely activites
A slower-paced lifestyle
Of course, a few of these qualities will sound better to some than others, but Tennessee is a great place to find all of these and more.
To help decide if Tennessee is the right place for you, the Retire Tennessee program is a notable government initiative that offers resources and services to assist retirees in choosing a suitable community, in both the urban and rural counties.
Retiring in Tennessee — Pros and Cons
Even though Tennessee offers many benefits for retirees, there are still going to be drawbacks, just like in any state. To give you a better idea of what these are, here are some of the major pros and cons of retiring in Tennessee.
Pro: Affordable Housing
Many retirees choose to downsize their homes to cut back on some of those pricey real estate costs. And while buying a home (even a small one) can still be pretty expensive nowadays, Tennessee's average home price of around $311,700 is lower than the national average of $349,800.
Con: Lack of Public Transportation
If you don't have a car, moving to a small town in Tennessee might not be the best move. Even living just outside of larger towns like Nashville and Memphis isn't going to leave you with a lot of options for getting around. What's more, the transit in the larger Tennessee cities is lacking in comparison to other similarly sized metros. And because of Tennessee's weaker public transportation system, you'll notice that traffic can get pretty bad. In fact, the city of Nashville is ranked as the 19th most congested city in the entire country. Be sure to take that into account when choosing where in the state you'd like to retire.
Pro: Endless Entertainment Options
In Tennessee, you'll find plenty of big cities that will keep you busy throughout your retirement. Some of the state's most prominent creative arts scenes include the Grand Ole Opry in Nashville and Memphis' Graceland. In fact, you'll find museums, galleries, shows, and even historic sites in just about every city you come across. After all, Tennessee is known as the birthplace of rock 'n' roll and the birthplace of country music!
Con: Higher Crime Rates
Unfortunately, Tennessee comes with the fourth highest violent crime rate in the U.S. and a property crime rate of over 22 per 1,000 residents. That doesn't mean there aren't safe cities throughout the state, though, and it doesn't mean you're always in danger. Crime is present in many major cities, and there are safety measures you can take, like always staying aware of your surroundings. Your individual risk is also going to fluctuate based on where you are and any situations you might be dealing with.
Pro: Natural Beauty Wherever You Look
Tennessee boasts some of the most stunning natural beauty in the entire nation, including the world renowned Great Smoky Mountains. During the fall, you'll find plenty of vibrant colors in each of the abundant forests, while the summer season is perfect to explore the beautiful parks and trails of the mountains.
Retiring in Tennessee - FAQs
Q: Is Tennessee a good state for retirement?
A: With low tax rates, affordable housing, a low cost of living, natural beauty, and so many fun things to do, Tennessee is a great place to consider retirement.

Q: Where is the best place to retire in Tennessee?
A: Gray is currently at the top of Niche's list for "Best Places to Retire in Tennessee."

Q: Is Tennessee or Florida better for retirees?
A: The answer to this question depends on your specific interests and why you're moving in the first place. Tennessee's cost of living is below the national average, while Florida's is above. However, Florida provides easy beach access and has warm weather year round. Tennessee, on the other hand, has mountains and rivers to hike and explore, and you'll get to experience all four seasons.

Q: How much money do you need to retire comfortably in Tennessee?
A: In Tennessee, the estimated average retirement spending costs come to around $902,500, which is the seventh lowest among the states.
The Best Cities to Retire in Tennessee
Tennessee is home to quite the favorable climate. Although the summers can get pretty hot and humid, the winters are mild, and the residents still get to enjoy the beauty that comes with the four seasons. Surrounded by scenic lakes and mountains on the eastern side of the state, in particular, the sights in Tennessee truly never get old for local residents.

With affordable housing prices and costs of living overall, the Volunteer State is home to so many great cities that it's difficult to find just one to settle down in! To give you a better idea of where you might want to put your real estate market focus on, though, take a look at a few of the best places to retire in Tennessee.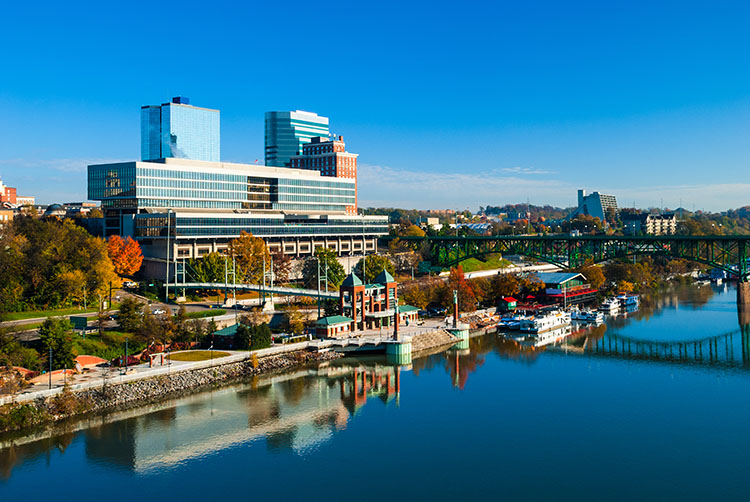 1. Knoxville, TN
Located in East Tennessee, the city of Knoxville is only about an hour away from the Great Smoky Mountains National Park. It's also home to the University of Tennessee, Knoxville, which is where the Volunteers play. (Sunday football, anyone?)
With a population of about 196,000, the city is only about one-third the size of Memphis, so retiring in Knoxville, Tennessee, might be a better option to experience city living while avoiding the crowds.
2. Gray, TN
The small Tennessee town of Gray is situated in the foothills of the Appalachian Mountains and has been placed at the top of Niche's list for "Best Places to Retire in Tennessee." Gray is known for its many outdoor activities, like hunting, fishing, hiking, and camping.
There are also many local events that help bring the community together, like the Jonesborough Farmers Market and the Farmers Market at Gray Fairgrounds.
3. Chattanooga, TN
If you want to experience all four seasons but prefer to stay away from constant snow, retiring in Chattanooga, TN, may be just what you need. This city — located just north of Georgia's state line — has great weather year round and experiences mild winters.
The Tennessee River goes through the city's north side, and there are plenty of outdoor activities in the area, including water sports, hiking, and biking. One of the most popular nearby attractions is Lookout Mountain, which is about 2,000 feet above sea level.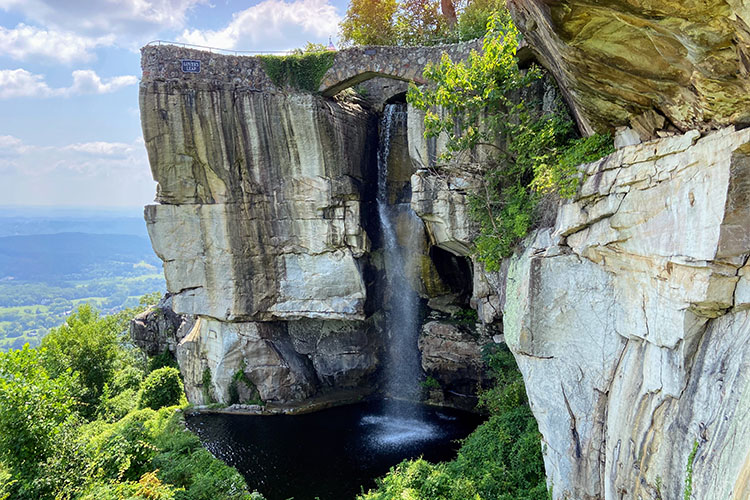 4. Lookout Mountain, TN
Average rent (one-bedroom): N/A
Average home value: $879,400
Lookout Mountain is a great suburb situated less than an hour from Chattanooga, with plenty of great amenities, beautiful homes, and beautiful views (of course). One of Chattanooga's most popular attractions in Lookout Mountain is Ruby Falls, which is regarded as one of the world's most impressive cave waterfalls. Another notable attraction is Rock City, which is famous for its panoramic views across seven states.
There are a wide variety of establishments in Lookout Mountain, Tennessee, that include Cafe on the Corner and Market on the Mountain, and residents often stop by while they're out.
5. Nashville, TN
Nashville is the largest city in the state of Tennessee, and it has all the necessary amenities to make it an ideal place to retire. It's also home to Vanderbilt University Medical Center, which is regarded as the top hospital in the city, state, and in the Southeast.
Nashville is known for its country music presence, but it's not the only thing you'll experience here. Those looking for something a bit different can enjoy live performances of all types at various venues — whether it's an arena tour, a show in the park, or at a rooftop bar. You can even catch a show on the water by climbing aboard the General Jackson Showboat.
Retiring in Nashville, Tennessee, also gives you easy access to unique local shops that offer a variety of gifts, like vintage finds and handmade goods. You can head over to Uncommon James, Emerson Grace, and Kittenish, for example. And in addition to its renowned hot chicken, the city of Nashville also offers a variety of other food options — locals especially love the barbecue and brunch.
6. Signal Mountain, TN
If you want a quiet spot that's still close to the city, look no further than Signal Mountain.
Just north of Chattanooga, the magnificent scenery of Signal Mountain can be seen in various forms, such as its streams, waterfalls, and panoramic views. Begin your adventure at Signal Point — a great place to start if you want to explore the area's trails. And if you're planning on visiting Edwards Point, you'll likely want to start at Rainbow Lake Trail, as it offers numerous scenic overlooks and steep, rocky climbs.
The "World's Longest Yard Sale" also passes through here every August, providing the perfect excuse to check out local wares (and maybe even hit the road).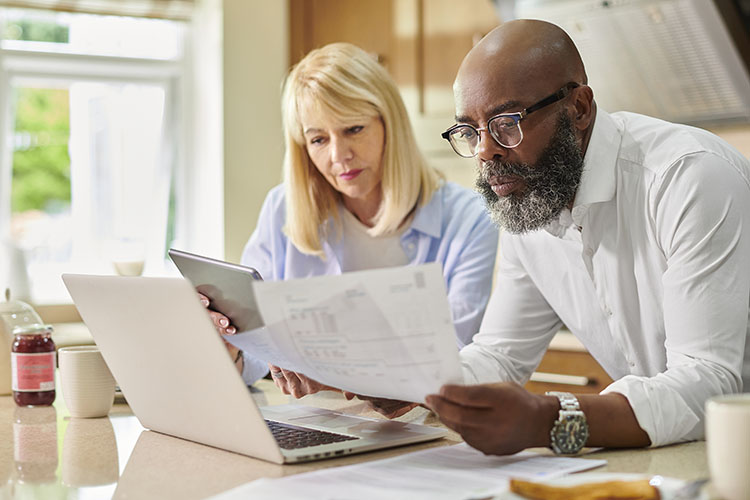 How much money do you need to retire comfortably in Tennessee?
In Tennessee, the estimated average retirement spending costs come to around $902,500, which is the seventh lowest among the states. However, it's important to think about how much money you will specifically need to comfortably maintain your lifestyle — and that's different for everyone, of course.
So what are some of the financial benefits of retiring In Tennessee? First things first, Tennessee doesn't have a state income tax, meaning your social security and retirement savings aren't taxed. Public and private pensions, along with withdrawals from retirement accounts, are also not taxed.
The overall cost of living is also lower than the national index of 100, coming in at 89.9. Various expenses, such as food, housing, and healthcare, are cheaper — even in big cities like Knoxville — than they are in other states.
And when compared to other southern states, Tennessee is among the lowest, when it comes to cost of living — especially when paired up with Florida. There, the cost of living comes in at 103.1. North Carolina comes in only slightly higher at 91, while South Carolina is just barely lower at 89.3.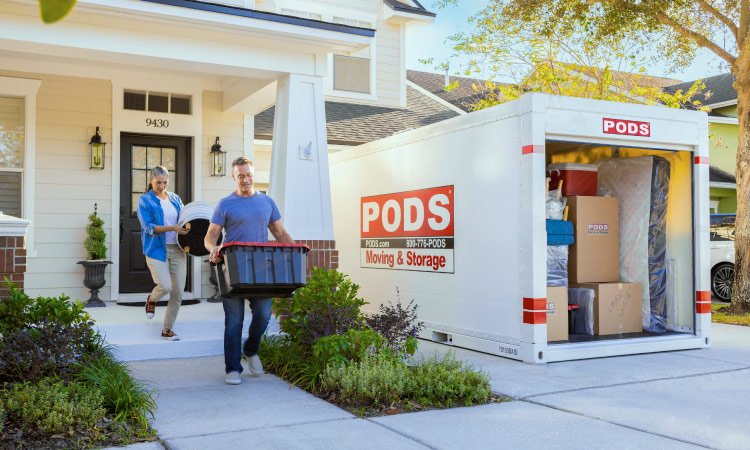 Retiring in Tennessee: Making the Move
You can easily rent a portable moving container from PODS to make your move to Tennessee simple and flexible. PODS will deliver a container to your doorstep, where you can pack and load on your own schedule. Once you're ready, they'll send someone to pick it up and take it to your new home in the Volunteer State. If you need a little time before you're ready to unload, that's fine, too! One month of storage is included with every PODS move.
Editor's note: For ease of reading, monthly rental prices were rounded to the nearest $25 and home values were rounded to the nearest $100.
Get a Quote
Choose the service you need
Comments
Leave a Comment
Your email address will not be published. Required fields are marked *