Take advantage of our limited time offer. Enter promo code HOLIDAY25 to save up to 25%.
See offer details
.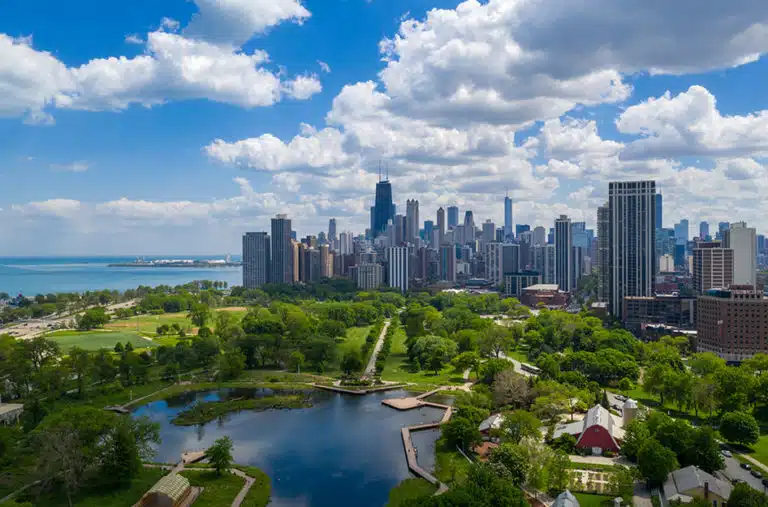 Where Are the Safest Places to Live in Chicago in 2023?
Undoubtedly, Chicago is one of the most popular cities to live in — whether you're a young professional jumping off your career, you're looking for the perfect place to raise a family, or you're simply wanting to live in a city that has it all. And more likely than not, you're in search of the safest neighborhoods in Chicago (we've got you covered there). No matter why you're moving to Chicago, you've made an excellent choice! And plenty of the other nearly 2.7 million residents (and growing!) in the city would agree.

Chicago is well known for its bustling city life, laid-back suburbs, and that unforgettable midwestern friendliness that you just don't get in other large cities. When you live in the Chicago area, you have access to a large public transportation network (the second largest in the country), world-class cultural events, a thriving sports scene, and all the different kinds of food you could ever hope to try! This city is easily navigable, thanks to its grid system, and you'll find that it's also a pleasure to walk through. And even though you're in a concrete city with some of the tallest skyscrapers around (Chicago invented these iconic buildings!), you'll find that there is a surprising amount of green space as you get to know the ins and outs of the nation's third largest city. There certainly is a lot going for — and going on in — the Windy City.
If the Windy City is calling your name, see how PODS can help get you there.

One of the first questions you should consider when you're relocating to a new place — in addition to what's the best way to move your stuff there — is how safe the area you'll be living in is. And, unfortunately, we'd be remiss if we didn't mention Chicago's crime. Chances are, you've seen some of the news stories or read some of the statistics when it comes to the crime levels in Chicago. But don't be discouraged. That crime that you've read or heard about? It's mainly in certain areas — areas that you're not looking to settle down in anyway. In fact, we've come up with a list of the safest places to live in Chicago, so you can rest assured that you're making the best decision for your situation. Let's dive in!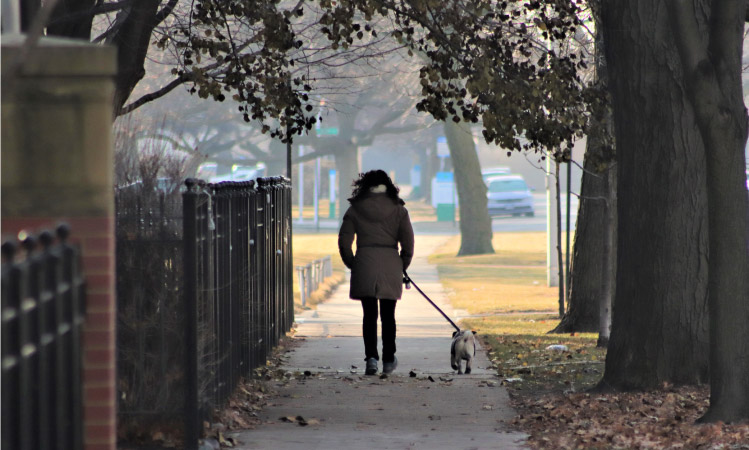 How Safe is Chicago?
While crime statistics are a crucial factor to consider when you're moving, it's important to realize there are a lot of variables that contribute to a city's crime rate. In Chicago, it has a lot to do with historical political corruption, poor policy decisions, and widespread poverty. And while the violent crime statistics might make you think that Chicago is not safe, it is in fact safer than some other cities. The chance of being a victim of random crime is always present in any city — and that includes Chicago — however, that risk can increase or decrease depending on your individual situation and area of the city.
Compared to the rest of the country, Chicago does have a higher crime rate. It was 67 percent higher in 2020 — and violent crimes make up a large portion of that rate. From 2021 to 2022, overall crime in Chicago increased by a whopping 41 percent. However, it's important to note that other common crimes like theft, robbery, and motor vehicle theft are also a substantial part of the overall crime rate of Chicago. In fact, these types of property crimes are common in almost all larger cities. And while the number of violent crimes that occur each year in the city may make headlines, according to Neighborhood Scout, Chicago didn't even make the top 10 of the most dangerous cities in 2023. Other large cities, such as Memphis and Detroit, did.
It's also worth noting that the majority of crimes in Chicago take place in certain neighborhoods that have long been affected by poverty, policy decisions, and disinvestment. If you're considering a move to Chicago, do your research and find out what these areas are so you can avoid them — and steer toward the safest neighborhoods in Chicago instead. Most areas that tourists visit are considered safe and welcoming, as long as you make sure to be aware of your surroundings and your personal items.
Chicago is a safe place to live, and there are plenty of city neighborhoods and suburbs where you'll feel right at home. Just because you move to Chicago does not necessarily mean you're going to be in more danger. Learning how to avoid dangerous situations is crucial in Chicago, just as it is in any large city, and we can help you find the safest places to live in Chicago.
Safest Places to Live in Chicago - FAQs
Before we delve a little deeper into the safest areas in Chicago, it might be a good idea to get some answers to frequently asked questions first.
Q: What is the safest area in Chicago?
A: If you're wondering, "Where is the safest area in Chicago?" and are looking to stay in one of the safest neighborhoods in Chicago, you can't go wrong living in Edison Park, Lakeview, Lincoln Park, Forest Glen, and Rogers Park.
Chicago is a safe place for tourists and residents alike, as long as you're aware of your surroundings and have accounted for your personal possessions. Tourist areas like Navy Pier, outdoor parks, and museums are all great areas to check out — just be aware that pickpocketing can occur, so make sure to keep your valuables safe.
Q: What areas around Chicago are safe?
A: If a suburb is more your style, you're in luck, because Chicago has some great options, like Buffalo Grove, Clarendon Hills, and Naperville. They're far enough away from the hustle and bustle but still close enough to enjoy all the big city offers.
Q: Which Chicago suburb is safest?
A: Chicago has several great and safe suburbs surrounding it, but Clarendon Hills stands out. About 23 miles southwest, the small community with a population hovering around 8,500 earns an A+ overall grade on Niche, with an impressive A- for safety.

Q: Which side of Chicago is the safest?
A: Generally speaking, you'll find that the most dangerous areas in Chicago are found in the South Side, while the safest (and wealthiest) neighborhoods are clustered in the North Side. Don't let that stop you from exploring the vibrant and diverse communities all around the city, though, or taking precautions to stay safe no matter where you are in the city.

Q: Where is it safe to stay in Chicago?
A: It is safe to stay in certain parts of the city and many suburbs of Chicago. Depending on your needs, you can find an area close to the city, like Lincoln Park or Logan Square, that is safe to live in. If you'd like an area a little further away from the city, there are suburbs in all directions, such as La Grange Park, Tinley Park, Schaumburg, or Northfield, that would be great areas to call home — and some of the safest places to live in Chicago.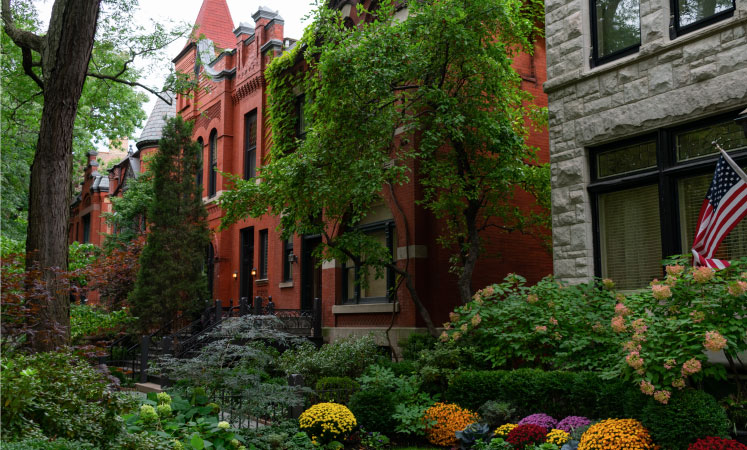 Lincoln Park
Safest Neighborhoods in Chicago
In no particular order, these areas are some of the safest places to live in Chicago.
1. Edison Park
Average rent (one-bedroom): $1,350
Average home value: $405,600
Great for: Restaurants, community, suburban feel, annual Edison Park Fest
Named after the inventor Thomas A. Edison, Edison Park has the friendly, suburban feel that's located right in the city of Chicago. This place is consistently recognized as one of the safest neighborhoods in Chicago. Located in the northwest part of the city, many people choose to live here because of everything that's in walking distance. Whether you want to stop at a local pizza place, grab a drink with friends, or just enjoy walking the dog, Edison Park is a great place to do it.
2. Lincoln Park
Average rent (one-bedroom): $2,275
Average home value: $475,800
Great for: Restaurants, easy commute, farmers markets, green space
Another safe area for homeowners and renters alike is Lincoln Park, named after Abraham Lincoln, since the president lived the majority of his life in Illinois. Perhaps you've already heard about their popular zoo (which has no entrance fee), but residents also love walking along the South Pond and taking in the views of the city. One of the best things about living in Lincoln Park is the easy commute throughout Chicago. It's close to some amazing attractions like the Chicago History Museum and the Second City Theater, not to mention some great spots to grab a piece of pizza and relax.
3. Forest Glen
Average rent (one-bedroom): $1,425
Average home value: $453,800
Great for: Walkability, small-town feel, green space
This neighborhood on the northwest side of Chicago offers all the convenience of the big city but with that small-town feel. Just because this is a smaller community doesn't mean it doesn't have plenty to offer. If you're looking to purchase a home that comes with a lawn and some space between your neighbors, this is the place for you. Residents here enjoy having access to amenities but without the feeling of being cramped or overcrowded.
4. Lakeview
Average rent (one-bedroom): $1,925
Average home value: $370,900
Great for: Walkability, proximity to Lake Michigan, restaurants, ball games
As if the neighborhood's name didn't clue you in, it's situated right on Lake Michigan, just north of Lincoln Park — but with noticeably lower housing prices. Chicago's most populous neighborhood, with more than 100,000 residents, Lakeview actually comprises a handful of small communities, including Southport corridor, Lakeview East, West Lakeview, Wrigleyville, and Northalsted (also one of Chicago's coolest neighborhoods). The neighborhood is delightfully walkable and boasts landmarks like Wrigley Field (home to the Chicago Cubs) and the Laugh Factory, where you can catch some of the hilarious live comedy scene Chicago is known for.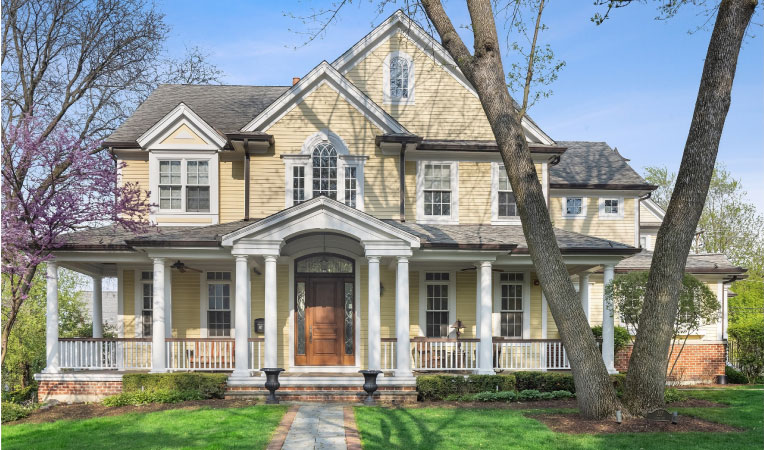 Clarendon Hills
(Source: @properties via Facebook)
Safest Suburbs of Chicago
While the city of Chicago is divided up into 77 community areas, everything outside those designated zones is considered a suburb. Chicago has plenty of safe suburbs going in all directions outside of the city, but we thought we'd highlight just a few here that may be worth looking into.
1. Clarendon Hills, IL
Average rent (one-bedroom): $1,500
Average home value: $568,600
Great for: Coffee shops, parks, public schools, community events
Ranking as the No. 3 Best Place to Live in Illinois is the Village of Clarendon Hills. Located west of the city, this suburb also has an A+ rating on Niche. Incorporated in the 1920s, this area is home to about 8,500 people and is considered one of the best places in the country to raise a family.
2. Buffalo Grove, IL
Average rent (one-bedroom): $1,975
Average home value: $379,800
Great for: Schools, shopping, restaurants
If you have kids and are considering a move to a Chicago suburb, you should check out what Buffalo Grove has to offer. With great schools, superior athletic opportunities, and plenty of employment opportunities, this suburb is very popular. And although most residents own their own homes, there is still a good amount of apartment rental space in the small downtown district. Just a short commute away from the city and a good safety rating make this suburb a fantastic choice!
3. La Grange Park, IL
Average rent (one-bedroom): $1,275
Average home value: $408,700
Great for: Schools, bike trails and green space, local events
If you're looking for an affordable place to live outside of the city, consider the village of La Grange Park. This is an especially well-situated place if your commute takes you into the city each day. There is a Metra commuter rail that is easy to get to and allows residents to explore and travel all over the city of Chicago. Most residents own their own homes in this suburb and love to support the variety of local businesses that have set up shop in the area. Another plus? Music Under the Stars, La Grange Park's weekly summer/fall concert series.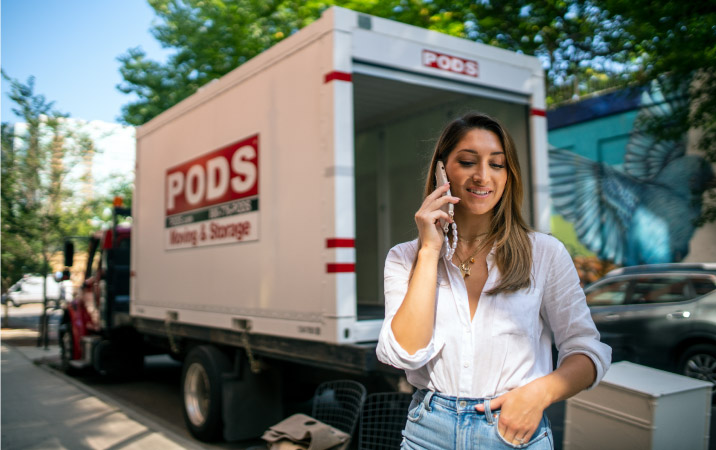 Make Your Move to Chicago a Seamless One
Are you ready for a move to a safe neighborhood or suburb of Chicago? Why not consider getting a PODS storage container? Moving with storage makes for a flexible move. If you're not sure where in Chicago you want to put down roots just yet, you can give yourself time to get to know the city and which area best fits your needs by renting a place short-term. Bring what you need with you and pack the rest into a PODS portable moving and storage container. Keep it at a PODS Storage Center as long as you want and, when you've found your perfect place, have it delivered right to your new home. The best part? PODS City Service does all the tight-street navigating for you!

Editor's note: For ease of reading, monthly rental prices were rounded to the nearest $25 and home values were rounded to the nearest $100.
Get a Quote
Choose the service you need
Comments
Leave a Comment
Your email address will not be published. Required fields are marked *