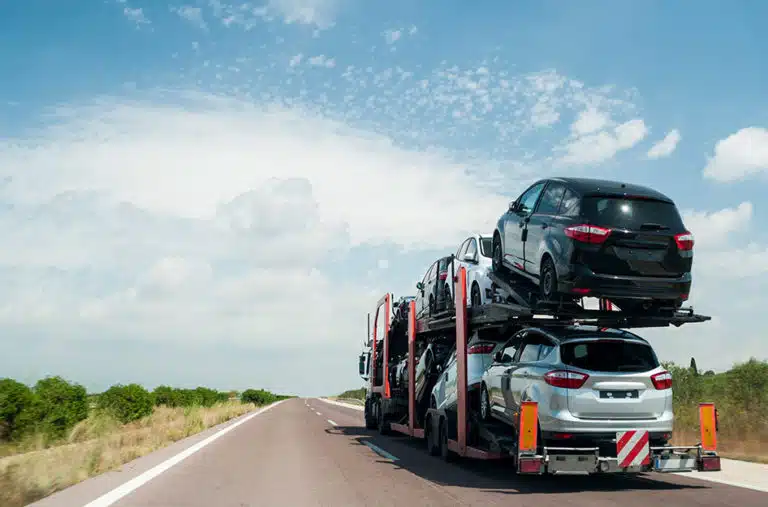 9 Pertinent Questions to Ask Before Shipping Your Car
PODS container booked? Check. Everything packed securely? Check. Car ready to be shipped? Maybe not so much.
Shipping household items is one thing, but as you schedule, sell, shop, and prepare everything else that comes with a long-distance move, you may have questions about how to get your wheels from here to there. After all, it takes a little more research and prep work to ensure your car is, ahem, in good hands.
To make things easier, we've compiled some tried-and-true advice from people who've been through the experience. So step away from that moving checklist for a minute and see answers to some of the most frequently-asked car transportation questions.
Why should I ship a car? It moves just fine, right?
On its face, it may seem silly to load a car onto a truck and have it driven to another part of the country — when the entire point of a car is that it can drive itself. But when you consider things like fuel costs, the wear-and-tear of the highway, the safety risks inherent to driving long miles, and the time you can save, things start to add up.
Cost: We've all felt that sharp pain in our wallets when we pull up to the pump, especially nowadays. Now imagine dropping a couple of Grants and maybe a Franklin a dozen or so times as you criss-cross the country on the way to your next home. Not to mention hotel stays and food costs.
If you're going a short ways, it may not be so bad and you may come out financially ahead by driving yourself, but the longer your move, the more cost-effective shipping your car becomes. Check out some charts from Move.org to get a good feel for how things break down.
Wear-and-tear: Highways can be long and challenging roads for cars, especially ones that have been through the rigamarole of long trips before. If you're anything like us, you're a bit cognizant of what kind of punishment your trusty four-wheeled friend can take. That's where car shipping comes in. Instead of taking on nasty potholes and tough miles on rough roads, you can let a giant semi truck do it for you. This can help keep your car running longer, plus avoid any mileage fees if you're leasing.
Safety risks: It's no secret that America's roads are dangerous. Combine that with all the things you have on your mind as you're moving (maybe a new job, trying to find a new school for the kids, or the general upheaval of the whole process), and you may want to think about letting the pros take on the turnpikes for you. The more miles you drive, the higher the likelihood of an accident happening.
Time: This is probably the most important factor. You can save tons of time and effort by having your car shipped to your new home rather than schlepping it yourself. By working with a pro shipper like Acertus or Mr. Car Shipper, you can hop on a flight and get to work right away on fixing up your new digs or finding the best movie theater in town. Just be aware — you might have to get a rental while your car makes its way to you. More on that later.
What do I need to know before shipping a car?
Selecting reputable auto transporters is a little different than choosing long-distance moving companies. If you search online for moving companies, you're taken to easy-to-understand websites (hopefully). According to our car shipping experts, "how to ship a car" searches yield slightly more confusing results. The names and brands aren't instantly recognizable, and you'll probably see listings for both brokers and carriers.
Brokers act as an intermediary between you and the carrier. They'll give you an estimate with their fees included.
Carriers are the ones who ship the car. They can be harder to find online, but working with them means working directly with the company or person who will be shipping your car.
Each option has pros and cons. Brokers have access to multiple providers and can do some of the leg work for you, but there's a certain peace of mind that comes from working directly with your auto transportation provider. Finding the right fit depends on your preferences and situation.
And, of course, there's always the question of legitimacy. There are a lot of scammers in the car transportation industry, so it helps to get recommendations from a trusted source. If you need a referral, PODS works with dependable, experienced car shipping providers who are more than able to handle the job.
How long does it take to ship a car?
Shipping a car takes time in two ways: You need to book at least two weeks in advance to ensure the provider can accommodate your pick-up date, and you need to be patient when it comes to delivery.
Car shipping providers should be clear about their timelines up front, but the typical timeline is often around two to six weeks. You'll need patience — and perhaps a rental car — while waiting for your car's arrival.
What is the safest way to ship a car?
There's more than one way to ship a car. But by that, we mean there are a couple of ways — literally — so don't get too excited by that intro line.
Open-vehicle shipping: These are the big trucks you've seen on the interstate hauling two levels of cars.
Enclosed-vehicle shipping: This is when your car is shipped in a closed truck. Because fewer cars can fit in the truck, it's a more expensive option, but it's something to consider if you're shipping an expensive sports car or a valuable antique automobile.
What is included in a car shipping quote?
Once you've found some car shipping providers you'd like to learn more about, it's time to request some quotes, so you can better understand the car shipping rates. The cost of shipping a car varies, depending on the situation.
Some of the factors that will affect your car shipping quotes include:
Distance
This one's pretty obvious. Longer distances cost more, but they may also have a lower per-mile price. One factor that may be evaluated is the route from your current city to your new one. If the driver has to go through some high-traffic areas or veer from interstates and highways, it may affect the price.
Dates
Need something done fast? It could cost you. Flexibility on your end can often mean getting the best price or even getting some savings.
Vehicle Type
The driver needs to know the size and shape of your car. If it's longer, taller, or heavier than the average vehicle, it may require more trailer space (i.e., be more expensive to ship).
Vehicle Condition
If your car won't start, it's not necessarily a non-starter. But if it can't roll, brake, or steer, you may be out of luck when it comes to car shipment. Most providers require that your car be able to perform these three functions for loading, unloading, and safety purposes.
Season
Moving to Florida in the winter? So are the snowbirds. Shipping a car during a popular season may be more expensive than moving in the off season.
What questions should I ask a transportation company?
You've researched your options and gotten some quotes, but before signing on the dotted line, you'll probably want to do a little more vetting. Sure, Company A is 20% cheaper than Company B, but are they trustworthy? And is that low quote too good to be true?
Here's how to find out:
Is your company licensed and registered?
Auto transporters have to register through the U.S. Department of Transportation. Ask for their DOT number to verify their status and view safety reports.
Are you insured? Do I need to purchase additional car shipping insurance?
Car shipping providers are required to carry liability insurance, but many do not offer cargo insurance. Ask your provider what they cover and if you need to purchase additional car shipping insurance to ensure your belongings are covered in the event of an accident.
Does your car transportation quote include every fee?
No one likes surprise charges. Ask if the quote includes everything or if there are any possible fees that could occur from penalties, unforeseen circumstances, etc.
What documentation is needed?
Your auto transporter will likely need your car's title and registration as well as your identification and proof of insurance. Ask if any other paperwork is required.
Can you negotiate with car shipping companies?
If you're working with an auto transportation broker, they often have the ability to negotiate with providers on your behalf. They can also obtain car shipping quotes and pass that information on to you. Then, you can compare to find the car shipping rates that work for your budget.
Trying to negotiate directly with the provider may be a little more difficult. The car shipping quotes, as we mentioned before, are carefully calculated and likely don't have much wiggle room for deductions.
How do I prepare my car to be shipped?
We're not ones to judge messy cars, but auto transporters are another story. While they're not worried about aesthetics, they do have to perform inspections during pickup and final delivery, and your car clutter can cause some interference. Before you ship, get your car in ship shape. You'll probably also need at least a fourth of a tank of gas in your car.
Can I leave my personal belongings in the car during shipment?
Considering loading your car up with your wardrobe to prevent packing more boxes? Sorry, you're not the first person who's thought about gaming the system. That's why car transportation providers have strict rules about removing all personal items from the vehicle before shipment.
Insider Tip: Don't want to be worried about making everything fit? Save yourself some shopping time and future headaches by ordering your packing and moving supplies at PODSboxes.com. From mattress bags and moving blankets to precisely planned kits designed to fit each PODS moving container size, simply order online and PODS will deliver everything right to your door.
---
LB Gabriel is a freelance writer who lives with her husband, daughter, and Golden Retriever in Memphis, TN. A frequent PODS Blog contributor, she's a sucker for any tip she can find on downsizing, cutting clutter, or minimalist living. When she's not on a deadline, you can find her on a tennis court or golf course.
Get a Quote
Choose the service you need
Comments
Leave a Comment
Your email address will not be published. Required fields are marked *