Moving Into an Apartment: 23 Tips for Surviving the Move and Small-Space Living
This post was updated on October 1, 2022.
So you're planning a big move to a big city, but maybe your new digs are . . . not so big? You may be envisioning yourself surrounded by towers of boxes in an apartment too small to accommodate any of them, swimming through clutter and asking yourself how you ever thought this was a good idea. But fret not — that record-scratch, freeze-frame moment is not inevitable. With some helpful apartment tips, a little planning, a lot of decluttering, and a hefty dose of creativity, you might just find this small, new place is your favorite home yet. 
1. GET ORGANIZED FROM THE GET-GO
Time is your friend when it comes to planning a move. From deciding between using a moving company or renting a truck to taking some time off work, there are plenty of — ahem — moving parts. To help keep it all straight, use an apartment moving checklist that lays out all the logistics for you and when to tackle them. (Hint: you should start getting ready eight weeks before the big moving day.) If nothing else, use the moving list for the sheer satisfaction of crossing off each item.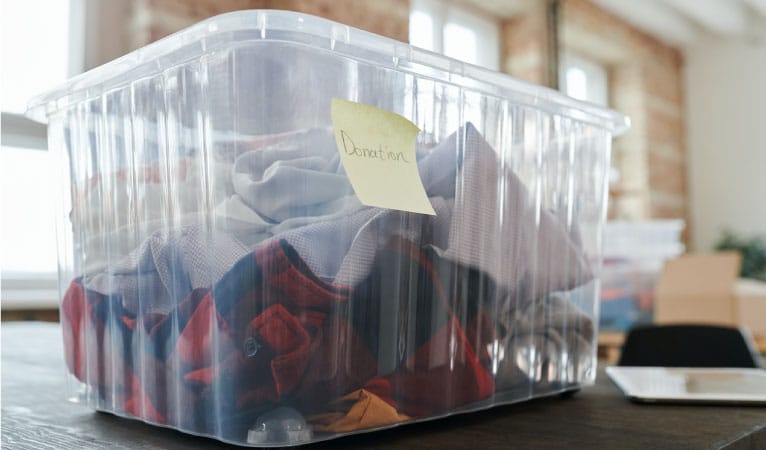 2. GIVE YOURSELF TIME TO DECLUTTER
There's plenty of research to show that clutter can stress us out. But in an unfair Catch-22, decluttering can also stress us out! Trying to cram the downsizing of all of your stuff into the week before apartment moving is a surefire way to get burned out. Instead, give yourself as much time as you can by starting the decluttering process well before the move (three weeks before moving day works great). We've found it's easiest to go through items room by room: Tackle your closet first, then your bedroom, go through the living room, and clear out the kitchen. You'll have big piles of stuff ready to be expunged in no time.
Decluttering left you with analysis paralysis? Bring it all. Stay focused on your other to-dos with storage built into your move. PODS containers make it easy to move all your necessities to your next home, then stow away everything else either in your driveway or at a local PODS Storage Center.
Before sending everything to Goodwill, let friends and family know you have things up for grabs if there's anything they'd like for their own homes. Post pictures of items you know you can get rid of in your local Buy Nothing Facebook group, or put them on Facebook Marketplace to see if you can make a little cash to fund the movers you're hiring. If you're unsure about giving away a certain item, you still have some time before moving to mull it over. Once you've sold what you can, bring the rest to a local donation center to help your stuff find a new home.
3. TAKE A HARD LOOK AT YOUR KITCHEN ACCOUTERMENTS
Now that all your extra stuff is out of the way, it's time to get serious. That's right, now it's time to actually start downsizing your home. Do you really need a rice cooker, pressure cooker, slow cooker, toaster oven, and air fryer? Likely not. And chances are you won't have room for all of them in your new pad even if you wanted to. Get practical and pare down to the basics — and that goes beyond the kitchen. Maybe you can keep three comfy pillows out of your collection of a dozen throw cushions and bring two sets of towels instead of ten. Make like Marie Kondo and go through everything, from your wardrobes to your cabinets, setting aside anything you can part with. Because if it doesn't make you happy in a larger space, it certainly won't spark joy in a smaller space.
4. DECIDE ON YOUR NONNEGOTIABLE TANGIBLES
Here's the thing: Sometimes the things we love are impractical. And if this new apartment is going to be a happy home, you'll want to have your absolute favorite belongings there with you. While it may not make pragmatic sense to truck your beloved record collection into your new small-space living lifestyle, downsizing to a bluetooth speaker and Spotify account just might not cut it for you. If that's the case, pack that record player up and trim in other places instead.
5. DIGITIZE TO DOWNSIZE
If your mail, grocery lists, and other random sheets of paper have formed a miniature mountain on the corner of your kitchen table, now is the time to tackle that. Recycle what you can, file what you can't, and, most importantly, request digital versions of any bills or other papers that tend to accumulate to create a "sustainable solve" for the future. Then, take a good look at your inventory and see if there are any other 3D items you can store pictures of on the cloud. Books? Try out an e-reader or audiobook subscription, or, if you can't forgo the real deal, take advantage of your local library and borrow books that won't take up long-term space.
6. BE THOUGHTFUL ABOUT THE FURNITURE YOU BRING IN
There's no better time to evaluate whether you really like that clunky dresser than before you huff it up three flights of stairs. See if you can acquire a floorplan of the apartment ahead of time, and map out where your largest pieces of furniture would fit. When it comes to furniture ideas for small-space living, anything that takes up room should serve a function — and, often, more than one. For instance, a kitchen cart with a butcher block top can expand your counter space, stash pots and pans, and even triple up as a bar cart.
7. GET THE LOGISTICS SQUARED AWAY
What's just as important as making sure all of your furnishings can fit in your apartment? Making sure you can physically get them all inside when you get there. That means knowing the elevator situation, where you can park, the width of your doorway, and any building rules that apply to moving into a high-rise or similar dwelling. It also means knowing exactly how much square footage you have to work with. According to a 2018 report by RentCafe, the average size of a newly built apartment in the U.S. is 941 square feet. Not bad! But the average size of a studio apartment? Just 514 square feet, and they're trending smaller as the years go on. Of course, how to maximize space in a small apartment depends on the square footage and floor plan of your specific home, so be sure to request that information or take those measurements yourself before moving in.
8. LIMIT THE LARGER ITEMS YOU'RE BRINGING
When you're moving from a house to an apartment, it's important to come to terms with the fact that you're going to have less space. Trying to bring the same amount of furniture from a multi-room home into, say, a studio apartment is a recipe for feeling cramped and disappointed. While every item you bring into a small space counts, the larger items count most when it comes to taking up square footage. One of the biggest space-savers when living in a studio apartment is limiting the number of bulky furnishings you have. Think: couches, dining tables, king-size beds, or big entertainment centers. See if you can make some more compact swaps to save space, like a cozy armchair instead of an L-shaped sectional or a bistro table with sides that fold down instead of a long dining table fit for a Thanksgiving feast. For the large items you do find yourself needing, try disassembling them before moving apartments. Be sure to take pictures before packing and clearly label plastic bags with the parts so you can reassemble them later.
9. WHEN IN DOUBT, PUT IT IN STORAGE
It's easy to get overwhelmed when downsizing. If you find yourself waffling between donating and packing into the moving van, don't worry. You have a third option: Put it all in storage and decide later, when you're stress-free. Using a moving service like PODS or PODS City Service means a storage unit can be dropped off at your home, you can load it up with the belongings you want but won't have room for, and it will be picked up and driven away for safe keeping at a PODS Storage Center. Then, should you realize you actually do have room for that end table, you can easily retrieve it.
Pro Tip: Moving in a big city? From navigating a bulky truck through narrow, crowded streets to dealing with parking regulations, moving in a metropolitan area is full of challenges. Using a moving solution specifically designed for people living in busy, urban cities — for example, PODS City Service — is a great way to save yourself stress.
10. GLEAN SOME INSPIRATION
There's no need to reinvent the wheel when preparing to move into a tiny home. Ikea, for example, boasts a variety of miniature apartment showrooms that you can browse for ideas and buy anything you love right on site. The best part? Many people have taken small-space living to a new level by coming up with ingenious IKEA furniture hacks — like turning abandoned bed slats into minimalist hanging wall storage — and other sustainable, space-saving storage shortcuts.
11. DON'T LET MOVING BOXES BECOME LONG-TERM ROOMMATES
Nobody is expecting you to pack up your life and unpack it into a new space on the same day. Eat some dinner! Get some rest! But be careful not to let those half-unpacked boxes and suitcases sit around for too long. Not only does brown cardboard likely clash with your chic aesthetic, but those crates take up tons of precious square footage. Empty them ASAP, recycle the boxes, and stash the remaining items in a storage unit or overhead closet shelf so you can settle in without a constant reminder of moving day.
12. OPTIMIZE YOUR SMALL KITCHEN
If you're someone who eats, and especially if you're someone who cooks, the kitchen is one of the most important rooms (or sections of a room) in the apartment. When packing up your kitchen appliances and utensils, there are some hacks for doing so in a safe and compact way: Slide the sharp knives inside of oven mitts. Store spice jars in casserole dishes. Wrap plastic wrap around the utensil tray to save yourself time unpacking spoons and forks on the other side of the move. These space-saving principles don't just apply to packing — here are some other kitchen tips for living in a studio apartment or similarly small space.
Use a magnetic knife strip to store blades along the wall.
Invest in a pot rack to hang pots and pans without taking up cabinet space.
Maximize wall space by using a spice rack to display and organize your spice jars.
Hang a tiered basket from the ceiling to stash produce that doesn't need to be refrigerated.
Put a wooden cutting board over the sink for extra portable prep space.
Install a peg board to hang spatulas, towels, and other culinary odds and ends.

13. DECORATE WITH MIRRORS, LIGHT COLORS, AND OTHER ELEMENTS THAT CAUSE OPTICAL ILLUSIONS
Your apartment may not be blessed in the square-footage department, but that doesn't mean it can't look the part. Create a bright, airy, and welcoming sanctuary with a few simple tricks. For instance, mirrors bounce light around the room and can create the false-window illusion of looking into another space. And while your personality may be bursting with color, overloading a small place with colors and patterns can come off more fun-house than fun-loving. Instead, opt for a light and clean color palette on the walls, and amp up the color with choice accents — throw pillows, appliances, or even a painted ceiling (if your property manager will permit it, of course).
14. DO AWAY WITH DOORS
Nixing the planks that provide any privacy in a small apartment might sound counterintuitive, but taking some doors off their hinges can actually help maximize your space. By freeing up the area you'd otherwise need to clear for the door to swing open, you can make room for a storage ottoman, compact desk, or other handy furnishing. And if having no partition is too much, try replacing the doors that have hinges with pocket doors or tension rods and curtains.
15. KEEP COUCHES LOW AND DRAPES HIGH
You can also use furnishings to play with scale. Instead of hanging curtains just above the window, try suspending them at the top of the ceiling to make the room feel taller. For furniture that touches the floor, take the opposite approach: A low-profile sofa or low-slung chair can make the living room look cozy while helping the area feel more spacious.
16. FREE THE FLOOR
Is there anything more soothing than a completely clean, unencumbered floor? Having open space doesn't just create the illusion of having space to spare; it also lets you visually breathe. Plus, it gives you room to roll out a yoga mat or pull up extra chairs when friends come over. Here are a few hacks to keep in mind for clearing up floor space:
Foldable furniture: Unless you're having a dinner party every night, opt for folding chairs and tuck them away in a closet.
Wall-mounted furniture: Do away with a media console and hang your TV right on the wall. Invest in a sleek, wall-mounted desk or a Murphy bed.
Rolling cabinets: Furniture on wheels is furniture that can be swiftly moved out of the way.
Hanging wall storage: Plants, mugs, mail, art supplies — if you can hang it, take advantage of all that available vertical storage area.
Tapered legs: Mid-century modern is easy on the eyes for a reason — the pointed legs keep the floor less cluttered. "Floating" cabinets or cantilevered shelves are also great for this reason.
17. LEAN INTO UNSEEN SPACE-SAVING STORAGE SOLUTIONS
Out of sight, out of mind, right? Scan your living space for any areas where clutter can be organized and tucked away — under your bed, in the broom closet, on top of your cabinets, you name it. Then, utilize those out-of-sight nooks to stash items you don't use every day, from laundry supplies to out-of-season clothing.
Pro Tip: Bins and baskets are your best friends when it comes to keeping things tidy.

18. REMIND YOURSELF: A PLACE FOR EVERYTHING AND EVERYTHING IN ITS PLACE
Typically try on three outfits before going anywhere? It's all too tempting to cast the unworn articles aside onto any nearby surface. But after a few times doing that in a small living space, the apartment starts to feel like a walk-in closet. The key to keeping clutter at bay is not only to clean as you go (no fun, we know) but to make it easy for yourself by ensuring that everything you own has a place where it belongs. Keys? On a hook by the door. Gym bag? Below the shoe rack.
19. DON'T FORGET TO INJECT YOUR PERSONALITY
As inspiring as those Ikea displays are, you don't want to live in a sanitized showroom. Pristinely organized though it may be, an apartment devoid of personality will have a hard time feeling like home. To prevent living in a small space from feeling like shopping in a Container Store, make sure your functional pieces communicate your charisma. Think of something like a set of sheets you love, a wallpapered refrigerator, or a gallery wall of art from your friends.
20. REDUCE, REUSE, AND REPLACE
There's nothing like cramped quarters to encourage you to embrace your inner minimalist. Though you'll downsize before you move in, there's no reason you can't continue to reduce clutter and waste after you've settled in. And here's the key: For anything new you bring into the apartment, make sure you take one thing out.
21. PUT EXPERIENCES ON YOUR GIFT LISTS
When you're trying not to have too much stuff, gift-giving holidays can really throw a wrench in the plan. Be proactive about letting friends and family know that in the place of physical gifts, you'd love intangibles like concert tickets, a museum membership, weekend trip plans, or just time spent with them — you get the idea. If they must give you something you can hold, send out a list of items you could actually really use.
22. CHANGE UP YOUR GROCERY SHOPPING
If you're used to filling a grocery cart to the brim every two weeks, you may want to shift that approach to fit with your new living-small lifestyle. Maybe you wander around the farmer's market on Sundays, grab staples from the supermarket once a week, and run to the corner bodega after work when you need something specific. You'll save space in the fridge, prevent food from spoiling, and give yourself an excuse to sample some of those great restaurants all over the city.
23. TAKE ADVANTAGE OF OFF-SITE STORAGE
Whether it's storing chunky winter sweaters in the summer or stashing your bike through the winter, off-site storage is a smart way to free up some space in your apartment throughout the year. For the best experience, look for a storage unit company that will take the driving off your hands by bringing the unit to you and relocating it to a secure storage facility when you're ready.
Downsized, packed, and ready to go? All that's left is to enjoy your cute new home and have fun living it up in the big city. Moving into a small apartment? Turns out it's no big deal at all!
---
Sofia Rivera is a Boston-based lifestyle editor and frequent contributor to the PODS Blog. Her work has appeared in Boston magazine, Apartment Therapy, and more. You can most often find her redecorating her apartment, trying out a new recipe, or trekking all over the city.
Get a Quote
Choose the service you need
Comments
Leave a Comment
Your email address will not be published. Required fields are marked *