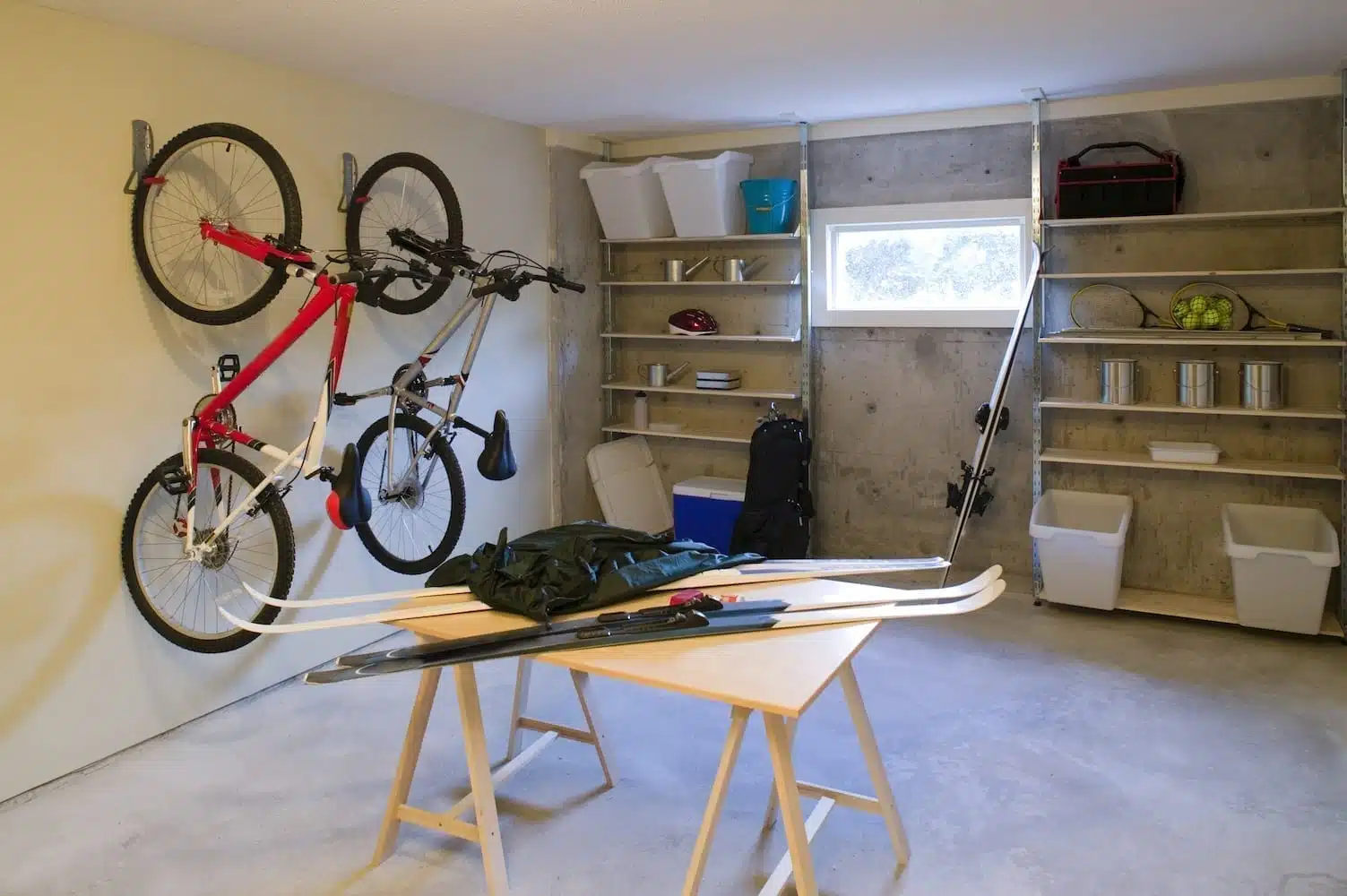 Space-Saving Garage Storage Ideas
When you're busy organizing your house, sometimes the last place you get to is your garage. Yet an orderly garage or storage space is an important foundation to having a well-organized home — from easily finding tools to being able to store more stuff! Don't let things pile up and take over precious parking space — invest in some garage organization essentials instead.
Whether you're looking for a shelving unit, hanging rack, or storage containers, there are plenty of options with which to organize your garage. These three simple steps – plus our proven garage storage ideas – will save you space, time, and money that you might waste buying new tools and supplies that you already have but just can't find!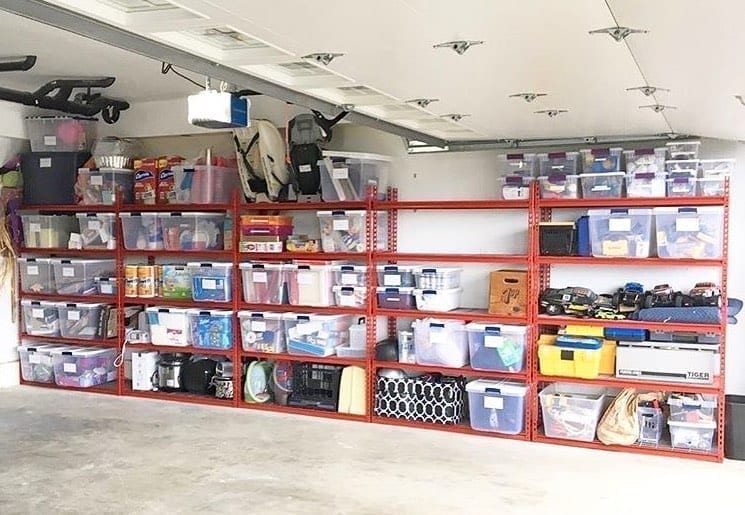 1. Organize with storage containers & bins
Plastic storage bins offer a great option for bringing much-needed organization to the vast array of stuff that you keep in your garage. First, take stock of the types of items you need to store and group them by category — like garden supplies, cleaning supplies, home improvement tools, and sporting equipment. Once you have an idea of what you're working with, you can decide which type of plastic containers are best and how many you need.
Lightweight Plastic Bins
Opt for lightweight plastic bins if you're looking for an affordable option that's easy to move around or stack vertically.
Clear Bins
Clear bins are great for items you want to see, while opaque bins can hide unsightly clutter and protect items from fading due to sunlight exposure.
Heavy-Duty Bins
If you need to store heavy items together in a bin, consider investing in heavy-duty storage containers — they're made with thicker plastic and sturdy latches to better support extra weight. Some styles also come with wheels on the bottom for easy transport.
Sectional Bins
If you have a lot of tools, nails, or knick knacks, keep it all organized with a sectioned container that's built for storing small items.
Open Bins
You've probably seen open bins used to collect recyclables, but they're also great for stashing frequently used items like sports gear and gardening tools. Whatever it is, if you don't want to have to pull a bin down and open a lid to get to it, then store it in an open bin.
Label Everything
Lastly, don't forget to label your plastic storage bins on two sides, so you can find what you need at a glance.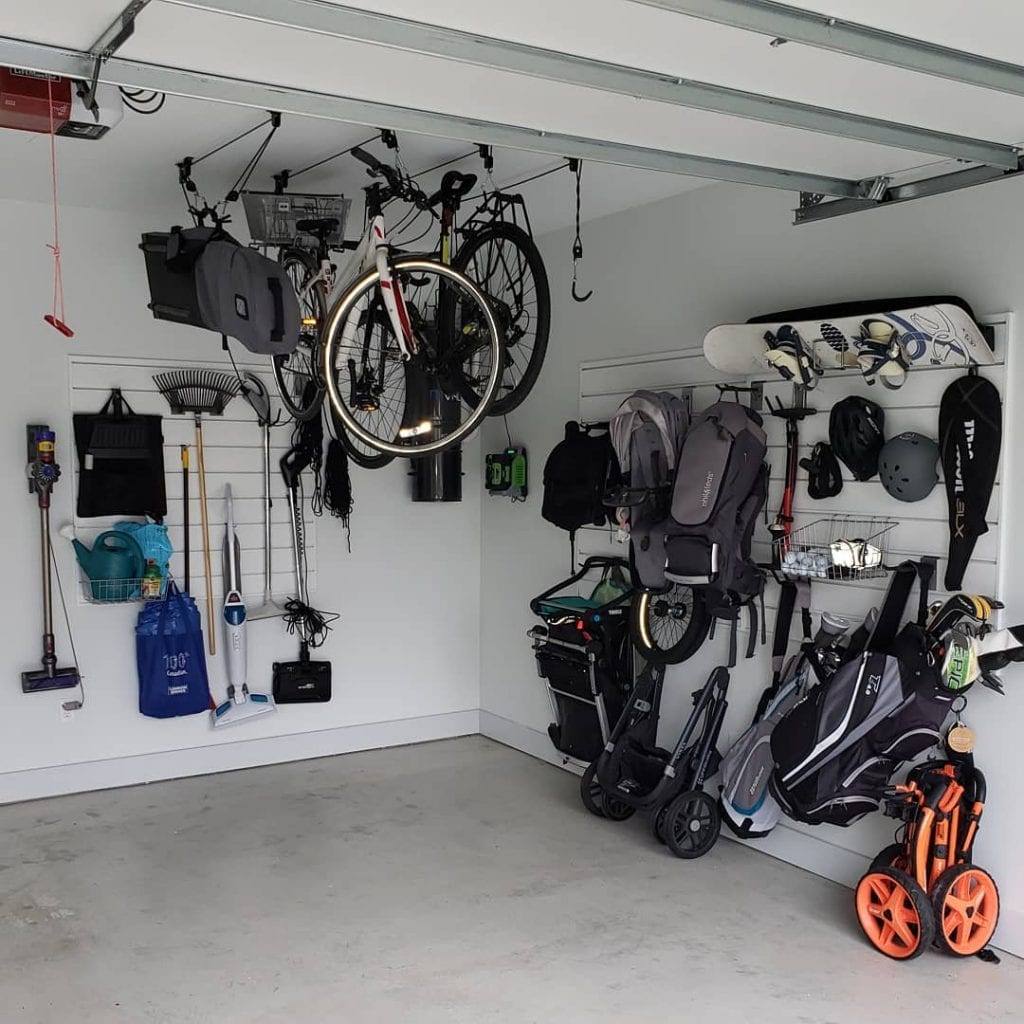 2. Go vertical to maximize garage storage
Whether you have a sprawling three-car garage or a small storage container, maximizing space is always crucial. If you own your home and you're handy with a hammer and a screwdriver, wall-mounted racks and shelving make versatile space-saving solutions. If you're renting your home, using a storage container, or just have trouble finding wall studs for mounting, you can still save space and avoid clutter with freestanding options for both shelving and rack systems. Before you purchase anything, plan your space based on what you need to store. For most garage and storage spaces, a mix of shelves and organizing hooks or racks makes the most sense. You don't want to fill up every wall with shelves and then have no place to put your long-handled cleaning and yard tools! Remember these tips when choosing vertical storage:
Wall-Mounted and Freestanding Shelving
For shelving, whether you're going to use wall-mounted systems or freestanding units, think through the depth and height. While deeper shelves will hold more, they can be problematic in a garage if you're tight on parking space. Items placed on high shelves can also get in the way of your garage door opening. If you do opt for deep shelves, using plastic storage containers is even more important for organization and access. The more shelf space you have, the easier it is to collect clutter and the harder it is to find what you need, unless you use bins. If you're looking for wall-mounted shelving, Lowes and Home Depot have good options. For more budget-minded shelving, SafeRacks are tough enough to do the job. If you need freestanding shelving units, metal racks usually offer adjustable shelves for added flexibility, but plastic or resin shelving units (though less adjustable) tend to be less expensive.
Wall Racks and Freestanding Organizers
Sturdy wall racks and hooks free up floor space while increasing visibility and access for everything from cleaning and yard tools to sports gear. For bikes, the Steadyrack has a variety of bike racks designed so you can roll your bike in and out – no lifting required. If you just want some strong bike hooks and simple wall-hanging racks, Amazon has a wide selection  of affordable options from under $25 for a single-bike mount to between $40 and $60 for mounting multiple bikes. For freestanding options, we love this yard tool organizer from Home Depot and these bike and sport rack ideas from Wayfair.
3. Customize your shelving units to create more storage
Most of the time, you're going to access the things on your shelves from the front of the unit, not the sides. Since you don't really need the sides of your shelves to be open, you can close them off with peg boards or wire racks to create even more storage. Easily attach hooks to the wire rack or pegs to the peg board and now your storage possibilities (at least for smaller things) are pretty much endless.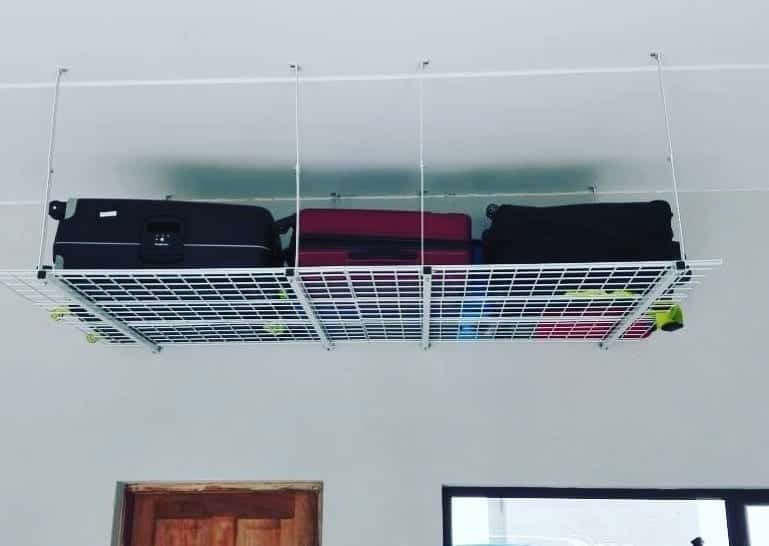 4. Add ceiling storage
Adding storage to your ceiling is one of the best ways to create space, which is a must-do if you have a single-car garage or lots of gear to store. Here are some of our favorite garage storage ideas for making the most of ceiling space:
Just remember to make sure that any ceiling storage you install won't block the path of your garage door.
5. Keep your garage organized and clutter-free
Once you apply the right solutions to this integral storage space in your home — whether that's vertical shelves, ceiling racks, plastic bins (or all of the above) — you'll have a more orderly and streamlined garage, and you're going to want to keep it that way. You can easily keep your garage in tip-top shape by designating an empty basket or bin for storing anything you don't have time to properly put away (or that doesn't yet have a "home" in your garage). Make a rule to never leave anything just sitting on your workbench or on a shelf. Just put it in the "special bin" and, when you have more time, find a good place for it. This will make keeping your garage organized and clutter-free a simple task.
Still don't have enough space? Store extra stuff in a PODS portable storage container kept right in your driveway (like a second garage), or load it up and have it taken to an indoor PODS Storage Center.
---
Heather Magness is a member of the PODS Blog creative team. When she's not formatting images and blog layouts, you can find her writing a song, watching a movie, or enjoying the great outdoors.
Get a Quote
Choose the service you need
Comments
Leave a Comment
Your email address will not be published. Required fields are marked *