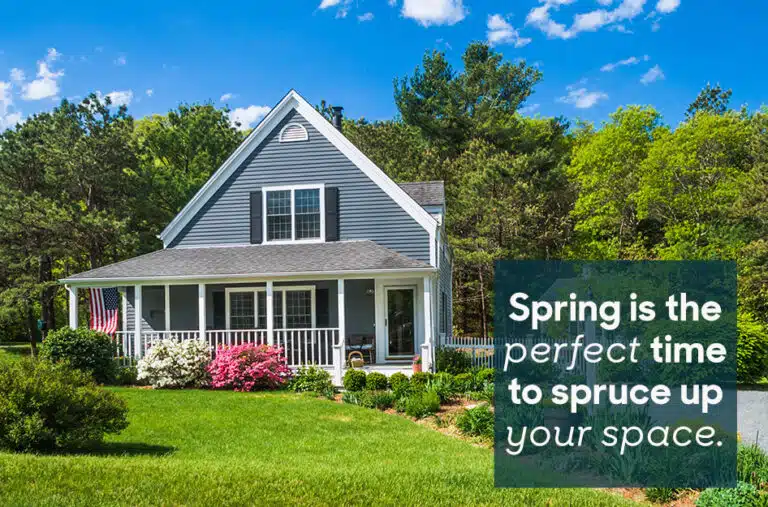 11 Home Remodeling Ideas to Refresh Your Home This Spring
by
PODS
Posted on April 8, 2022
Say goodbye to those heavy, layered drapes and hello to fresh, breathable linen panels. Spring has sprung, and that means it's time to spruce up your space!
Sure, spring cleaning tends to get the most attention this time of year, but are you itching to take it one step further? Whether you're looking to renovate, improve the overall organization of your space for friends and family, or lower your energy bills, there are plenty of ways to refresh your home this season.
Check out these home remodeling ideas that are sure to put a new spring in your step!
How do I freshen the look of my house?
Whether you plan on sprucing up the inside or outside of your home, spring is the perfect time to make long-awaited renovations to your space. Here are some popular home remodeling ideas to consider:
Interior Home Renovation Ideas
When choosing what to remodel inside your home, you need to ask yourself two questions:
What do I want to change about my house?
What renovations will bring me the highest return on investment (ROI)?
Only you can answer the first question, but as far as ROI goes, here's a tip: A minor kitchen remodel (think new backsplash and freshly repainted cabinets) has an ROI of 72%, and a mid-range bathroom remodel returns 60%. That's not bad!
Some other home remodeling ideas to consider include:
Update the cabinetry in your kitchen to a modern style with strong angles and minimal ornamentation.
Swap out your shower door for a glass one — or get crazy with no door at all.
Improve energy efficiency throughout your home with LED lights and water-efficient faucets, showers, and toilets.
Freshen your home's look while also increasing the resale value with new flooring or a fresh coat of paint.
Pro Tip: Before you spring into action with your remodeling projects, consider having a PODS portable storage container delivered directly to your driveway. Use it as an extra storage space to keep things out of the way but close at hand while you work on your home improvements. Keep your container as long as you need (which is especially helpful when delays occur due to supply chain issues). And when you're all done, PODS will pick it up and leave you to enjoy your newly refreshed home.
Exterior Home Renovation Ideas
The exterior of your home is just as important as the interior, or even more when you consider curb appeal — often the first impression you, your guests, or prospective buyers will have of your home. If you're looking to revamp the exterior of your home, consider these home remodeling ideas:
Use stone veneer cladding to freshen up the exterior of your home and immediately increase its curb appeal (92% ROI as well!).
Breathe new life into your porch and wooden fencing by pressure washing away any built-up mold, algae, and mildew. Then finish it all off with a nice sanding and a fresh coat of paint or woodstain. 
Pull out your trusty pressure washer once more (or borrow your neighbor's) to clean off any concrete paths, driveways, or pavers that have seen better days. 
Apply fresh paint to the front door and frame it with some potted shrubbery or flowers.
Freshen up your flora by implementing simple landscaping ideas, such as pulling out any overgrown weeds, adding mulch, and planting your favorite spring flowers.
Refurbish or replace your outdoor furniture to elevate your landscaping.
Bonus: Replace your garage door for one of the highest ROI projects on this list (nearly 94%!).
Eager to really transform your outdoor space? Consider building a patio, installing a swimming pool, or even landscaping a fire pit.
How can I finance a spring remodel?
The first and most important step in any home improvement project is deciding how you'll pay for it. Luckily, there are several ways to finance home improvements. Here are three popular options:
Home Equity Loans
A home equity loan allows you to borrow up to 85% of your home's equity (which is the value of your home minus what you currently owe on your mortgage). Because home equity loans are issued in one lump sum and have fixed interest rates and monthly payments, they are best used when you know the entire cost of your renovation projects.
Personal Loans
If you're looking for a quick turnaround on a loan for your home remodel, a personal loan might be a good option for you. Be aware that personal loans usually have higher interest rates than home equity loans. But because you can typically get the money faster and, like home equity loans, personal loans are repaid with fixed monthly payments, personal loans are easy to factor into your budget.
Cash
Many homeowners choose to cover the cost of renovations in cash, which ensures the projects will be interest-free. If properly planned, using cash shouldn't bust your budget, allowing you to work toward other financial goals while renovating. If you can't pay for a remodel outright, consider making only necessary fixes now and setting money aside each month for the heftier projects.
Can I refresh my home with minimal fuss?
What if you're itching for a spring refresh but aren't looking to make drastic changes? You don't need a full renovation to give your home an improved look and feel. In fact, small tweaks could be just what you need to make a big impact.
To bring the freshness of spring into your home, consider purging unwanted or unnecessary items. There's no better way to make your home feel lighter than to eliminate clutter. Clean out closets, trade winter boots for spring sandals, clear your entryway or mudroom, and organize what's left. Once you have a blank slate to work with, rearrange your furniture to give the space a new feel.
Once that's taken care of, don't be afraid to introduce some spring colors. To update your color scheme without committing to painting, try changing up your throw pillows or curtains and adding some greenery to the space. You can swap out light fixtures or lampshades to easily revitalize and elevate any room, as well.
And as the weather improves, you'll likely be spending more time outside. Some low-maintenance ways to spruce up your home's exterior and outdoor living areas could include cleaning out the gutters and downspouts, cleaning the windows, and reseeding the lawn. Consider adding an inviting doormat to your home's entrance, hanging a swing on your front porch, investing in a new outdoor rug, or adding other small spring decorating details that fit your style, too.

Want more home improvement and decorating tips and tricks? Check out the PODS Blog. From building an addition to feng-shuiing your kitchen, we've covered it all!
Get a Quote
Choose the service you need
Comments
Leave a Comment
Your email address will not be published. Required fields are marked *